News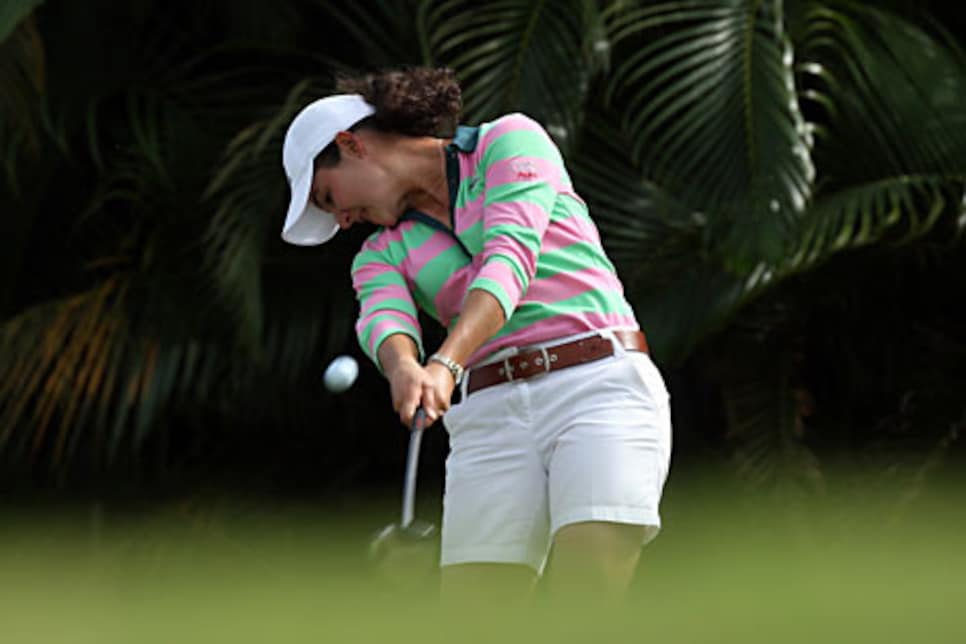 Ochoa obliterated the earnings mark and has 22 of 27 points needed for LPGA Hall of Fame.
Even after all lorena ochoa has accomplished this year -- eight victories, winning the Ricoh Women's British Open and obliterating the LPGA single-season money record -- there remains a demon called doubt that pays her occasional visits. The creature doesn't have a cot of its own in her mental attic as it once did, but it still has a key to the backdoor and creeps in at inopportune moments. Such was the case Sunday at the ADT Championship in West Palm Beach, Fla., when a tournament Ochoa had controlled all day suddenly was up for grabs after a four-putt from the fringe on No. 17 created a three-shot swing that cut her advantage to one stroke. But proving she has emerged as not just a winner but a champion, Ochoa hit the shot of her life on the final hole to hold off Natalie Gulbis by two strokes with a 68 and claim the $1 million first prize to cap a season that puts her on the brink of qualifying for the LPGA Hall of Fame.
The fireworks that filled the air over the final half hour of the ADT vindicated the compelling format of the LPGA's season-ending event, provided more evidence that Trump International GC is a quality venue and whetted the appetite for the 2008 season as the new queen -- Ochoa -- found worthy challengers in Gulbis and Paula Creamer. Two playoffs -- first Friday and then Saturday -- were needed to set the stage for Sunday, and when the eight finalists were determined, they included five of the top 10 in the Rolex Rankings. While more than half the field played its way out of contention on the par-3 seventh hole Sunday -- finding the water -- Gulbis and Creamer applied the pressure that eventually had its impact on No. 17, another treacherous par 3 menaced by water.
"Just joking, I said, 'OK, we need to have a three- or four-shot lead on 17 in case something happens,' and that's exactly what happened," Ochoa said after her victory, recalling conversations she had with her caddie, her family and virtually anyone else within earshot early in the week. The joke was made all the more serious by the quadruple-bogey 7 she recorded on No. 17 on her way to a first-round 70. "We'll see what I do next year," Ochoa said, able to laugh. "I think I'm going to make sure I get there on 17 with that same advantage."
In fact, Ochoa pulled off the hardest shot on No. 17, bailing out an 8-iron to the back-left fringe, safely away from the water on the right. Attempting to putt through the gnarly fringe, she left her approach 15 feet short, then blew the next putt seven feet past before missing again and recording a double bogey. Gulbis, meanwhile, rolled in "a 15-footer I hit like a one-footer since it was so fast" to move within a stroke of the lead.
After Gulbis drove into the fairway on No. 18, Ochoa flirted with the water on the right side but crushed the ball so far she easily cleared the dogleg and the bunker at the elbow and landed in the right rough, where she could see only the top half of her ball. To make matters worse, Gulbis slapped a 3-rescue from 181 yards to 15 feet, and the real possibility existed that a birdie-bogey swing could give Ochoa another heartbreaking defeat.
Who knows if thoughts of the 2005 Safeway International, when she was four up with three to play and lost, were in Ochoa's head? Or the U.S. Women's Open that same year when she made a quadruple bogey on the final hole and lost by four strokes? Or even this year's U.S. Open when she missed the final five fairways and finished two behind Cristie Kerr (who took fourth place in the ADT with a 74 Sunday)? The demon doubt lurked but this time was denied.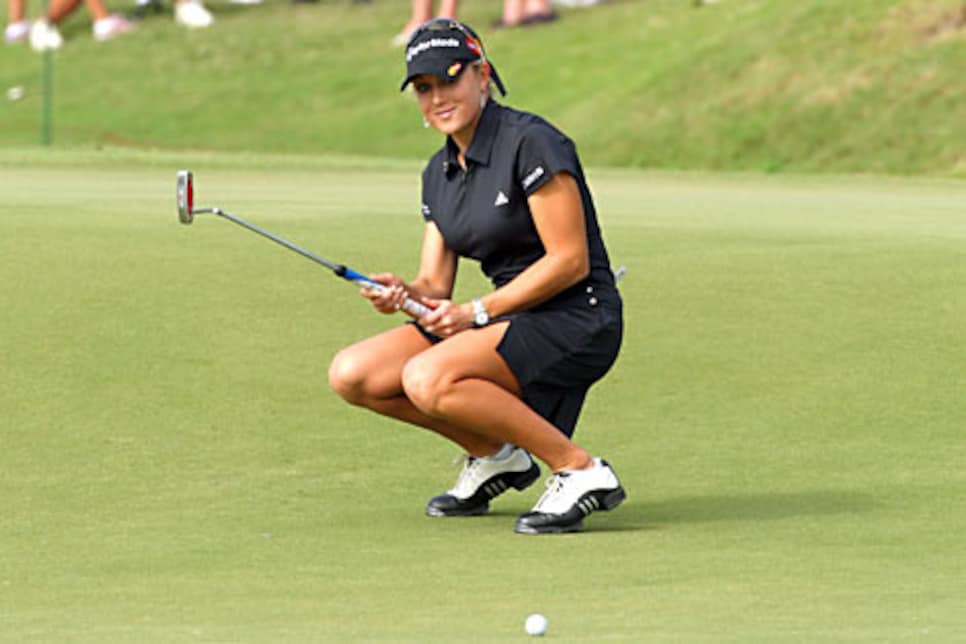 "I had a horrible lie, and for sure because of the conditions and because I was only one shot [ahead], I think it was the best shot so far in my career," Ochoa said. At first pulling a 5-iron from the bag, Ochoa switched to a 6-iron and hit a punch cut from 130 yards to the front of the green that released another 20 yards and tracked to within 30 inches of the hole -- although Gulbis called it a foot and Ochoa insisted it was four feet. Gulbis lagged her 15-footer, protecting the $100,000 second-place money (third was $20,500, going to Creamer with a 72) and Ochoa drained hers. "That birdie felt really good," she said with a broad smile.
Ochoa won eight times in 25 LPGA starts and finished in the top 10 a remarkable 21 times. Her $4,364,994 in winnings shattered the previous record of $2,863,904 by Annika Sorenstam in 2002 and pushed her beyond the $10 million threshold for her career. "I think that record is going to stand for quite a long time," Gulbis said about the money total. In the last two years, Ochoa has played 50 LPGA tournaments, winning 14. For her career, she has 17 wins in 124 starts, 47 top-threes and 77 top-10s. With one major, two Vare Trophies and two Player of the Year awards, she has 22 of the 27 points needed for the LPGA Hall of Fame. But first things first, and letting another event slip away was a possibility.
"It was very important for me to finish with a win this week," she said. "It's all about breaking records. [This year] has been amazing from the start to the end. I think the only thing I can do is just go home and celebrate and have some time to spend with my family and rest." She will also donate $100,000 of her first-place check to victims of recent flooding in Tabasco, Mexico. "I always want to give back," she said.
Ochoa, who turned 26 on Nov. 15, pretty much cruised into the final round. The field of 32 was cut to 16 after 36 holes and Ochoa's 140 tied for the fourth-best score. In a three-way playoff for the final two spots, Gulbis and Ai Miyazato advanced when Sorenstam ended her first winless LPGA year since 1994 by pulling a 5-iron from the middle of the fairway on the second extra hole into a bunker and making bogey.
The new twist added this year was that scores were erased after both cuts (not just going into Sunday) so all 16 started as equals in the third round. Saturday four players went extra holes for two spots with Sophie Gustafson finding the water on the first hole and Nicole Castrale rinsing one on the second, enabling Mi Hyun Kim and Christina Kim to advance. Once again, the scores were erased and the remaining eight began the final round as equals -- except that Ochoa birdied four of the first six holes to take command. When Kerr, both Kims, Sarah Lee and Karrie Webb all found water on No. 7 -- Webb twice -- five of the eight were effectively eliminated. Ochoa turned in 31 to lead Gulbis and Creamer by five.
Ochoa played great defense and made par on the first seven holes of the back nine, including a tasty punch 7-iron out of a bunker over water from 131 yards on No. 16, while Gulbis and Creamer made one birdie each to cut the margin to four. Creamer lost her opportunity with a bogey on the final hole (Tour Talk, page 28), but Gulbis suddenly had a chance to win when she and Ochoa, playing together in the final group, had their birdie-double bogey exchange on No. 17.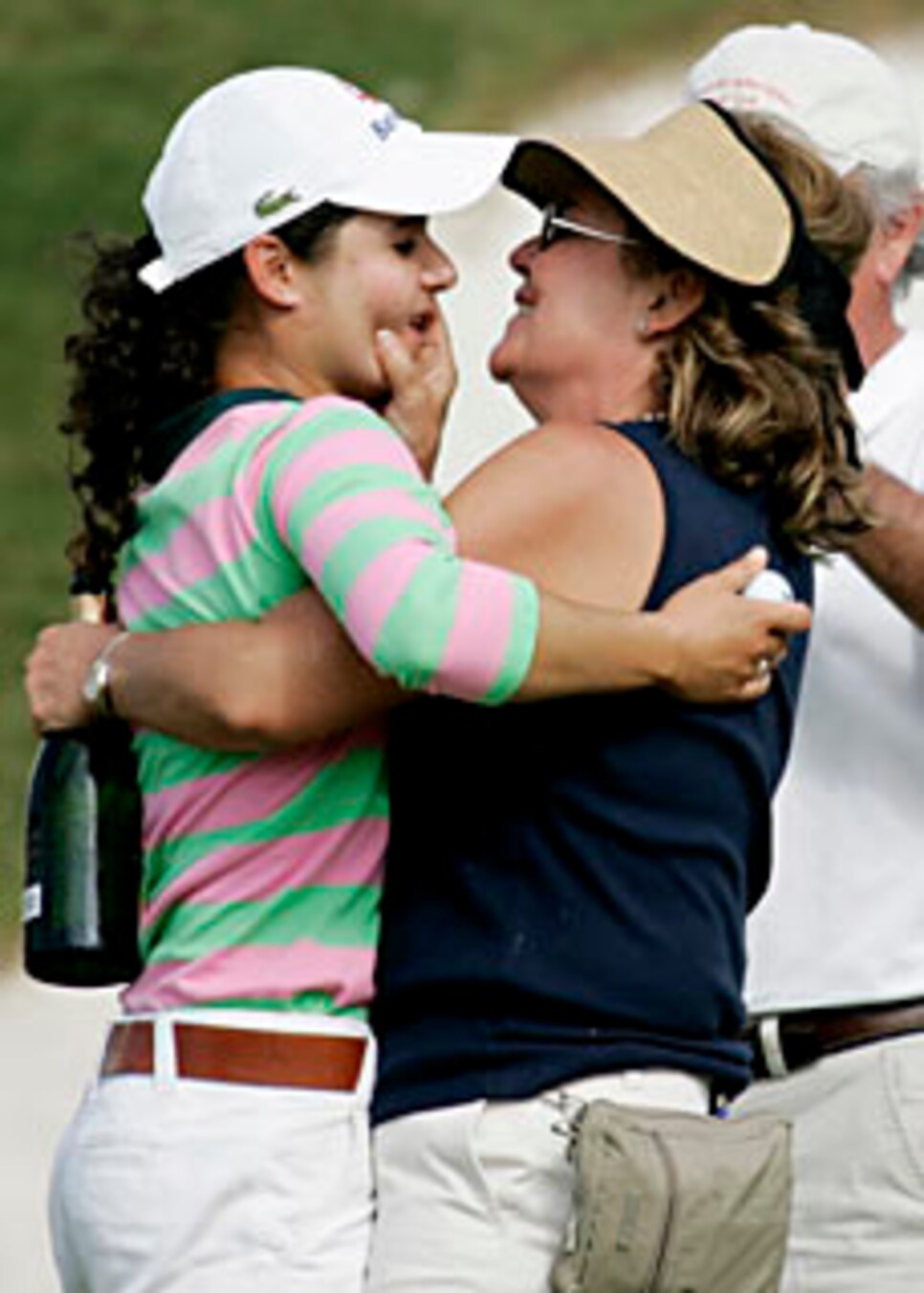 "This is a very unique golf course being that these last four holes have gotten the best of every single player at some point over the last four days," Gulbis said. "I just wanted to see if I could stay within a couple of shots." She did just that, proving once again that her victory at the Evian Masters this year could well be the catapult that makes her a consistent winner. But when push came to shove, Ochoa hit the shot of her life.
The only grumble among the players concerned the distribution of prize money. Ask Webb, who closed with an 84, and you would likely be told that after she hit two balls in the water on No. 7 there was no reason to push on because the difference between third-place and eighth-place money was only $4,250. But the near winner-take-all dropoff between first and second is a big part of what makes the ADT Championship so compelling. The only thing that might make it better would be to have only four players in the final round, leaving everything to be decided in one head-to-head foursome.
In all, it was a very satisfying year for the LPGA. In 30 official events, 24 were won by players 26 or younger. The majors were won by Morgan Pressel, Suzann Pettersen (who played this week while battling bronchitis and was cut Saturday), Kerr and Ochoa -- all first-time major winners and all younger than 30 when they won. With Gulbis and a healthy Sorenstam returning, the stage is set in 2008 for a scramble to be No. 1 in women's golf. Ochoa likely will play fewer than 25 times next year, but she is clearly still getting better -- and soon may change the lock on that demon called doubt. When that happens, who knows how many times she will win?