News
Newsmakers 2007: End Game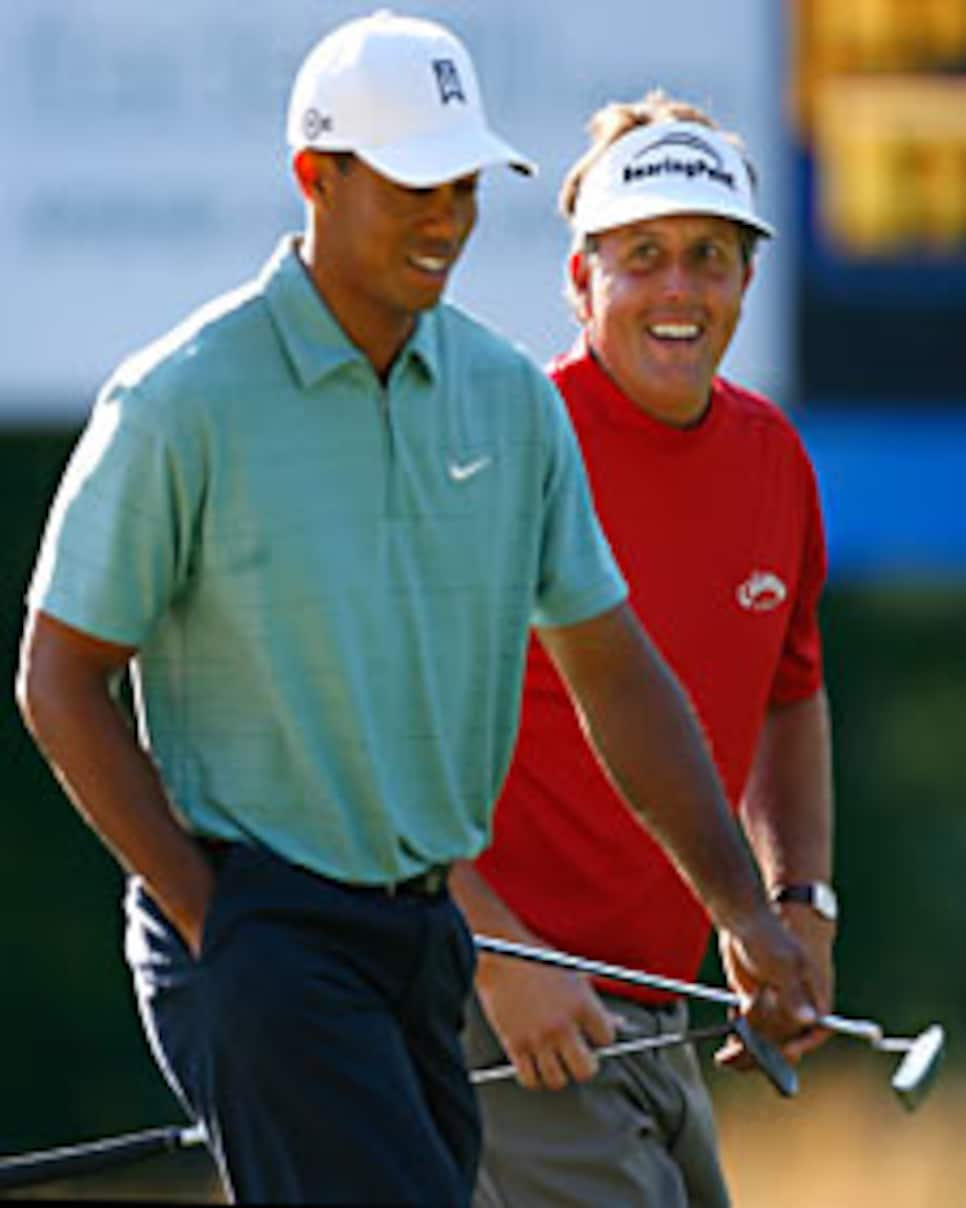 Game Seven. From the moment your alarm clock sounds until first pitch, opening tip or drop of the puck, no day in sports is as ripe with giddy anticipation.
Masters Sunday may be the golf equivalent, but could the final day of the PGA Tour's FedEx Cup Playoffs ever exude a Game Seven vibe?
Depending on your carefully cultivated FedEx Cup stance, this year's finale unfolded swimmingly after season points-leader Tiger Woods undisputedly took the playoff title, or it developed into a much-expected anticlimactic bore in which, turns out, Woods collected enough winning points without having to play the last event at East Lake. Either way, it reinforced the fact that, as currently constructed, the playoff system will always hinge on a statistical outcome instead of a reliably dramatic, winner-take-all shootout among the season's elite.
In other words, no Game Seven.
"The Tour Championship has to be the thing," says Geoff Ogilvy. "It has to be bigger than any of the events played before it, and right now I'm not sure if that will be the case."
It is the case right now in one season-ending event in golf: the LPGA Tour's ADT Championship--masterminded under the watch of former commissioner and current PGA Tour executive vice president Ty Votaw--which just concluded its second season-ending shootout last week. As with the PGA Tour's FedEx Cup, the ADT features a season-long points race. A field of 32 then convenes at Florida's Trump International to battle over four days, with cuts after 36 and 54 holes. The field is whittled to eight for Sunday's 18-hole shootout and a $1 million first-place check.
While ratings are not available yet for Lorena Ochoa's 2007 win Sunday, the 2006 edition saw unheralded Julieta Granada (opposite page) hold off titans Karrie Webb and Lorena Ochoa to deliver NBC a 43-percent final-round ratings increase compared to the final round of the same event in 2005.
Could the PGA Tour get away with the same kind of format for the Tour Championship?
"I think the players would go along with something like that," says Harrison Frazar, who was eliminated from this year's PGA Tour playoffs after the Deutsche Bank Championship. "The players are open to something that's new and exciting and fun."
Others quizzed on the concept cry "gimmick," believing the tradition-sensitive PGA Tour must be careful with any format outside of the generic 72-hole stroke-play grind.
"I think there was a fear the FedEx Cup playoffs would look gimmicky, and if we had gone to a radically different system right away it might have been risky," says Joe Ogilvie, a tour policy board member very much in tune with FedEx Cup issues.
Still, there is that issue of what constitutes a genuine playoff. The playoff points system lacked sufficient weekly elimination volatility for anyone but immediate friends and family to care. Furthermore, while initial projections suggested that anyone in the top 15 entering the playoffs had a shot at winning, in reality no one outside the top 10 had any hope of claiming the grand prize in the exciting way that a wild-card team can still take the playoffs in other sports. With a setup similar to the ADT for its final week, the PGA Tour would be able to maintain the current season-long points race determining which players qualify for the playoff. Such a structure would still lend itself to an end-of-season points reshuffle that enhances playoff suspense without discouraging season-long success.
Also vital for adding playoff tension is a 36- or 54-hole cut at East Lake, leading to almost inevitable sudden-death scenarios at the par-3 18th.
"A lot of times in the Tour Championship, it was a season-long race to get in the event, and then it was almost like you got there and exhaled. It didn't matter how you played because you knew you were going to make a big check," says Brad Faxon. "But if you had a cut after Saturday, that would make it pretty exciting."
Follow that with a final-day reset of eight or 10 players teeing it up in a quest for the biggest bonus in sports, and the PGA Tour would seem guaranteed a final weekend of must-see TV. Right?
Sure--as long as you get the right eight or 10 players. Or so goes conventional wisdom.
"Understandably, TV and corporate America and the tour want to see Tiger Woods and Phil Mickelson, and they're not going to do anything that jeopardizes their [participation]," says Frazar, citing one obvious objection to a 54-hole cut.
Ogilvie brings up another: "Do you really want guys playing one round for that kind of money?" he asks. Instead, he favors a 36-hole format for any "winner-take-all" scenario.
Would Woods and Mickelson resist a playoff scenario that does not fully reward their season-long play? Or would a wide-open, explosive finale featuring a few underdogs appeal to their gambler's instincts?
Frazar thinks he knows what the fans would prefer. "The fan wants to root for the underdog," he says. "The fans I've talked to feel the structure gives way too much reward to what happened early in the year. The playoffs need to be a restart, and if you don't play well, you're out."
Playoffs in every other sport lead to one place: a Game Seven. The PGA Tour should try it. It might like it.