News
Backspin: Englehorn Sought Big Challenge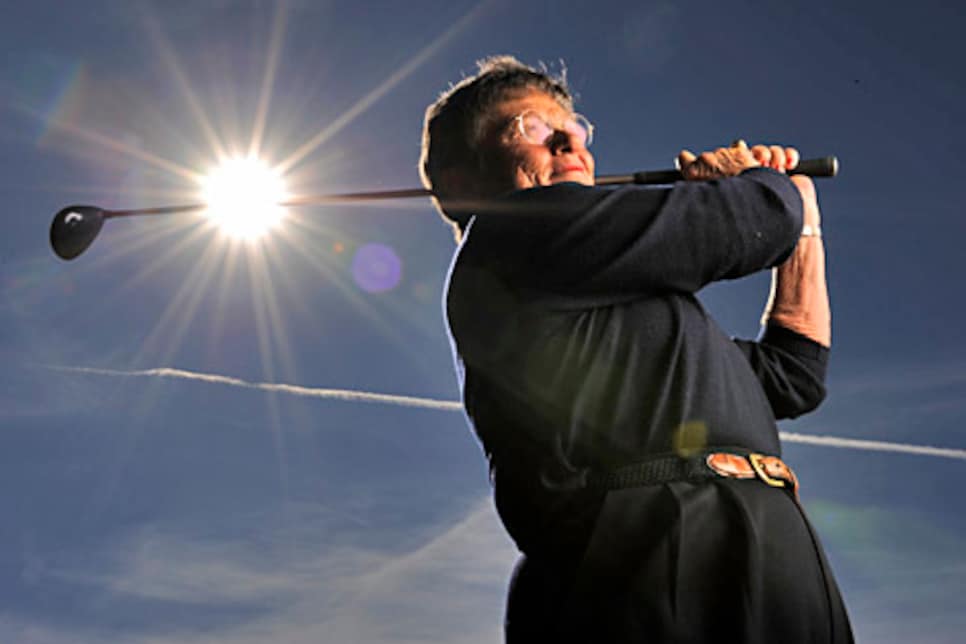 Two hip replacements notwithstanding, Englehorn still enjoys playing the game.
When Annika Sorenstam played the 2003 Bank of America Colonial, it was widely reported she was the first golfer since Babe Zaharias in the 1940s to try to test herself against the men. More than three decades before Sorenstam, however, LPGA standout Shirley Englehorn wanted to do the same thing.
In the fall of 1969, Englehorn expressed hopes of landing a sponsor's exemption or trying to qualify for the Los Angeles Open early the following year. "I lived in that area at the time, I was playing well, and it would have been fun," says Englehorn, who teaches at Kissing Camels GC in Colorado Springs. "I wanted to do it to improve my own ability. When I was growing up in Idaho, I played against the boys and was the only girl on the golf team. It can only improve your game by playing with someone better."
Englehorn's motivation was remarkably similar to Sorenstam's. Like the Swede, she drew some criticism -- but not from men. "I got a lot of [negative] letters from women," remembers Englehorn. "They weren't very nice. It was disappointing." The naysayers got their wish. The PGA rejected her bid, saying it wasn't because of her sex but because she didn't meet membership requirements. Englehorn didn't dispute the ruling, then went out and had the best year of her career in 1970 by winning four consecutive starts, capped by a playoff victory over Kathy Whitworth at the LPGA Championship.
It was a remarkable season, especially since Englehorn twice previously had suffered career-threatening injuries. In 1960 she was thrown off a horse, sustaining a concussion and breaking her back in six places. "I got on the wrong horse at the wrong time," says Englehorn. "I was very lucky. I could have been like Christopher Reeve. It just wasn't my time." Englehorn was encouraged by a hospital visit from Byron Nelson and Ben Hogan. "Talk about an inspiration -- Hogan and I wrote back and forth, and he kept tabs on my career for years."
Having recovered from the horseback accident, in 1965 the steering on Englehorn's car failed on an Arizona highway. She sustained a compound fracture of her left ankle and heel. "I was really lucky then, too, because [the foot] almost had to be amputated," Englehorn says. "I had great doctors, and they did the kind of surgery they do on paratroopers, using my own bone to fuse it." Englehorn overcame her hurdles to win 11 LPGA titles, often while wearing red. "That was my color," she says. "I even had some red suede shoes. The 'Lady in Red,' they called me."
Off the course, Englehorn was a longtime member of the Sears & Roebuck sporting-goods advisory staff headed by baseball great/outdoorsman Ted Williams. "Ted tried to play golf, but he really had a difficult time with it," Englehorn says. "He was a slugger, and he tried to slug a little too hard. A few golf clubs were broken." Now 66, having had two hip replacements in the last three years, Englehorn likes to vacation abroad (this year, Greece and Istanbul) and still loves to play golf.
Occasionally she will pull out the 1-iron that she introduced to the women's tour and step back in time. "It said '2-iron,' but it was the loft of a 1-iron," she says. "I could hit it about 220 and used it on a lot of tight holes off the tee. It was a lifesaver."
Englehorn thinks mixed-team events would be good for golf but doesn't believe women ever will become routine competitors against men. "This girl has talent," Englehorn says of Michelle Wie, who has played in 13 men's events, "but I think it's overload -- too much pressure coming from too many directions. She's young and yet she's not. I feel rather sorry for her."