News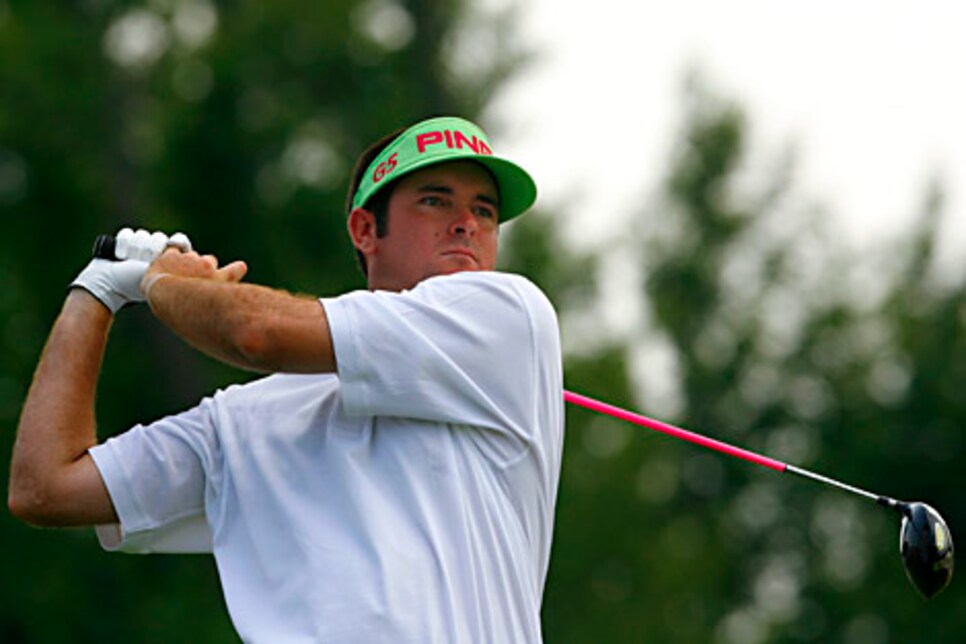 Bubba Watson led the tour in distance again, but was four yards shorter than in 2006.
The official end of the PGA Tour season is an opportunity to look at some of the statistics put up by the game's best, and when it comes to a correlation between statistics and equipment, distance always is front and center.
Doomsayers who believe the game is being ruined by distance will be disheartened to learn that driving distance actually went down 0.2 of one yard (the first time distance went down since 1993), from 289.3 to 289.1 yards this year. That comes on the heels of last year's 0.3 of a yard gain from 288.9 to 289.2 yards. Hardly signs of the apocalypse. In fact, the increase over the last three years is the smallest in a three-year period since 1991-93. In short, it appears the big boys have maxed out.
Scoring also is stable. Though the scoring average of 70.83 marks the first time it has dipped below 71, over the last five years the average on the PGA Tour has been 71.03, and over the past 10 years 71.10. From 1988 to 1997 it was 71.17. So the last 10 years have seen an improvement of a quarter-stroke per four rounds over the previous 10. Hardly cause for concern.
I know, I know. Courses are longer, pins are in insane positions, etc., etc. So? Pro golf is not a game. It is a sport. As such, it should be difficult, and the achievements of those playing it for a living are far superior to those of us who don't. The only courses that need to be lengthened are the 55 used for PGA Tour events. Any other venue doing so is just wasting open space.
But while equipment advances are nominal at the pro level, there are still gains to be had by the rest of us choppers. How much? Find a launch monitor that not only spits out launch conditions, but also reveals the optimum given your current swing speed. Odds are there's more than 20 yards you're not getting. Isn't that the only statistic you should be interested in?
Equipment scoop from the tours
Padraig Harrington played the season-ending Volvo Masters on the European Tour carrying Wilson's game-improvement Ci7 model as his 4- through 8-irons. His 9-iron and PW (Wilson's Pi5) stayed in the bag. "I just wish I was a 10-handicapper so I could play this club, it's so powerful," Harrington said. ... Harrington wasn't the only top Euro changing clubs. Colin Montgomerie, who has a 13-club contract with Yonex, decided the one non-Yonex club he would carry last week at Valderrama would be Callaway's prototype Squareway 3-wood. The clubhead, rectangular in shape, measures a hefty 208cc (or about 10cc larger than the original Big Bertha driver). ... Jerry Kelly missed the cut at the Children's Miracle Network Classic, but he can't blame it on his switch to Cleveland's next iteration HiBore driver -- the XLS Tour. Kelly hit 24 of 28 fairways for his two rounds, including all 14 in round two. ... Billy Andrade used a set of Mizuno's MP 33 irons at Disney, but the 5-iron was the company's MP-67 model instead. "My 5-iron hasn't been very good," said Andrade. "I don't know if it's the shaft or the lie or the loft, but I just haven't hit it good all year. So [I decided] to go with this new one. Sort of testing it as well, and it's been great. I've used it a lot."