News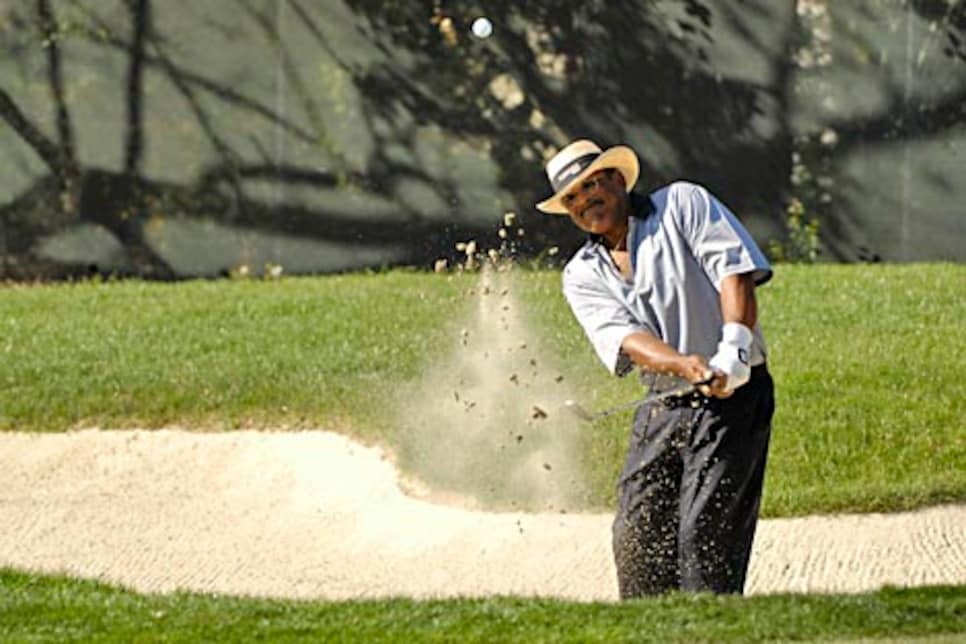 Taking tips from his family and caddie, Thorpe rediscovered his long-missing form.
The final tournament each year on the Champions Tour is like a fancy television with picture in picture. There is the sprint, the Charles Schwab Cup Championship, and the marathon, the season-long Schwab Cup points competition that concludes with 72 holes in the northern California wine country. Last week the respective checks, trophies and bragging rights went to Jim Thorpe and Loren Roberts, one man who plays like he owns Sonoma GC and another who felt it owed him one, both of them grateful the senior tour was an idea that stuck.
"I'd probably be parking cars at Foxwoods [casino] or in Las Vegas or some place if it wasn't for the Champions Tour," Thorpe said after successfully defending his title and winning for the third time in five years at Sonoma. "We are the luckiest human beings walking to do what we do."
Thorpe's 20-under 268 tied the tournament record he set while winning in 2003. He birdied the last four holes -- and five of the last six -- on a perfect Sunday afternoon to shoot a final-round 66 and beat Fred Funk and Denis Watson by three strokes. "Walking down the 18th fairway," said Thorpe, "I was thinking if my Pop could see me from where I came and where I've gone, to where I am today, he would probably say, 'Well done, son.' "
Roberts, too, had reason to be proud. A year ago in this event, needing a two-putt on the 72nd hole to beat Jay Haas for the Schwab points crown, one of the best putters of his time missed a 4½-footer for par to hand the $1-million annuity to Haas. This year, leading Haas by 165 points when the week began, Roberts finished T-13 at 11 under and claimed the prize after Haas was T-20 and made up no ground, and Brad Bryant (who needed a victory to overtake Roberts) sputtered to a closing 73 and a T-10.
Although the only movement in the top five was Denis Watson and Bryant moving ahead of Tom Watson into third and fourth place, respectively, in the points contest, there had been at least one scenario to excite anyone with a pocket protector. If Haas had finished solo fourth in the tournament, Roberts solo eighth and Bryant had won, the season-long contest would have ended like this: Haas, 2,905; Roberts, 2,904; Bryant, 2,903. Last year's 20-point margin between first and second would have seemed like the golf equivalent of a 4-0 World Series sweep.
"We kind of walked across the finish line, but it's a great feeling to get here and win this because it's a year-long culmination," said Roberts. "For me to get on the last hole [in 2006] and have a chance to do it and have probably the best club in my bag fail me, obviously that's something that I did deal with in the off-season and part of this year."
While Roberts had won twice -- including last month's Constellation Energy Senior Players Championship -- and enjoyed 11 other top-five finishes heading into the finale, Thorpe, at age 58, hadn't played up to his usual standards in 2007. Without a victory this season or a top-10 since the 3M Championship in early August, Thorpe secured the last spot in the Schwab field at No. 30 on the money list, just $4,079 ahead of Tom Jenkins. Despite his fondness for the course, Thorpe didn't seem likely to claim his 13th career senior title. "I've been in a major funk on the golf course, you know what I mean?" he said after shooting an eight-under 64 to share the first-round lead with Eduardo Romero. "Whether we win, lose or draw, just getting here the way I was playing, it's a win for me already."
Thorpe's sideman for most of his senior career has been caddie Tony Shepherd, who offered some advice as his boss participated in the pro-am Wednesday. "To me, his key is not trying to lift the ball in the air," Shepherd said. "He hit it kind of erratic on the back nine of the pro-am, and I told him he just needed to stay down and through the ball. He worked really hard on extending through the hitting area, and he hit it beautifully all week."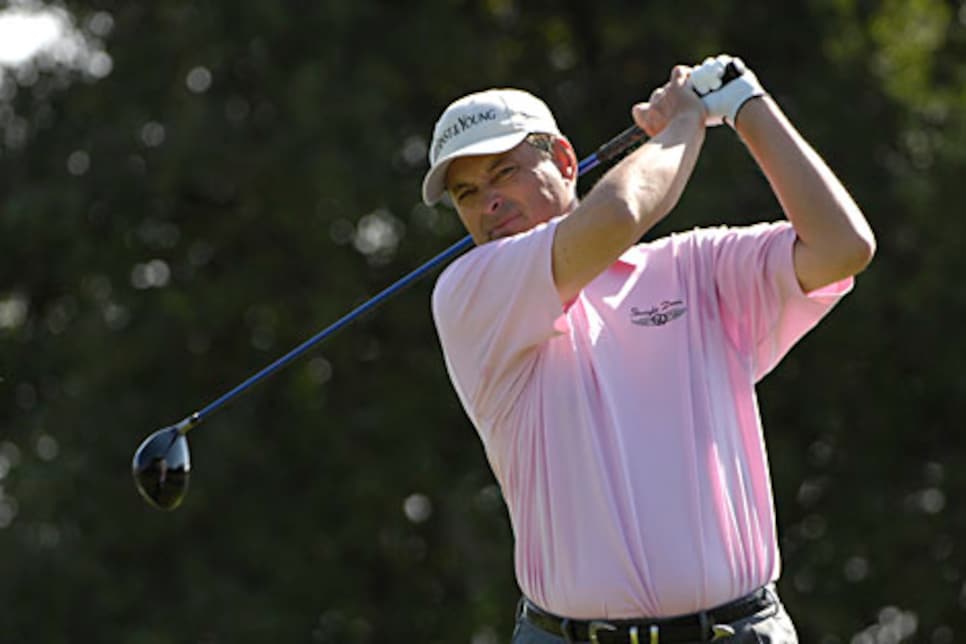 It was a week of tips and motivation from friends and family for Thorpe. His wife, Carol, relayed a putting tip (stance too open) in a phone conversation. One of his daughters left an encouraging voicemail. "She said, 'Dad, you can beat these guys. You've done it before, you can do it again,' " Thorpe said. "Stuff like that goes a long way."
A sloppy double bogey on the 54th hole dropped Thorpe into a share of second place with Bryant at 14 under, one behind Denis Watson. Whatever anxiety that caused Thorpe, the counterweight was his comfort on the Sonoma layout. A number of the par 4s feature wedge or short-iron approaches, one of his strengths, and he loves the slick, Poa annua greens that caused frustration for many of his peers who struggled to figure them out. Roberts, for instance, three-putted five times in the first 45 holes before rediscovering his touch.
"If you're undecided, everything breaks toward the valley down by the second tee," Roberts said. "You always hear about those things at courses -- members talking about everything breaking toward something. But this is the most drastic example I've ever seen."
Thorpe's Sonoma green management (he was T-2 in putts per round for the week) was long in the making. Before settling outside Orlando, Thorpe lived from 1977 to 1997 in Buffalo, N.Y., where he had a Poa practice green in his backyard constructed with surplus sod from some greenkeeper friends. He cut the grass with a mower he bought at a junkyard and became quite familiar with the surface and its quirks, including the need to hit short putts harder and play less break late in the day. "When you get that putt of four or five feet," Thorpe said, "you need to put some speed on it to get it to the back of the cup."
Intent on trusting his own reads and using Shepherd's eye for backup, Thorpe didn't make much happen early Sunday, but things changed drastically on the back nine. At No. 13, scene of a pivotal eagle for Thorpe in the final round last year, it was déjà vu on a 19-footer for birdie. "It was identical to the putt he made last year for eagle," said Shepherd. "I told him, 'This looks familiar.' He said, 'It sure does,' and he knocked it right in the heart. That was where it started."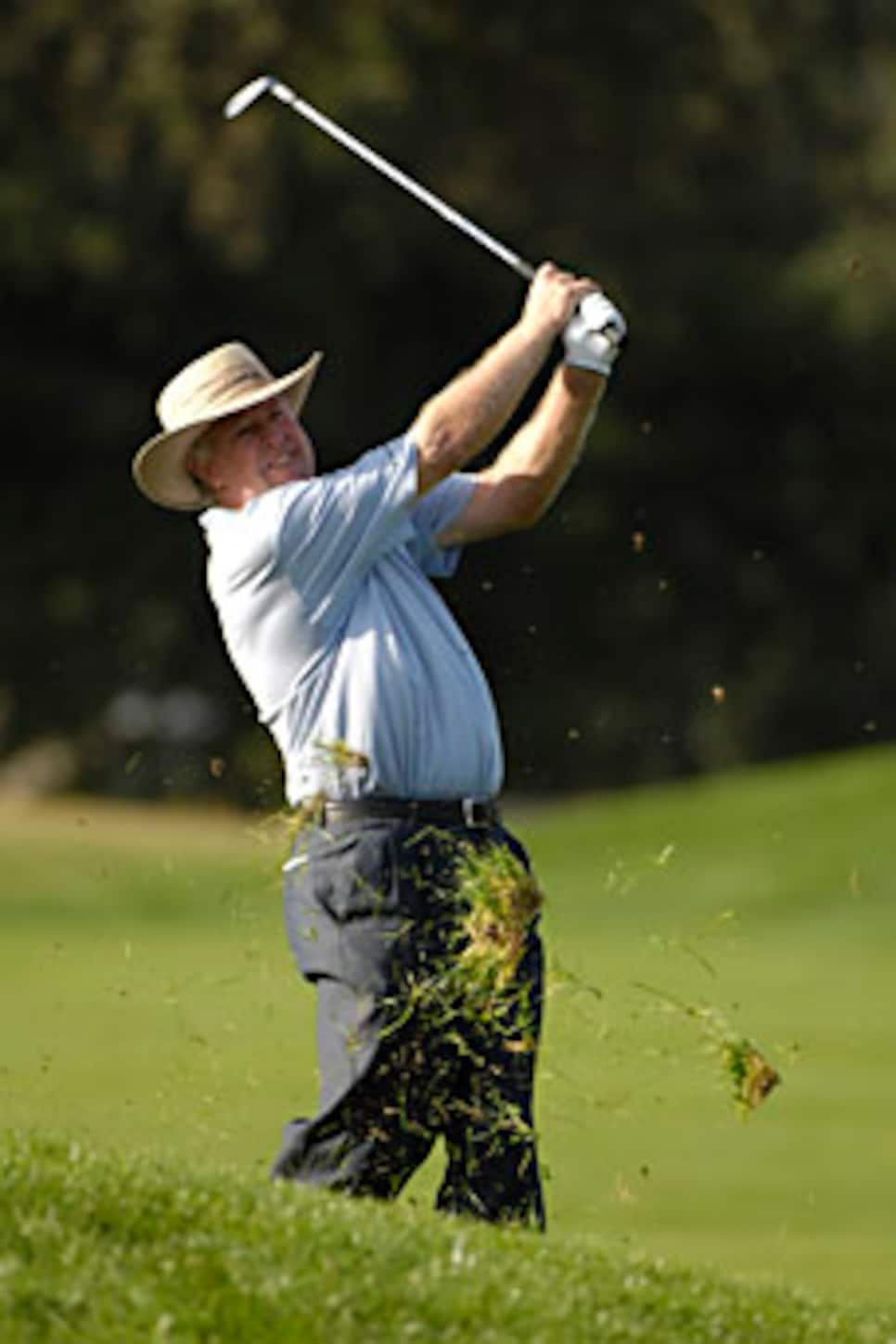 The birdie put Thorpe into a tie with Denis Watson, who was laboring in the final pairing with Bryant. "Brad was having a bad day, and sometimes when neither of you are playing well, it's difficult to change the way things are happening," said Watson, who missed a six-foot birdie putt at No. 13, then bogeyed No. 14. His troubles ceded the chief challenger's role to Funk, whose 18-foot eagle at 16 tied him with Thorpe at 17 under. "I realized I was tied," said Funk," but I also knew they were going to make some birdies behind me."
Thorpe did just that. He rolled in a 16-footer at the 15th hole, holed a six-footer at No. 16 and set up a five-footer with a gorgeous 9-iron at No. 17. With a two-shot lead arriving at the hole that had bruised him Saturday, Thorpe decided to hit his driver on the dogleg-right par 4 and "just take it over the bunker [a 264-yard carry] and beat the dog crap out of it." A perfect drive was followed by a wedge to six feet, the ensuing birdie a thin layer of stylistic and numerical icing.
"I know I am on the downswing of [my career]," Thorpe said last week, "[but] I don't think anybody has enjoyed himself as much as I have. This mulligan was sent from the big guy up top."