News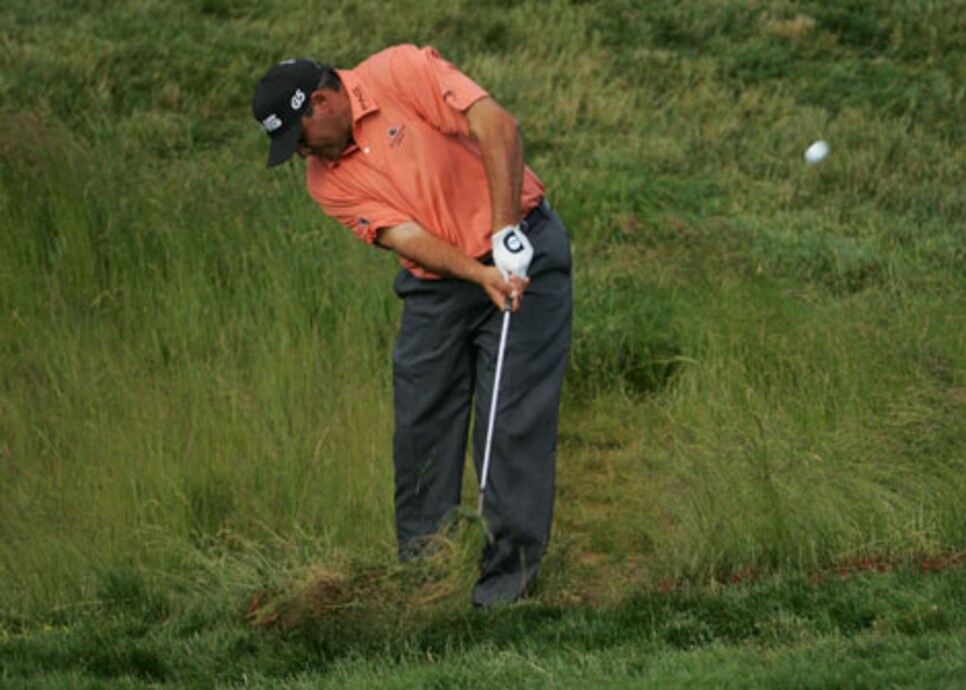 Players such as Angel Cabrera may find the tall grass rougher going in the future.
At last week's Ginn sur Mer Classic players were greeted with a notice saying the USGA was collecting data on grooves between Monday and Wednesday. The memo went on to explain that a small plastic mold impression would be made on the faces of irons and wedges from a variety of manufacturers. The test would take about eight minutes and not leave a mark on the club. Only 40 sets of irons were tested.
"We were looking for additional information," said USGA senior technical director Dick Rugge, who added the procedure was done in response to manufacturer comments on the anti-bomb 'n gouge proposal to modify groove shape. Indeed, the USGA has spent nearly three years reviewing grooves and their diligence is commendable. But one of the concerns voiced by clubmakers has been that the proposed rule is unenforceable. But Rugge dismissed that an enforcement protocol was the reason for the research. "The measurement work was conducted to collect data, not to practice the measurement technique," Rugge said. Still, if a plastic mold can be taken on site without taking the club apart, it is not difficult to think enforcement could be one step closer.
"Obviously, there are going to be some grooves changes coming up in the next two years," said tour policy board member Joe Durant. "Maybe it's something we need to do."
Or is it? Some manufacturers have suggested that instead of implementing a rule right away the USGA should make the groove proposal a condition of competition (putting the groove statute in effect solely for the tour without it actually being added to the Rules of Golf). That would allow time to determine whether or not the proposal would have the desired effect of returning accuracy to the game.
Still, it's hard to fathom the USGA spending all that time and money only to shift gears. And the way the association has tried to address all concerns, while admirable and smart, also means they are covering their bases.
Last week they may have come one step closer to touching home plate.
Equipment scoop from the tours
Bob Estes made a few changes three weeks ago at Las Vegas, and they paid off last week at the Ginn sur Mer Classic at Tesoro. Estes revamped his fairway woods, putting a 15.5-degree Titleist 906 F4 3-wood and 19-degree Cleveland Launcher Comp 5-wood in the bag, along with going to a SeeMore M5 mallet putter. Estes averaged 1.685 putts per GIR (ranked T-9) in finishing T-12 last week. ... Although a longtime TaylorMade staff player, Todd Hamilton had been loyal to Mizuno irons -- until two weeks ago when the 2004 British Open winner switched to TM's rac LT irons. ... Jesper Parnevik apparently can't help himself when it comes to changing putters. Parnevik, who had done well in recent weeks with an ESP putter, decided nonetheless to change to a MacGregor by Bobby Grace M6.4K GT model at Tesoro. The switch seemingly backfired as Parnevik ranked last in putts per GIR in Port St. Lucie, en route to a T-68 finish. ... Jim Thorpe successfully defended his Charles Schwab Championship title after shortening his driver a half-inch. "I felt I wasn't getting through it, leaving it to the right," said Thorpe. "I drove it beautifully today [Saturday]." Thorpe ended the week T-6 in accuracy.