News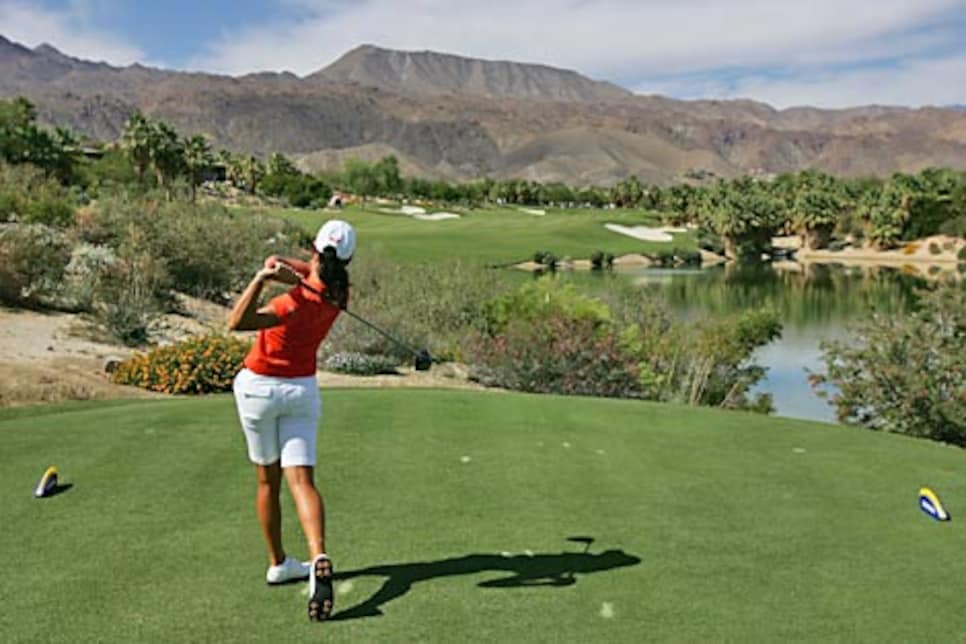 It's tough to know what to make of an event that presumptuously bills itself as a world championship when it invites only 20 players, one of whom has come to resemble a novelty act hired to boost the gate. Is it a carnival or a golf tournament?
The Samsung World Championship further blurred this distinction with its shooting-gallery approach to selecting the field, by presenting a moving target for LPGA players. "Step right up ..."
Its redemption is that the Samsung World Championship delivered a winner already reigning globally, the best player in women's golf by a wide margin and one who was suitably reflected on the leader board at the end of play Sunday. On a perfect desert day Lorena Ochoa was as good as the weather, winning by four shots on the Canyons Course at Bighorn GC in Palm Desert, Calif., for her sixth victory in 13 starts, seventh of the season and 16th of her career. She also clinched her second consecutive LPGA Player of the Year Award.
"After what happened in 2006, I thought it would be hard to improve," Ochoa said, "but here I am. I set some goals at the beginning of the year, and I wanted to get better and I wanted to win more tournaments and to be better with some [statistical] categories on the LPGA. I cannot ask for anything else."
So the Samsung got the winner it needed to help assuage the public relations bruises it absorbed. The first came when it extended its one sponsor's invitation to Michelle Wie in May. Wie sells tickets, but no one could possibly buy the premise that she belonged in this elite field for any reason other than her marquee value. The point was emphatically reiterated when Wie played four rounds in 18 over par to finish 36 strokes behind Ochoa.
Then last month, when it became increasingly apparent Annika Sorenstam would not qualify to play, the tournament manipulated its qualifying process to secure her an invitation. It withdrew its exemption to the U.S. Women's Amateur champion, Maria José Uribe, and replaced it with an exemption for an active Hall of Fame member, in this case Sorenstam. The Swede graciously sent her regrets, and the invitation went to Sarah Lee, who was next on the money list used for filling out the field.
Still, a world championship that excludes the second- and third-ranked players in women's golf, Karrie Webb and Sorenstam, neither of whom was high enough on the money list to qualify, seems to be in need of an overhaul beyond the new site that has been widely rumored. Inasmuch as it isn't likely to lose the "world championship" part of its title, the event can at least argue that its champion is a heavyweight (albeit in a lightweight frame) with international appeal. A native of Mexico, Ochoa was a crowd favorite, to wit the "Viva Lorena" T-shirts on display in the gallery.
Moreover, Ochoa entered play Sunday tied with Suzann Pettersen, a Norwegian who has emerged as a nemesis for Ochoa, as well as a potential obstacle in her bid to reign over women's golf. Two weeks ago, Pettersen, a three-time winner this year, defeated Ochoa in a playoff to win the Longs Drugs Challenge. "She has the characteristics of a champion," Ochoa said about Pettersen last week, "and I think it is always good to see that."
This time, Ochoa delivered a Tiger-like head-to-head performance, shooting the day's best round, a six-under-par 66 that bettered Pettersen by six shots. By her accounting, Ochoa had 16 birdie opportunities; she converted seven of them. Her only mishap came at the 16th hole, where she missed the green and followed with a hapless chip that led to bogey. "There were so many players close," she said, "and I knew for sure it needed to be a low round. I was ready to be aggressive, ready to make a lot of birdies to put pressure on other players. It worked. Today was my day. It was a fun round."
Still, it wasn't a round without hurdles. When Jeong Jang holed a bunker shot for birdie at the ninth hole while playing ahead of Ochoa, the two were tied for the lead at 15 under par. Ochoa responded with a birdie on the par-4 10th hole to regain a lead that was never again threatened and grew to four strokes when she birdied Nos. 14 and 15.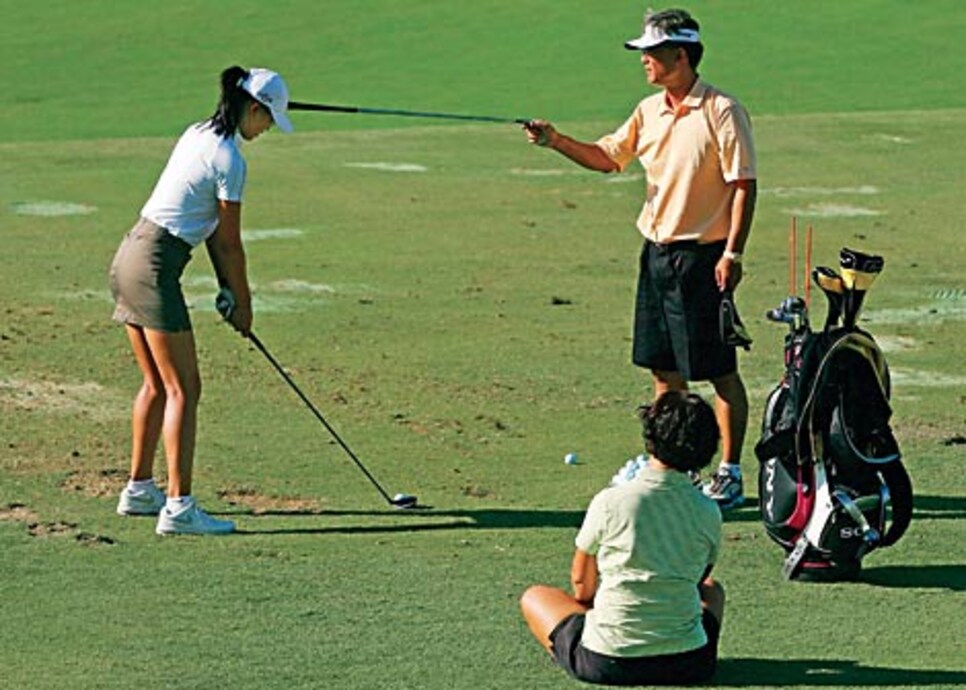 "I saw J.J. make that bunker shot on nine, and that's why my birdie at 10 was so important," Ochoa said. "You either break the momentum or keep it going. I hit a beautiful second shot there, maybe to four feet, and that changed everything. I got in the lead and from there I started feeling a lot more comfortable."
Ochoa earned $250,000 here (carnival or not, those aren't stuffed animals), to push her record-setting earnings to $3,318,421, with $4 million now in play and five tournaments remaining on the LPGA schedule.
She's wealthy now, but apparently not complacent. Just 25, Ochoa sees flaws in her game where others only see greatness. "Every good long hitter, they don't [usually] have a good short game," said Mi Hyun Kim, who birdied the last two holes to finish second. "But Lorena does. She hits it very, very far. I want to ask her, 'Can I get 10 yards distance from [you]?' She's pretty skinny, too. She does not look big and strong, but she hits it so far. If she hits it long, she hits a good putt. She has a lot of good things. I'm jealous."
Ochoa won't surrender the 10 yards to Kim. "I like her, but no, not that much," said the champ. Instead, she stated her intention to regroup in the off-season, to find ways to improve so the standard she is setting becomes increasingly insurmountable to those who might threaten her dominance.
"I like to stay on top," she said. "It's been a long process to get there, but I enjoy very much all of the process, and that's where I'd like to be. I want to be one step ahead, and for that I need to keep working hard. Don't get any distractions for other things that are happening outside of the golf course. Make sure I always get my practice and my rest. I think you have to have very clear goals, what you want to do and where are the places you can improve. There are so many places -- my short game, a better feel with my putting. I want to go home and work hard in the off-season, even harder than last year."
The payoff for a tireless work ethic was obvious Sunday, when she proved the Samsung World Championship to be something more than a carnival after all. Carnivals don't feature command performances the likes of which Ochoa delivered.
As for the size of the field, it was immaterial in the end, wasn't it? It seems unlikely, to say the least, that anyone these days can beat Ochoa at the top of her game.