News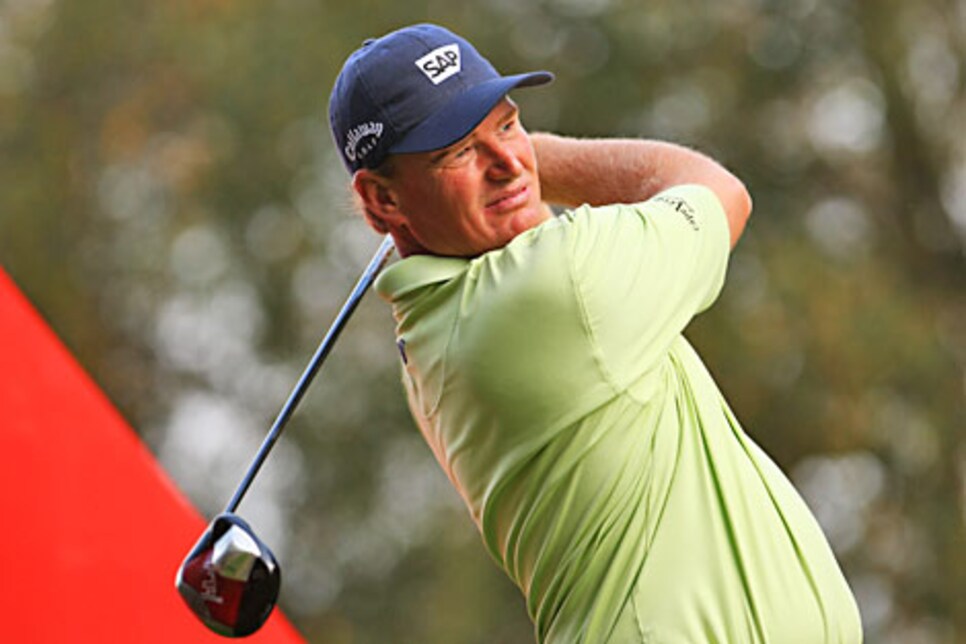 After a quarterfinal match with some shaky putting Els made changes that paid off.
Over the 43 years of its existence and through as many as half a dozen disparate title sponsors from Piccadilly to Colgate to Suntory to Toyota to Cisco to HSBC -- with another on the way -- the World Match Play Championship at Wentworth has been accused of many things, most of them relating to the tournament founder, the late Mark McCormack, packing the field with his own IMG clients.
In truth, Mr. Ten Percent was an easy target, as was his Cleveland-based company's acronym. "IM Greedy" was a popular alternative, as was "International Money Grabbers," with neither barb, of course, by extension doing anything for the World Match Play's standing in the game. "Nice event, good fun, but no integrity," was the widely held view.
But that was then. With a quantifiable and public qualifying system in place nowadays, this long-standing autumnal event has grown in both stature and credibility. Take this year. Of the four semifinalists, only one, Hunter Mahan, pays a percentage of his earnings to IMG, a point worth making in an event offering golf's biggest first prize, a cool £1 million. And even better, eliminating any hint of blatant bias seems to have brought with it a greater diversity, too. Not only were the final four all from different countries, each hailed from a different continent: Ernie Els from Africa, Angel Cabrera from South America, Mahan from North America and Henrik Stenson from Europe.
Such a cosmopolitan lineup has to be commended in a so-called "world" event, even if, with only 16 starters, there remains an air of exhibitionism about the proceedings. And let's not get into the fact that with the arrival of the WGC-Accenture World Match Play Championship that features the planet's best 64 players, the global claim of this event's title is, if one is honest, more than a little dubious.
Still, don't tell any of that to Els, who beat U.S. Open champion Cabrera 6 and 4 in the 36-hole final to trouser that tidy seven-figure sum and, almost incidentally, leap to the top of the European Order of Merit. Far more important to the former U.S. and British Open champion, however, was the simple act of clambering back into the winner's circle for the first time since he lifted the South African Open title last December. For a player of Els' undoubted class, 10 months between victories bring with them much in the way of frustration.
"I need to play more golf like this," he admitted. "When I do, I know I can give anyone a good go. But I wish I could lift Wentworth up and carry it around the world with me.
"This is a very important win for my career. Tiger wasn't in the field, but we had a lot of good players here. So it is satisfying to win again at last. Hopefully, it will open the doors for more of the same next year."
For all that, there will still be those who will quibble over the long-term significance of Els' 24th European Tour victory and his seventh in this event alone. Not only does he have the sort of powerful, high-flying game well suited to the 7,320-yard slog that is Wentworth's West course in typically heavy autumnal conditions, the 37-year-old lives in a rather splendid thatched-roof house adjacent to the 16th fairway and, a couple of years ago, was heavily involved in lengthening more than half the holes as well as adding more than a few bunkers. At the very least, he knows where the trouble is.
None of which has done anything to hurt the chances of the amiable Springbok in an event he has twice won three times in succession. But you still have to putt well to win at this level and, for long enough in his 12th appearance here, Els was doing just the opposite. Hardly pressed against an outclassed Colin Montgomerie in the first round -- the Scot was often as much as 60 yards behind off the tee -- Els struggled on the greens against Andres Romero of Argentina in the quarterfinal and was more than flattered by the 6-and-5 scoreline.
Speaking of which, according to Wentworth's head superintendent Chris Kennedy, Els spent "ages" working on his stroke that evening on the 16th green just outside his front door. Such are the advantages of a real home game.
Not that such a concentrated period of practice seemed to make much immediate difference. The next morning Els' putting was again inconsistent, this time against Stenson. The Swede, winner of the aforementioned Accenture Match Play earlier this year, failed to take advantage of his opponent's fragility though, ending the morning round only 1 up.
It was at lunch that Els made the crucial adjustment.
"I had to make some kind of change," he acknowledged. "I was awful in the morning. It was very frustrating. I felt I was hanging too far back on my right side at address, so I was hitting up on the ball too much and not getting a good roll. I leaned more left and really tried to punch the ball, which made the stroke a little shorter."
That shorter stroke translated into longer putts holed at a crucial stage of the proceedings. Two up with eight to play, Els made putts of 12 feet or more on the 11th, 12th, 14th and 15th holes -- the first three for vital halves and the fourth for a win. One hole later the match was over.
At the same time, the other semifinal was living up to one of the championship's original premises, that of introducing up-and-coming young Americans to a wider audience. Indeed, Mahan was in many ways the star of the week. Largely unknown outside the PGA Tour, the 25-year old former U.S. Junior champion played some terrific stuff in seeing off England's media darling, Justin Rose, then the in-form Soren Hansen of Denmark.
In fact, one could argue that Mahan's performance when losing 2 and 1 to Cabrera was worthy of even more praise. Six down after 21 holes, the Californian made eight birdies thereafter in pushing his burly opponent all the way to the penultimate green. For his part, having made only one bogey all day, Cabrera was as many as 12 under par when the match eventually ended with a half in birdies on that 35th green.
"He was just a little better than me today," said the loser, accurately reflecting the impressions of many. "I just got a little too far behind. Losing three out of four holes after lunch really hurt."
Still, with a check for £120,000 to console him, Mahan, whose only other trip to England had been for last year's British Open at Hoylake, professed to have enjoyed the whole experience. He even made time to watch England take on France in the semifinal of the Rugby World Cup before jetting home.
"The British fans probably didn't know much about me before, but they do now," he said. "I love coming over here, and I got great support this week. When they get behind you, it's great."
That's true, as honorary Brit Els testified after seeing off Cabrera in a final where he always had at least an edge. Never down and 3 up after the morning round, his extensive match-play experience showed in how he subsequently held his potentially mercurial opponent at arm's length. Even three birdies in succession from the long fourth after lunch brought the Argentine only a one-hole gain.
The crucial thrusts came at the 28th and 30th, where Els' 11th and 12th birdies of the day took him to 4 up. Cabrera would get no closer and, soon enough, it was all over.
Earnings for the day: Els £1 million, Cabrera £400,000, IMG nil.