News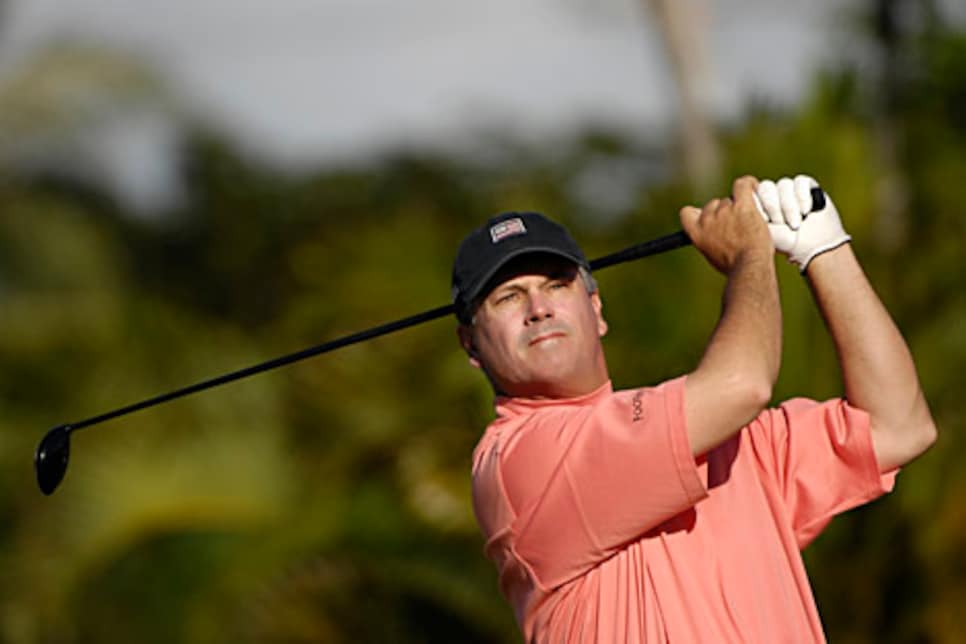 Goydos gets workability plus adequate length when using his 3-wood off the tee.
What's the hot driver on tour these days? Well, for some players, it's a club with a head about 200cc, roughly the size of the original Big Bertha. It also has more loft than they're used to, somewhere between 13 and 15 degrees. Finally, it doesn't go as far as their 9-degree, 460cc behemoths -- but it sure is straighter more often.
No, the USGA has not cracked down on clubhead size. In fact, to use this driver players don't even have to add a new club. Their "new" driver is already in the bag. And it has the number 3 on the soleplate.
If 60 is the new 40, then 3-wood is the new driver. Or at least the second driver. Despite Phil Mickelson making dual big sticks fashionable last year, fact is, most tour players turn to their 3-wood to get the tee ball in the fairway. And one reason is the evolution of the 3-wood design.
Once sporting tiny heads measuring little more than 100cc, 3-woods have bulked up in the last decade, due to the use of lighter titanium or composite materials that reduce weight and allow for a larger head. That scores points for forgiveness (not necessarily a high priority for elite players), but may affect workability from the fairway and rough -- which may explain Sony Open champ Paul Goydos' take on techy threes: He's not keen on them off the deck, but he likes the way he can turn them over off the tee. "It's definitely more of a second driver for me," said Goydos. "I hit it almost as far as my driver, but I don't hit many off the turf."
Goydos is hardly alone. ShotLink does not provide information on the number of 3-woods hit off the tee versus the ground, but one researcher acknowledged "a high majority" of 3-woods are used off the tee.
Still, large-headed 3-woods are not for everyone. If you hit your 3-wood more from the fairway than a tee, the big heads might be harder to hit off the turf and may spin more than you want. Bigger isn't always better.
Equipment scoop from the tours
Leave it to John Daly to create controversy. Last week in Las Vegas, Daly took a shot at Maxfli, giving the brand he endorses some press it wasn't looking for. Frustrated by the inability of the ball plant to consistently deliver the same firmness of golf ball to him, Daly went off, telling the Las Vegas Review Journal, "I'm sick of it. I've got the best ball I've ever played with, [but] the plant in South Carolina [keeps] sending me a harder ball. It's good for a guy who spins the living crap out of it, but I don't, and it's killing me." TaylorMade officials declined comment. ... Not all was bad for TaylorMade last week as Dean Wilson requested new grips on his clubs and as a thank-you to the technicians working in the van, presented them with a PlayStation 3 console to play in the trailer on long trips. ... Jesper Parnevik's putting has been so good lately you might think he has ESP -- and he does. Parnevik changed to an ESP model putter two weeks ago at the Valero Texas Open. ESP stands for Elite Sports Products, and the Swede has been just that with a mallet that looks as if it has wings, ranking first two weeks ago in putts per GIR and 19th last week.