News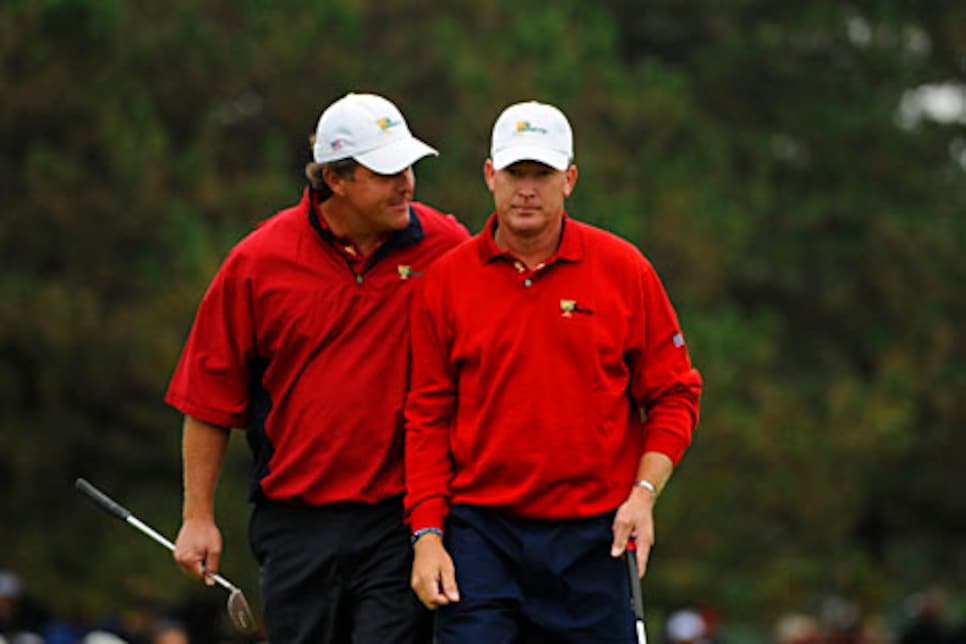 Austin's powers: Mickelson and his U.S. mates found an unlikely unifying force in their team's oldest rookie.
Even with a police escort, the bus ride from the hotel to the golf course took 45 minutes: a long time for America's best players to sit together, a perfect time for the saucy male-bonding that helps 12 talented men become a compatible, cohesive unit. At the 2005 Presidents Cup, then again at the Ryder Cup last fall, the United States squad stayed in on-site accommodations, meaning a guy could brush his teeth, grab a muffin and start hitting balls five minutes after rolling out of bed.
Last week was a bit different. "No one likes being on the bus for that long, but we've made the most of it," Jim Furyk said Saturday evening. Among the nominees for Most Valuable Passenger was Phil Mickelson, whose good-natured teasing of Woody Austin, his partner in three matches, had the caravan rollicking as it lumbered out of downtown Montreal and headed west on Highway 40.
"There's been a lot of laughter on this team -- Woody has made it very light," said Steve Stricker. "A lot of the jabs go his way, and he's pretty good at giving them right back."
The abuse didn't let up once the Yanks pulled into Royal Montreal GC, where the brilliant colors of a Canadian autumn failed to camouflage a beating that left the Internationals black and blue. Its 19½-14½ victory meant that Team USA, for all the match-play malfunctions against the Europeans in recent years, hasn't lost this event since 1998. In the four meetings since, the Americans have outscored the so-called Rest of the World by 19 points.
Some signs of global warming are less ominous than others. "You could see that the makeup of this team was excellent -- it was very evident," said '08 Ryder Cup captain Paul Azinger, whose mission is to unearth some positive Presidential mojo at Valhalla with what should be a very similar squad. "They also had a lot of hot guys coming in. Stricker, Tiger [Woods], just about everybody has been playing well."
To call this rout a triumph of team chemistry would not be an overstatement, although a dozen guys in red shirts and good moods don't necessarily make a lot of putts. In addition to the 35-kilometer commute, what separated this group of Yanks from other winning teams -- and Ryder Cup losers, for that matter -- was the ability to convert mid-range scoring chances from the beginning of the week to the end.
In fact, they couldn't have started any earlier. Hunter Mahan buried an 18-footer for birdie on the first hole of the first match on the first day, setting the tone for one of the tidiest foursomes sessions any team has ever compiled. All six U.S. partnerships finished the day under par, a remarkable achievement given the alternate-shot format, and were a cumulative 13 under. The Mahan-Steve Stricker tandem made just one bogey. Mickelson-Austin made three but piled up five birdies.
It added up to a five-point lead by nightfall, but after seeing his boys pick up just 1½ points in the six Friday four-ball tilts, U.S. skipper Jack Nicklaus felt compelled to empower his Golden Bearness at the team talk that evening. Speaking as if his best player wasn't in the room, Nicklaus pointed out that at the the start of the week, everyone would have been happy with a 7-5 lead after two days, then called for a Woods-like turbocharge on the weekend. That's all fellas.
What Jack wants, Jack gets. "To win all five [Saturday morning] matches, I never dreamed that would happen," the captain admitted. "And to have us win 10½ of 11 points over two days in foursomes, which we're not necessarily that good at, was pretty astounding."
Nothing spoke more glowingly of this team's togetherness than its alternate-shot domination. The three previous U.S. squads (Ryder and Presidents) were 7-13-7 in foursomes, a format that requires more strategy and a higher level of communication than the four-ball, although quality shots make everything a lot easier. "You try to play as if it's your own ball and not worry [about your partner,] but it's challenging," said Adam Scott, who was drubbed in both foursomes sessions. "Establishing a rhythm is the hardest thing."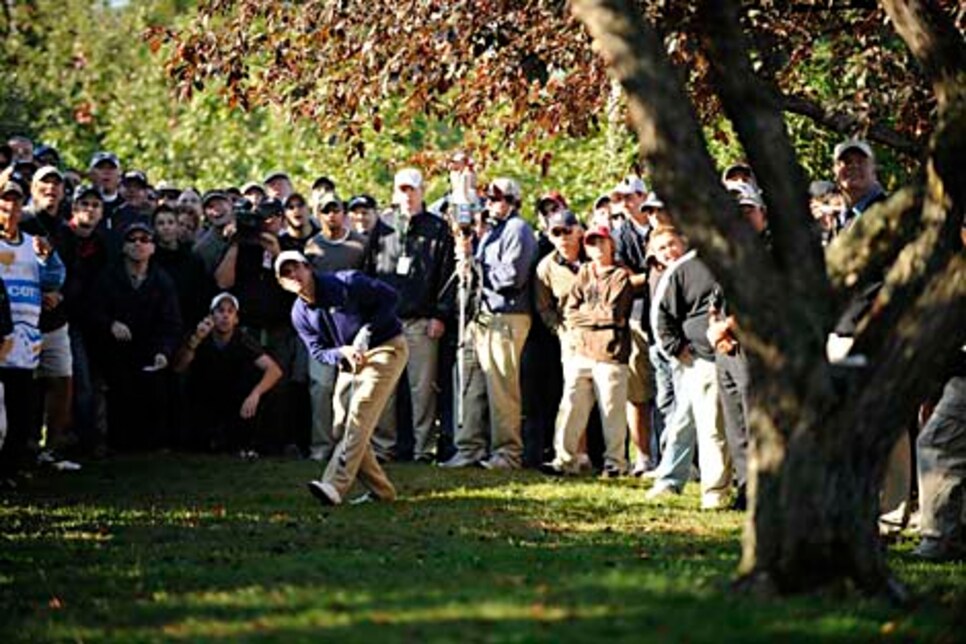 Not when you've got a couple of hams and a dozen eggs, only one of which is cracked. For all the meaningful putts made by Austin over the first three days, it was his endearingly flaky presence that allowed these Yanks to assume their cheery identity. Long before he tumbled into the pond left of the 14th green Friday afternoon, then finished birdie-birdie-birdie to steal an invaluable half-point in the final four-ball match, Woody's role wasn't unlike that of the half-crazy linebacker whose reckless antics unify an entire football team.
No question, Austin's levity heightened the camaraderie. It's fair to say some U.S. squads have lacked that commodity. "I saw somebody [wearing] red, falling in the water," reported Steve Stricker, who witnessed the scene from the nearby 16th green. "I just knew it had to be Woody." His aquatics obviously made a huge splash, but the fact that Austin tried to hit a shot out of a foot of muddy H2O testified to his do-anything-to-help-the-team mentality.
Rory Sabbatini had just driven the green for the Internationals at the short par 4. David Toms, Austin's partner, then launched his tee ball into the lake, meaning Team USA's chances of halving the hole if Woody got up and down were maybe 1,000-to-1 if he was wearing flippers, quite a bit higher if he wasn't.
Instead, Austin got down and up. After failing to remove his ball from the muck, he slipped on a rock and lost his balance. "From where I was standing, all I could see was his head," Toms clucked. "I could tell by the look in his eyes that he was in trouble." His partner plunged face-first underwater, gathered himself quickly and sloshed ashore, but it was too late. Albert Woody Austin II had done wonders for his loopy legacy.
"I was dry by the 15th green," he would say. "You're not really thinking about anything when you're falling. It wasn't until I walked up the bank that I realized I looked like an idiot." Not that anyone noticed, but Sabbatini had made his eagle putt to put the Internationals 2 up. Austin responded with a birdie at the 16th to cut the deficit in half, jarred a 12-footer at the 17th to square the match, then topped Sabbatini's 10-footer for birdie on the last green with his own from six feet.
Austin shot a legitimate 63 on his own ball -- Toms helped him on one hole. Soak this, Rory. "One of the gutsiest things I've seen in golf," Toms marveled. "It wasn't like he was hitting wedges in down the stretch. We're talking about a couple of 6-irons and a 7-iron, all real close."
Real close? The Friday four-ball was the only partnered session Austin didn't spend with Mickelson, and as the U.S. lead turned into a landslide, Woody and Lefty added some polish to their Felix & Oscar act. Philly Mick has been known to smile after missing a four-footer for bogey. Woody celebrates a perfectly struck shot by slapping his hip and berating himself. Lefty leads, Austin bleeds. Together, they provide something every team needs.
"All our pairings made sense," Toms observed. "We didn't have anything where they throw it up there and you say to yourself, 'Why are we doing that?' We practiced together well, and we had some fun. And when that happens, you usually play good golf."
Fair point, but it's also worth wondering: Does camaraderie actually make a team better, or does winning become the reason everyone gets along? No doubt, this was a happier group than the ensemble of Yanks that got ambushed by the Europeans in '06, a closer-knit bunch than the crew Tom Kite took to Valderrama in '97. The overcooked nature of the Ryder Cup clearly, and perhaps subconsciously, rubs some U.S. players the wrong way.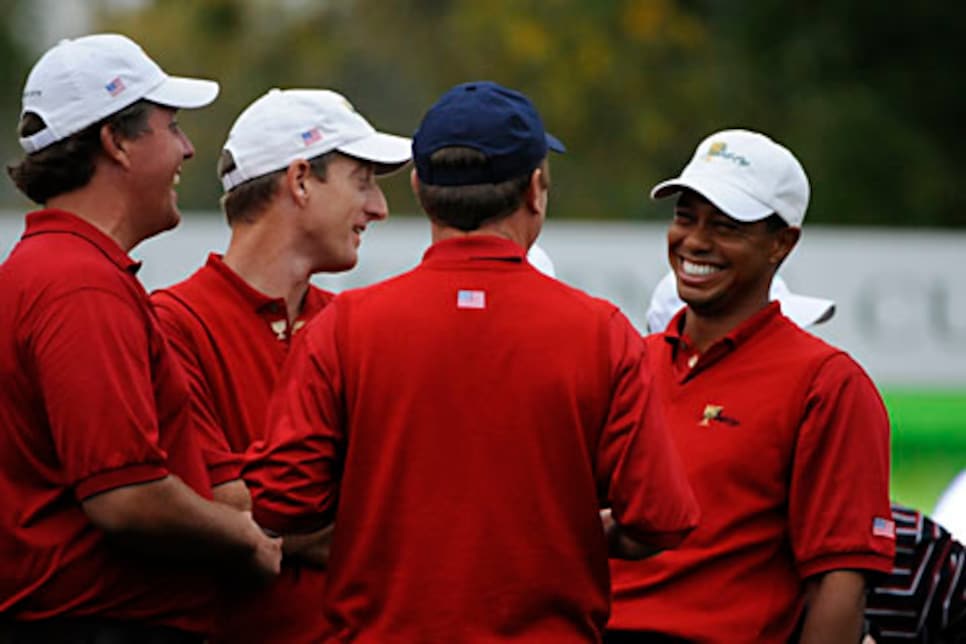 The PGA of America spends the better part of two years driving an event that lasts three days, and at some point, perspective succumbs to hype, 4 and 3. "No doubt, we're more relaxed at the Presidents Cup, but we've always had fun at both," Furyk reasoned. "When you get beaten, it just doesn't show as much."
From a personnel standpoint, however, the pieces here all fit perfectly. Without Davis Love III, Fred Couples, Jay Haas and other U.S. mainstays from the pre-Tiger era, Woods and Mickelson seemed far more comfortable, not only as team leaders, but with each other. Nicklaus' light touch has never imparted a more positive effect -- when you've won 18 majors, there's no need to break chalkboards. Furyk, Toms, Stricker and Zach Johnson are gentle, easygoing guys, low-maintenance types and dependable putters. It's easy to say now, but this team was a lot better in person than on paper.
Then there's Woody. "He brings exuberance, and it [rubs] off on everyone," said Mickelson, who manhandled Vijay Singh in Sunday singles and lost just once in five matches, countering his poor performances at the '03 Presidents and '04 and '06 Ryder Cups. "We've played these things every year since '94, and guys like Woody and [Mahan] remind us how fun and exciting it is. That gets us focused."
On past U.S. squads Jerry Kelly and Chris DiMarco auditioned for the role of emotional catalyst. Both are high-end grinders whose relative lack of talent has been overcome by high levels of intensity, but neither was all that successful when it came to translating that vibe throughout the roster. Their intentions may have been admirable, but the message came across in a foreign language.
Austin is a totally different animal. His skill set, at least from tee to green, is immense, but his mental fragility is frightening, his powers of self-deprecation utterly comical. He possesses not an ounce of interest in serving as a leader, but his twisted, lovable persona resonated with all 11 of his less-tortured teammates. He made a much bigger difference than anyone could have imagined as both a player and a mascot, simply by being himself.
"What a great sense of humor, to be able to take the ribbing he took this week," Nicklaus noted in the closing ceremonies, at which point the entire U.S. team clapped harder and faster than they had all week.
Maybe he'll make the 2008 Ryder Cup team, maybe he won't, but for four glorious days in a place where French is the native tongue and hockey is all that matters, Austin emerged as America's missing link. He lit fires, smiled through the needles and saved up all his joy to laugh in pressure's face. He's a big bottle of glue in red, white and blue.
"I lost to Phil the first night, then I didn't lose again," Woody crowed of his exploits at the ping-pong table. "I beat Zach five or six times, Furyk once or twice. I beat Phil in the rematch and he wouldn't play me again. He'd beaten me soundly the first time, and I said to him, 'Man, I had no idea you guys take it so seriously.' Phil's like, 'Oh, man. Pong is very big.' I told him I was a rookie, that I'd made a rookie mistake."
His first one -- and, as it turned out, his last.