News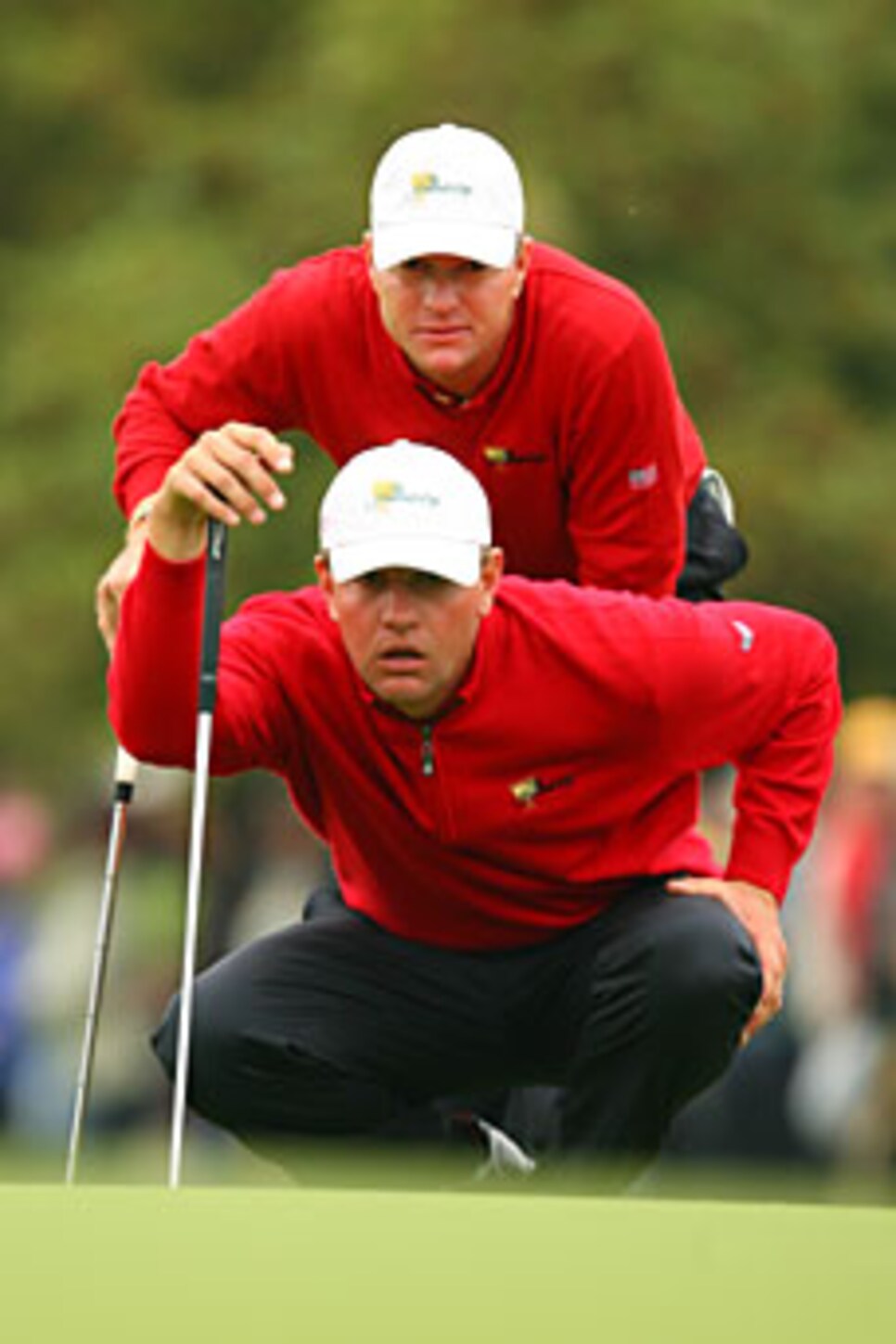 Veteran Verplank and Cup rookie Glover went two for two in foursomes showdowns at Royal Montreal.
Foursomes is the three-legged sack race of golf, and elite professionals encounter it about as often as the rest of us channel our inner Olympian at the company picnic. Cooperation between teammates is paramount, and if you're not in step with your partner, you don't have a chance. "It definitely has its quirks," said American Woody Austin, who hadn't experienced foursomes for fun, profit or pride of country until last week's Presidents Cup at Royal Montreal GC. "It's such a weird format for someone who has never played it."
Austin, of course, isn't alone. Most 21st-century pros know more about alternative rock than alternate-shot. This unfamiliarity has tended to breed consternation, particularly for the United States and especially in the Ryder Cup, in which Europe has outscored the U.S. 45½-34½ in foursomes en route to six wins in the last 10 matches.
The format has been kinder to the U.S. in the Presidents Cup, but of the nine Americans on the 2007 side who had played in the event before, only four arrived in Canada with winning foursomes records, and the veterans had a career mark of 18-18-6. Include the Ryder Cup, and the group was 29-37-13 in alternate-shot.
"History shows we stink at foursomes," Stewart Cink said.
At Royal Montreal, however, past performance turned out to mean as much as it does for a fly-by-night stock. The U.S. owed its comfortable 19½-14½ victory over the International team to a stunning, dominating effort in foursomes on the first and third days of the matches. The Americans began by going 5-0-1 in Thursday's opening session, then blanked the opposition 5-0 Saturday morning. "To win 10½ out of 11 points in foursomes, which we're not necessarily that good at, was pretty astounding," said U.S. captain Jack Nicklaus. "In the Ryder Cup we don't do very well with that format. I don't know why we did well here."
Beyond the numerical realities of the scorecards (see The Presidents Cup Results, pages 39-44), the relaxed Americans seemed to benefit from the levity provided by Austin and the largely laissez-faire approach of their captain when it came to the pairings, which are crucial in foursomes. They also seemed to embrace the format the way Nicklaus did as a Ryder Cupper amassing eight career points in alternate-shot, second only to Billy Casper, Arnold Palmer and Lanny Wadkins (nine) among U.S. players.
"I particularly liked foursomes because we never got to play it," said Nicklaus, who competed in six Ryder Cups. "That's why I liked the British Open, because we only played once a year on a seaside course. It's different, it's fun. And you really have to rely on your partner. There's none of this, 'Gosh, I'm sorry, I didn't mean to hit that shot.' It's like, 'Hey, I'll go dig it out for you. We'll get it back.' "
That was the attitude demonstrated by the most dynamic foursomes pairing in modern golf, Spain's Seve Ballesteros and José Maria Olazábal, who went 6-1-1 in four Ryder Cups between 1987 and 1993. "Seve is unstoppable," Olazábal said during the 1991 matches. "It did not matter where we put the ball, we always came out well." The Spaniards' countryman, Sergio Garcia, has picked up where they left off, posting an 8-0-0 alternate-shot record with an assortment of partners.
Nicklaus' only foursomes defeat in the Ryder Cup came in 1971 when paired with the much shorter-hitting Dave Stockton. Nicklaus considered the compatibility of his players' golf balls last week, but he wasn't adamant that his alternate-shot duos have similar style games. "We've just got some good combinations, some good personalities that mesh well," said Cink.
While eight Americans earned two points in foursomes last week, including Tiger Woods (who improved his career Presidents Cup record in the format to 7-2-1), Scott Verplank and Lucas Glover personified their success and proved that mirror-image games might not be as important as enjoying your partner's company. Verplank, 43, is T-167 in driving distance on the PGA Tour this year with a 279.8-yard average, while Glover, who turns 28 next month, is ranked 37th at 297 yards.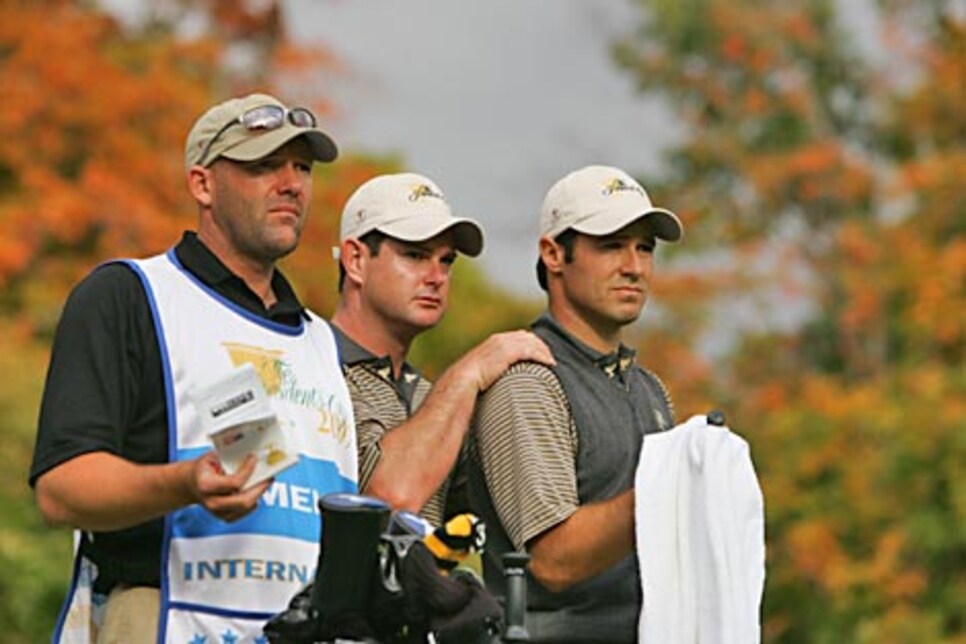 "Lucas and I don't have similar games as far as the distance we hit it, but we like playing together," said Verplank. "We play practice rounds together. We eat dinner together. We get along great, make a perfect match." Verplank, who loves football and gets inspired by team golf, has saved some of his best play for this format. After going 2-0-0 in foursomes at Royal Montreal, Verplank is 4-1-1 in the format in Ryder and Presidents Cup play. "I feel whoever my partner is, we're going to be competitive," Verplank said. "I think [my partner] knows I'm probably going to hit the fairway. They may be further back than they're used to, but they're going to have a good lie. They generally know I'm going to make most of the critical putts. I'm generally a pretty good putter from six or eight feet and in, which you have a lot of to halve holes, sometimes to win. I love playing it, so I make my partner love playing it, too."
Foursomes was the only team format used in the Ryder Cup from its inception in 1927 (when Walter Hagen-Johnny Golden beat Ted Ray-Fred Robson in the first match) until 1963, when four-balls was added. It can be tough to love for a couple of reasons. There is the physical challenge of hitting fewer shots and struggling to find a rhythm. "I got up on the third hole today and hit it left," Austin said Saturday after he and Phil Mickelson had beaten Stuart Appleby and Retief Goosen, 5 and 4. "I didn't hit another driver until the ninth hole." And there is the emotional factor of knowing your partner is going to have to play your foul balls. "Phil [says] he drives it better for his partner than he does for himself because he seems to focus better," Austin said. "I seem to have driven it worse and played worse in the alternate-shot because I'm trying so hard for him that I can't get out of my own way. It's amazing how that works."
Ernie Els stood in the shadow of the 18th-green grandstand late Saturday afternoon watching the day's play conclude and reflected on the Americans' convincing defeat of his team in foursomes. "You've got to like your [partner] because you're playing for him," said Els. "If you don't feel comfortable with the guy you're playing with, you're not going to play your natural game. If you don't gel with your partner, you're screwed. I think we don't get enough practice [at foursomes]. Maybe in the future, in the weeks leading up to the Cup, maybe we should play a couple of rounds of foursomes and get to know two or three guys we can play with -- not just try to get it done [the week of the competition]."
Paired with Angel Cabrera in the first session, Els missed a five-footer on the 18th green that would have halved their match against David Toms and Jim Furyk. It was one of four opening-day matches that went to No. 18, with the U.S. halving one and winning the others. "I don't think any of [our] 12 players could turn around and say, 'Well, this is why it happened,' " Appleby said of the International's foursomes struggles. "No doubt the alternate-shot is the most unusual format. It certainly is the most cutthroat."
And it certainly doesn't treat golfers who are a little off-form very hospitably. A number of the American golfers had been playing better than their international counterparts in the weeks leading up to the Presidents Cup, with seven (Austin, Furyk, Johnson, Mickelson, Stricker, Woods and Hunter Mahan) winning PGA Tour events since May compared to three international players (Cabrera, K.J. Choi, Rory Sabbatini). Moreover, the U.S. had a more impressive collection of statistically better putters on the PGA Tour in 2007. Three Americans (Woods, Stricker and Mickelson) were ranked in the top 15 in putting average and eight were in the top 50, compared with five Internationals. Four international team members (Nick O'Hern, Goosen, Appleby and Cabrera) came in ranked outside the top 90 in putting average. The side's best putter (Adam Scott, T-20) didn't distinguish himself on the greens last week.
"We put a lot of time in trying to select what we thought were really strong [foursomes] teams -- good mates, good friends, like games, all of the things that you try and put together," said International captain's assistant Ian Baker-Finch. "And it's just shocking. We can't really put our finger on any one thing, except a few guys that we had in place that are good putters didn't putt well this week. And if two of you are not putting well on a team, it's so hard to win. It's almost like dragging a dead weight behind you."
If there was an explanation for the U.S. team's buoyancy in the format where they have tended to sink, Verplank thinks he knows what it was. "I think most guys are comfortable with picking who they want to play with," he said. "I think that's helped in this event. Jack says, 'Hey, if that's what you want to do, let's do it.' I had not particularly noticed it being that simple in the Ryder Cup."
The captain, aware of how tight the first-day matches were and of the game's mysteries, isn't ready to concede that the foursomes dominance could be the start of a trend. "The game of golf is so strange," Nicklaus said. "The next time, we may play very well in the four-ball but not in the foursomes. You just don't know."
But at least one opponent believed the U.S. is onto something. "The American team rectified their situation," Els said. "They had a [bleak] situation in foursomes [at the Ryder Cup]. They found a solution, and it was the Presidents Cup. Playing against us, they got their act together. " One alternate-shot match at a time.