News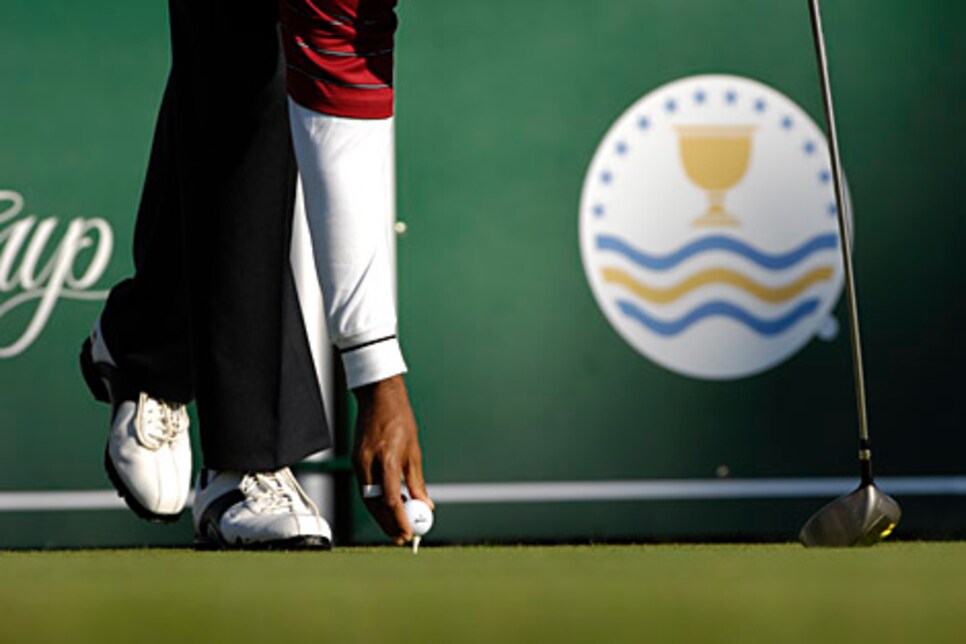 Woods teed off with Furyk's ball (and vice versa) during foursomes play.
When it comes to golf balls, some people downplay the differences. They say they're all round, white and dimpled. But don't try selling that notion to U.S. Presidents Cup captain Jack Nicklaus or many of the other players from both sides who played in the alternate-shot foursomes competitions last week.
Asked if the type of ball each player used was taken into consideration when making the pairings, Nicklaus said yes. "My cheat sheet has not only the players and who they wanted to play with, but also their balls and how they would match up ball-wise," said Nicklaus as he unfurled the piece of paper. "We worked very hard to ensure not only the compatibility of the guys, but the compatibility of the golf ball. It is a big deal. Tiger's ball is the hardest to play because he plays a very high-spin ball. In alternate shot, the other guy drove with Tiger's ball so Tiger would be playing [his own ball] into the green. And Tiger would [drive with his partner's ball] so [his partner would be] playing his own ball into the green."
Such planning was required because participants were allowed to change balls if they chose on each hole. Still, players were required to finish the hole with the ball they started with, meaning there would be plenty of times an unfamiliar sphere would be struck. In fact, during the foursomes sessions 12 of the 22 pairs played different balls.
Ernie Els fell into that category both times. And the three-time major winner agreed it was not as easy as it might appear. "I was playing a red Titleist ball with Angel [Cabrera] and a black Titleist ball with Scotty [Adam Scott]," said Els. "I don't know how far my 7-iron is going. Into the wind, one ball goes longer."
Of course, not everyone had to concern themselves with such things. "I was lucky," said Mike Weir. "Vijay and I use the same ball."
Additional reporting by Bill Fields
Equipment scoop from the tours
The International team during last week's Presidents Cup matches at Royal Montreal GC had not one, not two, but three players using a fat putter grip. Stuart Appleby became the latest to give the oversize grip a try, joining Trevor Immelman and K.J. Choi with plump grips on their putters. ... It may have seemed an odd week to change putters, but David Toms (below) clearly knew what he was doing when he went back to the Never Compromise Milled Series putter he used to win the 2006 Sony Open. Toms went 4-0-1 at the Presidents Cup. ... While the game's best were off doing battle in Canada, the tour's Fall Series continued at the Viking Classic. And with it came the usual number of players seeking some magic by changing equipment. Fred Funk, for instance, lengthened his TaylorMade r7 SuperQuad driver from 45 to 45 ½ inches in an effort to add clubhead speed, while Boo Weekley, who finished T-3, used Element 21 Scandium shafts in his irons. ... Putter changers also were plentiful at Annandale GC, with Viking Classic champ__Chad Campbell__ armed with a prototype Scotty Cameron by Titleist model.