News
Challenges Ahead For FedEx Cup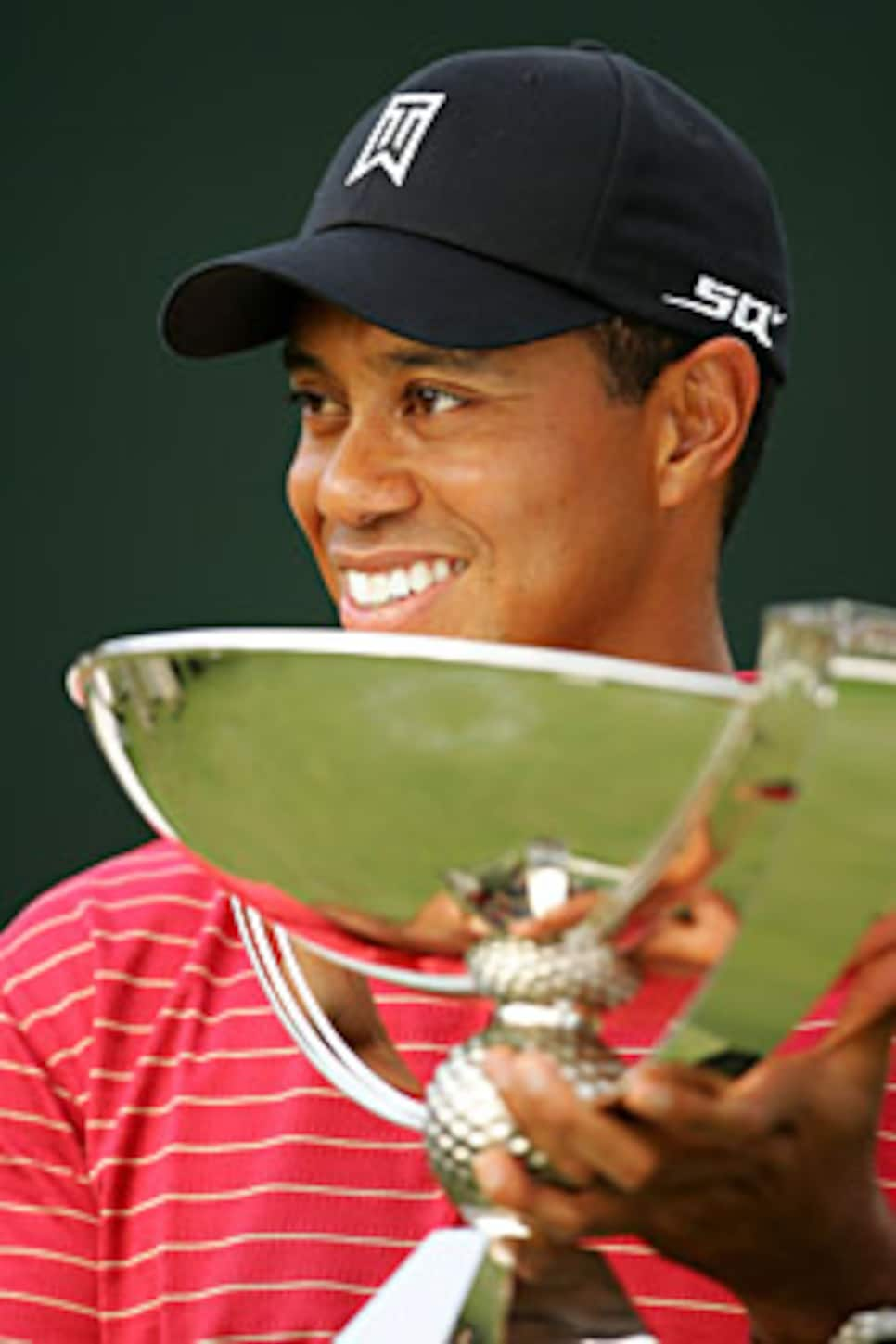 Finchem 'consulted', but did he listen?
So, Tiger Woods won it all last Sunday, which means he will begin his defense of the FedEx Cup title next August at the Barclays, maybe, in the first of four playoff events that will culminate with another Tour Championship at this time next September, maybe. Maybe? "The way the schedule is now, guys who missed one this year might miss more than one next year," said Woods after destroying East Lake GC. By "guys," does he mean himself? "Yes. Absolutely. We played a lot in a short time this year, and next year will be worse unless they do something."
Commissioner Tim Finchem, quite aware of restlessness within the ranks, talks of tweaking the system. Cynics recommend dynamite. Whatever, it is incumbent upon him to act, and he appears willing. At least this year, there is a week off before the Presidents Cup. In 2008 the Ryder Cup will be held in Louisville immediately after the Tour Championship. That would be five consecutive weeks of high-octane competition, a prescription for increased absenteeism. Finchem can't change the Ryder Cup date, which is not to say he hasn't inquired about it, but he is exploring the possibility of staging the Tour Championship after the Ryder Cup instead of before. That might appease players who also question field sizes -- 144 at the series opener is "too many," according to Woods -- and the payoff procedure. While the tour is deferring the principal, Finchem's stars are deferring interest. Woods and Phil Mickelson were asked to partake of FedEx Cup pomp and circumstance Sunday night at the Ritz in downtown Atlanta. They declined. Steve Stricker represented labor. "I can watch my Chicago Bears," he reasoned, "then go to the party."
The playoff was designed to make us forget football, though, by introducing a new era in golf. But despite several kinks, it impressed on several fronts. The FedEx Cup was neither as earthshaking as the tour's $45 million promotional campaign advertised nor as brutal as you would be led to believe by hysterical reactions after Tiger shunned New York, Ernie Els passed on Boston, and Mickelson and British Open champ Padraig Harrington stayed away from Chicago. Not all playoffs are perfect, even those with history. Super Bowls can be dull, and have been. Last year's NBA finals put everywhere in America but San Antonio and Cleveland to sleep, and if you can name the losing Stanley Cup team, you're Canadian.
Despite recent difficulties, Finchem still wouldn't trade places or problems with football's Roger Goodell, baseball's Bud Selig, basketball's David Stern or hockey's Gary Bettman. But nor could Finchem trade job descriptions, because all those commissioners are hired by and answer to franchise owners. Finchem and his sidekicks always say they work for the players, and therein rests a reason why there have been sparks lately. Stewart Cink chided peers for "abysmal" attendance at meetings, but other players contend they could show up for every roll call and still have zero impact on policy, so why bother?
Finchem says he "consulted" with heavyweights about the FedEx Cup, but they hint politely that consulting is different from listening. By missing one playoff each, Woods and Mickelson put their foot down as only they could. To dismiss the significance of their declarations of independence would be a mistake; Jack Nicklaus and Arnold Palmer altered the political landscape of professional golf decades ago. Players noted that Finchem was conspicuous by his presence at East Lake, but if they are serious about becoming more involved, they have to move beyond watching and complaining. Either demand a greater voice or accept what is.
Finchem said "everything went great" with the FedEx Cup. That's not entirely true, but it is his job to put a happy face on the experiment. What's more intriguing is what he is saying in private to FedEx, Barclays, Deutsche Bank, BMW and the TV networks. Very important executives with those companies made very expensive decisions to fund the playoff, ostensibly on the assumption that all the best golfers were to play all the time. How could these CEOs be surprised when it didn't materialize? When Finchem was asked whether he guaranteed corporate angels that Tiger and Phil were on board, he replied, "you never can." Bingo. One wonders whether he told sponsors that during his sales pitch.
At East Lake, softer than Mark Calcavecchia's midsection, target practice was in vogue. Greens that were supposed to be sandy didn't have to be raked, but you had to repair your craters. Woods doesn't enjoy this style of golf, so he shot only 23 under to win by eight strokes. However, his theory is valid. It was like settling a World Series with a home-run hitting contest. Still, with the weather and agronomy forecast, it could have been a lot worse, as could have the FedEx Cup debut. Tiger beat the field and a flawed points system, too. He took a week off and romped anyway, another issue to be addressed. So wait till next year. Maybe.