News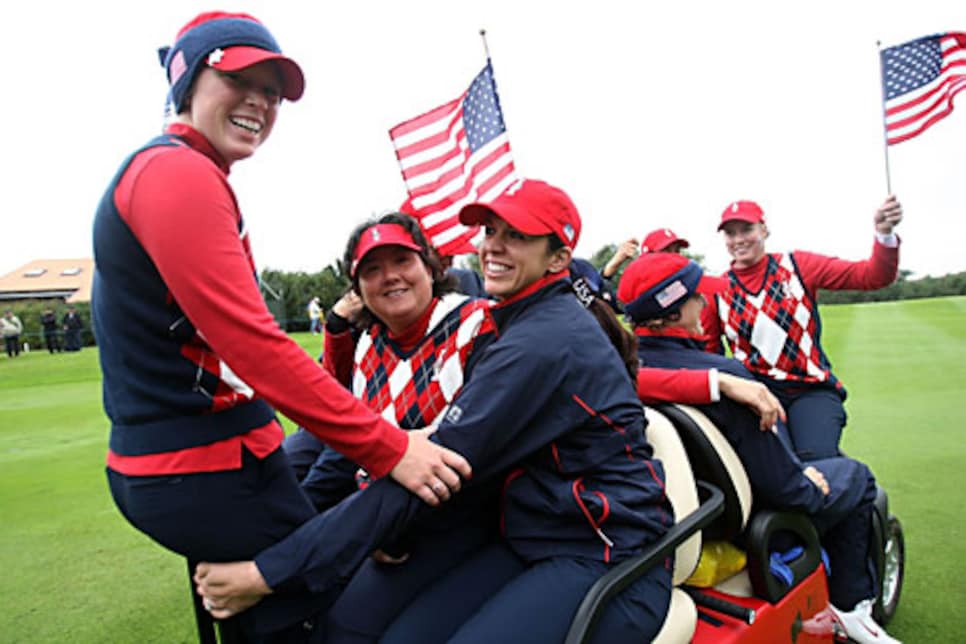 Pressel (left) joined a jubilant cart ride after the U.S. side clinched its victory.
When the United States overwhelmed Europe 11½-4½ in the first Solheim Cup at Lake Nona in 1990, there were fears the competition would be so one-sided no one would watch. The Americans were simply that good. Five members of that eight-woman U.S. team eventually entered the Hall of Fame, including Betsy King, captain of this year's squad. A European win on home soil in 1992 at Dalmahoy eased that fear somewhat, but perhaps it is time to revisit those concerns. The 16-12 victory Sunday at Halmstad GC in Sweden by an extremely young, superbly talented and overwhelmingly confident U.S. team was staggering in its ease. The final margin was four points only because underdog Europe fought gamely through brutal weather to scratch out halve after halve, hanging on by its fingertips, until finally losing grasp of the situation in singles play. A four-event extension of the Solheim Cup was announced early last week and with eight players on its roster under 30 the Americans have assembled a core that could play -- and win -- together in all of them.
The victory was only the second in Solheim Cup history on foreign soil -- the U.S. team won 17-11 in Wales in 1996 -- and it made the overall record 7-3 in favor of the United States. "We've got to win the next four to break even," Laura Davies, who has played in all 10 Solheim Cups, said after she was one of only three Europe players to win in the 12 singles matches Sunday. "We lost to a better team today. They had some good team spirit out there and beat us. That's the bottom line, basically." Actually, the bottom line was uglier than that. Of the eight singles matches Europe lost, only one made it to the 18th hole. Other than that, Davies' assessment of the situation was spot on.
This U.S. team was indeed very good, and it had impressive spirit. A sign in the team room said: Together Each Achieves More. The ping-pong was as competitive as the golf. Hazing of the four rookies helped bond the team. Past U.S. captains Judy Rankin, Nancy Lopez, Alice Miller and JoAnne Carner spoke to the team and gave them an inspiring sense of history. Tattoos of American flags and red, white and blue hearts were on nearly every patch of exposed skin. The normally reticent King emerged as an effective team leader, working with her former Furman teammate Beth Daniel, the assistant who, sources tell Golf World, will captain the next U.S. team at Rich Harvest Farms outside Chicago in 2009.
At one point Sunday after the Cup had been clinched, nine U.S. team members and assistants squeezed onto a golf cart in a comical pyramid to ride out to watch the last three matches. And, when it was all over, the oldest player, 47-year-old Juli Inkster, the eternal teenager and queen of the one-liner, flipped across the practice green in a near-perfect cartwheel that reduced her younger teammates to tears of laughter and triggered a devastating one-liner best not repeated.
"This is my seventh Solheim Cup," said Inkster, whose three points at Halmstad ran her career total to 16½, tying her with Meg Mallon for most among Americans. "I kept telling the young ones, 'This is the best position we've ever been in coming to singles,'" she said, referring to the 8½- 7½ lead Europe had after foursomes and four-ball play. "I said, 'We're golden.' "
But what happened Sunday had to surprise even Inkster. Morgan Pressel, 19, defeated Annika Sorenstam, the all-time leading Solheim Cup points winner (24 points), 2 and 1. Paula Creamer, 21, handled Maria Hjorth by the same score, and Stacy Prammanasudh, 27, held off McDonald's LPGA Championship winner Suzann Pettersen, 2 up. Angela Stanford, Nicole Castrale and Natalie Gulbis -- all in their 20s -- also won singles matches. Creamer now has a record of 5-1-4 in two Solheim Cups and has won seven of a possible 10 points, clearly emerging as the star for this generation of Americans.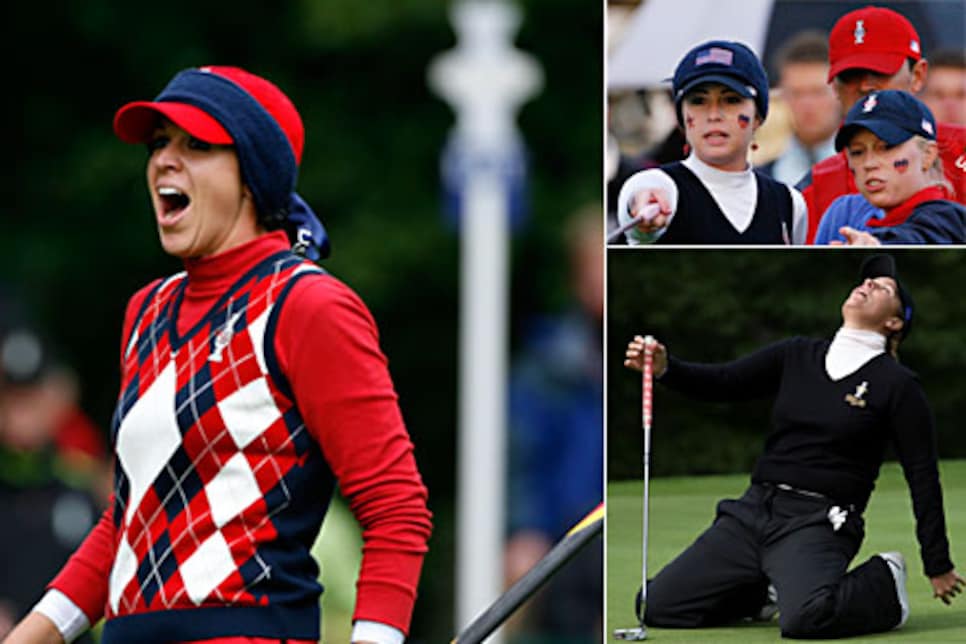 "She's only 21, and she is the leader of the team," said Inkster, who paired with Creamer twice last week. "She played all the matches. She's very competitive, but she gets it. She's very polite out there. She plays her game. [As a partner] she never gets too high, too low. She's 21, but she plays a lot older than that. She's a great player, and she'll be here for a long time. All these girls will be."
And that's the dilemma facing Europe. While eight of the 12 Americans were younger than 30, eight of the 12 European players were 32 or older. Sorenstam, 37 next month and planning an April 2009 wedding with fiancé Mike McGee, may have played her last Solheim Cup. Catriona Matthew, who led this year's European team with three points, is 38, and Davies, Europe's second-leading all-time points winner, is 43. In the late 1990s, when the U.S. team sandwiched that victory in Wales between wins on home soil in '94 and '98, there was talk other nations needed to be brought into the fray in order to make it more competitive.
"The United States had won three in a row, Karrie Webb and Se Ri Pak were the best players in the world and there was a concern the format was broken," Chris Higgs, the LPGA Senior VP and COO, said about the conversation then. "But Europe won two of the next three, and we can now say unequivocally the format is not broken." Maybe not. Ten of the top 17 players in the Rolex rankings on Aug. 27, when the teams were finalized, are from non-Solheim Cup eligible nations, including No. 1 Lorena Ochoa, (see page 19). Likewise, golf is robust economically in Asia, where the women's game is extremely popular. The drubbing Europe received at Halmstad very well might refuel those discussions about whether the format needs fixing.
But just as inescapable as the dominance of the American team is the fact this Solheim Cup was entertaining and well played under grueling weather conditions on the west coast of Sweden. King, when asked if her team was motivated by Dottie Pepper's comment on Golf Channel that the Americans were "choking freaking dogs" (see Bunker, page 17) after squandering several late leads, quickly cut off the conversation.
"No, I don't think Dottie's words had anything to do with how the team played," King said. "We're a good team. They don't need anything to motivate them like that." Then, perhaps indicating all is not forgiven, King added: "That's why you're commentating because you're past your prime and your abilities. It's not a slam. I'm the same way. I couldn't come out here and compete on the LPGA."
Pepper made her comment Saturday after Sherri Steinhauer and Laura Diaz halved a foursomes match with Hjorth and Gwladys Nocera, losing the thrill-ride par-3 16th hole, where everyone struggled, to a bogey and the final hole to a par when Steinhauer missed a three-footer. U.S. players said Pepper overlooked the fact players were literally blown out of their stance over putts Saturday by 40 miles-per-hour gusts and ignored the fact bad shots and missed putts are a common byproduct of the pressure of Solheim Cup competition.
The impressiveness of the U.S. team was matched by the resilience of the mostly Swedish crowds. More than 16,000 showed up Friday in ridiculously hard rain in which the Americans won the morning foursomes matches (2½-1½) for the first time since 1998, and split the four-ball matches 2-2. When play commenced at 10:15 a.m. Saturday after near-hurricane wind delayed the start for two hours, the first fairway was lined eight-deep from tee to green by some of the 33,200 hearty souls who braved 50-degree temperatures made to feel much colder by the wind and occasional rain. More than 36,000 crowded the course Sunday.
What they witnessed was a European team that scratched and clawed to seven halves in the 16 foursomes and four-ball matches, three times winning the 18th hole, pulling even three times on No. 17 and getting all square on No. 16 in the other. Although Europe led 8½-7½ going into singles, it felt like they were behind. Nine of the first 16 matches went to No. 18 with Europe winning the hole four times and halving it the other five. But when Pettersen went to No. 18 trailing Prammanasudh and lost the hole in the third singles match, it was clear Sunday was a new day. Only three matches even got to the 18th green, and the U.S. team lost there only in the Cristie Kerr-Linda Wessberg match, well after the final outcome was decided.
Alfredsson front-loaded her singles lineup Sunday, sending the strong trio of Matthew, Sophie Gustafson and Pettersen out in that order. Matthew won the first point of the day, beating Diaz, 3 and 2, but the next four matches to finish were won by the U.S. and the rout was on. By the time the final match of Nocera and Gulbis finished the first hole the Americans were ahead in seven matches, Europe in just one. Castrale clinched the cup when she earned the 14th point by defeating Bettina Hauert, 3 and 2.
While the U.S. team was united around King, who communicated well with her players and the media, Europe seemed tentative about the leadership of Alfredsson, who made a series of baffling moves. Linda Wessberg, one of her captain's picks, didn't play until the fourth session -- and still won 1½ points. Sorenstam and Pettersen, who have been unbeatable in Solheim Cup play, weren't paired until the fourth session -- and won. And when Pettersen was benched Friday afternoon, Alfredsson said the Norwegian was OK with the move, but sources in the European team room said the matter was never discussed with Pettersen. The tears Alfredsson shed in the closing ceremonies were an indication of the toll the week had taken.
Europe needed its best players to come up big to overcome the Americans' depth. But while Matthew led Europe with three points followed by Sorenstam, Davies and Hjorth with 2½ each and Pettersen with two, no one dominated. Meanwhile, the U.S. team was knee-deep in stars. Besides Creamer's 3½ points, Inkster had three with Stanford and Pat Hurst getting 2½ apiece. Castrale, who played extremely well, Steinhauer and Prammanasudh, another standout, had two points each. Every American except Brittany Lincicome won at least one match, while three European players -- Trish Johnson, Hauert and Gustafson -- were winless.
This was a transitional team for the United States. The core of its early squads -- King, Daniel, Mallon, Rosie Jones and yes, even Pepper -- are in the pipeline to be captains now, although Pepper, once a lock, is now a longshot after her harsh critique. But they have been replaced by a new wave of talent. Here's the question: Are Becky Brewerton (24), who was impressive, Hauert (25) and Wessberg (27) ready to step onto the world stage with Pettersen (26) and compete with these American kids? Or is the format broken? If it is, an exceptional American team that could dominate the Solheim Cup for years to come shattered it last week in Sweden.