News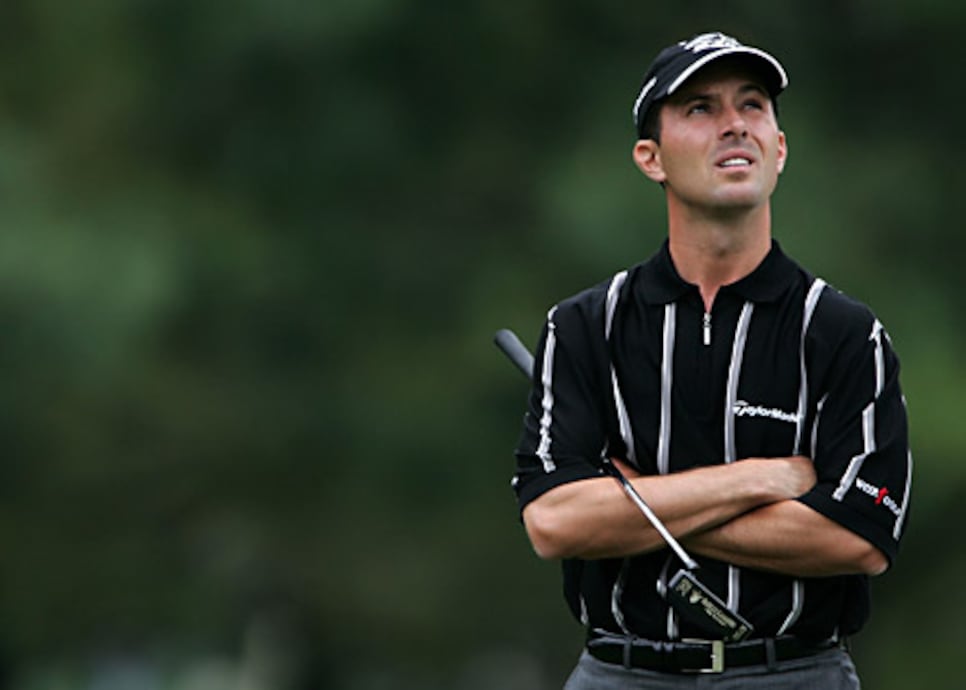 Weir's results have declined since 2004, but he has seen hints of his old form this season.
U.S. Presidents Cup Captain Jack Nicklaus calls Mike Weir "sort of the hero darling of Canada." Gary Player calls him "a hero in his country, deservedly so." Weir, one of Player's two captain's picks for the International team at the Presidents Cup -- Australian Nick O'Hern is the other -- is used to such accolades. He has carried the Canadian flag almost alone on the PGA Tour since he arrived there in 1998 and especially since he won the 2003 Masters.
"Nobody on tour is in my situation," says Weir, who was born in Brights Grove, Ontario, near the U.S. border town of Sarnia. "People say 'Go Tiger,' not 'Go U.S.A.' Wherever I play, it's, 'Go Canada.' "
Weir, 37, has borne the burden of being the golfer Canadians follow microscopically, and often myopically, with distinction. In addition to his Masters title, he has won six other PGA Tour events, including the 2001 Tour Championship. He qualified for the last three Presidents Cups and has a record of 8-6. Weir lobbied for the competition to come to Canada. His presence will mean Canadians, in rooting for the International squad, will be rooting for the home team.
But Weir, who was recently elected to the Order of Canada, his country's highest civil honor, has not won since the 2004 Nissan Open. Later that year, Weir was on course to becoming the first Canadian to win the national championship since Pat Fletcher in 1954. The enormous crowds at Glen Abbey GC in Oakville, Ontario, were beside themselves with excitement as he played the 16th hole of the last round with a two-shot lead over Vijay Singh. But Weir three-putted that green from 10 feet and couldn't maintain his advantage. He and Singh headed for a sudden-death playoff. As Weir approached the 18th tee for the first playoff hole, spectators started singing Canada's national anthem.
Singh won the playoff, and Weir appeared nearly shell-shocked as they shook hands on the green. Many Canadians think he hasn't been the same golfer since. Weir has said countless times that the defeat is far in the past. He gives no credence to the theory. Still, Weir's results certainly have declined since 2004, when he finished 14th on the PGA Tour money list. They've declined dramatically since his banner 2003 season, when he won three times, was fifth on the money list, 85th in greens in regulation, 11th in putting, 12th in final-round scoring average and sixth in overall scoring. Through the Tour Championship, he was 82nd on the money list, 154th in greens in regulation, 73rd in putting, 94th in final-round average and 115th in overall scoring.
Weir was looking for better results when he changed coaches near the end of 2006 to work with Andy Plummer and Mike Bennett, the advocates of the hot new approach dubbed "stack and tilt." He says he was using smoke and mirrors even when he finished sixth in the 2006 PGA Championship. "I didn't feel comfortable over any shots," he says, and that's when he decided he needed more consistency and, perhaps, a change of coaches. Weir also revamped his swing because he couldn't stop himself from moving off the ball on the backswing, which, he felt, was putting too much stress on his back and neck. He couldn't hit as many balls as he normally does during practice, and he wanted to be able to play for a long time, injury-free.
In July Weir tied for eighth at the AT&T National in Bethesda, Md., and followed that with another T-8 in the British Open at Carnoustie. He tied for 34th the next week at the Canadian Open. He then withdrew from the WGC-Bridgestone Invitational in Akron, Ohio, after hurting his neck trying to escape from the high rough, and he missed the cut in the next week's PGA Championship before tying for 41st at the Barclays, the first tournament in the FedEx Cup playoffs. By the time of the Deutsche Bank the following week, Weir was 88th on the FedEx Cup points list and figured he had to finish seventh or better to move into the top 70 and advance to the BMW Championship. Weir opened with a six-under 65 and backed it up with a 68 to tie for the halfway lead. But he shot 74-73 on the weekend to tie for 30th and finish 87th on the FedEx Cup list. That meant a three-week layoff before the Presidents Cup, something he didn't want.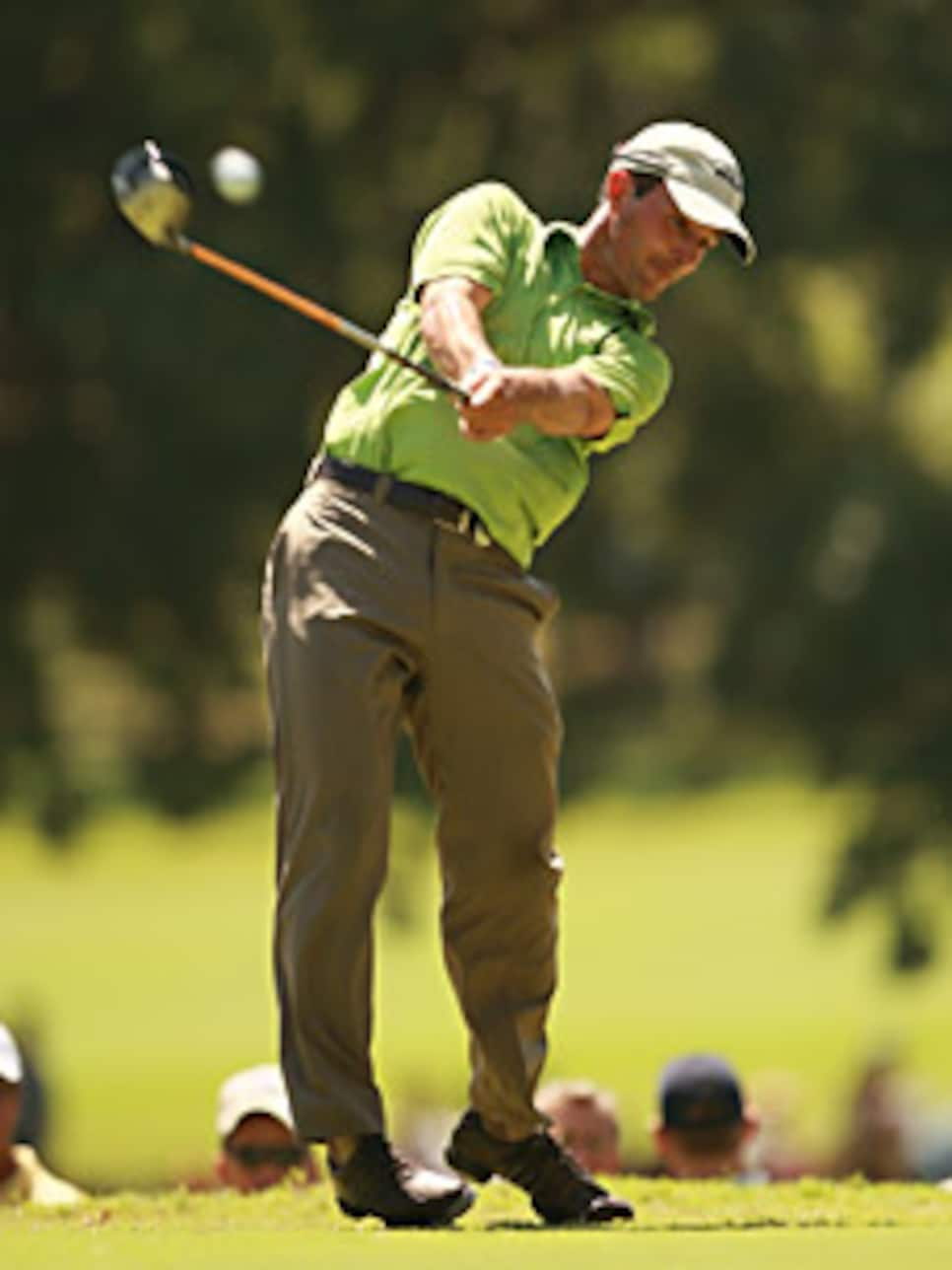 Notwithstanding his results this year, Weir maintains that he feels comfortable with his altered swing. "I don't even think about my swing when I'm out there anymore," he says. "I'm just playing golf. That's nice."
The day before the first round of the Deutsche Bank, Weir visited Royal Montreal, a signal of how important the Presidents Cup is to him. He wanted to see the changes Rees Jones had made to the course since the 2001 Canadian Open. Weir liked what he saw, did a small media scrum immediately after his round -- he can't come to Canada without writers and television reporters wanting to grill him -- and flew back to Boston. The bulletin boards at mikeweir.com were humming during the tournament.
"If I could ask Mike one question," one regular wrote when Weir fell from contention during the third round, "I would say, 'Mike, how does it feel to know that you will never win again and that you are tagged a choker?' " Bulletin boards are ferociously intense and can verge on the malicious. Still, that post, while extreme, is a measure of how personally Canadians take Weir's career.
"What bothers me more than anything," Weir's brother, Jim, says, "is when people say that Mike is resting on his laurels, that he sits on his couch at home when he's not playing. They say he's doing too much away from the course, that he's set financially and that he doesn't care. There's nothing wrong with people having opinions if they get their facts right, but they're dead wrong. He's working harder than ever."
Weir has continued to work hard during his layoff. He'll be in a pressure-packed situation during the Presidents Cup, but he welcomes the opportunity. Weir would happily take on Tiger Woods in the Sunday singles were Player to put him there. "Absolutely, I'd be ready for that," Weir says. "He's the best player. You want to play the best player. It would be great if it pans out that way."
Whether or not Weir plays Woods, his presence in Montreal should fire up his team and the spectators. As Player said when he announced Weir as one of his picks, "If we didn't have a Canadian on the team, I can assure you, in my opinion only, the series would be quite flat amongst the Canadian people. And I'm sure the Canadian people are going to be relieved. I had questions every week, 'Are you [picking] Mike? Are you putting him in?' "
Canadians were indeed relieved, although there was plenty of controversy about Player's choice. The South African had said earlier that it was his responsibility to field the best team, and that he wouldn't pick Weir only because he was a Canadian. Weir was 20th on the points list of players eligible for the International team when the qualifying period ended Aug. 12 at the conclusion of the PGA Championship. His fellow Canadian Stephen Ames was in 16th position, one of nine golfers ahead of Weir. Still, Player picked Weir, the player Canadians love. They respect Ames, a naitive of Trinidad who became a Canadian citizen in December 2003, but they adore Weir. And they expect him to perform. They certainly don't hold it against him that he is a long-time U.S. resident. Weir and his wife, Bricia, and their two daughters live near Provo, Utah, where the couple graduated from Brigham Young.
"When I won at Augusta, maybe that's the way Canadians thought it had always been for me, that I was always winning," Weir says. "But it took me a long time to get to the PGA Tour. I had to go through Q school six times before I made it. I felt like I had some talent, but it took a lot of hard work. I still feel I'm doing well, even if I haven't won in a few years. But that's the nature of the game. One small thing can happen and things change. Your confidence and your swing can erode quickly."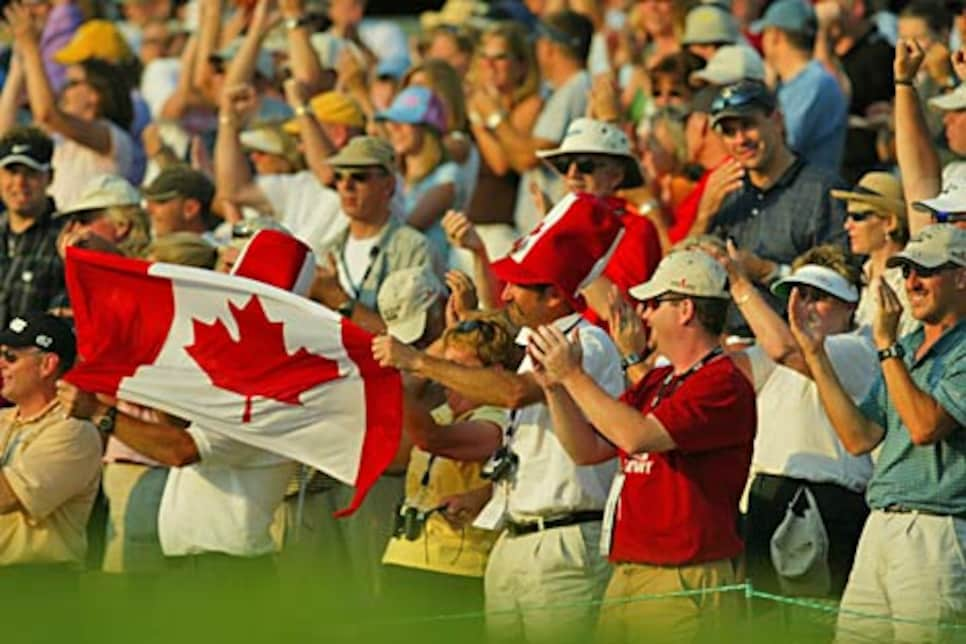 At Royal Montreal, Weir will have to concern himself only with beating his opponents. Score won't matter as much as it does on the PGA Tour. With all eyes on him, though, he will still need all the concentration he can muster. He won't be able to avoid the spotlight, not that he would want to. Besides, he has learned how to cope.
"I don't play for Canada," Weir says. "Sure, I realize how closely people are watching me, but it's not like I'm out there thinking about that when I'm over the ball, or even at other times. I couldn't play if I did that."
There are no precedents for what Weir faces as the lone Canadian, although Richard Zokol has some sense of what he is experiencing. Zokol was tied for the lead going into the last round of the 1987 Canadian Open but shot 75 as Curtis Strange won. Zokol won the 1992 Greater Milwaukee Open and for a time was the main Canadian his countrymen looked to on the PGA Tour.
"Mike's a big fish in a small pond in Canada," Zokol, 49, says. "If he were an American, he'd be like a Mark O'Meara or a Zach Johnson, a very good player who won a major and some other tournaments. But in Canada he's in a different stratosphere. He's the only guy who's ever won a [professional] major. Canadians expect so much of him, and he also has high expectations. Meanwhile, the interest in golf has exploded exponentially in Canada since I was out there, too. There's no way Mike can enjoy the anonymity that I had and before me, [George] Knudson, [Dave] Barr, and [Dan] Halldorson and [Jim] Nelford."
Surveying his career, Weir says, "If I think about where I was 10 years ago and where I am now, I'd have taken it in a heartbeat back then. But that doesn't mean I'm satisfied. I want to get back to where I was in 2003. It felt so easy then. I think I can get back there, but it doesn't get any easier."
Maybe he will find inspiration at Royal Montreal. "We'll have tremendous support there," he says. He looks forward to coming up with the goods. He knows he will feel emotionally engaged when he gets to Royal Montreal, and that he will get the proverbial chills up his spine when he hears "O Canada," the country's national anthem, played during the opening ceremonies.
"I realize that the microscope is on me," he says of all the attention. "But it's not a concern of mine. I don't play to get nice articles written about me. I play for the challenge of the game. I like the hard work."
Jim Weir will be at the Presidents Cup. He sometimes finds himself thinking about the competition -- and the possibility of his brother playing Woods in the Sunday singles, in perhaps the decisive match.
"Mike could leave quite a legacy for golf in Canada if that happens," Weir's brother says. There is another way to look at Weir's career, and it's equally valid. Simply, no matter what happens in Montreal, Weir has already left quite a legacy for golf in Canada. He can only enhance it at Royal Montreal. If he can find the game he knows he can play, and that he has played, he'll do just that.