News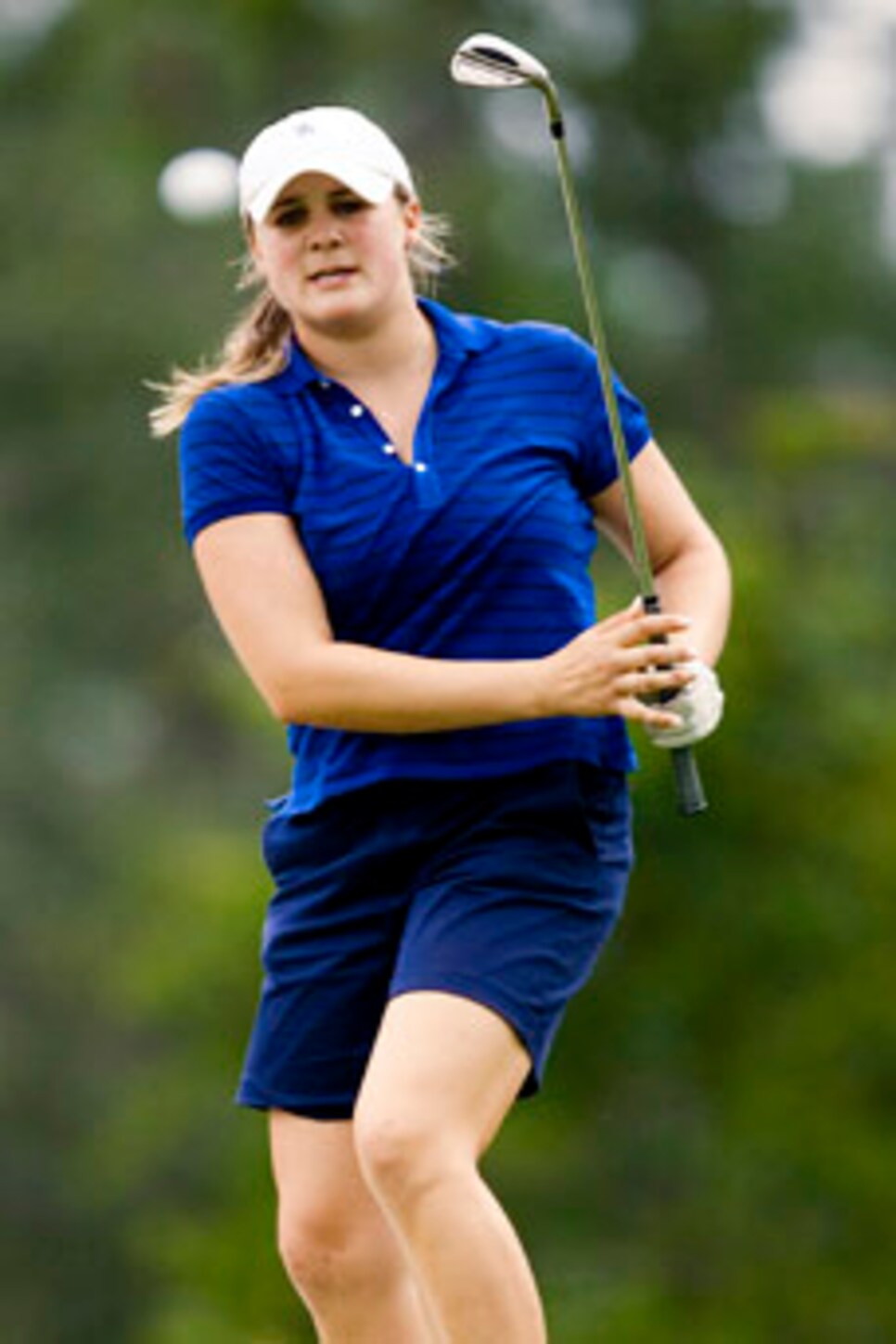 Blumenherst's eight wins is four off Duke's all-time record.
To concede Duke's Amanda Blumenherst her third national player-of-the-year award after just one start in the 2007-08 season would be highly premature. It's just that the junior from Scottsdale offered no signs she might become complacent with the college game at last weekend's Mason Rudolph Women's Championship outside Nashville. Posting three sub-70 rounds to win the individual title by four strokes over Arizona State All-American Anna Nordqvist on the Vanderbilt Legends Club's Ironhorse course -- where 10 of the nation's top 11 teams competed -- Blumenherst grabbed her eighth career title, moved into second place on the Blue Devils' all-time win list behind Mary Anne Widman's 12 and looked as dominant as ever. To wit: Blumenherst's 13-under-par 203 set the Duke school record for low 54-hole score in relation to par as she made 14 birdies and one bogey, the latter coming on the fourth hole of the final round. "I love this tournament, and I'm really excited about winning it," said Blumenherst, who also won the event two years ago. "I putted the ball well, and I made some long par-saves today to keep my round going."
With Blumenherst having defined herself as among the most accurate golfers off the tee to compete at the collegiate level, the 20-year-old is gaining confidence on the greens, something her contemporaries have to be nervous about. Just how low she scores always has been based on how she's putting, noted Duke women's coach Dan Brooks this past summer, hinting that if Blumenherst's putting stroke became more consistent the results could be scary.
While it was the same old, same old for Blumenherst, that wasn't the case for the Blue Devils overall. Before even hitting their first tee ball last Friday, the three-time defending NCAA champions had created a commotion by leaving junior standout Jennie Lee back in Durham, N.C. The two-time All-American failed to qualify for the travel team over sophomore Rebecca Kim and freshman Kim Donovan, who made their debuts in Duke's starting five.
By tournament's end, the T-31 and T-36 finishes from Kim and Donovan, respectively, (while senior Jennifer Pandolfi came in at T-28 and sophomore Alison Whitaker at T-54) weren't enough for the Blue Devils to defend their team title. Instead Duke had to settle for a third-place showing, 15 strokes back of victorious UCLA and one stroke behind runner-up Arizona State. "We have some work to do on our games," Brooks said. "That is a good thing. That is what you play tournaments in September for, so you know what you have to work on."
Give credit to the Bruins, who broke par as a team all three rounds en route to a 13-under 851 and their first stroke-play victory since the Pac-10 Championship in April 2006. With four players -- Tiffany Joh (T-3), Glory Yang (seventh), Maria Jose Uribe (T-10) and Sydnee Michaels (T-15) -- finishing in the top 15, UCLA earned the title against what may turn out to be the strongest field of any regular-season tournament in 2007-08.
Particularly impressive was the play of freshmen Yang, an AJGA All-American from Murrieta, Calif., and Uribe, the recent U.S. Women's Amateur champion from Colombia, both making their collegiate debuts. The mood, meanwhile, was a far cry from a year ago, when coach Carrie Forsyth was struggling to bring her team together, much less fill out her line-up after the early departures of All-Americans Amie Cochran and Jane Park.
Moreover, UCLA avenged a bit of history at the Mason Rudolph. Five years ago the team held the 36-hole lead, only to let it slip away in the final round.
As for the Blue Devils, it won't be long before they have another chance at the Bruins; the schools square off again next week in Albuquerque at the NCAA Fall Preview, along with the other nine teams in the top 11 in the Golf World/NGCA preseason coaches' poll.