News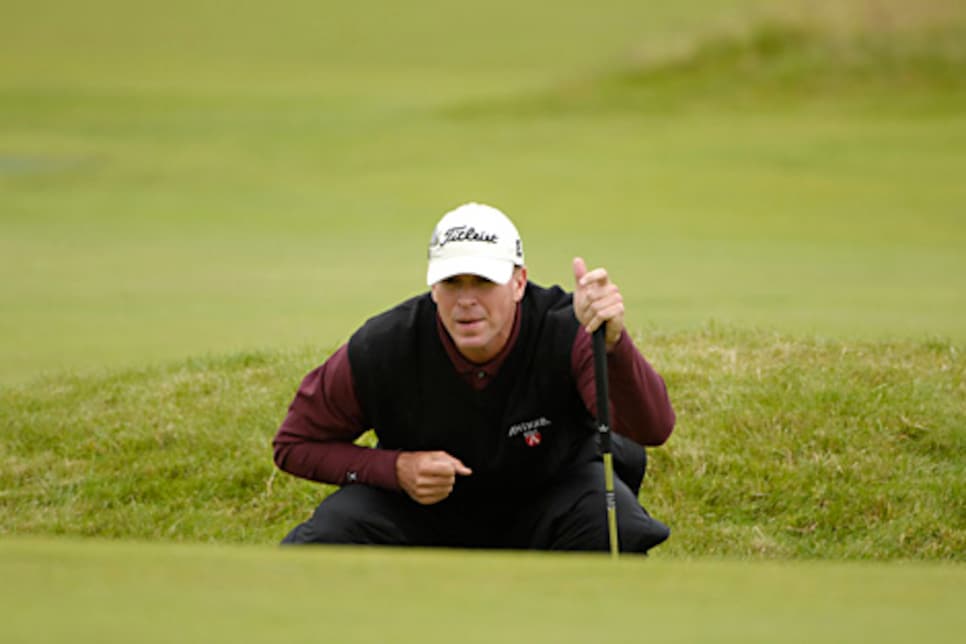 A strong performance in the British Open was typical of Stricker's resurgence in 2007.
It's not like he woke up one morning and found a cure for his ailing golf swing. There was no brimstone-studded speech from a mentor, no career U-turn after he had checked into the Hotel Rock Bottom. When a man goes from good to bad, then gets good again, the tendency among others is to search for a magic moment. Those 180-degree turnarounds are a storyline's best friend, but some searches are less futile than others.
If Ben Hogan dug it out of the dirt, Steve Stricker shoveled it out of the snow, finding his answers in an open-ended trailer on the far end of the practice range at Cherokee CC in Madison, Wis. In December 2005, three years removed from the top 150 on the PGA Tour money list, his 39th birthday looming in the on-deck circle, Stricker was trapped in the tour-pro's version of a midlife crisis: Shortly after finding out his wife was pregnant with their second child, he missed regaining his card by two strokes at qualifying school.
The weather outside was frightening, his future in need of brightening. "Kind of an eye-opener for me," is how Stricker defines the Q-school failure. "I came to the realization that I had to work a little harder. It was a case of finding it inside me and deciding this is what I need to do."
And so a guy whose quest for birdies during the off-season rarely ventured beyond hunting for pheasant began the process that made him the tour's 2006 Comeback Player of the Year -- and one of its best stories in any genre in 2007. Before he won last month's first FedEx Cup playoff event, Stricker finished eighth in the U.S. Presidents Cup standings. His presence next week at Royal Montreal GC could prove a huge asset on a team that has struggled on the greens in recent competitions, as Stricker, even during his lowest points, has always been one of the game's best putters, especially from long distrance.
He already had climbed from 337th to 14th in the World Ranking in 36 starts, which is a little like driving from Miami to New York in four hours. Thirteen of those 36 tournaments ended with a top-10 finish. Four of the 13 were top threes -- a pile that doesn't include Stricker's contending in the final round at the last two U.S. Opens, then teeing off in Sunday's final pairing at this year's British Open.
Westchester, however, changed everything. "It's so hard to win out there," says Nicki Stricker, who caddied for her husband from his rookie season in the big leagues (1994) through 1997. "You can feel like you've played your best golf and still finish second or third." The victory vaulted Stricker to fifth in the world; a T-9 in Boston and solo third in Chicago carried him to a second-place finish in the inaugural FedEx Cup standings.
The puddle of tears Stricker shed after edging K.J. Choi by two strokes was nothing compared to the flood back at his home in Madison. Dennis Tiziani, Nicki's father and Steve's longtime swing coach, had come over to watch the telecast with Lori Mitchell, the wife of Stricker's caddie, Tom. All had been through the ringer with a guy who had struggled for years with an amalgam of inner conflict, whose selfless, warm-blooded nature haggled frequently with a shifty dark side.
"He was operating on about four cylinders there for a while," says Tiziani. "You have to look at why he was frustrated -- frustration is 100 percent lack of knowledge, and he's a bit of a stonehead. The most important thing is, he just grew up."
You won't find a gentler, more likable soul on tour, which only seemed to exacerbate Stricker's internal turmoil. On the road he felt lonely and guilty. "We talked about it many times," says Jerry Kelly, a longtime friend and fellow Wisconsinite. "A lot of guys get better because the family's out of the way. He wanted them in the way. You think you've got more time to practice and that will make you better, but that's not always the case."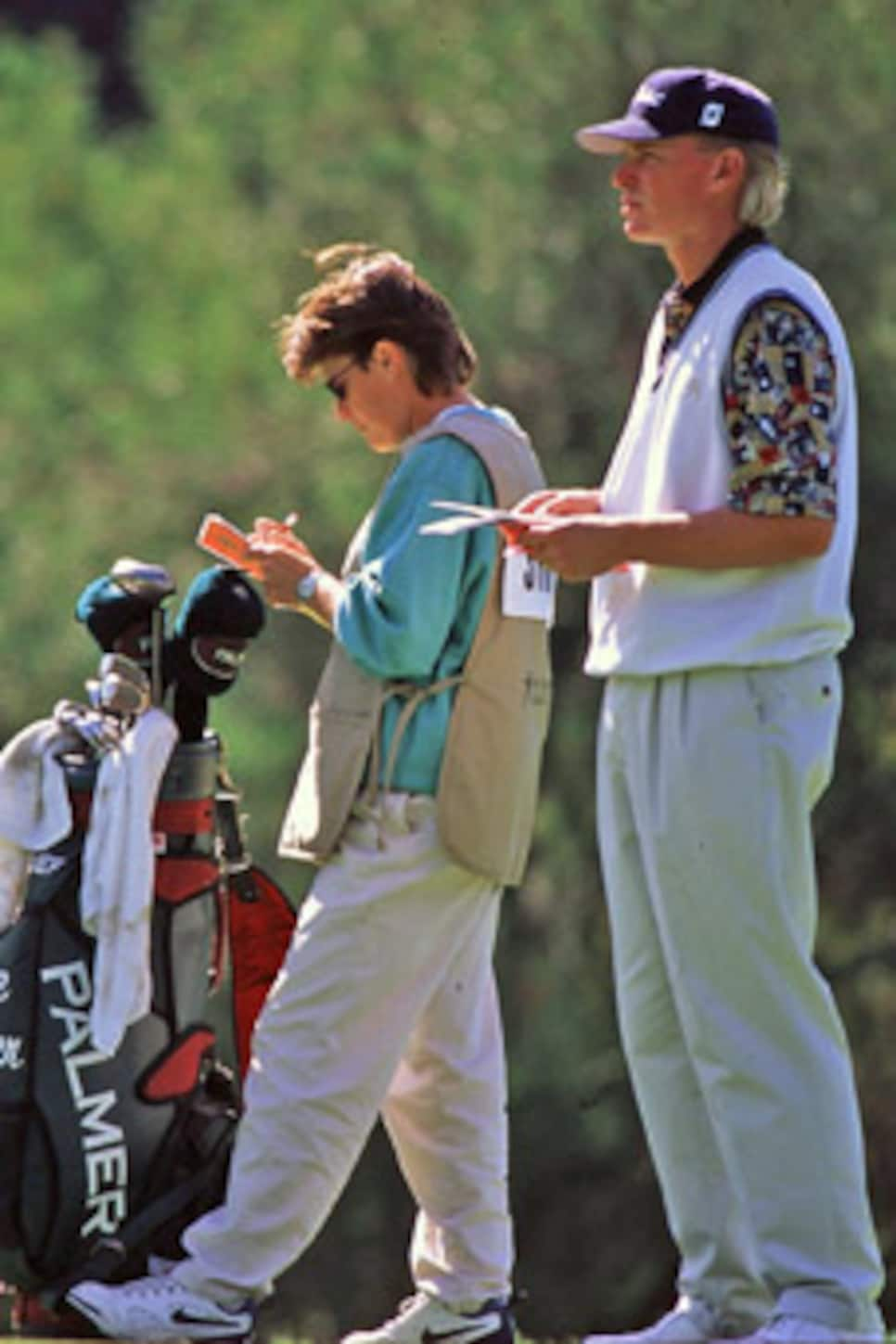 When Stricker was home, he would get away from the game, at times to an extreme, but when he showed up at tournaments mentally unprepared or rusty, his intolerance for poor shots would light a two-inch fuse. It all added up to three miserable years. From 2003-05, Stricker missed 38 cuts in 69 starts and had just two top-10s.
"My tempo stunk," he says. "I wasn't controlling my emotions out there, which led to bad tempo. I'd get quick and short -- short in a bad way because I wasn't completing my backswing -- which caused me to get quick in transition." It got so bad that in '05, Stricker, despite leading the tour in putts per round and ranking second in putts per green in regulation -- still finished 162nd on the money list.
One might consider this a statistical impossibility. Others might see it as a reason to think about a new line of work. "We talked about it many times," Nicki says. "He'd say, 'If there's something else I could do, I'd try it.' The thing is, he likes his time off too much, and you can't make that kind of money [even during bad years] doing something else." Nine years had passed since Stricker's breakthrough season of 1996: victories at the Kemper and Western Opens, seven top-threes, fourth on the money list, a berth on the U.S. Presidents Cup squad. At some point, a gentleman must come to terms with the rough edges of reality. "I don't think I came really close," Stricker says of ending his golf career. "I did wonder what I'd do if I didn't play this game. Every time I thought about it, I came up with the same answer. I'd rather be doing this."
The big thing was that he would do it on his own. Anyone who employs his wife as a caddie and her dad as swing coach might eventually see the value in a bit of separation -- the personal and professional needed their own space. After the Q-school bust Stricker spent at least two hours every day for the better part of a month refining a swing that had always been plagued by loose parts.
Tiziani, one of the Midwest's most decorated club pros and the former golf coach at the University of Wisconsin, would remain involved, but instead of counseling his son-in-law on mechanics, his primary purpose was to serve as a second set of eyes. No question, Tiziani's role had been downsized. "He's very articulate when it comes to teaching," Stricker says. "He knows a lot about the swing, but sometimes it was difficult to grasp some of the things he was talking about."
If the relationship is half as complex as it is fascinating, somebody call a scriptwriter. Stricker is the guy every mother wants their daughter to marry -- Prince Charming without the cheese. Humble and courteous, softspoken and a bit pensive, you wonder how a fella who would seem to feel bad about killing a mosquito finds it in him to fire a rifle at a deer.
"He goes with me up [to northern Wisconsin] on a hunting trip, and it [male bonding] gets pretty rough up there," Tiziani says. "I've never heard him use foul language or say anything derogatory about anybody. There's none of that stuff."
Then there's Tiziani himself, the owner of a giant personality whose candor and straightforward intellect produce a stream of edgy opinions and introspective one-liners. Nicki's dad is a metaphor machine. Decades of working with young adults have empowered him with insight he has no trouble transmitting, but when it came to communicating with the best golfer he has ever coached, at least a few of the messages misfired.
"The player usually has one idea of what to do and the teacher may have another," Stricker adds. "That's when problems start to arise."
Still, they remain closer than close. "You have to get to the point where you understand your own swing," Nicki reasons. "You have to take what someone tells you and make it yours." At the end of '05, Stricker's commitment to improvement wasn't without a difference of interpretations on the cause of his woes and how to find a solution. Tiziani frequently refers to his son- in-law getting "stuck" on the downswing, meaning his body and arms weren't synchronized, and can explain the problem in four or five technical languages.
"When you leave the club behind you, that's choking," Tiziani recently told the Milwaukee Journal Sentinel. "That's a sign there's a bit of yellow in there. Steve had to get in a position where he could be aggressive." Swing analysis usually doesn't include a couple of haymakers, but Tiziani isn't the type to compromise his feelings. His directness comes with a purpose -- one senses he sees the need to continue strengthening Stricker's mental and emotional durability in addition to his form over the golf ball.
Stricker, meanwhile, saw his problems coming from his backswing, not the move down. His vertical takeaway led to the clubhead "crossing the line" at the top, and from there, even with his spectacular hand-eye coordination, there were too many on-the-fly adjustments to make him a consistent ball-striker. During numerous interviews in which he addressed his struggles, he makes no mention of getting stuck.
"He doesn't want to talk about it," Tiziani counters. "He doesn't ever want to have that [negative] feeling again. If he doesn't talk about it, then it won't enter his mind. He's a process guy. You watch how he puts on his socks and ties his shoes, how he lines up all his clubs in a room. He's very anal."
To go any further would misrepresent the relationship and suggest that Stricker's revival has been anything but a roaring success. His ball-striking numbers across the board have undergone a complete facelift, and his scoring average has dropped a whopping 1.74 strokes per round since 2005. His swing remains upright but is much more economical at the top, which explains his newfound precision with short irons: Stricker led the '07 tour in proximity to the hole from 50-125 yards and was T-5 from 125-150 yards.
Few career makeovers have been more impressive, but there is work to be done, the reward for success only qualifying the need for more. Stricker will still have plenty of time to enjoy the Wisconsin autumn after the Presidents Cup. Once Thanksgiving ends, however, it's back to the trailer at Cherokee. "People are wondering when his streak is going to stop," Kelly says, "Maybe it's not going to stop."
Nor is it ever too late to start. "We realized he needed to not have a dependency on anyone for him to get better," Tiziani says. "To do that, he had to have a better grasp of the fundamentals. He'll have it forever now. This isn't something that's going to go away."