News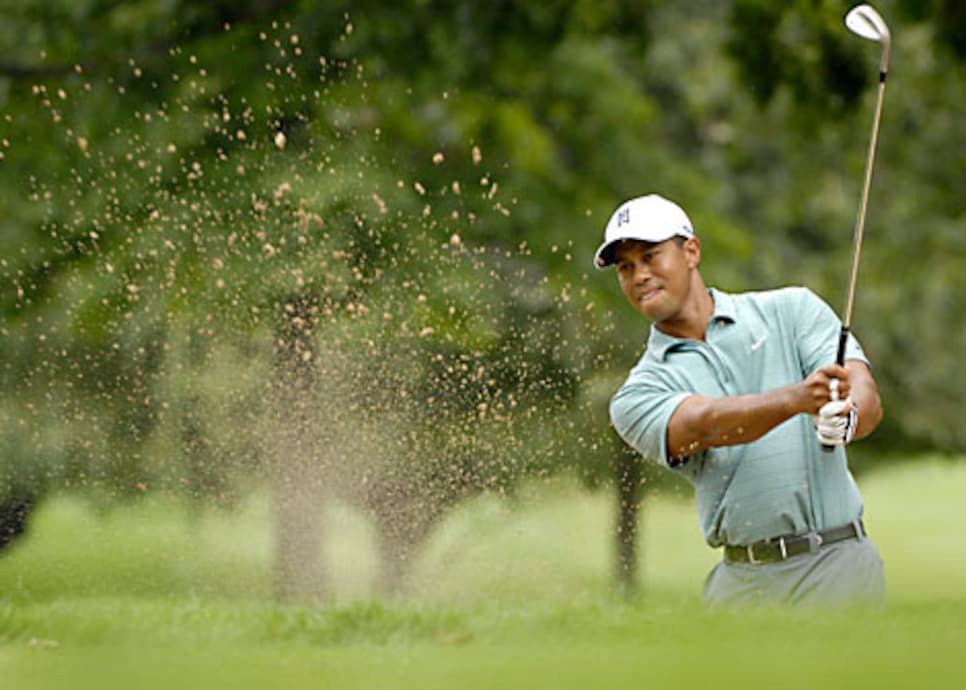 Woods' brilliance drew a crowd on Saturday after a tepid turnout for the first two rounds.
They can change the date, the sponsor, the era and the designation of the tournament as it pertains to history, real or manufactured. But there remains one inalienable truth: Tiger Woods is to Chicago golf what the Kenyans are to the Boston Marathon. With a splendid eight-under-par 63, the world's No. 1 player captured the inaugural BMW Championship Sunday at Cog Hill G&CC, where Woods won three previous renditions of the Western Open, may it rest in pieces. Add two PGA Championships at Medinah, and that means six of Tiger's 60 PGA Tour titles have occured in his kind of toddlin' town.
Woods, so close now to fulfilling a childhood fantasy, has vaulted to the top of the points derby after three FedEx Cup events as the playoff series now moves to its Tour Championship conclusion at East Lake CC in Atlanta, where survivors in the chase for a $10 million bonanza will discover a new definition of paydirt when they putt those greens. Whatever the conditions, it would not surprise at least two fellow competitors if Woods finds the best solution. He always seems to have what it takes, as co-leaders Aaron Baddeley and Steve Stricker relearned upon arriving at the 12th tee during the sunsplashed final round.
Although crafting a four-under 31 on the front side, Woods angrily missed making birdie on No. 11 and even he supposed he might perish in a communal shootout on a course so frequented by rains that lift-clean-and-place measures for 36 holes were invoked even before the first ball went airborne Thursday. Anyway, as Baddeley and Stricker in the closing twosome waited to hit on the par 3, they watched as Woods stood over a 45-footer that meandered as if on a string toward the cup until it disappeared. Birdie. Tie game.
"From him, you expect the unexpected," sighed Baddeley after his 66 to take second, two shots behind. "Wasn't anything I hadn't seen before," added Stricker, whose 68 meant a comfortable third. "I played with him the first two days, for the first time in years, and it's true. It's not just talk. He really does have another gear. He's fun to play with, he likes to jab back and forth, he has got a tremendous sense of humor. But when he needs to get it done, he does it better than anybody." Stricker quipped that after Woods dropped that bomb, he looked back at the tee to "make sure we were watching." Tiger flatly denied the allegation. "No, I didn't do a Sergio," claimed Woods, who received a long-distance message from Garcia during the 1999 PGA Championship.
Woods followed that bit of theater Sunday with birdie at the difficult 13th, added another at the defenseless 15th, then pretty much freed fans to head home for the Bears' telecast with his eighth birdie at No. 16. His 22-under 262 shattered the venerable Western/BMW 72-hole aggregate record (Baddeley and Stricker also broke it), and Chicagoans loved every moment of brilliance. After a slow start, they showed up in droves on the weekend (90,000 total was the announced number), and it took Woods' fairways-and-greens proficiency to assuage participating moguls from BMW, the tour and Western GA after ominous premables such as Phil Mickelson's withdrawal and Ernie Els' supposition that players and the commissioner in golf's biggest league are growing apart.
Woods has frequently expressed puzzlement at the decision to abandon Chicago on alternate years, and when quizzed about the wonders of the FedEx Cup, he does not quite light up as he would when talking about, say, baby daughter Sam Alexis. He skipped the first playoff leg in New York but professes to be fresh for Atlanta, where he eagerly anticipates again playing with "Stricks," his buddy who went to the University of Illinois with Mark Steinberg, now Woods' super agent. The friendship is deeper than that, though. "Steve has got to be the nicest guy out here," said Tiger. "He should win Comeback of the Year again this year. We had a blast this week. This tournament is very special to me. This city is special to me. Even when MJ [Michael Jordan] isn't around. I got an exemption to play here as an amateur. This course fits my eye. I'm gonna miss it."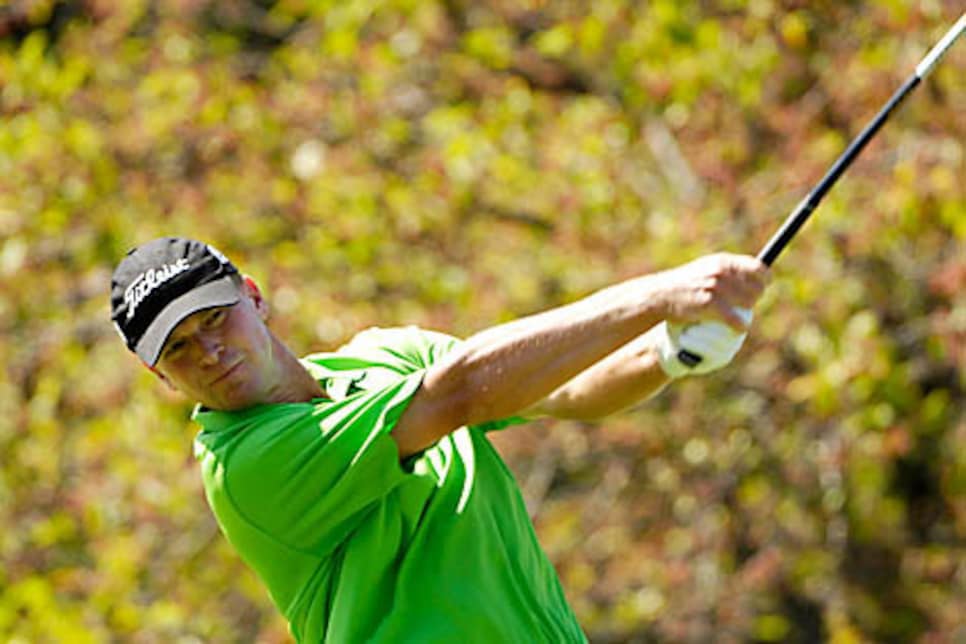 Various theories are in play for the tepid initial welcome accorded the BMW by local citizens, beyond the early miserable weather. It could be that families do not appreciate the switch from the usual July Fourth holiday atmosphere that usually surrounded the Western Open, where children were everpresent in the galleries. Then there's the possibility that Chicago golf nuts don't like the fact that the BMW will be hijacked to St. Louis next September, and won't return to the nation's third largest market until 2009, when it will be up against the Solheim Cup, also to be staged in the area. "That could be a challenge," said Henry Hughes, PGA Tour executive vice president and chief of operations. Last but not least, given the futile nature of local teams, you had to wonder whether "playoffs" just isn't a buzzword around Chicago.
BMW printed a program every day, dozens of pages on glossy paper, and upgraded dining facilities, especially for players. What once served as a parking lot was carpeted over completely and used as a display area for the newest model automobiles. "Very happy," said Tom Purves, the company's North American chairman/CEO, despite heavy pounding by Chicago newspapers -- primarily directed at the tour and its commissioner, Tim Finchem. Because of an ominous forecast, Thursday and Friday tee-times were moved up with advance notice. Despite the warning, audiences for the first two rounds were politely described by Woods as "quiet" and "disappointing" and definitely ruly. The main buzz before Saturday was created by a brood of low-flying, bloodthirsty mosquitoes that were hatched during ferocious August storms. The jury might still be out on whether golfers and spectators like the FedEx Cup playoff. But the bugs are all over it.
Tuesday, after arriving in Chicago from his Deutsche Bank triumph on Labor Day, Mickelson confirmed his absence from the BMW prior to a corporate outing for one of his accounts, Bearing Point, at Medinah CC. "I really don't have a lot to add to my comments in Boston," said Mickelson. "I feel an obligation to the tour, but I also want a balance in my life and feel a need to be home." Mickelson deflected any discussion of a rift with Finchem, but you might be missing the target if you assume the left-hander's only complaint with the FedEx Cup experiment is its deferred payoff mechanism. Mickelson, in fine spirits, conducted a 9 a.m. clinic at Medinah, then joined in a tournament with 48 guests before it was time for wheels up on Air Phil at 4 p.m., destination San Diego.
Tournament director John Kaczkowski took a glass-half-full overview of the event, but WGA President/CEO Don Johnson said, despite a weekend rally at the box office, he expected his organization's bottom line for charity wouldn't equal that from the Western. "We didn't join the playoffs to lose money for our caddie scholarships," Johnson said. "But we had no choice." (Some WGA officials believe, conversely, that taking the tournament to new cities might actually increase contributions to the caddie scholarship fund.) If it hadn't acceded to tour demands and joined the FedEx Cup process, the Western would have been consigned a death slot, one week before or after the U.S. Open. That's because the Fourth of July slot for 2007 had been awarded to Jack Vickers and the International. Remember Jack Vickers and the International? Might not be only the commissioner and the players who are growing apart.