News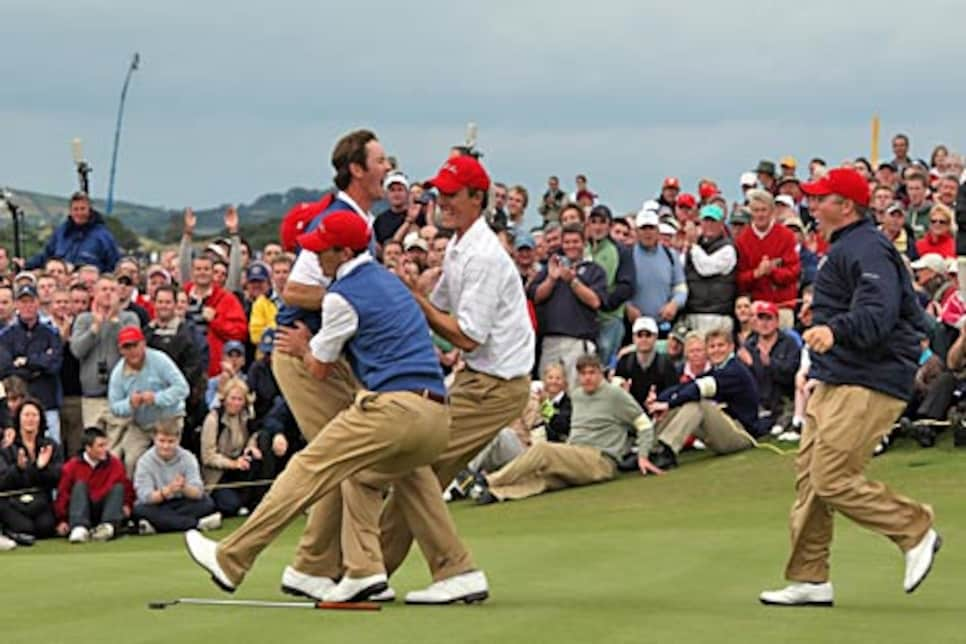 They never quite made things easy for themselves, did they now? Just as the 10 members of the 2007 U.S. Walker Cup team will go down as the most close-knit American squad in at least a decade, they also will be known by another moniker after two thrilling days of competition at picturesque Royal County Down.
All captain Buddy Marucci's charges needed was a measly 2½#189; points (out of a possible eight) during Sunday afternoon's singles to secure victory and ensure the trophy they brought to Northern Ireland for the 41st edition of the biennial matches would return with them stateside. And yet the favorable outcome required almost five hours, seven matches and a few bottles of Mylanta to come to pass.
By the time the sun set behind the clouds covering the nearby mountains Mourne, that's just what the U.S. had gotten: a measly -- yet memorable -- 2½ points. When Jonathan Moore rolled in the longest three-foot eagle putt of his life on the 18th green (after hitting his best 252-yard 4-iron to reach the par 5 in two) for a 1-up victory over Great Britain & Ireland Walker Cup veteran Nigel Edwards, the Yanks had their happy ending.
"I pushed it a little bit, but it got the corner and it went in," admitted the 2006 NCAA individual champion of the cup-clinching putt.
So be it. The more times the U.S. seemed to try and give things away, the more they showed a trait their countrymen who play the game for pay could use next year at Valhalla. Led by the spirited efforts of Rickie Fowler and Billy Horschel, these gentlemen dressed in red, white and blue figured out a way to win -- even, at times, in spite of themselves.
"I couldn't be any prouder of the guys on my team," Marucci said Sunday night, his hair only slightly more gray than it was 36 hours earlier. "They really played hard."
America's narrow margin of victory, 12½#189;-11½#189;, was the same the U.S. claimed in 2005 and GB&I earned in 2003, although this time the outcome wasn't as close as the score suggested. Sure the GB&I side put up a scare when it earned 3½#189; of the first four points in Sunday singles, all but wiping out a stellar morning sweep of foursomes by the U.S. Still, had the Americans not taken the last 45 minutes of Saturday's singles off -- dropping the final three matches on the 18th hole to end the first day tied at 6-6 -- the teeth-gnashing would have been minimal.
Even for a talented home team, playing catch-up for most of two days was too tiring. "Everyone is obviously gutted," said GB&I captain Colin Dalgleish. "Losing foursomes 4-0 was just too much to carry, it turned out."
Much of what was written entering the week focused on how the Americans might find their visit to Newcastle a wee bit difficult. It had been 16 years since the U.S. had won on foreign soil (since its victory at Ireland's Portmarnock in 1991, the U.S. was only 3-4 in the competition). Less than half of the U.S. squad previously had played a true links course, much less one as ferocious as the 7,181-yard, par-71 devil hard by Dundrum Bay. Only mid-amateur Trip Kuehne previously played in the Walker Cup, twice on losing teams with his overall record just 1-5-1. Oh, and 10,000 spectators were expected each day, applauding for both sides but truly cheering only one.
As the matches commenced there were signs, however, that this American team might be different. Since the GB&I side began making the Walker Cup competitive in the 1990s, it is hard to remember a time an American holed a 37-yard putt from off the green for an eagle to steal a half-point. Yet there was Webb Simpson, wielding his long putter on the 18th and winning the hole, enabling he and Moore to halve their match with Jamie Moul and Danny Willett and close the Saturday morning foursomes at 2-2.
Conversely, that one of the GB&I players might find his putter to have gone frosty seemed almost equally rare in recent years. Yet there was Rory McIlroy, the 18-year-old from Northern Ireland who was the featured attraction after securing low amateur honors at this summer's British Open, three-putting the 18th from 20 feet to drop his afternoon singles match to Horschel. (McIlroy carded a 1-2-1 record overall in his amateur finale.)
Just when it seemed the U.S. might get out to a healthy advantage, however, the GB&I side showed its own pride. Edwards, Moul and David Horsey (GB&I's top point man with three) came to the final hole all square in singles matches with Kyle Stanley, Chris Kirk and Simpson, respectively, and each won the 18th to earn a point. The result: a 6-6 deadlock at day's end.
"I think tonight they're going to have a different appreciation of the matches than they did last night," noted Marucci of the Americans. "We had a great day of golf, but I'm sure they're a bit wiser. They'll be a little more inspired after feeling the emotions of today."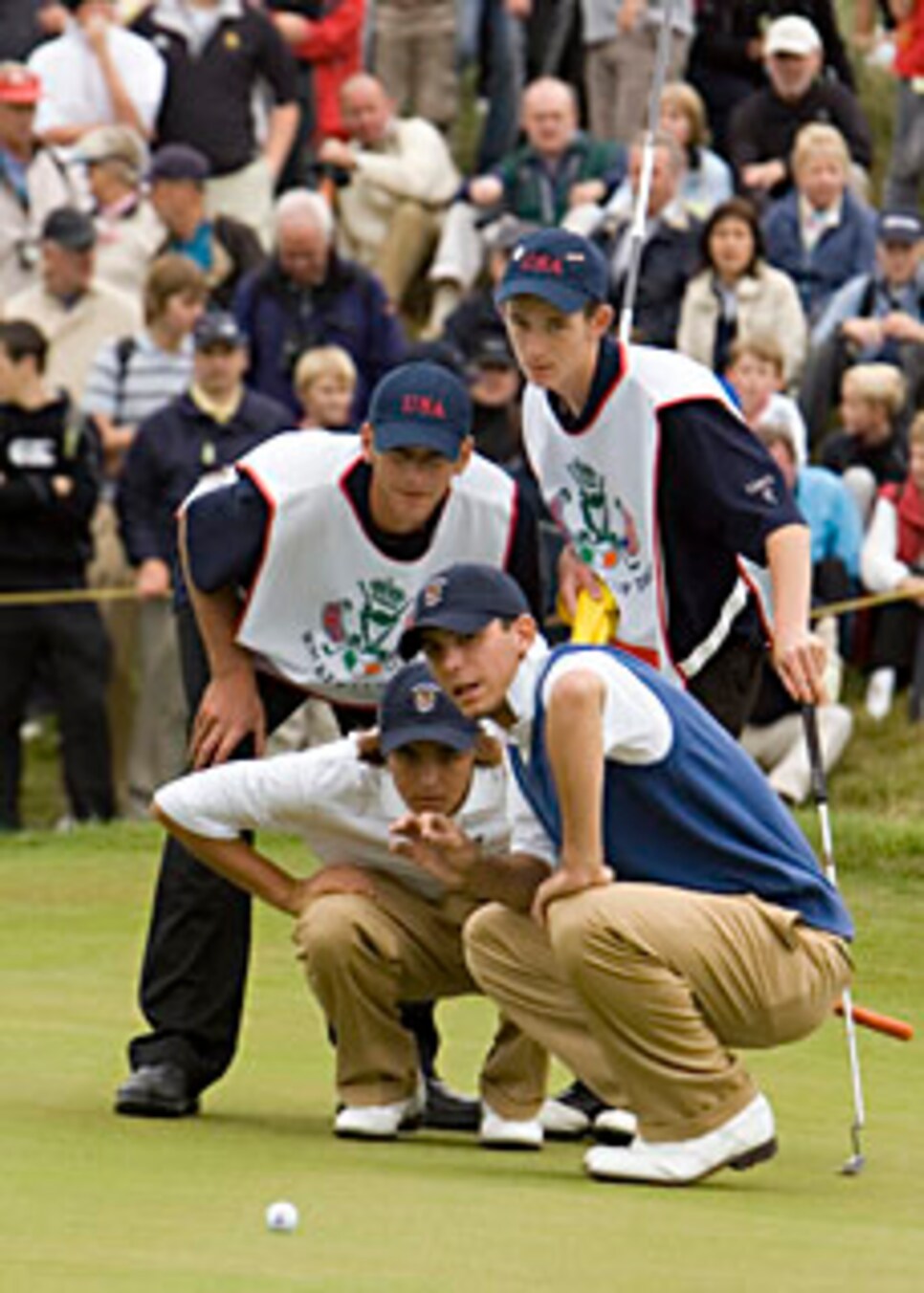 Indeed, if they let any lingering disappointment spill into Sunday, it didn't last. Resolved to regain the momentum, the U.S. was inspired by Horschel's and Fowler's showing in the lead foursomes pairing. After finding themselves 4 down to McIlroy and Irishman Jonny Caldwell after five holes, the duo won seven of the next eight holes to cruise to a 2-and-1 triumph and a U.S. team-leading third point for each.
"We really weren't playing bad," said Horschel, a two-time first-team All-America at Florida. "We just said to ourselves, 'We can get it back. Let's just start chipping away.' And we did." Fowler's strong play was particularly impressive considering his roller-coaster summer. The 18-year-old from Murrieta, Calif., an incoming freshman at Oklahoma State, had won the Sunnehanna Amateur and the Players Amateur, only to be left off the original eight Walker Cuppers selected early last month. After losing in a playoff to advance to match play at the U.S. Amateur three weeks ago, Fowler had to sweat out a phone call only six days before the team left for Northern Ireland informing him that he was one of the last two picks.
"It was stressful and nerve-racking, but I knew I still had a chance to make the team," Fowler said. "Once I did, I just needed to take advantage of that opportunity." As Horschel/Fowler went, so did the other three foursomes matches, leaving the Americans seemingly in command with a 10-6 lead.
Again, though, the momentum shifted in the afternoon to the GB&I side. McIlroy, Rhys Davies and Lloyd Saltman won their singles matches. An inspired half point from U.S. Amateur and U.S. Amateur Public Links champion Colt Knost (he earned three points in four matches) became crucial to slow down the GB&I charge. While Caldwell knocked off Kyle Stanley, Jamie Lovemark's victory over Moul, also his third point overall, left the Americans one point away with two matches on the course. Enter Moore, who had barely avoided a six-putt on the 17th to secure at least a half-point of his match before stepping up on the final hole.
"I think for the first time in a long, long time, we were more of a cohesive team unit than the other side was," said Kuehne afterward. "I think it gave us ultimately a little advantage that we needed."
It wasn't necessarily anything the team did after flying over nine days in advance, playing Royal Dublin, Royal Porthcawl and County Louth before settling in at County Down. (A visit to the Guinness brewery was about the most touristy thing the group did all week.) "We've all just been really good friends off the course for a while now," said Kirk, of the Yanks' hanging out on the putting greens at tournaments and occasional card-playing. "We've comfortable with each other."
The team rallied particularly around Moore and Kuehne, two players some in the media deemed weak links because of inconsistent play this summer. In meetings the rest of the team supported having both in singles play come Sunday afternoon.
"I think it was poetic justice that Jonathan made that putt," Kuehne said. Maybe so for the entire U.S. team really.
The Cardiac Kids might not have made it look easy. But they had a whole lot of fun making it count.