News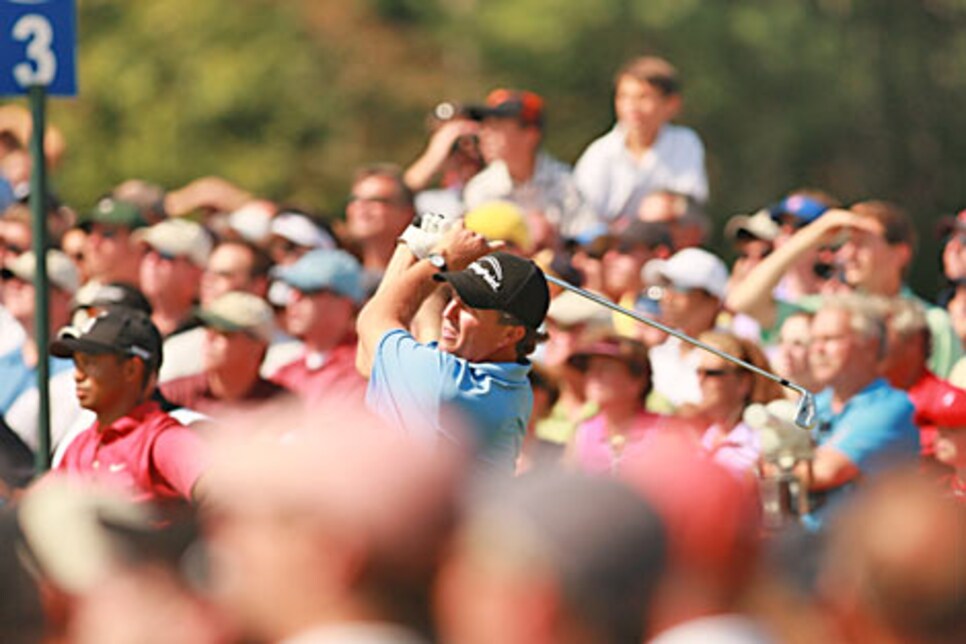 The majority of a boisterous Labor Day crowd at TPC Boston followed the Mickelson-Woods duel.
The rivalry comes and goes, which, come to think of it, should prevent us from calling it a rivalry at all. The head-to-head matchups are few and far between, the bark as docile as the hype is colossal, and if you're looking for a bite, the long-term results remain decidedly one-sided. When the superstars align and there's a trophy on the line, however, duels that may lack historic relevance are best savored in the proper context.
Tiger Woods, the best golfer of this and perhaps any era, was outplayed by his most persistent semi-nemesis last Monday in the second chapter of the inaugural FedEx Cup playoffs. Phil Mickelson, a man for whom the beaten path has become a four-lane highway at times, a player who in recent years has proven both brilliant and resilient, shook off the potentially disastrous effects of an "old-Phil" double bogey at TPC Boston's par-4 12th and navigated the last six holes in two under, strokes that would represent the final margin between his 16-under 268 and Woods' 14-under 270 at the Deutsche Bank Championship in Norton, Mass.
Beyond the four-plus hours of stellar competitive theater in an atmosphere that produced the voltage of an NFL playoff game, whatever nagging concerns looming over the PGA Tour's first postseason were nullified, at least for the time being, by the two guys this format can't flourish without. Brett Wetterich, who led the event after three rounds, and Arron Oberholser, the other half of Monday's final pairing, remained in the hunt to the end and tied Woods for second place. One easily could make a case that it was Oberholser, not Tiger, who applied the most pressure on Mickelson down the stretch.
Of course, the size of the trucks in the rear-view mirror can be judged only by the man in the driver's seat. "He was making a charge," Philly Mick said of Woods. "To be able to stand up on 16 after he knocked it close and follow it with a birdie of my own, to knock it inside him and finish with a couple of birdies, that feels terrific. The next step is to go head-to-head in a major."
It wasn't exactly a hand-to-the-heart endorsement of the FedEx Cup, but before we examine Lefty's cryptic renouncement of tour commissioner Tim Finchem in his post-victory interview with NBC's Jimmy Roberts, let us first recap all the reasons to believe Mickelson might finally sustain his on-again, off-again pursuit of Woods as the game's best player. It wasn't just the double at the 12th, where Mickelson fatted his 6-iron approach into a rockbed and eventually missed a five-footer for bogey, that tested his resolve. Tiger hadn't made a putt longer than six feet until the 14th. Trailing Mickelson by three, he dunked a 40-footer. Lefty left his own birdie try four feet short and had to grind over the par-save, which he made.
After a cruel lip-out for birdie at the 15th, Woods staked an 8-iron at the par-3 16th, parking it 10 feet right of the flag. Mickelson responded with a soaring bullet that never left the pin. After one crisp hop, he was left with a six-footer that everyone knew absolutely had to go in.
It did. As was the case here in 2004, when Vijay Singh defeated Woods in similar fashion to unseat Tiger briefly atop the World Ranking, Sir Eldrick was out-putted and, thus, out-performed. Still, he shot 67 on a day when he was missing 15-footers by five or six inches on both sides of the hole and his speed was alarmingly inconsistent. Changing diapers does little to sharpen a man's prowess on the greens.
"Four or five three-putts [on the week] and I'm still right there, which means I'm hitting the ball well," Woods reasoned. "Phil got off to a great start, and we all had to go get him. I didn't make enough putts to push him."
At some point, push comes to shove. Monday evening, Mickelson remained notably noncommittal about playing this week at Cog Hill, site of the BMW Championship, the third FedEx Cup playoff tilt. This victory gave Lefty a 2,413-point lead over Steve Stricker in the overall standings -- Woods jumped one spot to third, just less than 5,000 points behind -- but when you've got 32 career wins, three major titles, three young kids and an uncompromising sense of principle, you play when you want, where you want.
"For the past year, I've asked the commissioner to do a couple of things, and they haven't been done," Mickelson said in his interview with Roberts. He offered no explanation for his apparent dissatisfaction with Finchem. When asked about the comment moments later in the media center, Mickelson basically declined to elaborate. "My frustration [arises] from asking for a couple of things in the FedEx Cup [format] that weren't done, so now I'm not really feeling all that bad if I happen to miss [Chicago]," he added.
Asked to comment, PGA Tour executive vice president Ty Votaw said, "Until he's a little more specific, I'm not sure if it would be healthy to speculate on what he was talking about."
Why was Mickelson, one of golf's straightest shooters, being so cryptic? More than one top-tier player, according to a source, is unhappy with the tour's decision to defer payment on the $10 million grand prize awarded to the postseason champion (see accompanying story). It's not the idea of waiting on the money that irks them, but the prevailing notion among several superstars that officials at PGA Tour headquarters make crucial decisions without consulting the players.
Mickelson also mentioned the season-end cluster that asks the top-tier tour pros to play seven important tournaments in nine weeks -- a stretch that began with the British Open and concludes next week with the Tour Championship in Atlanta. It was a strange way to end such a big day, but then, Lefty had been just as vague after firing a second-round 64 while paired with Woods and Vijay Singh, when he awoke a half-slumbering press gathering with one of his vintage riffs.
"I've been working with Butch Harmon, as you know, and in the past, I haven't really played that well with Tiger," Mickelson said Saturday afternoon, half tongue-in-cheek, half foot-in-mouth. "But [Harmon] told me a couple of things that [Tiger] likes to do. I was kind of watching for them, and I chuckled when I picked up on them throughout the round."
Pray tell, Philip. "I think that working with Butch has helped me understand how to play my best golf when I'm in the same group as Tiger," he added. "I'm hoping I have a chance to do that on Monday."
He would, but even after a follow-up to the follow-up, Mickelson would go no further, saying, "That's all I'd really care to go for. I'm sharing with you a little piece, and you keep asking for more." Lefty had served as his own rally-killer, leaving one and all to wonder about the intent of his seemingly playful comments.
Two things have become not-so-painfully obvious. Woods didn't have an answer, and the better Lefty plays, the smarter Butch gets.