News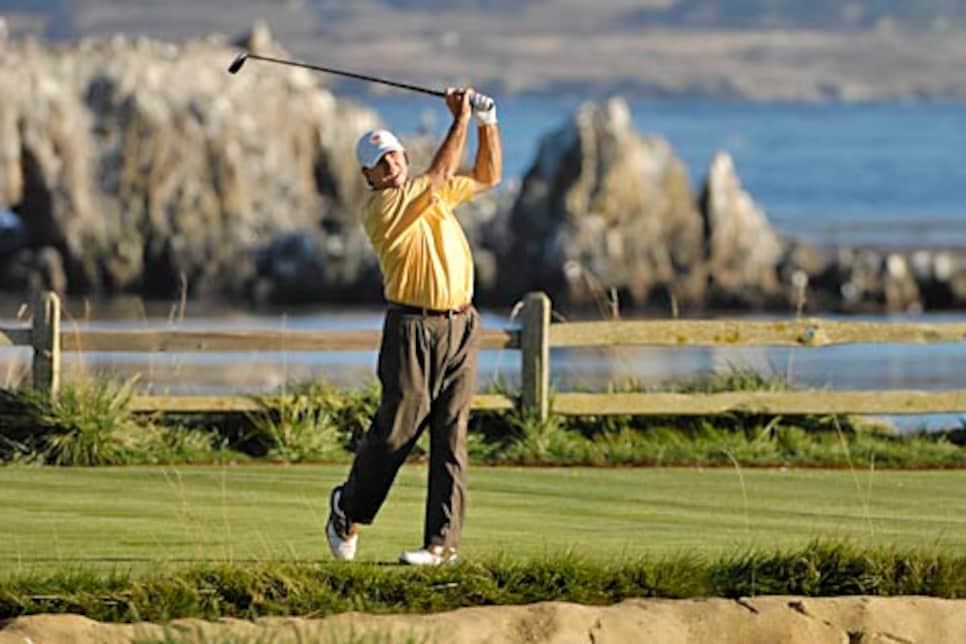 Unlike his 1992 U.S. Open close, Morgan claimed the lead and held steady.
Longevity isn't one of the nine core values the First Tee seeks to impart to its members, but perhaps it should join confidence, honesty and all the rest. While the Wal-Mart First Tee Open celebrates youth, for the second time in the event's four-year history, a 60-year-old professional walked off with the Champions Tour title, and as if to underscore the point that a golfer can age as gracefully as a good California cabernet, he beat a 62-year-old to do so.
"That's not too First Tee-ish," Gil Morgan joked about his two-stroke victory over Hale Irwin -- who also prevailed at Pebble Beach GL in 2005 when he was 60 -- in an event that highlights the potential of youth. The prince of the younger set was 17-year-old Harold Varner of Gastonia, N.C., who birdied three of the last four holes Sunday to win the pro-junior division by four shots with Morris Hatalsky. "He's a wonderful young man, and it was a privilege to play with him," said Hatalsky. "Besides the fact that he is a very talented golfer, he has a wonderful head on his shoulders."
By defeating Irwin (Tom Watson was third, four shots back), Morgan, who is less than a month shy of his 61st birthday, showed the 78 juniors in the field that a lot of experience can go a long way. Morgan's 14-under 202 secured his 25th career senior title, which moved him past Miller Barber into solo third on the all-time victory list behind Lee Trevino (29) and Irwin (45). As the winner and runner-up proved so ably, being north of 60 doesn't mean your game has to go south -- Morgan is the eighth-oldest winner in Champions Tour history and the 17th golfer 60 or older to win.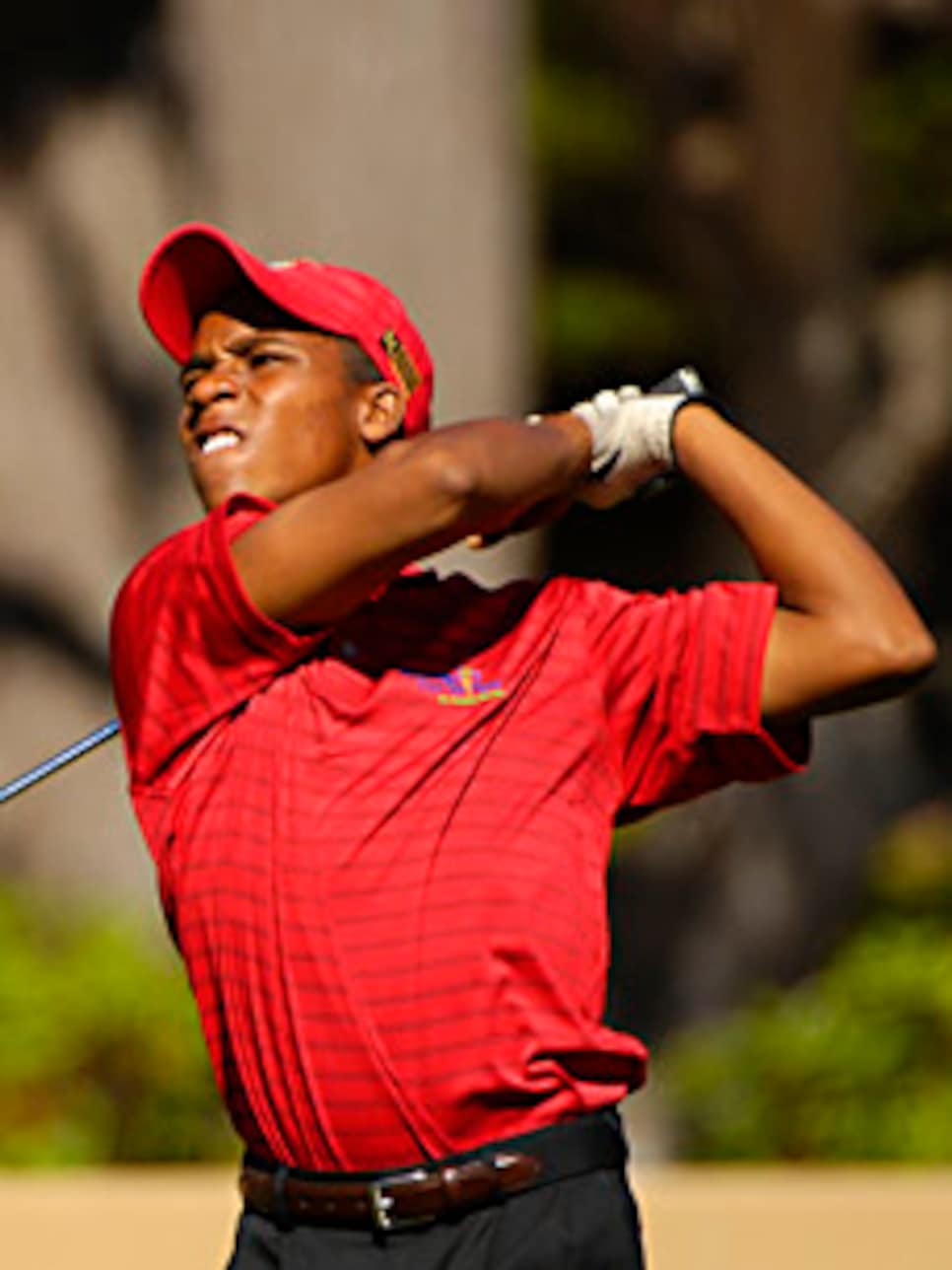 Because Morgan and Irwin have preserved their skills so well -- a flexible 15-year-old would love to have Morgan's full backswing -- it is hard to believe a decade has passed since they all but owned the senior tour. Irwin won nine times in 1997 and seven in 1998, while Morgan claimed six titles each of those seasons. Of the 78 senior events held in that span, the pair won 36 percent of them. "Usually he ended up winning," Morgan said of the duels early in their senior careers. "That was the difference: He won a lot more in those situations where we were neck and neck."
Many of the pros competing at Pebble Beach (and 18 holes at nearby Del Monte GC) have misty, mud-caked memories of wintertime appearances at the AT&T, nee Crosby, but Morgan had a 15-year score to settle with arguably the most famous course in the United States. Tom Kite won the 1992 U.S. Open at Pebble Beach, but more than halfway through it was Morgan's to lose. Early in the third round, he became the first golfer in U.S. Open history to get to double-digits under par. Through 43 holes he was 12 under, three under for the round, and held a seven-stroke lead. A few hours later he had carded a 77 and turned a cakewalk into a contest.
Morgan began last Sunday's final round -- the third day of postcard-clear 75-degree weather -- tied with Irwin and Des Smyth at nine under, but he took control early, holing a 40-foot bunker shot for a birdie at the first hole and two-putting for another one on the par-5 second. Irwin, in contrast, got off to a horrible start. He blocked his first tee shot of the day, pitched out to the fairway and then missed the green from 120 yards on his third shot en route to a double-bogey 6 that would prove too disastrous from which to recover.
"You just can't come back from double bogeys, particularly out of the box," said Irwin, who won the first event of 2007 but has been searching in vain for his peak form this summer. "I knew I was in a big, big hole. Even though I came close to getting out of it, I just couldn't pull that many rabbits out of the hat."
Irwin put on a game comeback, trimming a five-shot deficit to only one through 14 holes. He had a 3½-foot birdie attempt on No. 15 to tie Morgan, but the ill-timed slam of a porta-john door as he was over the putt got in the way. "After 39 years [as a pro], you think you'd have the good sense to step away, but I didn't," Irwin said. "I let that bother me."
Morgan admitted that the '92 Open crossed his mind during the final round. Yet when a six-foot par putt at No. 5 used a lot of the cup and dropped and a 20-footer for par at No. 16 did the same, "I kept thinking maybe Pebble Beach is feeling sorry for me enough to let me survive another day here. Maybe I got a reprieve this time at Pebble."
In many ways it was a triumphant week for the First Tee itself. Seventy of the 78 juniors were affiliated with the program, compared with only 20 at the inaugural event in 2004. "We've got some kids with a lot of game," said First Tee executive director Joe Louis Barrow Jr. "Next year it probably will be 100 percent. More and more of our kids are playing high school and college golf."
And all of them are learning the life skills to give them staying power in life, just like Messrs. Morgan and Irwin.