News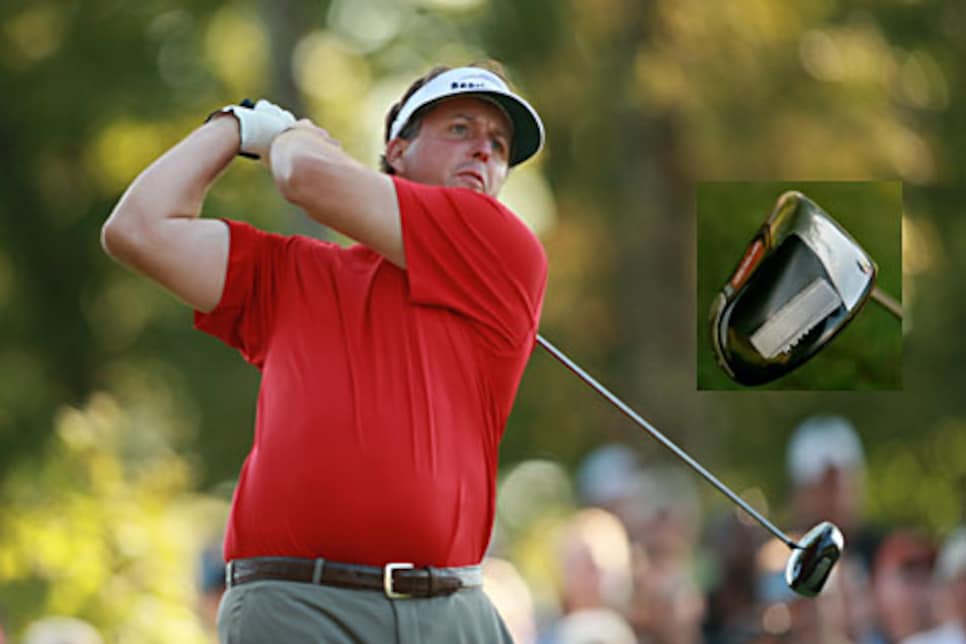 Lefty's high-tech driver sports a little old-school tape.
In this age of golf clubs made from space-age materials that feature weight systems (including, in some instances, movable weights), some players still decide to take a low-tech approach when it comes to fine-tuning their clubs: lead tape.
Although its use among tour pros is not as widespread as a decade ago, the substance still has its place in the game. That particularly holds true for experienced players familiar with its benefits. They aren't hesitant to slap a strip or two of the stuff on the back of their clubheads to get the feel they want.
Reasons for using lead tape vary. Jason Gore, for example, used it to adjust the swingweight on a new set of irons. "These new clubs are a handmade set made with longer shafts," he said. "When they shortened them, the swing weight was off, so they didn't feel right. They put the tape on them, and it was fine."
Swingweight, in fact, is the primary reason to use lead tape. A pair of two-inch long strips of ½-inch wide lead tape should increase the swingweight of the club by about one point (e.g., from D0 to D1).
Other players swear ball flight can be affected using lead tape because tape on the toe of the driver (a lá Phil Mickelson) prevents a hook. Conversely, tape applied to the heel, they believe, promotes a draw. Others say putting tape in the back rear of the club produces a higher ball flight.
"Some guys believe it makes the ball move, but it really doesn't," said Titleist tour rep Rick Nelson. "It gets the swingweight right. But for ball flight, it's more of a placebo effect."
Of course, all this may be moot in a few years. Jeff Sheets at Golfsmith believes lead tape one day may be outlawed for environmental reasons. But he's ready. The company already markets a lead-free swingweight tape. Tinkerers can breathe easy.
Equipment scoop from the tours
K.J. Choi's play with Nike's Sumo2 driver has been well documented, but for some time he had been the lone man in the field with the geometry-driven Nike big stick. That changed last week at the Deutsche Bank Championship as both Stephen Ames and Lucas Glover used Nike's prototype Sumo2 Tour driver -- a club with a slightly smaller clubhead than the near-limit-dimensions club used by Choi. ... Speaking of squares, Nike has had a square (OK, maybe more like a rectangle) Sumo2 hybrid out recently. Adding the club last week in Boston were Trevor Immelman and Carl Pettersson. Both put a 20-degree version in play. ... Last week in Boston__Aaron Baddeley__ went back to the 10.5-degree TaylorMade r7 425 driver he used earlier this year in winning the FBR Open in Phoenix. Good move. Baddeley finished fifth. ... Add J.B. Holmes to the belly brigade. The long-hitting Kentuckian opted to work on the greens with an Odyssey 2-Ball SRT belly model. ... Clarification: In the Aug. 17 edition of Bag Room, it was mentioned Nickent built Jeff Quinney a set of prototype 4DX CB irons but did not put them in play. Quinney did not put the clubs in play because they were a cosmetic prototype and not a playable set.