News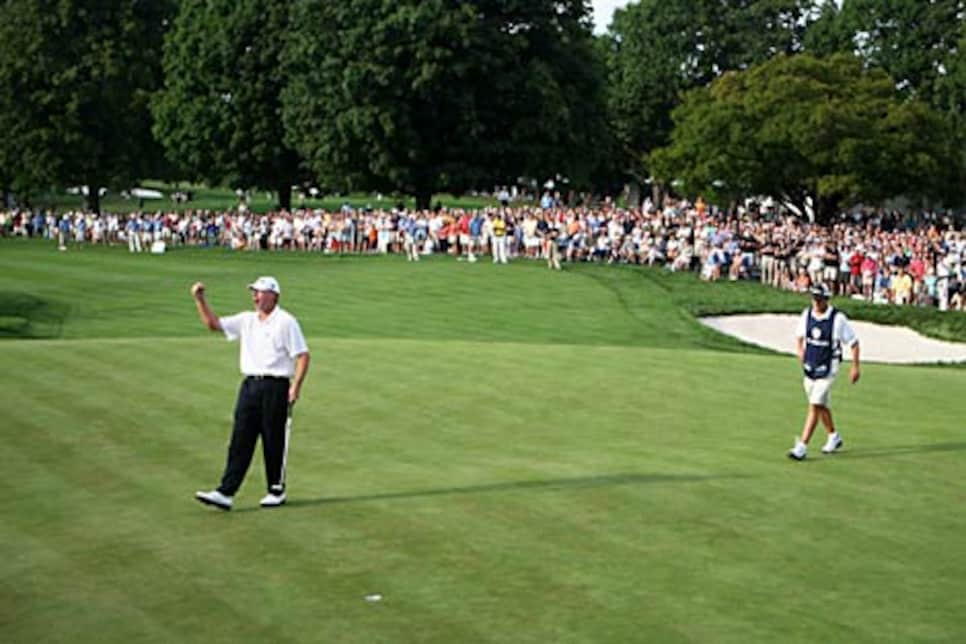 For Stricker and Mitchell (right), a birdie on the 72nd hole was the end of a long road back.
With its bulky field, deferred prize money, missing superstar and alarming shortage of Big Apple atmosphere, the PGA Tour's inaugural postseason made its long-awaited debut incognito: playoffs without payoffs. After bombarding pro golf's fan base for months with a seductive marketing campaign, after lobbying the game's endemic media with the promise of a four-week, 21-gun climax to its repackaged schedule, the tour's description of the FedEx Cup as a work in progress landed a few yards short of a green-light pin.
Not that there's anything wrong with that, as notable New Yorker Jerry Seinfeld would say. For all the hand-wringing over Tiger Woods' absence last week at Westchester CC, one can see how his victory at the PGA Championship locked up player of the year honors and, at least in the eye of the Tiger, reduced his motivational commitment to four consecutive weeks of grinding for retirement fund credit. Not that there's nothing wrong with that.
So the format could use a mulligan or two. Steve Stricker got a second chance, an opportunity that took its sweet time arriving and, much like the title he claimed last Sunday, is unlikely to depreciate over time. The tour's reigning Comeback Player of the Year but winless since early 2001, Stricker's winding career once symbolized the lack of consistency and depth among America's second-tier golfers. In the mid-'90s, he looked like he'd make a half-dozen Ryder Cup teams. As recently as 2005, he had long been forgotten, three consecutive years removed from the top 125, derailed by poor swing mechanics and his own motivation issues.
If you're looking for someone to root for in golf's rich-get-richer era, Stricker is an excellent option. His 16-under 268 gave him a two-stroke triumph over K.J. Choi and featured a terrific clutch performance down the stretch -- hearty vindication for faltering finishes when in the hunt at this year's U.S. and British Opens. Stricker has gotten nothing but better over the last 18 months, and in outlasting a small army of big names to make the Barclays his fourth tour victory, he leapt from 12th to first in the FedEx Cup standings (and from 14th to fifth on the World Ranking).
"I'm in a great position now, but there's still a long way to go, and we all know who's coming back next week," said a man whose perspective on the future is made much clearer by an unsettled past.
When Woods begins his postseason this week at the Deutsche Bank Championship, it will be from fourth place. Choi vaulted from fifth to second, and Rory Sabbatini from sixth to third, by virtue of the FedEx credit they received for chasing Stricker all the way to the 72nd hole at Westchester. The Korean's pursuit of a third victory in '07 was particularly feisty -- Choi holed 50-footers for birdie at the 12th and 15th, the first of which pulled him even with Stricker, the second to forge a one-stroke lead.
Long after he forfeited his standing as one of the game's top young players, Stricker, now 40, was always on everyone's short list of the tour's best long-distance putters. "He makes more 40- and 50-footers than any five guys combined," fellow Wisconsinite Jerry Kelly once marveled. What made this win so encouraging is that Stricker, whose ball-striking suffered to the point where a lot of those bombs were for par, did it with the other 13 clubs. He ranked T-11 last week in fairways hit, T-4 in greens in regulation and fourth in proximity to the hole. Oh, and T-2 in putts per round. A 12-footer for birdie at the 16th pulled him even with Choi. A sand wedge from 92 yards to four feet at the 17th turned into another birdie and sole possession. After Choi pulled his second at the par-5 closer into the back-left bunker, Stricker laid up, knocked another baby wedge to eight feet and cashed that one to finish birdie-birdie-birdie.
Here come the tears. "I've been with him through the tough times, the down times and the worst times of his career," said caddie Tom Mitchell, who got the job at the start of '01 because nobody else would accompany Stricker to the WGC-Accenture Match Play in Australia, a tournament far better known for its incredibly weak field than the Badger who won it. "My job was to change his attitude about the game. Steve was frustrated, and there are a lot of ways you can be affected by negative energy."
That's another thing about Stricker -- in a league full of good guys, they don't come any kinder or more likable. The only person he has ever beat up is himself, but there was a lot more to his downfall than personal loathing. Ten years ago, his first prime included some odd traits, notably a habit of ending his season after the PGA Championship. Stricker loves to hunt and fish back home in the fall, but it's not a stretch to say the game had become a job, which is never a good sign when you've just turned 30.
It's fair to say Stricker got a bit complacent. His swing, always a well-oiled collection of loose parts, suffered without the proper maintenance. Perhaps best known a decade ago for employing his wife, Nicki, as his caddie, she gave up the bag in 1998 after becoming a first-time mom. At least, that's what we were told at the time. "I got into some bad [swing] habits before we had children," Stricker will tell you now. "I basically ended up firing my wife because I didn't want anything to [strain the marriage]."
Speaking of strained relationships, the host venue surely didn't do much to strengthen its future with the tour. As one of the few classic layouts the big boys still visit, Westchester's once-imperishable reputation took a huge hit last week because its greens ranked somewhere between below average and awful. "They're like me -- they've got some kind of disease, and they can't figure out what it is," cracked one veteran caddie.
The tour likes to keep things consistent, meaning green speeds of about 11 on the Stimpmeter are the target every week. Westchester's surfaces never got to that point, but it was the large brown splotches of unhealthy turf that got everyone's attention. Tournament officials lost several desirable pin positions because they didn't want to stick flags in ugly spots, which might have led some viewers to believe the FedEx Cup was kicking off on a public course.
One thing about the PGA Tour: It doesn't like lowering its standards. It ain't good for bidness. Neither, of course, was Tiger's no-show. "We've been reading e-mails and blogs for the better part of a week now, and the fans seem to have a different view," commissioner Tim Finchem said in his pre-tournament news conference. "They seem to think Tiger was going to win this thing, and now they're not so sure."
Isn't it wonderful, the commissioner's ever-evolving sense of humor? "I noticed the other day on espn.com, I was accused of going to Tiger and asking him not to play for that purpose, which I thought was a little amusing," Finchem added by way of a punchline. "It's not a decision I like to see him make, candidly, any week of the year."
Competitively, the playing field was leveled in Woods' absence, but without its Elvis around to legitimize the new format, move the buzz needle, grab a few more pages of press in the New York tabloids, pacify CBS (this was the network's lone playoff telecast) and beat everybody by eight, this event generated about as much electricity as an Amish village. Not a single out-of-town newspaper sent its national golf writer to cover this thing -- you'll see 20 or 30 at some big tournaments. What's worse, ESPN basically treated it with the same amount of respect as a Reno-Tahoe Classic.
That's not the way this little end-of-summer blowout was supposed to start. The tour has big plans for its FedEx Cup, and if it didn't absolutely, positively guarantee top-shelf sponsors such as Barclays that every marquee player would show up, play hard and say all the right things, that was the obvious inference. That's why these companies are paying $10 to $12 million apiece for the shingle. That's why everybody bothered in the first place.
All that said, there was a bright side. When Phil Mickelson holed a 15-foot birdie putt at the par-3 16th Sunday afternoon, there were eight players bunched within two strokes at the top of the leader board -- seven of them in the top 25 in the FedEx standings. At Westchester the crowds may be puny, the greens worthy of a muny, but it produces an interesting, exciting, star-fueled finish every year. More than the size of the smile of the host CEO or the weekend TV ratings, that's what should matter the most.
In 2009 the Barclays will take a test drive at Liberty National, a much-ballyhooed shrine to overindulgence on the New Jersey side of the Hudson River, no more than a downwind 4-iron from the Statue of Liberty herself. The clubhouse looks like something you would see on "the Jetsons" -- half-casino, half-giant spaceship -- the views of Manhattan outrageous, the layout a Bob Cupp-Tom Kite collaboration. It all sounds pretty good to the world's best golfers, many of whom have grown a bit weary of Westchester's can't-do attitude.
"The worst thing here is, you don't get the feeling the members even want us around," said Jerry Kelly, who loves the course but would vote to leave if asked. Maybe it's time for an upgrade, a change of scenery befitting of the tour's grand, end-of-season enterprise. You don't play for $10 million in retirement-fund credit on brown shag. You roll out the red carpet and tell everybody what a terrific product you've got, but first, you ask Sir Eldrick how he feels about Jersey City in late August.