News
Tiger Is Hot -- The Rest Are Not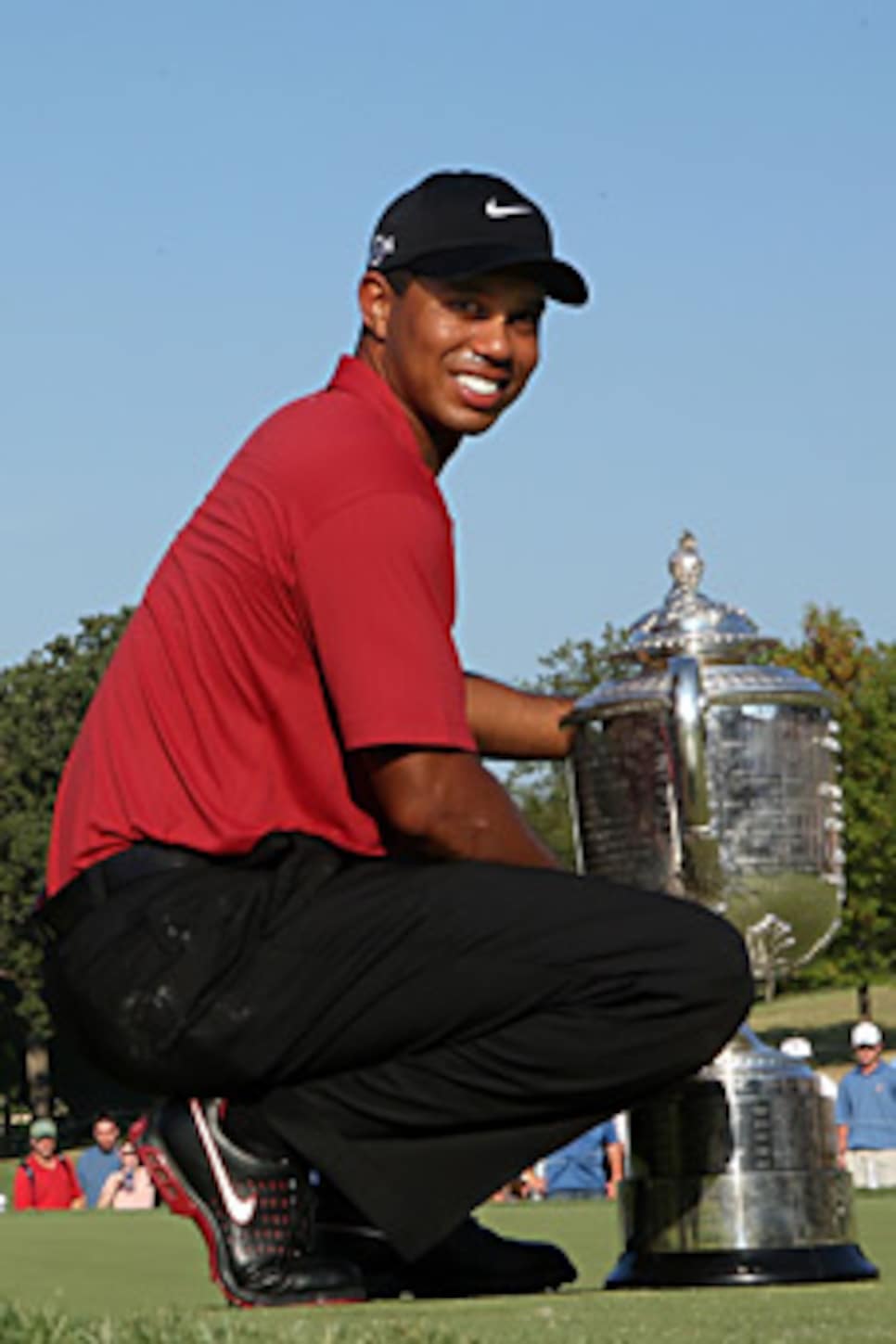 Does he have any peers still in the game?
While Tiger Woods stood putter in hand on the fringe of the eighth green, John Daly ambled onto the 18th tee only a few feet away. He looked like he'd been through a car wash, so he welcomed an interlude beneath the trees until it was time to hit away. As Daly slumped over his bag, Woods addressed his ball. When the curling 25-footer also found shade for birdie, Daly just shook his head. Then after Tiger's vigorous fist pump, Big John raised his arms and launched his ample frame into a sweat-soaked rendition of the we-are-not-worthy salute. Between waist bends, Daly made eye contact with Woods, who smiled.
Without uttering a word, Big John's wide-body English spoke for the boys Tiger routinely throws under the bus. Oh, he gave them some hope last Sunday, just as he teased them this year. Eclectic worked for a while. Zach Johnson, a cornfed Iowan who weighs 50 pounds less than his caddie, won the Masters. Angel Cabrera, a chain-smoking Argentine, took the U.S. Open. And Padraig Harrington, the Irishman who doesn't drink, seized the British. Woody Austin would have been the fitting bookend to a season of majors without a chapter on the world's No. 1 who lives for them, no?
No. Defying the dreaded Mens' Fitness magazine cover jinx, Woods won his fourth PGA Championship, thus restoring a sense of decorum to the sport less than a month after contemporaries were lured into wishful thinking run amok. Shock replaced awe when Woods' opened the third round at Carnoustie with a grotesque snipe-hook with an iron. Whoa.
Something was seriously amiss. Perhaps he really did want to spend more time around Elin and Sam Alexis than Hank Haney and Steve Williams. Maybe Tiger had lost his edge and was focused on his airplane instead of his swing plane. He went all the way to Scotland to admit he was homesick? Better yet for troop morale, the next and final major venue would be Southern Hills, where Woods' attempt to hoard a fifth straight grand-slam title aborted in the 2001 U.S. Open. This course just didn't quite fit the eye of the Tiger, or so the scouting report went.
In fact, Tulsa and Tiger were a match. Besides Daly's pantomime, Arron Oberholser's description about Woods' "horrifying precision" was a close second for succinctness. How excrucitating was the heat? One player, Jyoti Randhawa, packed it in Thursday after laboring a few holes beneath an umbrella. For the love of God, Randhawa is from India! But in conditions that fried men's minds, the finest athlete in the field wore black pants for Sunday's trip, topped by a black cap over the sport's coolest brain. For added pre-game juice to what seemed like a fait accompli, we pundits dredged up ancient remarks from Stephen Ames, last week's stand-in for Rory Sabbatini. But Woods flicks them off like gnats because while everybody imagines they are chasing him, Tiger's only partner in these twosomes is Jack Nicklaus. Woods has won 13 majors in 50 starts, ahead of the Golden Bear's pace. Does it say something about competitive balance when a legend who's 31 identifies his greatest rival as a legend who's 67? Would you designate that as golf's vast in-between or just a demilitarized zone?
Whether the best of the rest are drawing any closer to Woods while he inexorably hones in on Nicklaus is grist for talk radio. Ernie Els was the only famous name to break par. Otherwise, the Big Five we annointed only a few years ago appears to have gone the way of Detroit's Big Three automakers. And the young Americans? Austin earned a spot in the Presidents Cup at age 43. His only other team experience is with Team Tabasco. I can't take any other message from the PGA Championship except this: Only one European finished in the top 10 and just three in the top 20. So, we obviously should arrange a Ryder Cup for Southern Hills in August, and soon. If you can't beat them, boil them.
Now it is time to dig in for the FedEx Cup playoff series, a four-pronged experiment that will pay the winner a sum of $10 million. But the money shall be spread out over the rest of the century, which is why Tiger doesn't seem excited (and he's told Sam Alexis to curb her enthusiasm, too). This delivery will not be standard overnight. Still, the stars insist they'll be there. Phil Mickelson not only plans to play in New York, Boston, Chicago and Atlanta, he's off to China in mid-November, right during the football season. Either it's the San Diego Chargers' bye week, or he's getting a gaudy appearance fee. "Let's put it this way," said the lefty. "It has nothing to do with the NFL schedule."
Woods, meanwhile, sticks to his proclamation—it is his "intent" to partake in all four tournaments. Well, when I started out in this business, it was my intent to be Red Smith and win a Pulitzer Prize. I'll believe that all the top guys will make all playoff stops when I see it.