News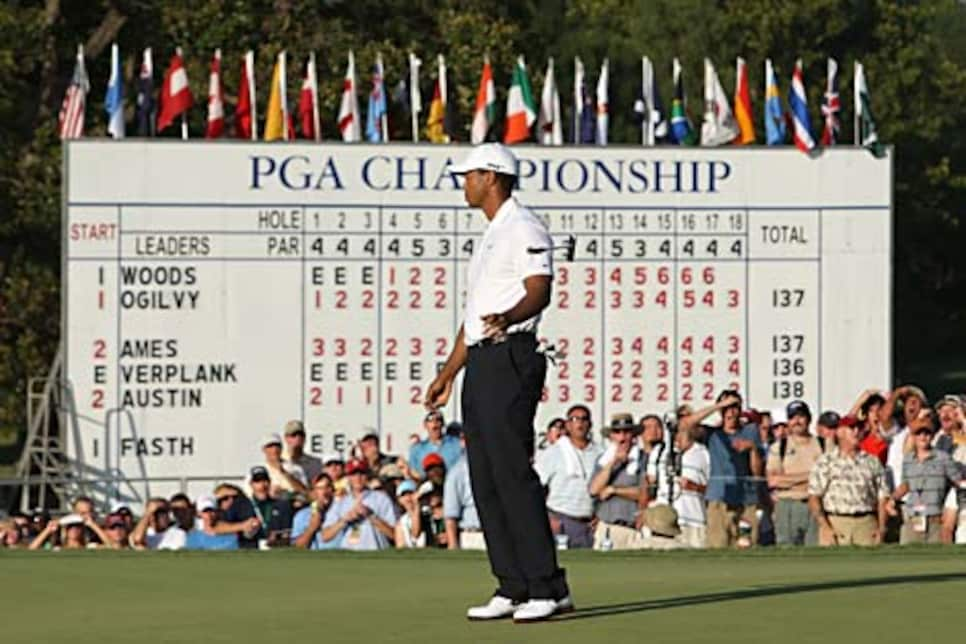 It was Woods' putter that dropped, not the ball, on his attempt at 62.
Tiger Woods knew he hit a good putt and as it approached the cup on the 18th hole at Southern Hills CC Friday afternoon, so did all those lining the green and watching around the world. If the ball disappeared, it would have meant a major-championship record 62, a score that would have put Woods in the books ahead of 20 other golfers, including most of the modern-day greats, from Jack Nicklaus, Gary Player and Raymond Floyd, to Nick Price, Greg Norman and Nick Faldo. It was a breathless moment on a sweltering, incandescent August afternoon in Tulsa as Woods' attempt at history went into its final approach, tracking those final six inches at what seemed like perfect speed for a clean entry into the left side of the hole.
Woods' putter went up, as positive a sign as any. Half the ball disappeared, down to the equator, and everyone watching awaited the familiar flurry of Tiger first pumps. And then, as if swatted by the hands of the golf gods, Tiger's ball horseshoed around the hole and spun right back at him.
"Mad," said Woods when asked to describe his emotions. In the press tent afterward, he tried to downplay the importance of the round, saying, "I was just trying to get myself back in this tournament. And lo and behold, here I am." More important than the record, said Woods, "A 62 would have meant I had a three-shot lead instead of a two-shot lead." Some eyes in the cynical media audience might have rolled, but this is how Woods -- who called the round a "62½" -- thinks. But don't assume for a second Tiger doesn't know his golf history. He reminded his listeners that Price had a putt for 62 on the last green of the third round of the 1986 Masters. "It horseshoed as well," said Woods. Price and Woods were not the only greats to have fate intervene on their way to golf's record book. At Baltusrol in the opening round of the 1980 U.S. Open, Nicklaus had a 2½-foot putt on the 18th green to shoot 62. He missed and later told Dave Anderson of The New York Times that he "babied it." Last Friday night from his home in North Palm Beach, Fla., Nicklaus was asked how something like that could occur, prompting the great one to admit, "I don't know. I probably choked. I was nervous, like you'd expect anyone to be."
Nerves didn't have anything to do with Norman's failed run at a 62, although trademark Norman overzealousness may have. Through 16 holes of the second round of the 1986 British Open at Turnberry (a par-70 layout), Norman was eight under. A par-par finish would have brought him home in 62. But Turnberry's 17th is a reachable par 5, and the 18th is a medium-length par 4. "I was thinking if I could finish eagle-birdie I'd shoot 59," said Norman. Instead, he made a disappointing par at 17, then three-putted 18 to miss the record by a stroke.
Like Woods at Southern Hills and Nicklaus at Baltusrol, Norman was able to hang on to win the championship -- but that is not often the case. The year Norman won his second British Open (1993), Faldo shot 63 in the second round at Royal St. George's. Vijay Singh has twice shot 63 in a major (second round, 1993 PGA; second round, 2003 U.S. Open) and not won. Norman's 63 Thursday at the 1996 Masters is barely remembered because of his stunning collapse three days later against Faldo. In fact, only five of the 21 players who have shot 63 in a major championship ended up winning: Woods, Nicklaus, Norman, Floyd (who shot 63 in the first round of the 1982 PGA Championship, also at Southern Hills) and the man who shot the very first 63 in major-championship history, Johnny Miller, whose final-round 63 at the 1973 U.S. Open at Oakmont might be the best of them all.
Norman (with Singh, one of only two players to have shot 63 twice in a major) describes the feeling of going that low as just "playing with an empty mind, not thinking about score, attacking every flag, with distance control that's so spot-on, you just put it on automatic." During his magical round in 1982, Floyd had 10 3s on his card, including nine straight from the sixth through the 14th holes, and a closing birdie at 18. He described the zone he was in as "everything being in slow motion, like it already happened, and you were just playing out the script."
That Woods followed his 63 with rounds of 69-69 for his 13th major title was doubly impressive. Oftentimes, it is said the hangover from a low round can be debilitating, but Woods was in control of his game on the weekend. "Now as far as 62 being doable, I mean, it all depends on the venue," he said Sunday when it was over. "Obviously it's a lot easier on a par 70 when you have soft greens. This year the greens were not firm, it was too hot and they were syringing them. Balls were backing up."
There was one 2, eight 3s, eight 4s and one 5 on Woods' card, eight birdies and a bogey. He never did specifically say if he thought shooting 62 was doable in a major, but he left the impression that he thought it was. At least one other player in the "63 club" agrees. Gary Player was 48 when he shot 63 in the deep rough and heavy humidity at Shoal Creek in the 1984 PGA. It was his last great push to win a major championship, but he finished second to Lee Trevino. From South Africa Monday, Player told Golf World he believes it will not be long before somebody crosses the 63 barrier -- and it won't be the last time either. "They'll break 60," Player predicted, citing all the advancements in the game. "It's not even a question. It's just a matter of time. They'll smash it."