News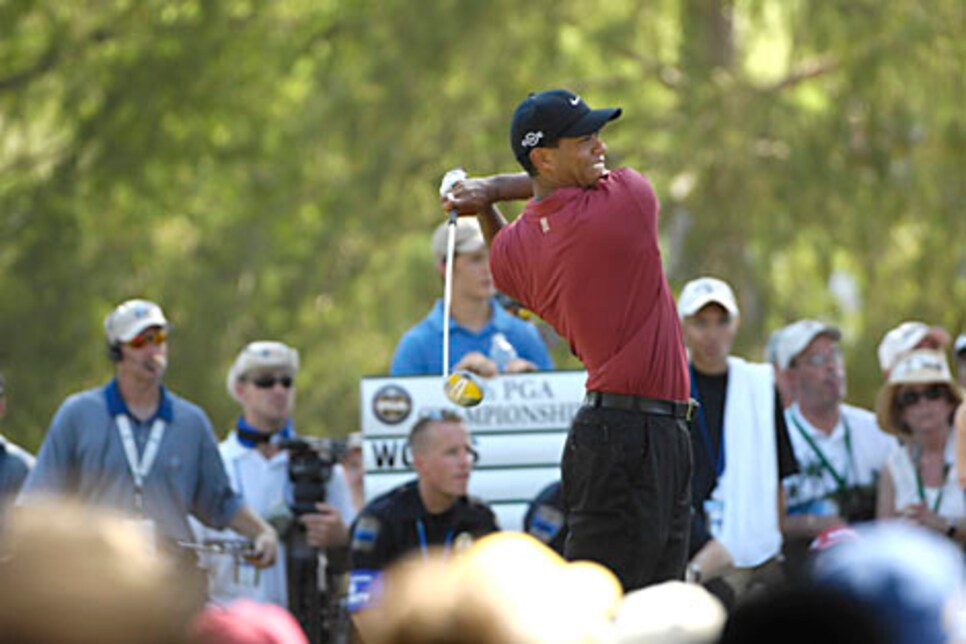 Woods' winning formula Sunday included hitting nine of 14 fairways at Southern Hills.
Heat, thy name is Tulsa. but, perfection? Thy name is still Woods, even if perfect doesn't mean flawless.
Savaged by swing changes, gutted by marriage, paralyzed by the birth of his first child and without a guru in sight, Tiger Woods somehow managed to collect himself when the going got tough on a golf course he supposedly couldn't play to successfully defend his PGA Championship crown for a second time and win his 13th major title by two shots over unlikely Woody Austin at toasty Southern Hills CC.
This time, at least, the lads made him earn it. Dripping sweat from his chin when he leaned over to putt, his trademark red shirt shrink-wrapped to his muscled body by perspiration, his socks so soaked in sweat they retreated into his shoes as if they were ducking into the shade, Woods held off the charges of, first, the easygoing and resurgent Ernie Els and, then, the jittery and game Austin to finish with a winning total of eight-under-par 272.
It's an interesting dynamic, being set decoration in the Tigerama. How do you give the man his due but retain your own dignity? Cross the line and Woods can go downright 9-and-8 or Sabbatini on you, as he once famously did to his Sunday playing partner, Stephen Ames, in the 2006 WGC-Accenture Match Play or to poor Rory just the week before at Firestone CC in the WGC-Bridgestone Invitational. In Tulsa, however, Woods was confronted by two very different personalities, both acting for all the world as if they really intended to give him a go. And, in a rarity for Woods, he gave them reason to keep the faith.
Ames earned his spot in the final twosome with a birdie on the 18th Saturday but shriveled quickly in the Sunday heat. He was replaced by Els who came out fast, as the three-time major champion knew he must. With Woods at even par through six, seven under for the championship, Els birdied the eighth to reach three under par on his round and join Austin at four under. Woods had looked shaky at the start but, at that point, there was little doubt he was back in control.
Els missed a chance to pick up another shot when his six-footer at the ninth missed. Austin bogeyed the seventh when he drove it in the rough. Then Woods birdied the seventh after hitting his 8-iron to eight feet and the eighth when his 2-iron stayed on the fringe and he made the twisting, fist-pumping 25-footer to get to nine under. With Els still at four under and Austin at three this had all the earmarks of a routine Woodsian rout.
But hold on, America. Here's something we haven't seen much in the pursuit of the great one -- resilience. Els hit driver off the tee on the 366-yard 10th and got up and down from short left of the green for birdie. On the ninth Woods drove it in the left rough, couldn't reach the green and failed to get up and down. The dropped shot was like air conditioning for Austin and Els. Woody set his hair on fire when he saved par at the 10th from just off the green, then went birdie-birdie-birdie, including a huge putt on the 12th after missing the green with a horrendous gap wedge. Els missed another short putt on Southern Hills' bumpy greens and bogeyed the 12th but then barely missed his eagle at the par-5 13th and birdied the 14th after staking his 5-iron three feet from the hole.
Woods' next miscue was managing a mere par at the reachable 13th -- and he had to get up and down from the back bunker for that. His third strike very nearly came at the 14th when he three-putted. Suddenly, Austin was standing on the 15th green with a 10-foot putt to tie. Els was only a shot back, too, but had put himself in trouble in the trees left off the 16th tee, from where he ultimately made bogey to ruin his chances.
Could a historic collapse be imminent? Naw. This is where the adults took over. "I felt like I gave all the momentum back to Ernie and to Woody," said Woods. "And I just felt like, you know what, I got myself in this mess, I need to go get myself out of it. And I did some serious yelling at myself going up to the 15th tee, just to get back into what I do. Position the golf ball, put it where I need to put it and just bear down. Get it done somehow."
Austin missed at the 15th. Woods hit 4-iron, 7-iron there to 15 feet and made the birdie putt for a two-shot lead. Austin never threatened to birdie on the way in. Woods never threatened to bogey, striping his three remaining drives with a driver and two irons off the tees. Thanks for playing, boys, here's the home version as a lovely parting gift. For both Els and Austin there was a sense of victory in defeat. For Woods it was more like relief since any year without a major victory is a lost voyage in his quest to surmount Jack Nicklaus' plateau of 18.
In a game where inconsistency is the only constant, Woods is now 13-for-13 as a closer with a 54-hole lead in a major. It may not have been pretty, but it was predictable. Even if it got a little edgy Sunday, everyone knows he's the best front-runner golf has ever seen. But forget golf. Who among us has a dry cleaner who's 13-for-13? Surely, one of these Sundays, Woods will come up sick or lame -- as CBS kept insisting he was after his fist pump on the eighth -- or just plain old, but until that day, it's best to take the advice Albert Pujols gives Sergio Garcia in the commercial -- try not to get behind. The rally cap just isn't working for them.
Woods defies gravity. His tipping point is at the top. He's an 0-fer from behind and batting 1.000 from in front. Twice this year in major championships, Tiger has tried to play catch-up and both times he has fallen victim to the same fate those who chase him know only too well, and he finished tied for second. In the Masters he made an error in judgment on the 15th, trying to do more than was necessary in the circumstances. At Oakmont in the U.S. Open, no one had a better ball-striking round than Woods did Saturday, but he never made a putt of consequence. He regained his putting swagger in Scotland at Carnoustie and imported it to Tulsa. When Woods holes those crucial six-, eight- and 10-footers as he did at Southern Hills, he becomes larger than life, like a balloon in the Macy's Thanksgiving Day Parade floating over the fairways.
The PGA of America has called Southern Hills home four times. That's more often than any other venue, which leads inevitably to the question: Was the Mojave Desert booked? Welcome to the fourth Gold Bond PGA, the Grand Slam of Sweat. Southern Hills is a wonderful course whose substantial, sloping shoulders easily accommodate big events. And there is no disputing Perry Maxwell's sometimes quirky layout has produced a perfectly agreeable list of past champions for both the PGA and the USGA. But assuming these facts in evidence as justification for returning over and over for a case of heatstroke would be like reckoning the Rolling Stones are proof that drugs, alcohol and androgynous behavior are the foundation of a long-running partnership. Take all the Ryder Cups, Presidents Cups and Tour Championships you want to Tulsa, but in the name of all that is Walter Hagen, do the EMT's a favor and ease up on August.
The local media kept a running score on the afflicted like a 10-point must system -- Round One, 19 down for a mandatory eight-count, three transported to the hospital. With every day breaking the 100-degree barrier, the banner strung across the entrance to Southern Hills should have read, "Abandon Hope All Ye Who Enter Here."
The first-round lead at five-under 65 was held by that gift to headline writers, Graeme Storm, a 29-year-old Brit who once, in the midst of a near career-ending slump, pulled a hitch working in a cream-cake factory cleaning used trays for $300 a week. Surely, pulling pastry from the ovens would have been a better tune-up, as his second-round 76 would attest.
While Storm was sating the punning appetites of newspaper editors worldwide, the real story was John Daly, whose opening 67 was the result of days of preparation at the slot machines at nearby Cherokee Casino. Daly already knew Southern Hills and just didn't feel like becoming reacquainted in 98-degree weather, so he took a pass on practice rounds altogether. The course, at least, is equipped with a sub-air cooling system. Daly comes retrofitted with the same old one -- Diet Cokes and Marlboros. Watching Big John play golf over the next three days was like watching a high-school science experiment to determine the kindling point of Bud Light. The casino probably had odds on his spontaneous combustion. It never happened, however, as he followed up with three solid -- and blessedly uneventful -- 73s.
Friday, at roughly 6:45 p.m., putting toward the setting sun on the same green that bedeviled the cast of the 2001 U.S. Open from a paltry three feet and in, Woods had a putt shorter than the shadow falling behind him for the first 62 ever shot in a major championship. (Though in deference to Dan Jenkins it must be pointed out that Ben Hogan shot 62 in the 1942 Hale America.) It was a wonderful scene. The ball dipped inside the cup's left edge about halfway down, swirled around like an olive in a dirty martini and popped out the other side. As the gallery moaned, on the adjacent ninth green, Steve Stricker looked at Brett Wetterich and asked what happened. Wetterich pointed his index finger to the ground and gave the universal symbol for the power lip-out. If Sir Isaac Newton had hit it, it would have been history.
Woods collects the tchotchkes of golf immortality the way summer tourists pick up shell art in a Myrtle Beach gift shop, so if anyone knew what that putt signified, it was Woods. He later managed to deadpan that it would have meant, "I had a three-shot lead, instead of a two-shot lead." And 18 is just a number, right? Saturday golf's diabolically clever plot to thwart the manifest destiny of Sergio Garcia picked up where it left off at Carnoustie when Boo Weekley, who readily admits he has no great gift with "figgers," was put in charge of counting Serge's strokes. Falling for the ruse, Garcia failed to check the numbers, signed for an incorrect score and was disqualified.
That was about as much action as there was all day. An old Green Bay Packer, Max McGee, once said, "When it's third and 10, you can take the milk drinkers, and I'll take the whiskey drinkers every time." On the PGA Tour the rule is different. If you're up against it, you take the guy with the insulin pump. There isn't a tougher character in professional golf than Scott Verplank. But such is the presence of Woods, who was soloing all week, foregoing the handholding of his instructor, Hank Haney, that he forces his opponents to do what they cannot. Verplank went into Saturday two shots behind, dropped another back by the turn and then, on the 458-yard 12th, tried to take the Daly Route over the trees at the corner of the dogleg. He failed to carry the rough and finished with a slashing, twisting, punch-out double-bogey journey through the left trees while Woods rather sedately hit iron off the tee and made a ho-hum birdie 3. Of the eight players under par beginning the day, only four broke par Saturday and none were better than Woods' 69. You can't catch a thoroughbred by running in place, a mistake that wouldn't be repeated by Els or Austin Sunday, who shot 66 and 67, respectively, to Tiger's 69.
If not for Woods, this major championship campaign that began in the unseasonable cold of the Masters and ended in the all-too-seasonable swelter of Tulsa could have gone down as one of the game's most, um, unusual collection of winners since 1943 when Hitler was nastier than the new trees at Augusta, the rough at Oakmont or the Barry Burn combined and the winners were no tournament, no tournament, no tournament and, of course, no tournament.
When he climbed the hill behind the 18th, for the first time in 13 major victories, Woods the survivor was greeted by his wife, Elin, and daughter, Sam Alexis, for a second generation of "The Hug" in a world that still looked pretty perfect.