News
Thoughts From Southern Hills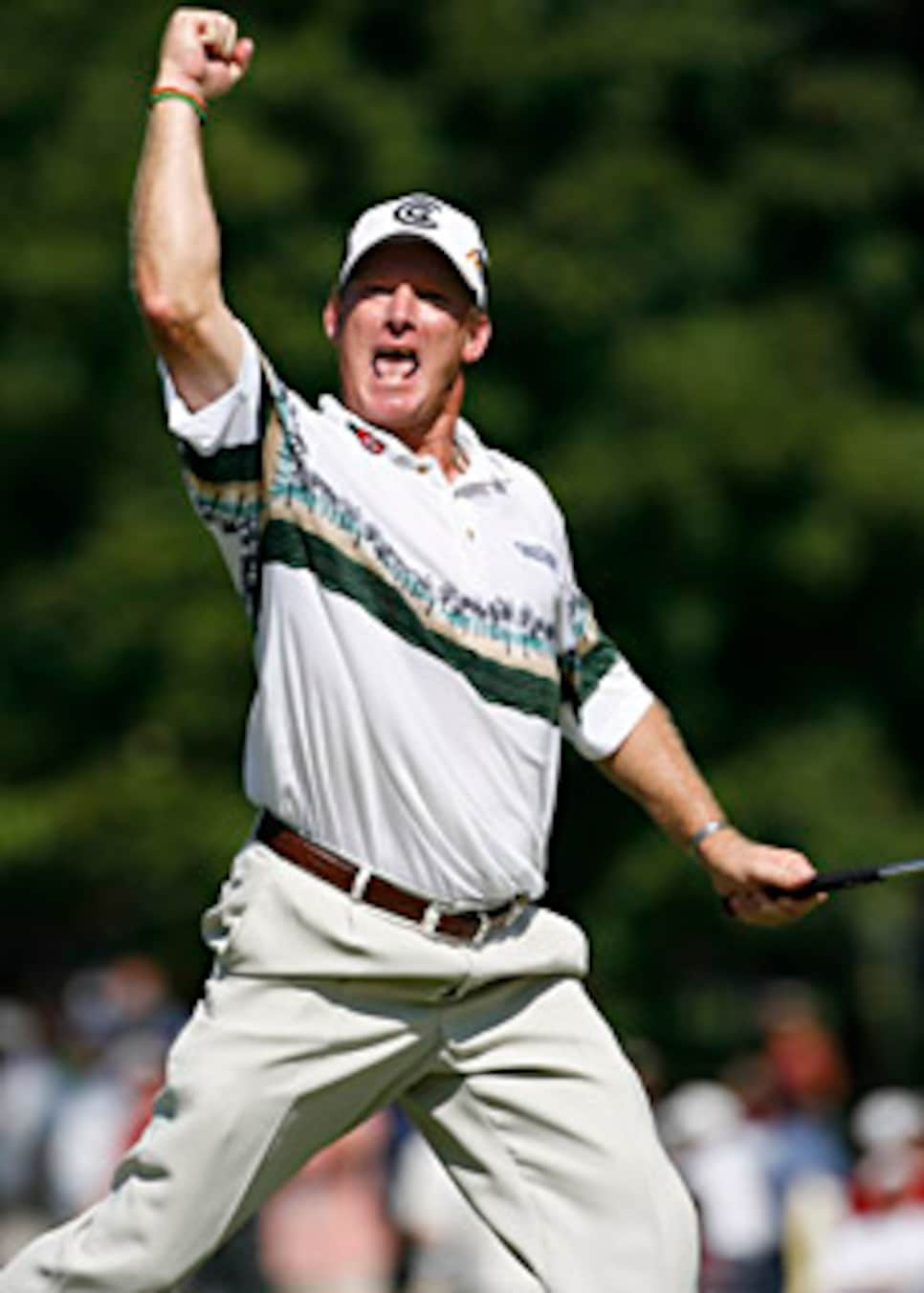 Austin says his emotional outbursts, like Tiger Woods' are the result of competitive fire.
It is tempting to think of professional golfers as distinct from the rest of us. Their swings are better, their creases are sharper and their self-confidence is always sky-high. Right? In fact, a lot of them possess as many doubts as dreams and envision as many lipouts as hole outs. The depths of their valleys aren't like yours or mine, but they know the way down.
They are, in other words, more like Woody Austin, regular guy and excellent golfer, than Tiger Woods, icon and world-beater, who, with his two-stroke victory over Austin in the sweaty 89th PGA Championship last week at Southern Hills CC, moved another major championship closer (Woods has 13 now) to Jack Nicklaus' pro record of 18. Once widely viewed as an unassailable mark, it appears Woods, who is 31, will surpass it well before he turns 40 -- perhaps say, at the 2011 Masters, when he will be all of 35 years old and will have won while wearing red more often than the Oklahoma Sooners.
Of course the time and place that the record will change hands is only an educated guess. Woods had to sweat -- literally (in the blistering heat) and figuratively (on a suddenly tight leader board late Sunday) -- down the stretch in Tulsa, Okla. That he came through triumphantly was no surprise, but the fact the 43-year-old Austin (along with third-place finisher Ernie Els) was the one making him work so hard for the trophy was, because Austin is better known for being extremely hard on himself. Think of it as some well-deserved fanfare for the common man, who earned $756,000 for his runner-up finish and also secured a spot on Nicklaus' 2007 U.S. Presidents Cup roster, a slightly more formal squad than "Beer 30," Austin's recreation softball team back home in Derby, Kan., outside Wichita.
For a fellow with only three PGA Tour victories, the most recent coming earlier this summer at the Stanford St. Jude Championship thanks to a final-round 62, Austin isn't unfamiliar to casual golf fans. His backstory is unique, for starters. Austin grew up in Tampa, Fla., which produced Eddie Pearce and Gary Koch, but unlike that hotshot duo who filled their trophy cases as young amateurs, Austin was a late bloomer. "I didn't play a big junior tournament until my senior year of high school," Austin said last week. "I won the North and South Junior [in Pinehurst, N.C.]. It was the first time I had been out of Florida. Nobody knew who I was. I was 5-foot-3 and 95 pounds. That summer was when I started to grow -- I had a growth spurt and grew five inches and 30 pounds."
Austin would continue to fill out -- he is 6 feet, 190 pounds today -- but his path to the PGA Tour took an unscheduled detour when he tore tendons and cartilage in his left knee during the 1987 Q school. Seven years, many mini-tours and an off-season gig as a credit-union bank teller later, Austin earned his PGA Tour card in 1994 and promptly won the Buick Open during an impressive 1995 rookie season in which he finished 24th on the money list. He was 32nd in 1996, but Austin didn't crack the top 100 in earnings again until 2003. An incorrect eyeglass prescription that sabotaged his vision played a part in his slide, as did his anxious personality, mediocre putting and a tendency to beat himself up mentally when he didn't fulfill his expectations.
Anyone who has walked by a television in the past decade has seen the lowlight of Austin's anger-management failure during the 1997 MCI Classic. Frustrated after missing a putt, he bashed the right side of his head several times with his putter hard enough to put a noticeable bend in the shaft. Austin stayed on his feet after the punishing blows, but the infamous clip has had legs. The video has followed him into the rubble of his slump and out of it. He understands, but only to a point, as he explained in one of his unflinching and revealing press conferences that occurred after he got in contention at Southern Hills.
"If you catch me on the golf course doing something bad, and you want to lead in with that [head-banging tape], so be it," Austin said when asked by Golf Channel's Rich Lerner if he was amused by the footage. "But if you're going to lead in with that after I shoot 62 or win a golf tournament, why? That has nothing to do with the 62. You lead into everything that Tiger does with the fist pumps and all the good stuff. You never lead in with all of his bad stuff. So why is my one thing in 10 years, where I did something outrageous, the only thing that [is aired]?"
Austin reiterated the notion of a double standard regarding Woods when it comes to more mundane slams of club to turf. "That's his 'competitive fire,' is what it's called," Austin said. "He's 'competitive,' he is 'aggressive.' I do that, I am a 'loose cannon.' I 'can't control' myself. I'm not competitive? It's like I'm not good enough to get mad. He's good enough to get angry all the time? Why can he get mad more than me, but it's competitive fire as opposed to somebody who is too hard on themselves? I don't get it."
The topic of Woods crept into much of what Austin had to say last week, but parts of his critique made more sense than others. Austin insisted repeatedly, for instance, that he had outplayed Woods in the second round even though the world No. 1 shot a 63 to his 70. "I watched [his round on TV]," Austin said, "and I had it inside him all day long. I outplayed him by at least four or five shots, and he beat me by seven."
That is a cockeyed view because golf is not only a gauge of ball-striking skills but also of how capably good shots can be converted into birdies. Austin must know that, but his view is jaundiced by his history as an above-average player until he gets a putter in his hand. "I'm a very nervous person, I have a lot of nervous energy, and it shows [when I putt]," Austin admitted. "It's very hard to make a putting stroke when you're real nervous; it's a lot easier to make a golf swing when you're real nervous as opposed to putting."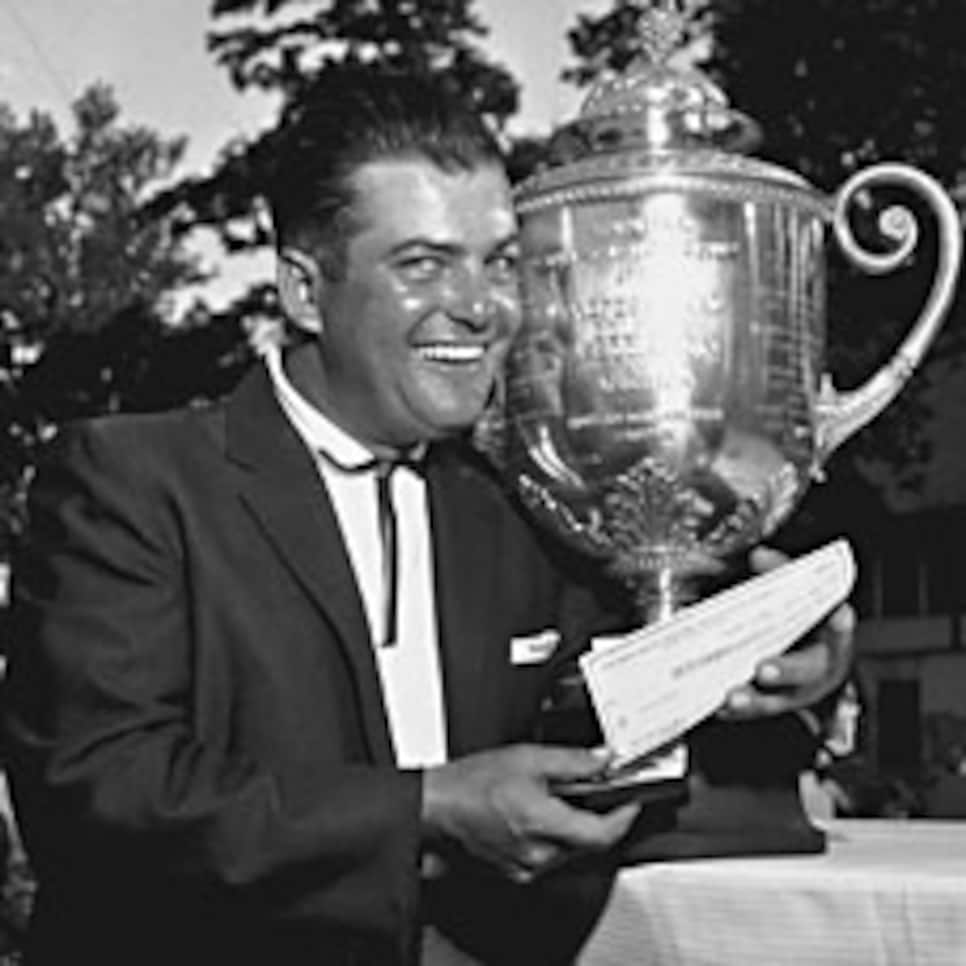 Austin took to the course Sunday with the same shirt he wore when he shot the 62 in Memphis, an old-school putting tip he once got from Ben Crenshaw to grip the putter as lightly as possible on putts of less than 10 feet and a new-fangled electrolyte-replacement drink called Gookinaid. "As long as you keep hydrated and drink water, it's just a matter of sweating a lot," Austin said. "I guess the hardest part is to get over how your shirt weighs five pounds when you're done."
The heat was more oppressive than at any major championship in history, according to the numbers. The high temperature in Tulsa was 101, 100, 101 and 102 from Thursday through Sunday, for an average high of 101 degrees. That figure surpassed the 100.3 average high during the 1970 PGA at Southern Hills, the old record for a major. About noon on Thursday, I watched a couple of groups finish out on the par-4 12th hole and tee off at No. 13. Because it is a reachable par 5 at 537 yards, there usually was a bit of wait at the tee. After finishing the 12th, Englishman Luke Donald walked over near the tee sign and momentarily paused in its skinny shadow. Realizing this was a futile ploy against the sun, he stepped back in the full sun on the tee and draped a damp towel over his head while waiting to hit. It was as good an idea as any.
Spectators grouped in small clans under trees, seeking shade wherever they could find it. At least Southern Hills has a lot of trees. The caddies, who once had to fight for the right to wear shorts, had the option of leaving off their player's ID bib if they so wanted. And the golfers had all the modern conveniences to help them cope in the heat: wicking, lightweight fabrics, sports drinks and bottles of water by the gross. It made me wonder what would have happened if today's PGA resembled the championships played from its inception in 1916 through 1957.
Even as stroke play became the preferred week-to-week competition for the fledgling professional circuit, the PGA of America remained loyal to match play in its marquee event for more than four decades, fueling a debate about whether it was a test of endurance or skill. The specific format was tweaked through the years -- 64 or 128 players in the field, medal-play qualifying or not, matches at 18 or 36 holes -- but regardless of the adjustments, it remained the closest thing golf had to preseason football two-a-days with a maniacal coach barking out orders by the blocking sleds. Consider a few numbers: When Gene Sarazen successfully defended his title at Pelham (N.Y.) GC in 1923, he played a match-play record of 194 holes that week. Including the 36-hole qualifier preceding match play in 1932, champion Olin Dutra completed 196 holes in six days. And if one of the 36-hole ­matches went long, a dawn-to-dusk ordeal was possible. Five-time champion Walter Hagen, king of the PGA's match-play days with five titles, lost to John Golden on the 43rd hole in a first-round duel in 1932, the longest match in PGA history. Claude Harmon's 42-hole conquest of Sam Snead in a 1948 quarterfinal holds down the No. 2 spot.
Fifty years ago, when the PGA field assembled at Miami Valley GC in Dayton, Ohio, few thought they were going to be seeing the end of a match-play tradition. The format had been under scrutiny for some time, though, beginning in 1952 when PGA president Horton Smith proposed a plan in which there would be 72 holes of stroke play followed by match play between the seven low qualifiers plus the defending champion (similar to the Western Amateur's long-running format). Although Smith's idea wasn't implemented, there were signs of discontent.
Between 1940 and 1951 the trio of Snead, Ben Hogan and Byron Nelson claimed seven of the PGA of America's 11 championships, but then began a run of winners who weren't so familiar: Jim Turnesa, Walter Burkemo, Chick Harbert, Doug Ford and Jackie Burke Jr. Anything could -- and did -- happen in a match (see Nick O'Hern vs. Tiger Woods in more recent times for verification that nothing has changed). Television, with its bulky and stationary cameras, wasn't suited to cover the entirety of a match, whether contested by headliners or not. Hogan, his body battered in a 1949 car-bus accident, had sat out for a number of years. Dr. Cary Middlecoff, a Masters and two-time U.S. Open champion, joined him on the sidelines in 1957. Sarazen, the old warhorse, announced shortly before the championship he would be joining them.
None of this was any concern to Lionel Hebert, who arrived in Dayton 49th on the money list. Hebert (pronounced A-bear) was a 29-year-old native of Lafayette, La., the younger brother (by five years) of Jay Hebert. The siblings, sons of a law-enforcement officer, learned the game as barefoot caddies at their hometown muny. Jay was lean and athletic, Lionel a husky 5-foot-8 and 190 pounds, but both were popular figures people liked to be around. Lionel was a musician, a trumpet player who had gone to Louisiana State to major in music. He once played the horn for a living, but as Golf World reported in 1957, "in sundry trials as a professional trumpeter he did not progress very far when it was found that he tooted strictly by ear and could not read a note."
The trumpet, given to him by Tommy Dorsey, remained a pleasant diversion after Lionel began to concentrate on golf, and he enlivened many a post-round gathering spot with his music. He apprenticed with veteran pro Johnny Bulla for several years, and once Lionel corrected a shut clubface on his backswing, his game was in sound shape. But few expected Hebert, who passed away in 2000 at age 72, to march through the brackets the way the way he did that summer in Dayton.
Lionel played 156 holes over five days, beating, in order, Max Evans, Marty Furgol, Charles Farlow, Mike Souchak, Claude Harmon, Burkemo (who had beaten Jay Hebert in the quarterfinals) and, in the championship match, up-and-coming tourist Dow Finsterwald. I reached Finsterwald, now 77, on the phone last week at his home in Colorado Springs, and his memories of Hebert and the week were crisp. "Lionel was probably one of the best guys who ever came out on tour," Finsterwald said, "just a wonderful person. He was a class guy and a very good player."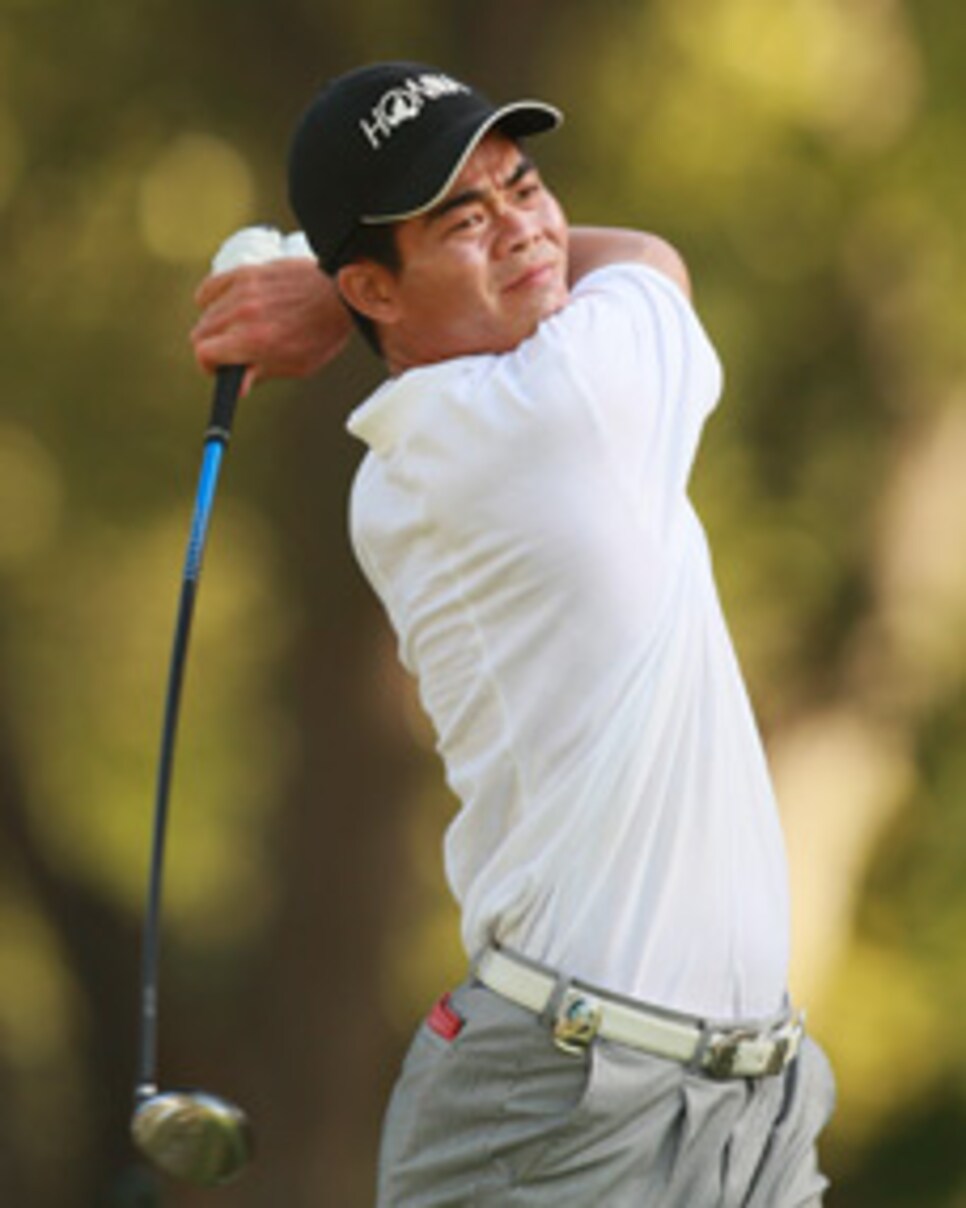 Hebert and Finsterwald were all square through the morning 18, "and he won the first few holes in the afternoon, but I got back to even after the 12th," recalled Finsterwald, who went 1 down on the next hole to an Hebert birdie. After halving the next two holes with birdies, Hebert took control on the 16th (34th) hole. "I was 1 down with three to go and had a bad lie in the rough," Finsterwald recalled. "Had I been playing stroke play, I would have laid up. I tried to play some sort of wood and hit it into a ditch. Lionel was dormie after 16 and closed me out on the next hole [2 and 1]."
The victory made Hebert the 25th name engraved on the Rodman Wanamaker Trophy -- his brother would join him with a triumph at Firestone CC in 1960 -- but no one else would prevail at match play. When PGA of America officials met in November 1957 in Long Beach, Calif., citing a $9,000 loss on the Dayton event as the prime reason, they voted to change the championship to stroke play beginning in 1958. "Golf was becoming more popular," said Finsterwald, who would win the 1958 PGA at Llanerch CC in Havertown, Pa. "Galleries were getting bigger, and you can't put 10,000 or 20,000 people out there watching one match. And match play didn't set up well for television. You never knew where a match was going to end. Some people thought the PGA owed it to golf to keep it a match-play tournament, but it just wasn't practical. Changing it was obviously the right decision."
A half-century after the last PGA conducted at match play, there was a first at Southern Hills thanks to the presence of Liang Wen-Chong. One of 41 special invitees in the field, Liang is the first golfer from mainland China to participate in the PGA Championship and only the second to play in a major. (His friend and mentor, Zhang Lian-Wei, played in the 2004 Masters.)
Liang is 29, the same age as Lionel Hebert was when he won 50 years ago, but his route to elite golf is considerably more improbable than a caddie matriculating from the Cajun Bayou or a jittery Floridian stepping out of the teller line. The son of rice farmers in Zhongshan, in the southern province of Guangdong, Liang knew nothing of golf until his mother brought home a few golf balls from her job on the greenkeeping staff at nearby Zhongshan Hot Spring Resort GC, the first course (opened in 1984) in modern China. "I had a few balls and I knocked them around with a bamboo stick, but I didn't really know what golf was," Liang said Thursday afternoon in the Southern Hills clubhouse through an interpreter, David Lee of Golf Digest China. "I knew there was a course nearby but didn't know how many holes it had or anything." That changed shortly before Liang's 15th birthday in the summer of 1993 when Hot Spring's general manager came to Liang's rural school and selected 30 children to give them an opportunity to learn golf. "Five of those kids are involved in professional golf today," Lee told me. "In addition to Liang, three are playing the China tour and one is a teaching pro."
Liang, who arrived in Oklahoma 96th on the World Ranking, is currently China's best player, having assumed the mantle from Zhang, now 42 and competing in his homeland. Liang is considerably busier than his older compatriot, holding membership on the European, Japan, China and Asian tours. A seven-time winner on the China Tour since 1999, Liang had his biggest day earlier this year when he won the Singapore Masters. In addition to that victory he has six top-10 finishes on the Asian Tour in 2007 and leads its money list. If he holds that distinction at the end of the season, it will help his chances of following in Zhang's footsteps and being invited to the Masters.
"Until I turned professional in 1999, I didn't even know there were four majors," Liang said. "In golf you have to perform. Your record tells the story. My progress has really been in the last three years." Although Lee sought out an authentic Chinese restaurant -- "like home cooking" -- for the golfer and his wife, Xiao Jiahui, in Tulsa, Liang snacked on a slice of pecan pie washed down with a Pepsi after shooting a first-round 73. He followed that with a 74, which included a bogey-double bogey start and a bogey on the last hole. Liang hits it right-to-left and tends to struggle with the distances he hits his irons. He has an extremely flat, baseball-style follow-through.
"He hit a lot of good shots, but he seems to [rely] on a sweeping hook," observed Austin, who was paired with him. "It seemed to get bigger and bigger as the round went on. But his short game is good enough to save him." Two weeks ago, in the WGC-Bridgestone Invitational at Firestone, where he finished T-61, Liang was paired three days with former PGA champion David Toms. "It was a tough course to tell [about his talent] because it was one of the hardest we play all year," Toms said of Liang. "I would like to see him on one of our normal tour courses. I think he would compete really well."
Liang plays Honma equipment, a Japanese luxury brand that is a favorite gift choice for wealthy Chinese even if they don't play golf. "The premium sets can be gold-plated and cost $15,000 or more," Lee told me. "They are a real status symbol."
Although there are about 400 courses in China and three European Tour events are played there, it is hardly a game for the masses. There has been much speculation that if the Communist leaders were of the mind to cultivate world-class golfers there would be a flood of them, but that hasn't happened yet. "The central government doesn't understand what golf-course development can do," Lee said. "They worry about it eliminating farmland." China's political powers, he said, favor tennis.
Liang wants to donate his $183,330 winner's prize from the Singapore Open to help develop Chinese golfers. The conduit for his largesse isn't clear, but his goal is. "One man's success in golf is not because of his effort alone," Liang said. "I have had help from hundreds of people, and I want to give back that prize money to help others have success." Liang believes he would have enjoyed more rapid progress if golf had more support. "I have done the best I can with the information and coaching that was available," he said. "Some of that information has come late to me. That is my regret. But basically in golf, you have to perform. Your record tells the story. Of course my parents are happy. They have been rice farmers for 20 or 30 years. Now they have a son who is able to make a good living as a golfer."
The immediate future seems left to Chinese families with the means to send their children abroad to become elite golfers. Canadian resident Ren Han, who is starting his freshman year at Indiana this fall, is the first golfer with a Chinese passport to receive a golf scholarship to an American university. Mu Hu, 17, who has been attending the David Leadbetter Academy in Florida for several years, won his fourth AJGA event, the HP Boys Junior Championship, last month.
"Mu Hu is almost as famous in China as Liang," Lee said. "There is a lot of pressure on Mu Hu."
Almost, perhaps, as much as Austin puts on himself. "We live in an excuse-oriented society," Austin claimed. "I tell the truth, and I get lambasted because [I'm] too hard on myself or [I'm] looking at things the wrong way. Well, I don't blame anything on volunteers. I don't blame anything on my caddie. I'm the one who hits the shots, and as far as I'm concerned, I'm the one who takes responsibility for it. If it's 50 percent of what I know I'm capable of, I know I'm not going to be happy."
But a funny thing happened on the road to self-loathing for Austin the final two rounds. Don't get me wrong -- he wasn't some perfect example out of an even-keel textbook -- but for a fellow who nearly gave himself a concussion once after a putt didn't drop, a fellow who kicked his putter so hard on the final hole Thursday if it had been a football he would have punted it to Arkansas, he was darn near Mr. Happy.
And why shouldn't he have been? Austin, whose swing begins very slowly but then accelerates quickly toward impact in the manner of a crash-test automobile, was pulling off some great shots. Saturday at the fourth hole, after a drive in the right trees, he had 150 yards to the hole with a tall oak about 30 yards ahead of his ball. His only option for hitting the green was going through a V-shaped gap in the branches 30 feet off the ground, an area no larger than 75 square feet. After warning nearby spectators to be alert in case his ball ricocheted off the tree, he hit his 8-iron shot perfectly and it whizzed through the opening and finished on the green, 18 feet from the cup. Phil Mickelson doing his best Houdini couldn't have executed it any better.
"Let's go Tiger hunting, Woody," shouted a man in the gallery by the fifth tee before Austin drove on the par 5.
"I don't think anybody plays any better than I do when I'm on," Austin said later. "I know that [sounds] crazy, but I think I can hit any shot anybody in the world can hit. But it's hard to do that when you're afraid of it, and that's the fight I have every day."
There was a smorgasbord to choose from in his final-round 67, from a chip-in for par at No. 10 to a 45-footer from the fringe for birdie at No. 12, which he cited as the two key moments of the day. When he holed the monster at the 12th, the gallery gave him a response to remember. "The roar on 12 was bigger than anything I had ever heard," said Austin, who egged on the fans by gesturing to his right ear. "I wanted them to keep yelling. I wanted them to keep yelling for me. I wanted [Woods] to know that there was somebody else out there because, even on the front nine when I was playing so good, my roars were nothing like his."
Austin had a 10-foot birdie attempt on No. 15 that would have put him in a tie for the lead at seven under with Woods, who had just three-putted the 14th hole for a bogey. That roar would have been Tiger-like, because everyone likes an underdog, but Austin missed and Woods quickly reasserted himself with a birdie at the 15th. Unlike Lionel Herbert 50 years ago, Austin -- whose best finish in 14 previous major appearances was a T-16 in the 2006 PGA -- was not going to be a longshot champion. What had transpired, though, sure felt more like a win than a loss.
"To be in this position for the first time [in a major] and to actually give that good of a run at it, I'd probably be crazy to say that it was not better than [my three] victories," Austin said. "I'd like to know exactly how I did it today, to be totally honest." Or maybe he should keep playing it by ear, the way Hebert played his horn, open to a little mystery. There has been a lot of moral victory going around since Woods got on the scene, and when you acquit yourself as well as Austin did Sunday, there is no shame in catching it.