News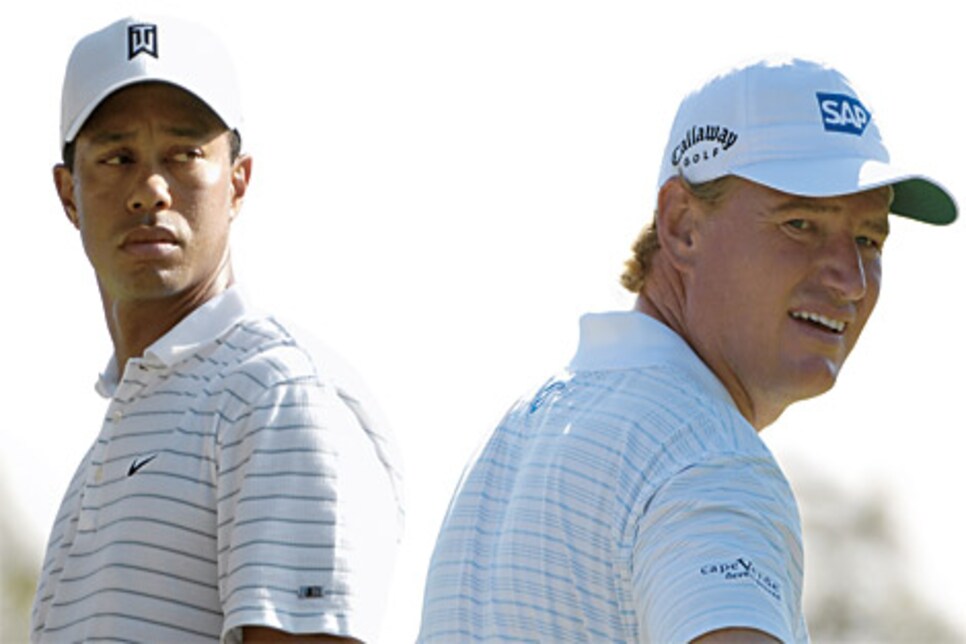 To the delight of fans, Woods and Els battled on a Sunday afternoon.
Two of golf's great players got well at Southern Hills, in the process again becoming classic antagonists. As a result, the game got healthier, too.
Tiger Woods turned a good but trending-toward-disappointing year into another great one with his 13th major-championship victory, and Ernie Els provided the best evidence yet that he is ready to emerge from a two-year malaise by charging with a final-round 66 to finish third.
But most important, their individual performances rekindled a rivalry that for more than a decade has been waiting to emerge but never quite materialized. Although their sudden death in the gloaming of the 2003 Presidents Cup will always stand as sports drama of the highest order, and they've had several close battles in regular tournaments (most memorably in a pyrotechnical playoff at the 2000 Mercedes, and most recently in a shootout at Dubai in 2006 -- both won by Tiger), Els and Woods have never really locked up in crunch-time at a major.
Although Els has finished second to Woods in two majors, they occurred during Woods' epic runaways at Pebble Beach and St. Andrews in 2000. In the two majors Els has won since Woods turned pro, the 1997 U.S. Open and 2002 British Open, Woods didn't figure. It was much the same story in 2004, when Els was nipped at the finish in three majors, while Woods was having his worst Grand Slam year ever. And when Woods emerged resurgent in 2005, Els ruptured the ACL in his left knee in a water-tubing accident. In point of fact, Southern Hills was the closest the two have come to bumping elbows down the stretch of a big one, although Els was two groups ahead. Starting the day six strokes behind, Els made six birdies -- his last when he stiffed a 5-iron to three feet on the 223-yard 14th. When Woods later three-putted the same hole, Els was briefly within one.
But on the 507-yard par-4 16th, Els made a quick swing and pulled his driver into deep rough ("Just a bad swing ... flipped at it a little," he said). Bogey ensued, and when Woods responded with his birdie on the 15th, Els was three down -- and out.
Afterward, Els was disappointed but also heartened. Southern Hills tied his best performance in a major (he was also third at last year's British Open) since the 2004 PGA, where a final-hole three-putt left him one stroke out of playoff. It also came on the heels of a T-4 at Carnoustie, where the South African finished two strokes out of a playoff despite a triple-bogey 8 on the sixth hole in the third round. He fought back to post 68 and then 69 Sunday. And last Sunday's performance gave credibility to Els' almost forgotten but bold announcement after winning the South African Airways Open at the end of 2006 of a three-year plan to regain the world No. 1 spot he last held for eight weeks in 1998.
"There's a lot of good in my game," he said after his final round at Southern Hills. "I'm not quite where I think I can be. But if I can get to the next level where I want to be, maybe I can at least give him a real go, a run for his money. Because someone needs to step up."
But in the months leading up to the PGA, it didn't appear as if it would be Els. Winless on the PGA Tour since his 15th career victory at the 2004 WGC-American Express Championship in Ireland, Els was close earlier this year at Los Angeles and Hilton Head, but otherwise has been mostly middle of the pack.
While his ball-striking remains less than stellar, his transition to new clubs and ball continues, and he completes the recovery from his injury. Els' biggest struggle has been on the greens, particularly on putts inside 10 feet. And as Phil Mickelson has taken over as Woods' main rival in the public mind, Els has sometimes displayed an uncharacteristic testiness, growing especially impatient with questions about Woods' domination. It's reasonable to surmise that some of the sourness stemmed from the emotional wound dealt by the cruel losses of 2004, particularly to Mickelson at the Masters and Todd Hamilton at the British Open. But rather than wallow, Els showed at Southern Hills that he has emerged with a more positive attitude and renewed dedication.
"I think Ernie is really back to his old self," said his agent, Chubby Chandler. "He's much more relaxed, and he's comfortable with his game again. He's settling back when he's out to dinner, having a glass of wine, laughing and getting back to who he really is. And he's not got Tiger on his mind. He's getting a bit more chilled out. He's not getting in his own way."
At 37, Els hears the ticking clock and is noticeably more resolute. Where the affable 6-foot-3, 210-pound South African was once candid about his vulnerabilities, most memorably talking about the "little man on his shoulder" after his struggle down the stretch in winning at Muirfield in 2002, he stopped short of such openness at Southern Hills.
"My motivation is to get the best out of me again, and I was this close in 2004," he said, just spreading his fingers. "Some things just take a little bit more time, and I want to still believe that I can become No. 1 and play the way I want to play at the end of the day. So that's enough said, I think."
Els' immediate challenge is to reduce the loose shots that have undermined his comeback. While Els led the Southern Hills field in birdies with 20, he also began his first round bogey-double bogey on his way to an opening 72. Saturday he made another double bogey on the short, 372-yard fourth.
"The frustrating thing which drives me nuts is that I'm making soft mistakes, soft errors," he said after his 69 Saturday. "A three-putt here or a bogey or a double from nowhere. That drives me crazy. ... If I can start eliminating those mistakes, I can start really challenging for tournaments again. At the moment it feels like such a slow process for me. It's a bit of a battle with the game of golf at the moment."
Els' mistakes were minimal Sunday, but because he started the day six shots behind Woods, he had no margin for error. His first was a weak putt from six feet for birdie on the ninth. After a birdie at 10 got him to four under for the day, he had another six-footer for birdie on the 11th, but powered it through the break. When he pushed his tee shot on the 12th and missed a 12-footer for par, it left him with too much to make up.
"I've made strides, especially the last couple of months," Els said. "I just need to keep working on it -- just keep grinding it out. I need to start winning tournaments, and that will create confidence, and winning becomes almost a habit. Look at Tiger."
OK, let's. First, his fourth Wanamaker Trophy restored Woods to the glory with which he closed out 2006. Although he opened the year by elongating his PGA Tour winning streak to seven, 2007 has been an uneven year. Even with four victories, there have been life events and commitments that seemed to blur his focus, lending its own "softness" to his performance in the majors.
After close seconds at the Masters and U.S. Open that featured some uncharacteristic Sunday mistakes, Woods turned in a puzzling performance at Carnoustie. Surprisingly erratic with his irons -- usually a stable force in Woods' arsenal -- he finished T-12. After some time off and a day of reconnaissance at Southern Hills, Woods arrived at Firestone for the WGC-Bridgestone Invitational admittedly a bit adrift. His practice with coach Hank Haney was dedicated to reviewing fundamentals, and Haney left after Woods' first-round 68.
But based on their session together, Woods built toward some important fixes. The duo discovered that playing in the wind of Carnoustie had caused Woods to get too low in his posture and swing flatter. When Woods began to stand taller, it allowed him to swing with more freedom and square the club more easily. Woods also remembered to work on letting his head rotate toward the target through impact, an Annika Sorenstam move that Haney favors because it combats Woods' tendency to lower into his downswing and become "ball bound."
More subtly, Woods decided he had gone too far in "holding off" the rotation of the clubhead through the ball -- something he has worked to ingrain under Haney -- to the point that he was hitting far too many blocks to the right. It was that move that caused him to hit perhaps his most inopportune shot at Oakmont, a wedge from 110 yards on the 11th hole of the final round that he incongruously pushed into a bunker on his way to bogey.
"He's got his positions so much better in his swing that really all he has to do is relax and let it flow," Haney said Friday from his home in Dallas, where he spent the week caring for his wife, who was ill. It was the first time he has not accompanied Woods at a major since they began officially working together in early 2004. "He's swinging beautifully." Said Woods, "Posture is always a big key for me, but it comes down to fundamentals. If your fundamentals get off, you've got to make compensations somewhere else, and that's what happened to me at the British Open. At Firestone, as the tournament progressed, I got better and better and better. I started hitting shots like I know I can."
Woods went on to win by eight there and came to Southern Hills "with a lot more confidence than I had at Carnoustie or when we came here for the U.S. Open in 2001." He disagreed with those who said he wouldn't be able to consistently fit his ball into the fairways of the tight and twisty Perry Maxwell-designed par-70. On the contrary, the relative shortness of the course allowed Woods to hit many irons off the tee, which in most cases left him shorter clubs in than he had the last time that strategy was called for -- the 2006 British Open at Hoylake.
Of course, Woods' greatest legacy will be his ability to perform under the gun on Sundays, and after he regained his two-stroke lead with a crucial birdie on the 15th, he stayed in overdrive and attacked the brutally long 16th with the club that gets him in the most trouble: his driver. With a swing notable for his its rhythm, he smoked one down the pipe, finishing things off with an extra snappy twirl of the club.
"I must admit, I really enjoyed that drive," said Haney, who said he will be spending more time at home and plans to cut back his days on the road with Woods (which have averaged 120 days a year) in the future. Citing Woods' largely self-administered improvement from Firestone through Southern Hills, he added, "I will continue to help Tiger whenever he feels he needs it, but it won't be in the public eye as much. I really feel that Tiger has learned a lot from me and he is now exceptional at correcting himself with the knowledge that he has."
As Woods has long stated that his ultimate goal for his golf swing is self-sufficiency, the change is most reasonably viewed as the furthering education of a golfer. "Yeah, by far," Tiger said when asked if he is a better golfer today than he was in 2000, when he was working with Butch Harmon. "Just experience ... I have more shots than I did then just because I've had that many more years to learn them. And how to make adjustments on the fly. ... And I'll say the same thing seven years from now."
It's a process both he and Els well understand never really ends.