News
Stricker Is Making Strides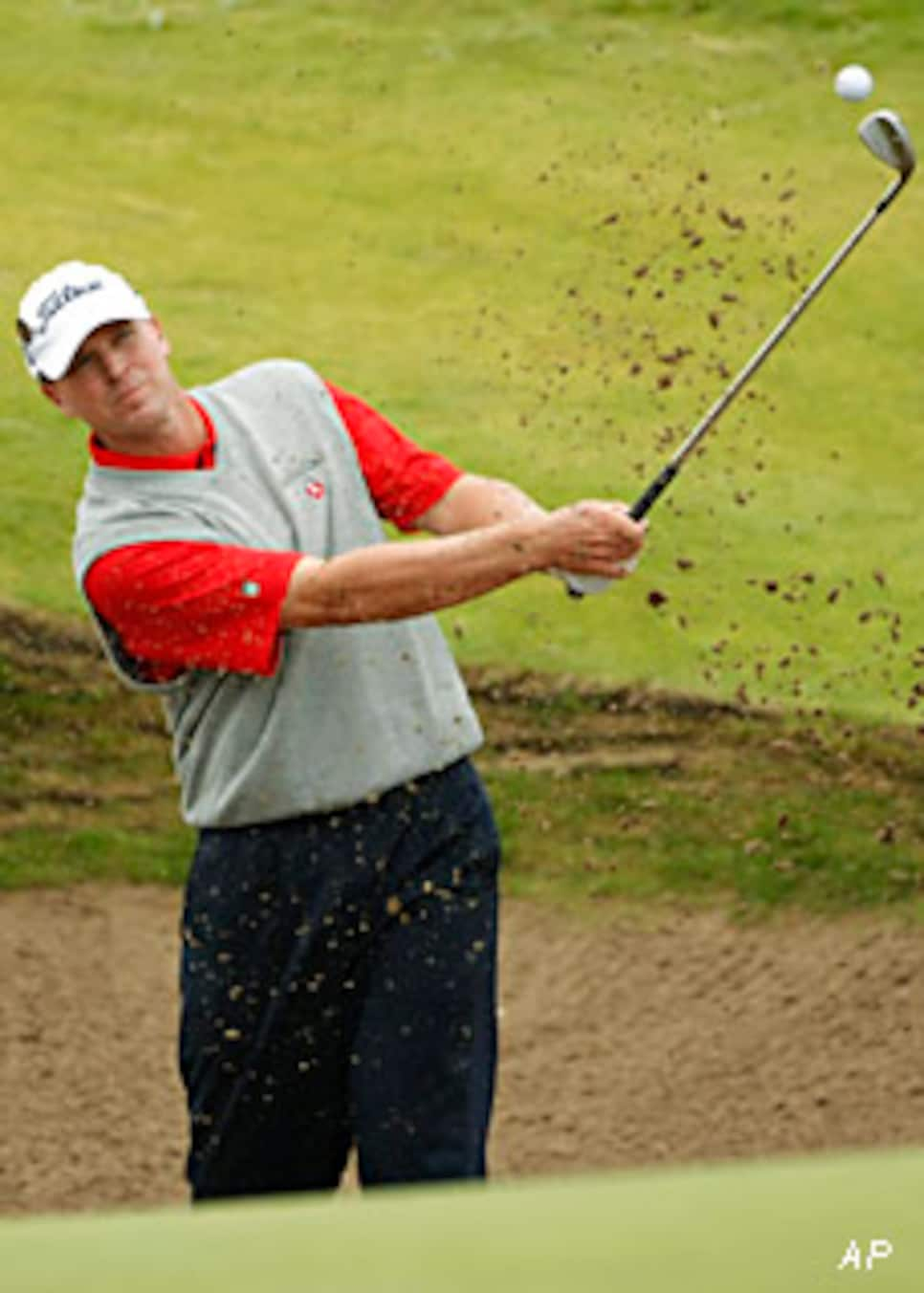 He's come a long way. Soon a title will be Stricker's.
At the end Sunday, Steve Stricker was in a hurry. But to play more golf, not less. A bus waited to take him from Carnoustie to Edinburgh, where a charter flight would transport a number of golfers to Toronto for their next stop, the Canadian Open. "I'm the last guy, I think," said Stricker. "Got to change shoes and shower. Still got some work to do, too, as you could see. Bittersweet. This was bittersweet. This experience, being in the final group of a British Open, you can't buy that. Maybe one of these days, I'll close it out."
But at least Stricker knows where he's going. It wasn't always that way. Someone reminded him of a steamy Friday night a few seasons ago when he walked toward the parking lot at the John Deere Classic after missing a cut, another cut. He groused about quitting the game before it destroyed him. "I remember that," he mentioned, finally managing a smile. "I probably said that three years in a row. But when I cooled down, I realized this is what I do, and if I don't do this, what else would I do? I have a family. So compared with where I was then and where I am now, yeah, I'm proud. And encouraged."
For a while last week, it appeared Stricker could be another in a line of somewhat mysterious Americans to stagger Europe's psyche at this ancient rite of summer. Tiger Woods is a given, but Ben Curtis and Todd Hamilton got blank looks from purists in the United Kingdom. When Stricker abused Carnoustie with a course-record 64 Saturday, he sent fear and trembling through the region. Maybe this decent bloke from Wisconsin could become a big cheese, for Sergio Garcia, who led by three strokes after 54 holes, hadn't won a major either, and the pressure to do so was entirely his.
Golf's greatest fans treated Stricker politely, but still he was viewed as a noncompeting marker compared with the beloved Spaniard in the marquee twosome. Yet when Stricker saved par after a dangerous tee ball on No. 1, then again on No. 2 when his approach swerved fortuitously toward the cup, galleries seemed to twitch a bit. Then Stricker knocked a brilliant iron to No. 3, the ball landing inside Garcia's. Sergio birdied, but there was no way Stricker wouldn't match it. Alas, he stabbed awkwardly and missed. It was a par and a harbinger. How and why one of the game's accomplished putters could be abandoned by his most reliable weapon at such an inopportune time only underlines golf's habit of inflicting torture. But Stricker was not done. He squandered another birdie chance at No. 6, and a short putt for par on No. 9, and rimmed a birdie attempt at No. 14 around and out. Combined, those four putts wouldn't have stretched much longer than your average kitchen floor. "Couldn't start the ball on line all day," Stricker said. "Don't know why. Nerves might have been part of it. Hit the ball well enough, although what really hurt was No. 5. Middle of the fairway, to a green with a backstop, and I hit it heavy, into a bunker. Frustrating."
Stricker managed only one birdie in still weather for 74. He didn't even finish low American, but he did land a T-8. At the U.S. Open, he shared the lead after 63 holes, ballooned to 42, and took a T-13. In 2006 he registered a T-6 at the U.S. Open and a T-7 at the PGA Championship. The man who lost his way, and his PGA Tour card, only a few summers ago, is a factor again. He will not lie and tell you he was sure he would earn a spot in the final group at a British Open. "There were times I wondered whether I would ever play good golf again," he said. "If people speculate that I struggled because of equipment changes, because I've played with so many clubs, I don't know the answer to that. I know it's not true that I don't practice enough. Just because I live where it snows instead of Florida, just because I like to hunt, doesn't mean I don't hit balls."
Stricker is among the most popular players among peers. He's nice to everybody, except, on occasion, to himself. Even when it came easier, he beat himself up. "Western Open, 1996. I was whining about something and [wife] Nicki, who was then my caddie, let me have it," he recalled. "I didn't say anything back. She has the last word. I'm not as bad as I used to be. And I try to be the same person whether things are going well or not. If I have a bad round, I try not to wear it. When I get home to her and the kids, it's over."
After 18 holes Sunday, and telling Sergio to go win that claret jug, Stricker and caddie Tom Mitchell melded into a crowd jostling for playoff perches. If only Stricker had canned a few of those putts, he might have been there, too. Someone mentioned Stricker's TV exposure probably hurt Sunday's attendance at the tournament in Milwaukee, where he's a hero. He chuckled. "I'm 40," he concluded. "I'm feeling good about my game. Maybe my best times are still ahead."
That's why, after all the bad vibes in his rearview mirror, Steve Stricker was running to catch the bus.