News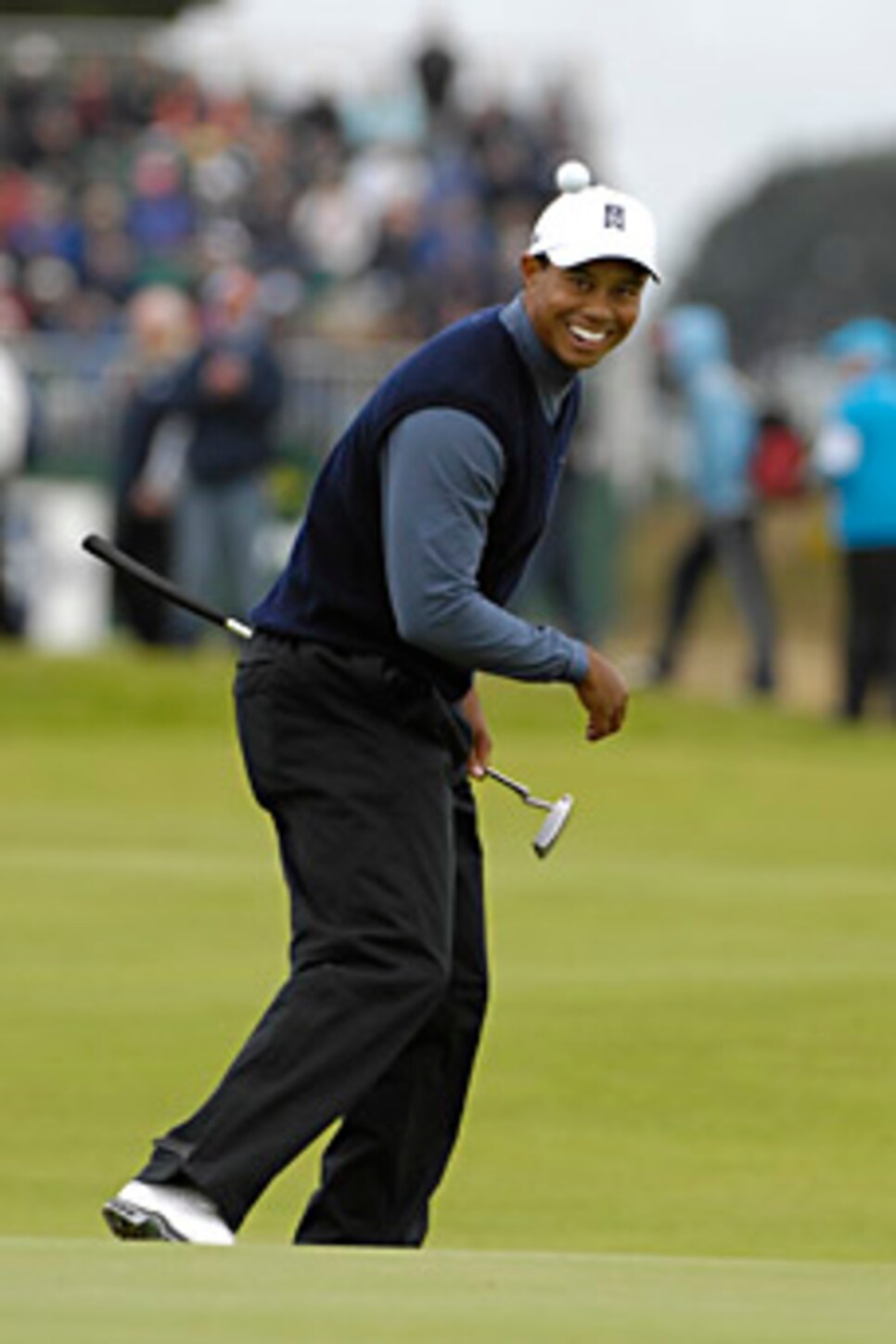 Used by players such as Woods, solid-core balls are a perfect fit for links golf.
Perhaps one of the most interesting equipment stories coming out of the last few British Opens has been that while players used to routinely change golf balls to combat the windoften going to the smaller, lower-spinning British-size ball prior to ball size being standardized at 1.68 inches in 1990virtually no one did so last week at Carnoustie.
"None of our players switched balls," said Srixon's Mike Pai. "Our guys are more of the mind-set that they know what their balls do and [they] don't want to put something in play they have less experience with, especially at a major championship."
Added TaylorMade's Keith Sbarbaro, "I find it hard to believe a player would switch to a lower-spinning ball for one event. Our players are fit from their wedges to the driver for the ball they are playing. If Sergio Garcia were to switch balls, he would also have to change drivers, 3-wood, etc. [to compensate]." Representatives for Titleist, Callaway and Bridgestone had similar thoughts, reasoning that today's solid-core balls already spin lower than the old British ball, and that a major is not the time to change. Adam Scott may have learned that the hard way at the U.S. Open, where he changed to a softer ball to combat Oakmont's hard conditionsbut missed the cut.
Still, changing balls at the Open Championship was the norm for many years. Prior to the 1902 British Open, Sandy Herd was asked for his opinion about the Haskell ball. "It is a very difficult ball," Herd told Golf Illustrated. "It drives all right, but that is about all. ... I hope all the professionals play with it at Hoylake, except myself."
But during a practice round before the championship, Herd played with John Ball, an eight-time British Amateur champion and winner of the 1890 British Open. Herd noticed Ball not only was using a Haskell rubber-center ball instead of a guttie, but consistently out-driving him. Herd, reluctantly, went into the golf shop at the end of the round and bought some of the newfangled balls. It might have been the best decision he ever made. Herd won that year's Open by one stroke over Harry Vardon and James Braid. Johnny Miller won a British Open in 1976 using a two-piece ball that reduced spin. "I used a Surlyn-covered Slazenger model that just went forever," said Miller. "You couldn't spin the ball much anyway because it was so dry, so why fight it? The smaller ball went much farther, especially into the wind, and I didn't need any extra spin. ... My caddie gave me my game plan for that week: Take that 1-iron and the Surlyn ball and just wear them out. And I did."
Before solid-core balls became all the rage, other Open champs also employed them successfully. Nick Price used the Precept EV Extra Spin to win the 1994 British Open, and Mark O'Meara won the 1998 British at Royal Birkdale using a solid-core, multilayer Top-Flite Strata.
After Tiger Woods won in 2000 at St. Andrews with the solid-core, multilayer Nike Tour Accuracy and Titleist came out with its Pro V1 later that year, a sea change took place: The entire tour soon switched to solid-core balls.
And made changing balls at the British Open a thing of the past.
Equipment scoop from the tours
Ernie Els stayed with his square-head Callaway FT-I driver at the British Open, but he made a putter change to an Odyssey White Hot XG 5 center-shaft blade, a club with a soft face that Els said gave him better feel on Carnoustie's greens. ... Padraig Harrington prevailed at Carnoustie despite struggling with his driver. Ever since the Irishman damaged his gamer a couple of weeks ago, finding a replacement has been elusive. Last week Harrington went back to a Wilson Staff 400 model with 7.5 degrees of loft "I haven't found one I'm comfortable with," said Harrington. "The one in my bag this week, I haven't used for a year." On Saturday, Harrington put a Wilson Dd6 driver in play for the weekend. ... A trio of players Angel Cabrera, Mark Calcavecchia and Mark Hensby put Ping's prototype G10 driver in play at the Open with Calcavecchia (T-23) having the most success. Ping expects to bring the club to retail later this year. ... Another Ping prototype, the i10 irons, were in Jeff Maggert's bag at the U.S. Bank Championship in Milwaukee, but it was an old Ping Anser putter that kept Maggert near the top of the leader board all week. "I've probably had this putter for 15 or 20 years," said Maggert, who had missed the cut in his previous four tournaments. "I lengthened it a half-inch, and that changed my stroke a little bit." Maggert ranked T-11 in putts per GIR while finishing T-5.