News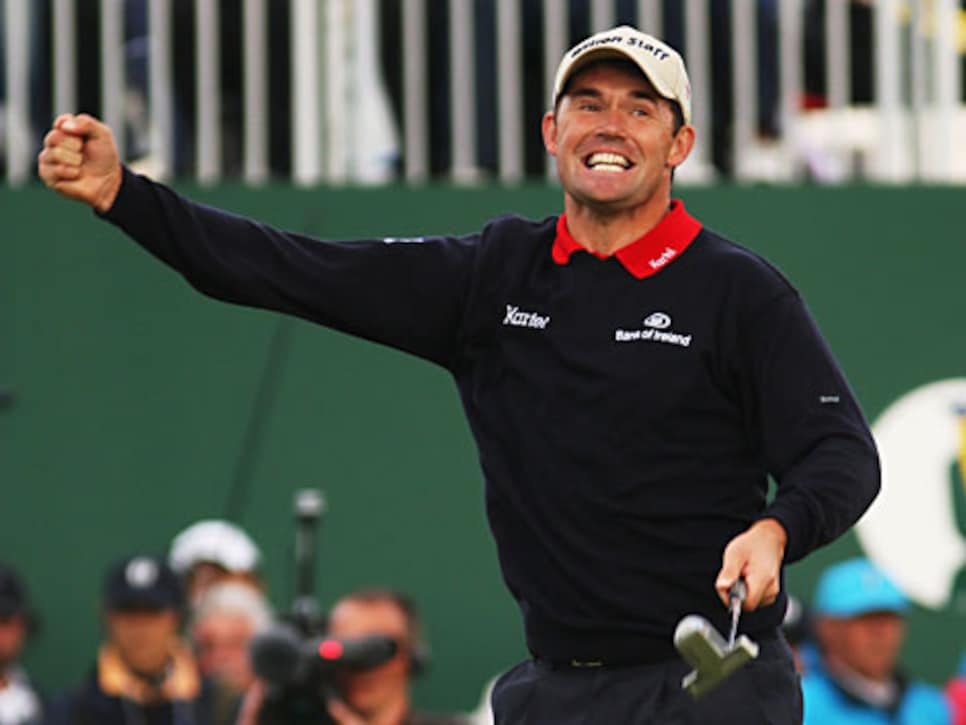 Harrington celebrates the win.
CARNOUSTIE, Scotland -- Woulda, coulda and shoulda probably never stood a chance at the 136th British Open. It was a week when reason failed to rhyme, when November came to July, when carnivorous Carnoustie, the brassiest and brawniest of Scottish linksyards, was seen in a cocktail dress and Jimmy Choo heels. Birdies galore, some timely gore -- didn't Hitchcock employ that same combination to equally strong effect?
In golf, the best drama comes not from a script or some cockamamy greenskeeper, but the game's own mischievous whim. It allows a man playing in just his second major championship to stand on the 71st tee with a two-stroke lead before throwing him under the wheels of fate, punctuating perhaps the best final round in this championship's broad history with tire tracks instead of exclamation points. You can ask why, but you'd be wasting your breath.
It teases the best player in the world under the age of 30 -- a dashing Spanish bachelor whose problems grasping the club aren't nearly as significant as his inability to get a grip on Sunday pressure -- by letting him hold the lead all by himself after each of the first three rounds. Only one would-be contender remained within five strokes of that pace at the 54-hole milepost, making this one his to lose before it could be anybody else's to win.
"You have to get it done, but he didn't do anything wrong," insisted the Spaniard's caddie, his eyes still stained with tears. "Not a [bleeping] thing wrong."
It turns competitive justice into a two-way street, destinations to be determined, although Padraig Harrington might want to consider traveling by air the next time he needs to fly a burn. In a tragic-compelling finish that basically offered a rose-colored climax to the Jean Van de Velde fiasco here in 1999, Harrington might well be the first major champion ever to sit six back at the start of the day, trail a different guy by two with five holes to play, then lose two balls on the 18th to finish par-par-double bogey.
OK, so he needed a playoff. Some waits are worth the weight. "I never let myself feel like I'd lost the Open Championship," the jubilant Irishman said of the 15 anxious minutes between his 72nd-hole mess and Sergio Garcia's 10-foot miss for par, which necessitated extra holes. "Obviously I had just thrown it away, and if it had turned out like that, it would have been very hard to take. I think I would have struggled with it in the future."
Instead, the burden falls on Garcia, which is nothing new, although this was a much harder blow to his unprotected psyche than any previous punch that might have drawn blood in the last six years. Since the 2001 U.S. Open, his first shaky Sunday when in contention, Sergio had played in two final groups without a share of the lead -- both alongside Tiger Woods, who would go on to win and leave a fresh set of hoofprints on his young rival's soul.
Convenience-store logic suggested that when Woods wasn't around to terrorize him, Garcia would finally wrap his arms around that elusive maiden major. Last Sunday was a Tiger-free zone. Sergio led Steve Stricker by three, and among the seven guys tied for third, a whopping six strokes back, just one, Ernie Els, had done a grand-slam jig before. This would be easier than wadding up a little piece of paper and tossing it into that woman's belly button.
His beer commercials may feature plenty of eye candy, but his major losses are getting hard to stomach. Only one player in Sunday's final four pairings, came in higher than Garcia's 73 -- Stricker, who missed three three-footers on the front nine and closed with a 74. "It seems like every time I get into this position, I have no room for error," Sergio moaned. "This is not the first time, unfortunately. I'm playing against a lot of guys out there, more than are in the field."
It was a strange thing to say when you consider that Harrington, the first European to win a major since Paul Lawrie did it at this same venue in '99, fired a 67, or that Sunday surrendered a 64 (Richard Green, who bogyed the last hole to miss the playoff by two) and two 65s (Hunter Mahan and Ben Curtis). Long before Lawrie won a three-man playoff at six over par -- there were eight scores in the 60s the entire week -- Carnoustie had posted its reputation as the hardest of the hard. With the R&A paying much closer attention to the pugilistic tendencies of course superintendent John Philp, who ran amok eight years ago, the silly setup wasn't going to steal the show this time around.
What nobody saw coming, or staying, for that matter, was such a light breeze. A two-club wind was as fierce as it got, and when the field was trimmed to 70, Saturday's scoring average was a Carnouskimpy 71.6. Garcia knew he couldn't shoot 73 in the final round and protect a three-stroke lead with any sense of confidence. If he didn't, he should have. "The guys who played early had a tougher golf course," said Jim Furyk, who went out six groups from the end with Argentine Andres Romero. "We had a chance to score and some guys put up some good numbers."
Few were better than Romero's. A 2005 graduate of the European Challenge Tour who finished 35th on the '06 Order of Merit, the countryman of U.S. Open winner Angel Cabrera was probably the last guy anybody expected to see torching the joint. Romero shot 33 on the front, then birdied the 10th and 11th to grab a share of the lead (seven under) when Garcia's poor chip led to a bogey at the par-3 eighth.
To celebrate his ascension to the top of the leader board, Romero pumped a 4-iron into a gorse bush at the 12th and made a double bogey. He then proceeded to birdie the 13th, 14th, 15th and 16th, by which point it became pretty obvious that it didn't matter how long the putts were. Not only was the Argentine leading the British Open by two, he'd become more than a fair bet to eclipse Greg Norman's 64 (1993) as the lowest finish by a champion.
At about the same time the claret jug engraver went into his spell-check mode, Romero pushed his tee shot at the par-4 17th into the right rough. He was left with an approach of 234 yards from wiry grass -- a shot that needed to stay airborne for no more than 80 yards to clear Barry Burn. "I was aware I was leading," he said. "I was doubting between a wood or an iron."
His choice of a 2-iron from such uncut turf was ridiculous, but that doesn't mean Romero deserved what he got. His ball never rose more than a couple of feet off the ground, vanished over the front wall of the burn and caromed off the back steps lining the back end. A few seconds later, Furyk thought he heard something clang off the fence maybe 60 yards to the right -- the one with white stakes planted every 25 feet or so.
"I thought I had a chance to get it on the green," Romero said. "I should have hit the 3-wood, stuck with my initial thought."
A lot happened in the seven or eight minutes it took the kid to reload, knock a hybrid on the green and two-putt from 30 feet for his double-bogey 6. Garcia finally made a birdie putt, his first since the third hole, this one from 10 feet at the 13th to take one of the shortest one-stroke leads in British Open history. Before the Spaniard had even pulled his ball out of the cup, Harrington capitalized on a great bounce at the end of his second shot at the par-5 14th by canning a 15-footer for eagle from the fringe. "When it's your day, you normally chip in or hole a long putt, and none of that was happening," Paddy said. "There was no signal."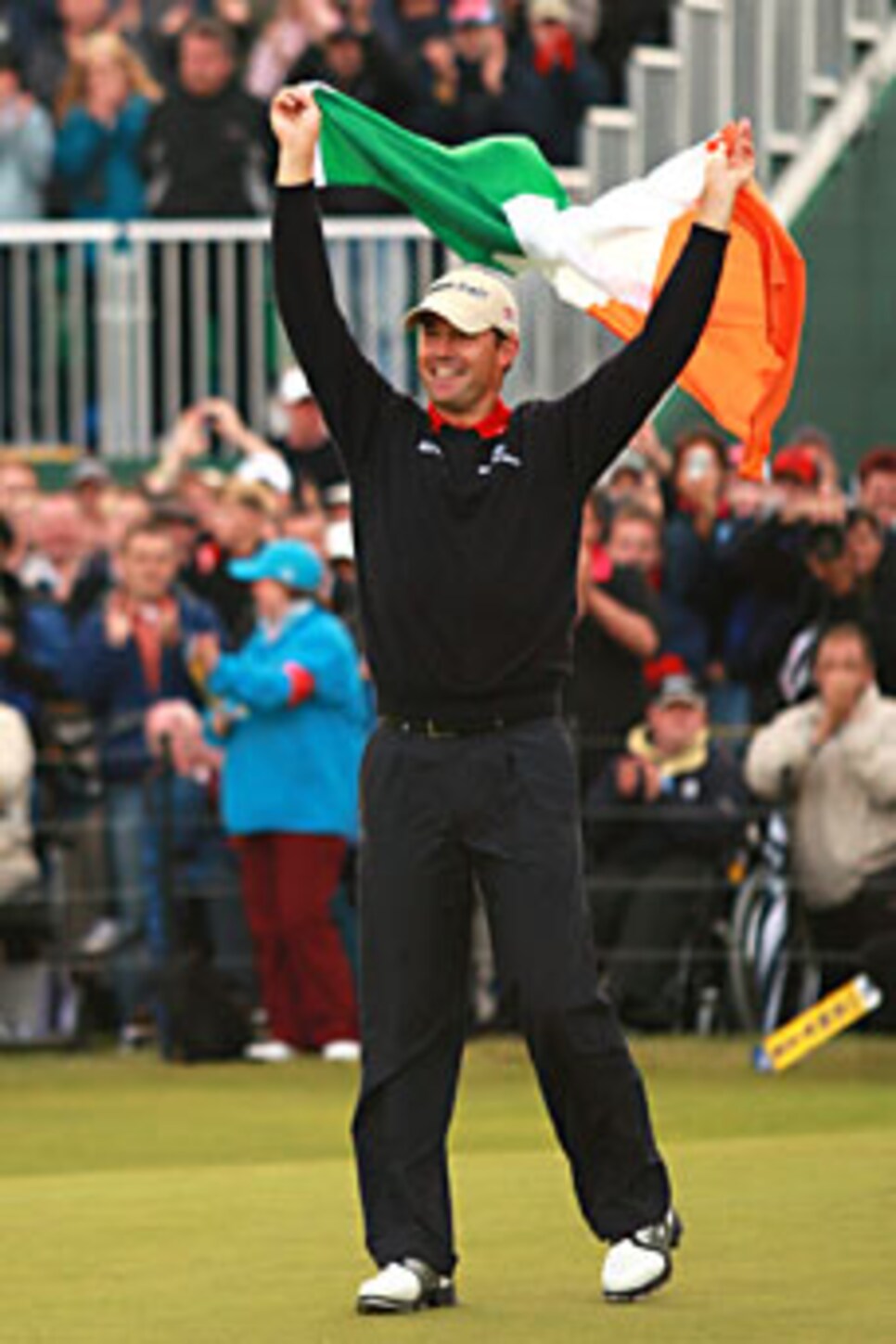 Romero subsequently bogeyed the 18th, clearing golf's biggest international stage for Europe's two best players -- teammates on four Ryder Cup squads but never partners. Harrington is depicted as a self-made grinder who has hit 10 balls for every dollar he's earned. "They say Vijay [Singh] is the hardest worker, but I'd put my man against anyone," said Paddy's caddie, Ronan Flood. "He's actually had to tone it down."
Few in Harrington's class have made steadier progress or done it over a longer period of time, and though he had 11 career wins in Europe (and two in the U.S.) before this one, his performance at the majors, particularly in recent years, had not been up to snuff. Amazingly, last week marked the first time in his 11-year career that Harrington ventured into serious Sunday afternoon contention.
"When we first started working together, he said, 'Everything has always come hard for me,' " said sports psychologist Bob Rotella, whom Harrington has been seeing for five years. "Then on the putting green [between the end of regulation and the playoff], he reminded me. He said, 'See? I told you. Nothing comes easy for me.' "
Garcia, meanwhile, would seem to be a bunch of things Harrington isn't. The first authentic post-Woods phenom with outrageous natural talent and a ton of non-golf interests, he turned pro to an overdose of fanfare a little more than eight years ago and has since struggled with the reverberations. A terrific putter when he barged onto the scene, Sergio has regressed so dramatically that his woes on the greens have come to define him. He can be as petulant as Harrington is cheerful, but when things are going well, Garcia has the type of giant personality than can carry a tour.
None of this is breaking news, but it all came into play last Sunday evening as the tension rose and one crucial moment followed another. Garcia's belly putter, which he put in his bag at his father's urging after last month's U.S. Open, got a boatload of credit for helping him to rounds of 65-71-68. Although it didn't totally desert him down the stretch, one thing is now fairly clear: The putting issues that have bothered him for years weren't resolved simply by switching equipment.
"It is better," said Sergio's father, Victor. "Not great, but better."
In the 13-hole stretch from the start of Sunday's back nine through the completion of the playoff, Garcia had 12 putts of consequence, nine of which were from 18 feet or closer. He made two -- the 10-footer for birdie at the 13th and a six-footer for birdie at the 14th. He used considerable portions of his post-round press conference to bemoan his bad luck, lament the "unbelievable" putts that didn't go in and complain about the bad break he got after hitting the flagstick with his tee shot on the second playoff hole, the par-3 16th.
A 3-iron struck straight downwind into a dry, late-day green isn't going to have any spin, but don't try telling that to Sergio. "It's funny how some guys hit the pin and the ball stops at one foot," he said. "Mine hits the pin and goes 20 feet away."
Garcia's biggest gripe came in regard to his having to wait for the area around the 18th green to clear before hitting his final full shot of regulation. On several occasions, he referred to the delay as lasting 15 minutes -- an absurd accusation since it was much closer to three minutes. "It took them forever to rake that bunker," said Sergio's caddie, Glen Murray. "I have no idea why."
It was time well-spent. Garcia's 3-iron from 251 yards found the same sand. His bunker shot was OK but certainly not great, leaving him a 10-footer that caught a lot of the left lip but never slid far enough right to have a chance of going in. Needing a par to win outright, he had missed by an inch, giving a second chance to a guy who had absolutely no business expecting one.
Not that Harrington ever would. It is perhaps the biggest difference between himself and Garcia -- the ability to cope with crisis, respect the limits of entitlement and focus on the task at hand. "When I hit [the drive on the 72nd hole] in the water, I told myself that a 5 would still keep me in there," Paddy said. "The problem is, you're coming from the [right] side of the fairway, you've got 229 yards and trying to cut it back to the pin with out-of-bounds on the left. I didn't execute. I hit it fat."
A second ball in the water, teetering on the verge of a Van de Veldeian collapse, Harrington maintained his composure. "I walked up there and knew I had to get it up and down," he said. "Even though things hadn't gone right for me, I really had a feeling that I could chip it in. I thought that if I was going to win an Open, my break was going to happen at some stage."
Paddy did almost hole the bogey chip, but his break was still 15 minutes away. It came not in the form of a lucky bounce or a long putt, but a defensive, frustrated, emotionally ragged opponent who arrived for the playoff either unwilling or unable to convince himself he hadn't let this tournament slip through his hands. "I should write a book on how to not miss a shot in a playoff and shoot one over," Garcia would theorize.
You might want to add forgetful to that list. After a perfectly positioned tee ball at the first, Sergio dumped a 9-iron in the right bunker, short-siding himself before Harrington knocked his own approach to eight feet. Garcia missed his par attempt, Harrington rolled in his birdie putt and though no one knew it, the 136th British Open was over. "It's great to have been named as someone who could win a major," the champion said. "To actually do it [shows] I've come a long way. When I turned pro, I would have settled to be a good journeyman player."
One man's journey, it appears, is another man's destination.