News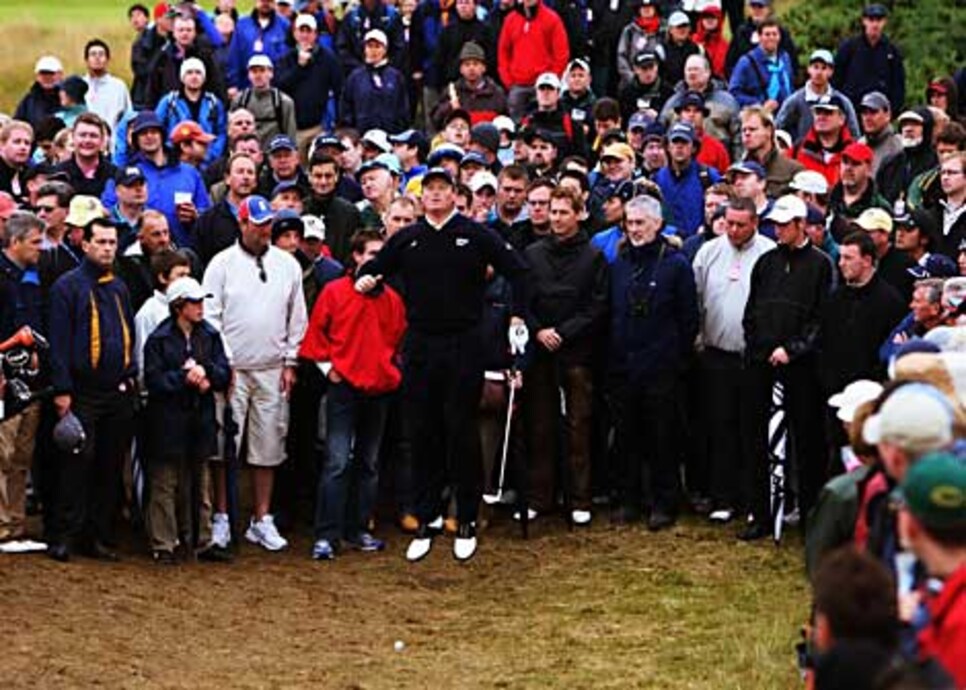 Trying to see his way clear to a second British Open title, Els' T-4 was his best major finish in '07.
A golf writer covering a major championship has plenty of tools at his disposal these days, including start-to-finish television coverage, computerized statistics and stenographer-generated transcripts of the post-mortems. A few reporters routinely walk the course, in particular to eyeball what Tiger Woods is doing, and the final pairings at a major always draw a crowd of journalists, but the reality of having to keep up with everything makes hoofing it everywhere impractical. There are blogs to write and calls to make, and only a fool wouldn't acknowledge that an air-conditioned media center is a lovely thing on a sweltering day.
There being neither air conditioning, nor the need for it most of the time in Scotland, where a native's wee breeze is a visitor's gale, the 136th British Open seemed like a good place to go old-school. Not that I was wearing a tweed jacket with elbow patches or anything, but I saw more strokes played in person than I have in a while -- all 279 of them, in fact, executed by Ernie Els, who tied for fourth place, two shots out of the playoff won by Padraig Harrington over Sergio Garcia.
Golf never seems more like a pass-fail test than at the majors, and the fine line between success and something less than that was etched throughout the fairways, greens, gorse, burns and out-of-bounds of Carnoustie GL, the bruising course on Scotland's Angus Coast. Plenty of players could ponder what might have been, not the least of whom was Els, the big, strong South African who is trying to work his way back to the top of the marquee.
I arrived at Carnoustie intent on following someone for 72 holes, and no one's swing is easier on the eyes than Ernie's. As veteran instructor John Redman told me a few weeks ago when our conversation turned to the topic of smooth swings, "He looks like he's cutting cake out there."
According to one of the betting shops, Ladbrokes, Els was a 12-1 favorite to win the British Open before it began, second only to Woods' 3-1 odds. Els is 37, and along with other golfers competing against Woods, his track record is inextricably linked to the man who casts a sequoia's shadow over the sport. Woods sometimes plays otherworldly golf, but everyone is competing in the same universe. The best thing Els and the others can do is approach the challenge like a student who gets the toughest teacher in school: He knows he's not going to ace a test very often, but when it happens, the grade is more satisfying.
For the past couple of years, though, Els hasn't been concerned with the Tiger Curve -- he has had enough to worry about. His last major victory was five years ago, in the British Open at Muirfield. In 2004 Phil Mickelson foiled his great play in the Masters, and countryman Retief Goosen seized upon his rotten conclusion to the U.S. Open at Shinnecock. A week after the 2005 British Open, which he lost in a playoff to Todd Hamilton, Els tore the anterior cruciate ligament in his left knee while vacationing. The road back hasn't been easy, and the first two majors of 2007 were a bust for Els: He missed the cut at the Masters and finished T-51 at Oakmont.
Els, Robert Karlsson and Lucas Glover were in "Game 32" Thursday afternoon. The temperature was in the 50s, and there was little wind. Els walked onto the first tee wearing black slacks and a pale, greenish-yellow crewneck sweater the color of Key lime pie. There were a few dozen fans in the grandstand to the left of the tee, including a trio of men wearing caps in the colors of the South African flag. The main leader board, about 100 yards away atop the large grandstand adjacent to the 18th hole, showed Paul McGinley of Ireland leading the championship at four under through eight holes. Woods was three under through 11.
In less than 15 minutes Els made up some ground. His tee shot with an iron found the right rough, and his approach the right bunker. But Els' 30-foot explosion shot was perfect, landing in the fringe and rolling in like a putt. If there is a pleasant way to start a major, Els did it.
He drove poorly at the second but recovered to save par. Routine pars at Nos. 4 and 5 were followed by a birdie at the par-5 sixth. Recording every shot was Els' wife, Liezl, who I first noticed by the fourth green. Most partners are constant presences watching their men play golf, but Liezl does more than watch. A tall, sandy-haired woman who married Ernie in 1998, she has been plotting the details of Ernie's major-championship rounds since the 1996 PGA Championship at Valhalla CC in Louisville.
Using a mechanical pencil on a 5-by-8-inch notebook, she records every shot played by her husband and his fellow competitors on diagrams of the holes that she has sketched earlier.
Liezl got the idea from the British artist Harold Riley when Els and Nick Faldo were playing a match at Leopard Creek in South Africa in the mid-1990s. "He told us -- it was Brenna [Cepelak] and me -- that it would be a fun job for us to record every round they played," Liezl explained. "I knew I couldn't do it every tournament, so I decided to do it at the majors. It's still quite a stack, spread over three houses. I'm trying to get them all in one place."
She downplayed her efforts -- "Harold's work is beautiful; mine is just a record," she said -- and volunteered that Ernie never looks at the notebooks. When I suggested they might fetch a nice sum for a favorite charity some day, she said she would keep the archive in the family. "It's a keepsake, something I'll pass on to my children [Samantha, 8, and Ben, 4]. I'm a little worried about them fading away, since they're in pencil, but somebody told me there is something I can spray on them to preserve them."
Liezl was accompanied around Carnoustie by Els' business manager, Phil Cotton, and personal trainer, Josh Salzmann. Salzmann is a Massachusetts native who has lived for two decades in England. Prince Andrew is a former client. Els is a fairly new devotee of the gym. "He really started after he hurt his knee. He likes feeling strong," said Salzmann. "Everybody likes to feel strong. The trick is getting them to want to do the work. I stay on his case, in a nice way. Ernie's an athlete. He could have been a basketball player, could have been a wrestler."
Salzmann travels to most tournaments with Els, and he enjoys the relaxed pace of the sport he is still learning. When Lucas Glover was searching for his ball on the 12th hole Thursday, Salzmann wanted to know what the rule was, how long you were allowed to look for your ball. Els' work with Salzmann obviously has paid off. The best proof might not be the swings he makes, but how he gets in a catcher's crouch to read putts, and sometimes just when killing time on the greens.
Els is different from most people, who seem larger on TV (Jack Nicklaus being a classic example) than they do in person. Els looks bigger in person, particularly when viewed from behind. Listed at 6-feet-3, 210 pounds, he is a tall brick of a man whose size is all the more arresting in the context of his swing's pace.
Every generation an elite golfer seems to come along whose swing personifies effortless, syrupy power. Julius Boros was that way. "I was playing once with Julius, and he hit this great 2-iron," John Redman told me. "I asked him what would happen if he hit one hard. He said, 'I just did. If I swing any harder, I lose control.' That was a very important lesson."
With Els, the prelude isn't quite as graceful as the performance. In his pre-shot machinations he can look the slightest bit awkward when he settles into his stance and adjusts his upper body, seeming to pay particular attention to his right shoulder. When he lines up a shot from behind, Els sights the target, taps the ground with the clubhead hard enough so you can hear, points the club at the target and usually taps the ground again before assuming his stance.
Els' ball-striking never has been statistically astounding. Since 2001 on the PGA Tour, his best driving-accuracy rank is his current one of 143rd. He was 28th in greens in regulation in 2003, but otherwise has not been ranked higher than 83rd. His putting has been better but not fantastic: ninth in 2004, 34th this year, 35th in 2002. It would be his frustration at Carnoustie, although with 26, 29, 26 and 29 putts, he ranked sixth for the tournament. Els' lag putting was outstanding, as he frequently left himself with little work after first putts, even those of 30 or 40 feet. He didn't three-putt once all week.
In general, though, Els seemed to possess what British meteorologists say when issuing a weather forecast and they're not sure if it's going to rain like hell or not: "medium confidence." In shooting a first-round 72 that left him T-39, the longest putts Els made were a 10-footer for par at No. 12 and an eight-footer for birdie at No. 14. He missed par efforts of six and 12 feet on the last two holes.
"I'm really striking my putts well," he said after the round. "I haven't made too many, but I'm putting OK. I didn't shoot myself out of it, but I need to pick up the pace now."
Els was staying at the Old Course Hotel in St. Andrews, normally a 45-minute drive, but he was making the daily commute in a helicopter, which cut the trip to only six minutes. He was off early Friday, at 7:25 a.m. It was another good day for scoring, but Els couldn't capitalize. He birdied the fifth hole from seven feet but missed birdie putts of 10, 15, 5, 7 and 10 feet. His frustration bubbled up after the latter attempt at No. 9, which was set up by a fine approach from 210 yards. When he missed, Els yelled a monosyllabic cuss word that includes letters one uses in spelling "Fred Funk." "Oh, jeez," Els said later, when asked about the moment. "That's just the way I felt. Normally I keep it all in. But I thought maybe let me get everything out. I didn't see too many small kids, so hopefully they all closed their ears. That's what a major does to you. You keep hitting good shots and keep missing them, you know. Nobody's made of rock out there. We all have our feelings. As I say, I had a moment of weakness out there. I felt better after that, though."
His play didn't get much better, as he offset a birdie at No. 11 from 10 feet with a bogey at the par-3 13th, where he found the sand. A wonderful 5-wood to eight feet at the 248-yard 16th hole also went for naught, and after a 70 for 142, he shared 13th place. "I'd just like to make a couple [of putts]," he said. "I'd feel a lot better about my whole game." Els was striking the ball crisply, hoping for some wind to mix things up a bit Saturday. The forecast was dire, but the actual weather for the third round wasn't as nasty as predicted.
Paul Broadhurst, a European Tour journeyman, would end up in Els' pairing Saturday and Sunday, and they would share good times and bad. Ben Hogan famously carved drivers between the out-of-bounds fence and bunkers that bisect the fairway of the 578-yard sixth hole. In the third round Broadhurst -- who started quickly with birdies at the first and third holes -- and Els weren't so successful at the sixth. First Broadhurst, then Els, hit tee shots O.B. just as a right-to-left wind intensified.
"I was trying to cut it into the breeze. That was the wrong choice of shot," Els explained later. "I just should have rode the wind. If it goes right, it goes in the bunker -- you can still make 5. I was trying to cut it, [but] got quick and flipped it. Just a bad, bad shot."
He exacerbated things by pushing his provisional into the distant bunker on the right side. From there Els played back to the fairway, hit his fifth shot from about 200 yards into a greenside bunker and missed a five-footer for a double bogey. Mark Woods in Scotland on Sunday wrote that "Hogan's Alley" was a cul-de-sac for Els because of the triple bogey, but it actually served as a roundabout for the rest of the third round for him.
A birdie at No. 8 from 18 feet was soon followed by three straight birdies starting at No. 11. He had a good chance for four in a row at No. 14 from eight feet, but missed it. "Shows you what an 8 can do. It frees your stroke up," Els said of his renewed putting success. "I just kind of let it go and felt the putterhead. I really felt good on the greens today." Another gorgeous 5-wood on the 16th hole -- a high, slight draw that is Els' stock shot -- finished 18 inches from the cup. His 68 moved him into T-3 with six others at three-under 210, six strokes behind Sergio Garcia.
"If I could just have that one swing over on No. 6," Els lamented later. "I'd take a 6 right now -- 8 is hard to come back from. But I did, I really played nice. It was nice with Paul. When I got it going, he got it going. We pulled each other along on the back nine."
A quick swing from Els still looks like Super-Slo-Mo for a mere mortal, but he got away with a clunker on the finishing hole Saturday. After a good drive, he attempted to hit a 7-iron from 176 yards into a slight breeze. He chunked it so badly it finished about a yard short of the Barry Burn. "That was probably a worse shot than the one I pulled out-of-bounds on No. 6," he said. "That's a good lesson for you guys. [If] you try to hit something too hard, that's what happens. Was a good lay up, though, wasn't it?"
He pitched close for a par to stay in distant touch of Garcia. "It seems like Sergio is playing really solid," Els said. "But he's going for his first major. I'm sure there is going to be a lot going through his mind tonight. I remember when I was trying to win my first one. But still you can't hope for him to play badly. You've got to try to get something going [yourself]. I've got to do that tomorrow and hope for a bit more breeze, just to press the leaders a bit more."
Els was heartened by his conclusion to the Barclay's Scottish Open the previous week. "I was six behind coming into the final round and almost got there [to win]," he said. I've got to try to emulate that round."
"It helps to have good finishes," Liezl said of his third-place finish after a final-round 65 at Loch Lomond, "because it shows you have your game in good order. But, of course, he wants to win. If you don't want to win, you shouldn't be out here."
By the numbers, Els' status as one of the brightest lights of his generation is secure. He was ranked No. 1 in the Official World Golf Ranking for a week after he captured his second U.S. Open title in 1997 and for eight weeks the next season. He has been in the ranking's top 10 for 681 weeks, the most time of any golfer since its inception in 1986, and he began play at Carnoustie at No. 4 behind Woods, Mickelson and Jim Furyk. Els has 23 victories on the European Tour, 15 on the PGA Tour. The questions are what kind of wattage Els will carry when judged against the all-time greats and whether he can resume his consistent winning form and extend it into his 40s, á la Vijay Singh.
Els' countryman, Gary Player, made headlines last week with his assertion that he knew a golfer whose name he wouldn't disclose was taking performance-enhancing drugs, but he also addressed the subject of the definition of a superstar. "It's very hard when you talk about superstars," he said, "and I don't know how you'd classify a superstar. In my opinion, you classify it as any man who wins five majors [or more]."
The odds seemed against Els moving closer to that threshold, given that his deficit to Garcia, 10 years his junior, was six strokes. The margin to be closed doesn't tell all in these situations, however. Only Steve Stricker, who was three behind, stood between Els and Garcia, and like the Spaniard, Stricker had never won a major. The same was true for the six players tied with Els at three under through 54 holes: Chris DiMarco, Paul McGinley, Stewart Cink, K.J. Choi, Broadhurst and Harrington. If an experienced player was going to trail by half a dozen shots with 18 holes left, this was about as rosy a scenario as could be drawn up.
Els seemed to sense that, and his play in the early going Sunday afternoon showed he was eager to pounce. The persistent rain, which fell through the night and morning, stopped shortly before Els' 1:50 p.m. tee time. An early starter, Richard Green of Australia, shot a final-round 64, matching the course record fired by Stricker Saturday.
A 25-foot uphill putt at the second hole got Els going. It warranted a fist pump. A wedge to the third hole set up a birdie from six feet. Perhaps feeling the sting of his mishap at No. 6 Saturday, Broadhurst laid up off the tee this time. Els, though, took driver. A marshal at the tee signaled that the ball was going left, but the 286-yard drive split Hogan's Alley. From there Els hit a 5-wood 30 yards short of the green. The hole was cut deep on the right side, beyond three bunkers and a down slope. Els had to be precise with a low, checking wedge shot and he was, the ball settling four feet from the cup for his third birdie of the day.
He was four strokes behind at that juncture, but after pars at the next four holes and some slippage by Garcia, he trailed by two. "It's all getting a little bit squeaky now," one of the radio play-by-play announcers said just about the time Els chipped close to save par at the 10th hole.
Carnoustie's 11th, a 383-yard par 4 that doglegs gently to the right, played as the fourth-easiest hole for the week. A shorter club off the tee afforded a wider target, but Els hit his driver every day and had no more than 65 yards left for his approach. His Sunday clout left him about 55 yards to a back-right hole location. Els' wedge was on line and finished 15 feet short of the hole. With Garcia continuing to leak oil, a birdie would have put Els in a tie for the lead with the Spaniard and young Argentine Andres Romero at eight under.
"I hit such a beautiful tee shot and a good second [on 11]," Els said. "I thought I made the putt, [but] it stayed on the right. I think if I made that putt, it could have been different because I would have had the momentum going again."
Els saved par on the difficult 12th hole with a pitch and a six-footer after his second shot stayed about a yard short of going into some gorse, keeping him one back. The 13th hole at Muirfield was the scene of some good fortune for Els in the final round en route to his 2002 Open triumph -- he holed a greenside bunker shot -- but Carnoustie's 13th, a 176-yard par 3, wasn't so friendly. Els' 7-iron shot caught the right-side bunker, leaving him a 40-foot shot across the width of the green. "I just came out of it," he said of the tee shot. "I've been having a tough time trying to cut the ball this week."
His explosion out of the dark, heavy dirt (you won't find any blinding-white designer sand on this old links; the bunkers look ready for some tomato plants) ran 12 feet long.
He missed the par putt, then failed to convert an eagle putt of about the same length on the par-5 14th after an excellent 5-iron approach from the right rough. "Probably hit my worst putt of the week on 14," Els said. "Just never got it on line." He pushed his 3-wood off the 15th tee into some of the tallest rough on the course, shin-high fescue he could barely get an iron through. "And that was basically that," Els said of the ensuing bogey that left him too far behind to be a beneficiary even when Harrington, Garcia and Romero had hiccups on the last two holes, too far behind to thrill the family who held an 8-by-12-foot South African flag along the gallery ropes of Carnoustie's closing holes.
"Almost," Salzmann said behind the 18th green as Els recorded a textbook par to shoot 69. "Almost."
Jos Vanstiphout, Els' longtime mental coach, had stood with Els and his caddie, J.P. Fitzgerald, for a rainy post-round practice session Saturday evening. "Watch him the next couple of weeks," Vanstiphout said. "He'll be back. No, he is back."
You can scrutinize swings and analyze strategies, but only Els knows how he felt coming down the stretch with a legitimate chance to win. When I saw his ball resting on the wrong side of that wire fence at No. 6 Saturday, I really didn't expect him to be challenging for the title about 24 hours later. But he surprised me, and maybe himself.
Putts started dropping, and then they didn't.
"It's hard to be very pleased right now," he said. "I love this championship so much. And I had a chance. I was only one shot out of the lead for a good hour. I started making some putts over the weekend. I just have to stay patient, and it's so tough for me to stay patient. But at least I had a much better major this time. The tee shot into the bunker on 13 is probably the shot I'm going to look back on and not be happy about. But if I had made putts, I really would have been close."
The sun wasn't out very much over four days and 72 holes, but it didn't have to be. Els can still throw a considerable shadow of his own.
"I'm trying my best," he said. "I'm trying to do what I should do. This game is a very difficult game at times. It's like J.P., my caddie said to me: 'We are getting close.' I'll keep saying that and saying that. I am getting closer. I've got to get myself in these positions more often. I had a good week last week. This week I played a little bit defensive coming in. I could have been a bit more aggressive. And I think when the putter starts changing, a lot of things will start changing."
The Brits would say Els had been there or thereabouts, and it isn't a bad neighborhood.