News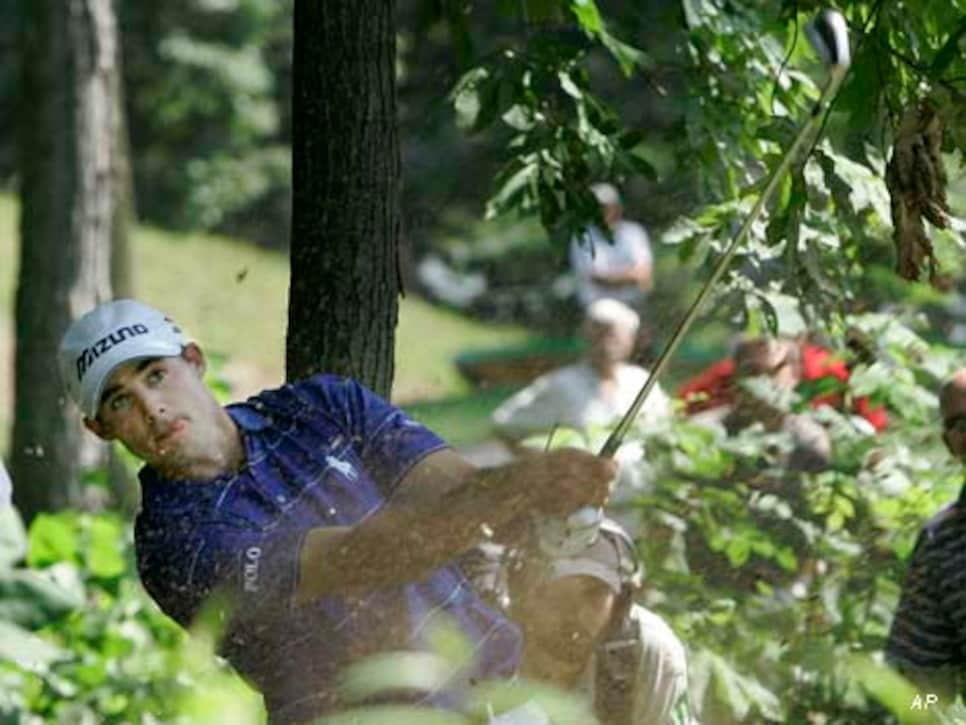 Byrd, who doesn't mind the highs and lows of his play, escaped trouble at the 17th Saturday.
After the air went out of the tires with a missed cut by iconic neighbor Zach Johnson, the John Deere Classic regained traction last weekend. Crowds were quieter and slimmer in Johnson's absence, but Jonathan Byrd, who might have felt like a stage prop playing beside the Masters champion during the opening two rounds, hung around and won with a bogey-free 66 Sunday. Byrd thus passed Tim Clark, who led by four shots with five holes remaining, to secure a British Open berth and sole possession of first place on the United States' twentysomething honor roll, such as it is. Byrd's triumph was his third on the PGA Tour; Charles Howell III has two. No other American in their age bracket owns multiple conquests, bereave it or not.
En route from Silvis, Ill., to Carnoustie, Byrd faced a side trip home to St. Simons Island, Ga. "Four straight missed cuts before this, hitting a lot of foul balls," he said. "So I had low expectations. That's why I didn't bring my passport. But I'm going to get it, and I can't wait." Byrd has never played in a British Open, and his chances of attending this one seemed remote after Clark recorded his fifth birdie Sunday at No. 13. He desperately wanted Scotland, for he has competed in every major since the 2003 PGA Championship, where he took third. He also logged a T-3 at the 2005 U.S. Open, a T-17 at the 2005 PGA, was runner-up at the 2006 Masters and this season, was T-13 at Augusta National and T-17 at the U.S. Open. "Blows my mind that I'm not going," groused the feisty South African. Golf has already given him a pain in the neck -- he's receiving injections to ease inflammation of his cervical joints. But that last hour or so at TPC Deere Run was brutal. He bogeyed No. 15 -- no thanks, he thought, to "a rake that should haven't been where it was." Then on No. 17, Clark hit a squishy 3-wood, half the ball staring at him as he arrived at a fairway bunker, 20 yards short of the green. He bogeyed, and wound up with 68 for 17-under 267, one too many.
Byrd scrambled his itinerary with birdies at Nos. 14, 16 (with a 9-iron that landed 2½ feet from the cup), and 17, only minutes before Clark's fried-egg comeuppance. When Byrd is off his game, he's guilty of those aforementioned foul balls. When he's on, he's very good. "I'd much rather be erratic and miss cuts here and there and win tournaments," said Byrd. "When you're not winning and just making good checks, this job gets boring. We're out here to win golf tournaments."
Nathan Green, fresh off three weeks of "cart golf and a few beers" in Australia, began Sunday with a one-stroke advantage -- largely because he devoured the front nine with 13 birdies and 14 pars the first three days. Sunday, however, his 35 on the outward half was dwarfed by Clark's 31. Green took a T-3 with Troy Matteson at 15 under, so he will keep his appointment for mate Peter Lonard's birthday bash near Detroit. "It's Peter's 40th, so it could be a bit messy," allowed Green, who mentioned that the party will include a concert featuring a couple of groups with which this reporter is not familiar. Green, like Clark, was chasing his first tour triumph. But everything is relative. Green grew up working at his father's crematoriums. "Tried to stay outside, cutting the grass," said Green, "but I knew what was going on inside. Chapel with a refrigerator behind and a furnace behind that. Didn't especially care for it, but business was steady."
Speaking of which, the Deere occupies a difficult date -- a week before the British Open for the next three years -- and it got more difficult last Friday around 5 p.m., which is supposed to be happy hour, but wasn't. Just about that time, Johnson officially landed with John Daly below the cut line of two under par. As if to divide the crowds, the field's two marquee individuals were positioned on opposite sides of the course, having started nine minutes apart. In more ways than one, Daly finished first, probably when his tee ball on No. 8 hooked into the woods, and his driver took an even sharper left turn into the water. That was Big John's next-to-last hole, so he didn't really need the club anymore. When Daly completed his six-over 148 total, a few folks were foraging about the ravine for his equipment. Don't be surprised if it shows up on eBay before he arrives in Scotland. "Was supposed to be leaving Sunday on a private jet right from here to Edinburgh," rued Daly, who had a weekend of free time on his hands with no place to go. Unless, of course, he were to venture over to the Isle of Capri gambling establishment nearby.
Johnson's exit was far more suspenseful. He needed an eagle on the 18th to survive, and darned if he didn't almost hole his approach. But the ball settled about four feet from the cup, and birdie meant he missed the cut in his fifth major by only one stroke after posting a 70-71. Considering that Johnson had not touched a club for two weeks prior to the tournament, his rust was understandable. He said he did not regret the vacation, nor that scab on his left elbow, the result of snowy frolic in the mountains of Breckenridge, Colo. "I'm obviously disappointed," said Johnson. "Especially with all these people supporting me. I could have shot 105 today, and they still would have been behind me, which is pretty special." It was that way all week for Johnson, who endeared himself to his home folks immediately after he won the Masters when he proclaimed, "I'm Zach Johnson, and I'm from Cedar Rapids, Iowa." They've never forgotten the fact he hasn't forgotten them. The only change is, when Zach plays now, he's accompanied by bodyguards. "How about that?" he said, smiling and pointing toward a husky officer from the Silvis police force who walked inside the ropes during an otherwise quiet Thursday morning round.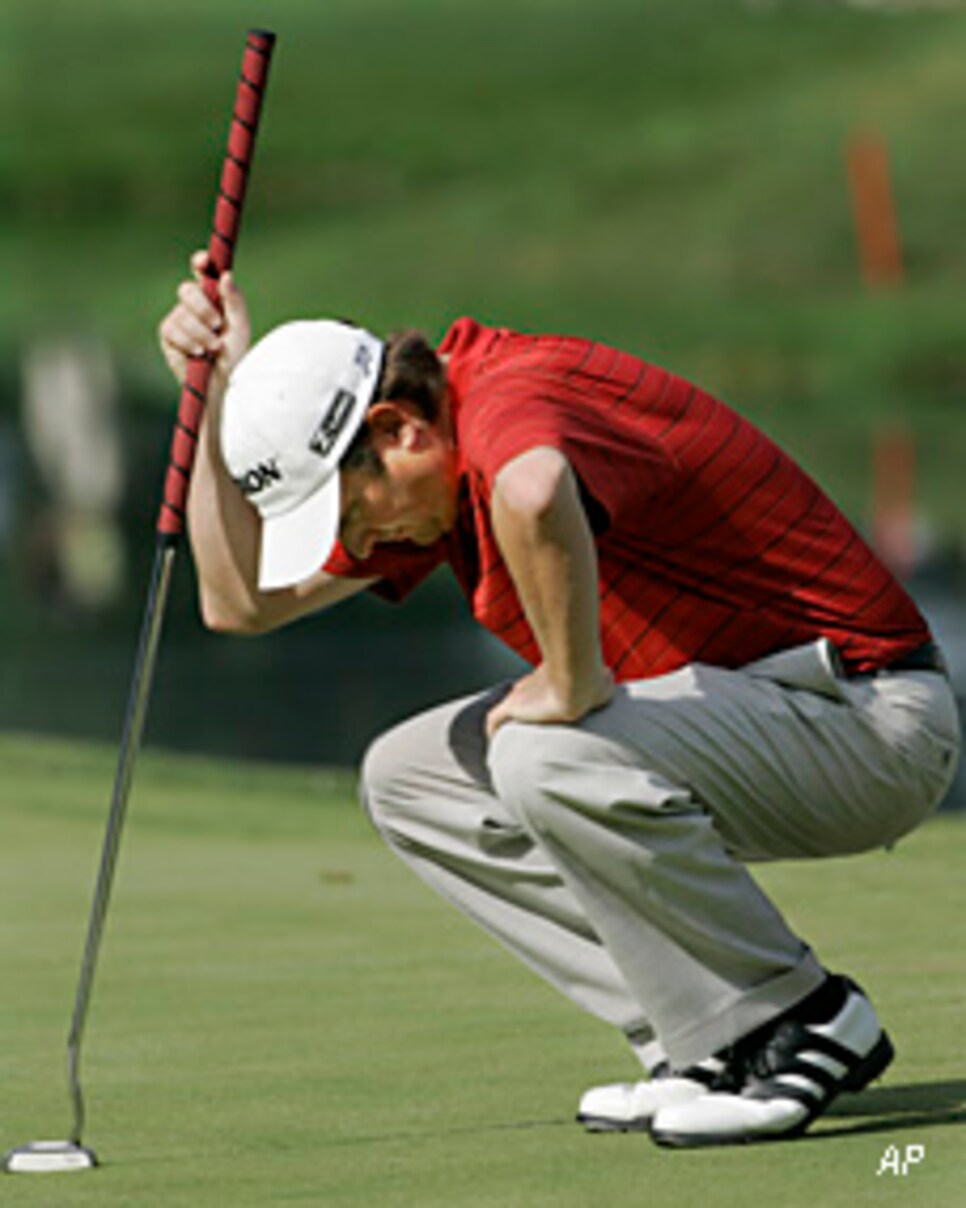 Despite the polite audience, there were renditions of the Woods Wave. When Tiger plays, galleries tend to move onward whenever he completes a hole, as though he were a onesome. On Thursday two rather accomplished Clemson products -- Byrd and Lucas Glover -- were Zach's sidekicks and, thus, occasional victims of being deemed invisible.
"They love him here," said Deere tournament director Clair Peterson, who notes that Johnson faithfully partakes in board meetings. He has been a member for several years, and despite his travels, Johnson plugs into conference calls. "He's no figurehead," said Peterson. "We bounce stuff off him, and he lets us know what the guys on tour are thinking and what we can do to make this better." Johnson mingled with dozens of youngsters Tuesday during and after a practice round. He was the star of the pro-am Wednesday, after explaining how he got in to a gentleman from Chile. The visitor to the Quad Cities, upon discovering what Johnson did, asked whether he had ever done anything worthwhile. Zach bashfully replied that, yes, he had won this little invitational at Augusta National last April. For Round One of the Deere, Johnson wore a pale green shirt. Not green jacket green, or even Deere tractor green. A pea sort of green, but a number of spectators and peers took note. He also took 31 putts, too many.
On a spectacular Friday afternoon, with his working parents in from Cedar Rapids to watch, Johnson birdied the 10th to reach three under. But he then bogeyed three of the next four holes -- the coup de gras at No. 14, a short par 4 where his tee ball found a fairway bunker. Johnson then drilled his second -- "purest shot I hit on the back nine" -- into the woods, well beyond the green. He took two hacks to exit the shrubbery, and an hour later by the scoring van, was still searching for a sense of feel. "I've got some things to work on, obviously," concluded Johnson. Among those is his physical fitness regimen with trainer Chris Noss. Johnson has added muscle to his frame, if you look closely. "I'm teetering between 160 and 165 pounds," he said. "I'd like to get to 175. It's not because I don't eat that I can't get there. I eat a lot, and often, and I like a beer here and there too. Where I'd like to add strength is my legs. I have skinny legs. No calves. Not much in the thighs either."
Johnson's homecoming wasn't quite as hectic as Mike Weir's Canadian Open after he won the 2003 Masters. That was a national holiday. The "Iowa thing" as Johnson describes it is more of a visceral appreciation by genuine folks for one of their own. There were plenty of green T-shirts in his honor: "I'm Zach Johnson and I'm from Cedar Rapids, Iowa" emblazoned on the front. On the back, a time-line from youthful days at the club to high school to college and beyond: "Elmcrest Junior, Regis Royal, Drake Bulldog, Masters Champion, IOWAN."
Zach's brother, Gabe, produced those, proceeds to Zach and wife Kim's charity. Gabe lives in Chicago near Wrigley Field, where Zach will toss out the ceremonial first pitch before the Cubs-Dodgers' game and sing "Take Me Out to the Ballgame" during the seventh-inning stretch Sept. 4. That's the week of the BMW Championship at Cog Hill G &CC, where the Western Open used to be before a FedEx truck delivered a playoff package. "Gabe is a huge Cubs fan," Zach said. "He's really pumped about me going there. I'm already getting instructions on what to do and how to sound like Harry Caray. A lot of nice things have happened to me since the Masters, and when they take my time up, I think to myself it's a nice problem to have. But the Cubs' game with Gabe watching me pitch and sing, that's pressure."