News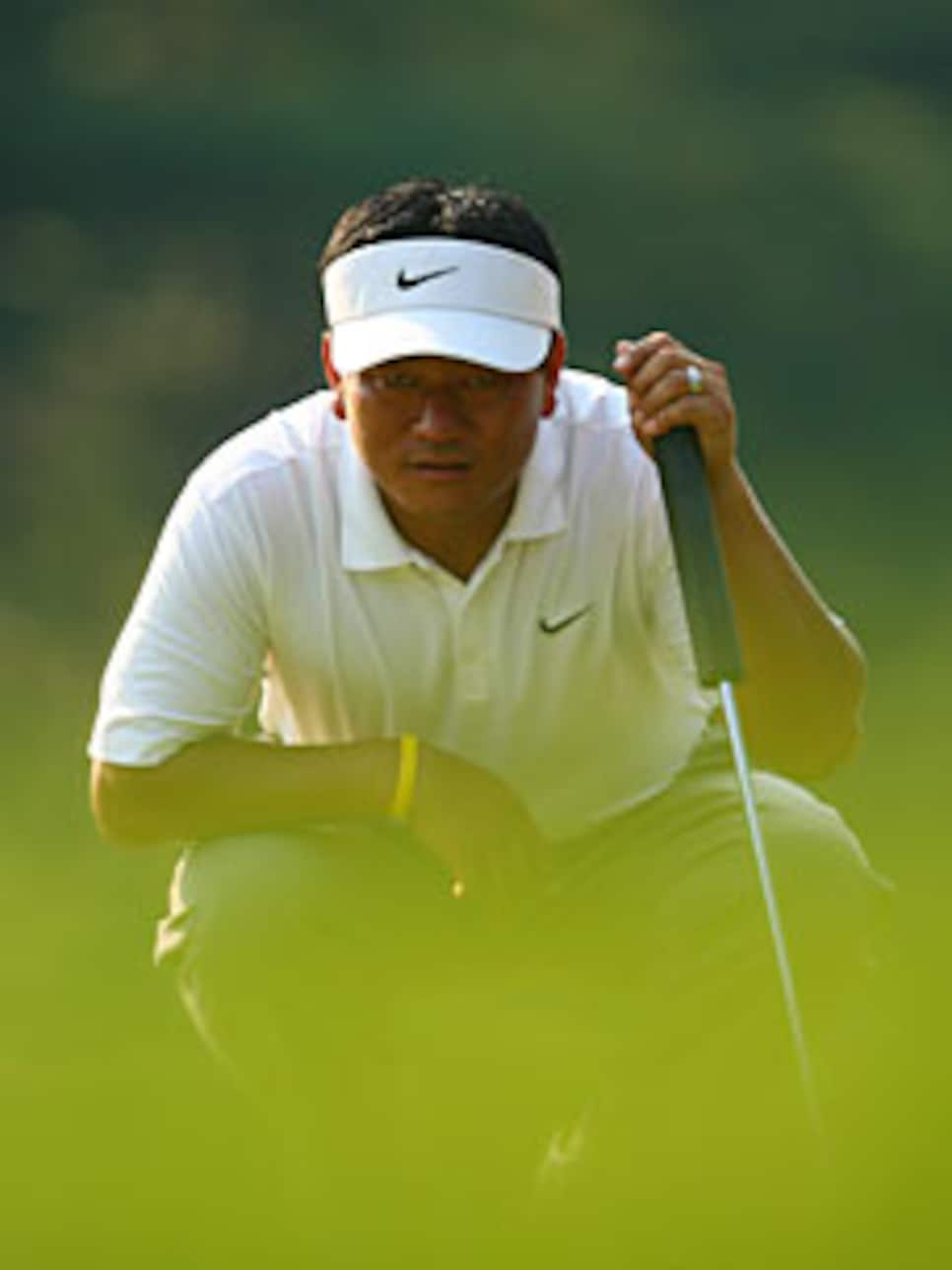 Choi got a handle on his putting after changing to an oversize grip.
Two weeks ago, K.J. Choi raised eyebrows and his bank account using the SuperStroke--a beast of a putter grip measuring 1.67 inches in diameter, or roughly twice the size of a conventional putter grip. Choi discovered the grip watching an infomercial and warmed to the idea of a grip that reduced wrist movement in the stroke.
Then again, Choi might have gotten on board sooner if he had read Paul Runyan's 1979 book The Short Way to Lower Scoring in which Runyan wrote: "I suggest you avoid grips that seem a bit thin in overall diameter. You will find that a thicker grip encourages a firm-wristed stroke."
Numerous players have employed such a philosophy over the years without going to the lengths of using a grip the size of a golf ball. John Daly, for example, adds up to four wraps of tape under the grip of his putter to keep his wrists from getting overly active. But with Choi's win, expect to see more players coming out of the woodwork and giving it a try.
"Ten players wanted a grip to either put into play this week or to practice with," said Jeff Dill, SuperStroke's PGA Tour rep, citing D.J. Trahan (who used the grip at the John Deere Classic, ranking T-13 in putts per round), Stephen Leaney, Eric Axley and Mathias Grönberg among those paying a visit. And at least two companies, according to Dill, anticipating trial from players, had a couple of boxes of grips shipped to Scotland for this week's British Open at Carnoustie.
Still, it's not easy for tour pros to resort to such extremes. After all, the primary selling point on the packaging of the SuperStroke is that it helps eliminate four-putts. Four-putts?
Which might explain Choi's initial reticence. "It was ugly," he said. "But I kind of gathered the courage to bring it out."
At the AT&T National Choi ranked second in putts per GIR and fifth in total putts. He also won more than a million dollars. Those kind of results raised more eyebrows than the oversize grip he was using.
Equipment scoop from the tours
Ernie Els may have found a new weapon heading into this week's British Open--Callaway's FT-i square-headed driver. Seeking a slightly lower ball flight, The Big Easy put the club--which has 7.5 degrees of loft and a swingweight of D5--in play last week at the Barclays Scottish Open and drove the ball well, averaging 293.4 yards and 75 percent accuracy. ... Another player making a switch at Loch Lomond was Darren Clarke. Turns out Clarke had been playing stiff shafts in his irons when his specs call for extra stiff. The foul-up? The shafts were in American measurements while the rest of his clubs were in European measurements. "You would think I would be smart enough to figure it out myself after three years, but I wasn't quite clever enough," said Clarke. ... Bubba Watson had a club issue of a different kind at the John Deere Classic. Watson slammed his Ping S59 8-iron in the ground in frustration early during Friday's round, separating the ferrule from the clubhead and slightly bending the shaft. After mistakenly using the club at the par-3 12th, Watson disqualified himself for playing a nonconforming club (although a rules official could not determine if it was bent). "It's not like I was going to win the tournament,'' said Watson, who was four over par at the time. "But it's a [gentle]man's game, and I want to make sure I do things the right way.''