News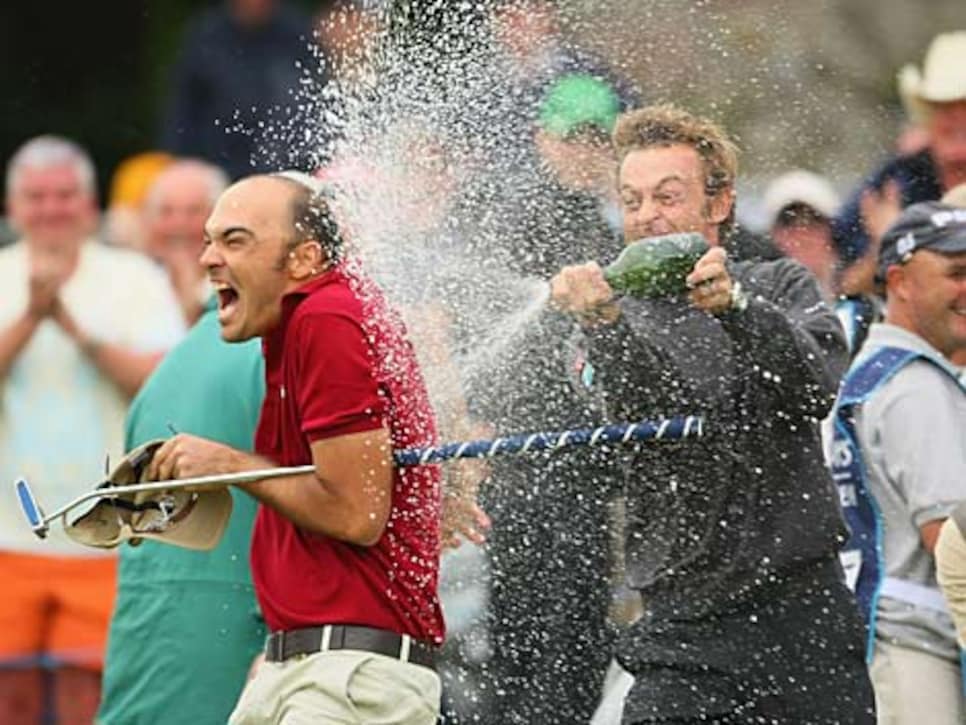 Chill of victory: Havret received a champagne shower from compatriot Jacquelin after winning.
It is an immutable law of golf: Swing changes, at least those made properly and fully, are time-consuming exercises, during which the old axiom about one step back for every two forward is more a hope than an expectation, especially in the short term. So should we really be surprised the world's No. 3-ranked player -- armed with a one-shot lead with 18 holes to play but only a couple of months into a major overhaul of a long and loose action deemed inadequate to increase his current total of three major championships -- capitulated down the stretch to a gangly Parisian ranked 317 places lower on the planet's pecking order?
On the evidence of an always fascinating last day at the Scottish Open on the bonnie banks of Caledonia's biggest puddle, Loch Lomond, the answer to that question is a resounding no! For Phil Mickelson, the narrowest of overnight advantages wasn't enough to carry him to victory over a pesky Frenchman by the name of Gregory Havret, not on a day when the former Italian Open champion was at his most stubborn and the new, more compact Butch Harmon method that Lefty hopes will ultimately take him two places higher on the World Ranking was proving hard to repeat on a consistent basis.
Consider Mickelson's play during his fourth circuit of Scotland's finest inland layout, especially over the last five holes. Having just birdied the long 13th to open up a two-shot edge over his playing companion, Havret, and a reassuring three-shot cushion over a hard-charging Ernie Els up ahead, the reigning Players champ was rated an almost prohibitive 1/25 (to win £1, £25 had to be wagered) to secure victory by bookmaker Ladbrokes. Well, how were they to know their man was about to revert to form and find fairways as elusive as a sunny day in this summer of showers? This was the old joke about military golf -- left, right, left, right -- come to life.
After pushing his tee shot at the drivable 14th hole, Mickelson descended into excessive cuteness with his chip and left the ball short of the severely canted putting surface. Another chip and two putts later he dropped his first shot of the day and held only a share of the lead as Havret birdied.
No matter. Mickelson played the next hole perfectly, eventually making a birdie from about 15 feet to reinstate his one-shot advantage. The drive off the 16th tee, however, went left, forcing Mickelson to lay up short of the water fronting the green and, later, to relinquish once more his lead.
No matter. Mickelson played the short penultimate hole perfectly, eventually making a birdie from 25 feet or so to reinstate his one-shot advantage. The drive off the 18th tee, however, went right, forcing Mickleson to play short of the green and, after a bold pitch ran 15 feet past the cup, ending his day with a final-round 69.
Which did matter. He and Havret finished regulation tied at 14-under-par 270. In the playoff, again on 18, Mickelson overcompensated, sending his ball left into long grass on the edge of the water hazard that runs almost the length of the hole. Then, after hacking back into play, he sent his third shot just over the green. The chip was good, but not good enough to save par.
As this was going on, Havret calmly, coolly and clinically made par after par. His only moment of doubt came at the moment of victory. After bunkering his approach to the playoff green, the 30-year-old son of a Paris veterinarian, splashed out to about five feet and calmly made the putt to pick up his second European Tour title and a check for 500,000, easily the biggest of his career. And he didn't get much time to enjoy the moment either -- not dry anyway. As his putt dropped into the cup to seal Lefty's fate, Havret's pals Thomas Levet and Raphaël Jacquelin appeared from the crowd armed with two bottles of France's most famous and expensive liquid and proceeded to soak the winner.
"I knew it would be awesome to play alongside Phil today whatever the result and to win is like a dream come true," exclaimed Havret. "I cannot say more."
Then he did so, briefly at least.
"I'm a lover of tradition, and this is home of tradition," he continued. "It's amazing to play golf here, and Loch Lomond is awesome. I don't have enough English to express what it means to me."
As for Mickelson, he took what had to have been a painful defeat -- he was never behind until the playoff -- in philosophical fashion. "Greg played very solid golf, and I played very erratic golf," was his verdict on a disappointing day that could have seen him lift his first European Tour title. "When he plays like that and hits fairways and greens, not only does he deserve to win, he makes himself very tough to beat.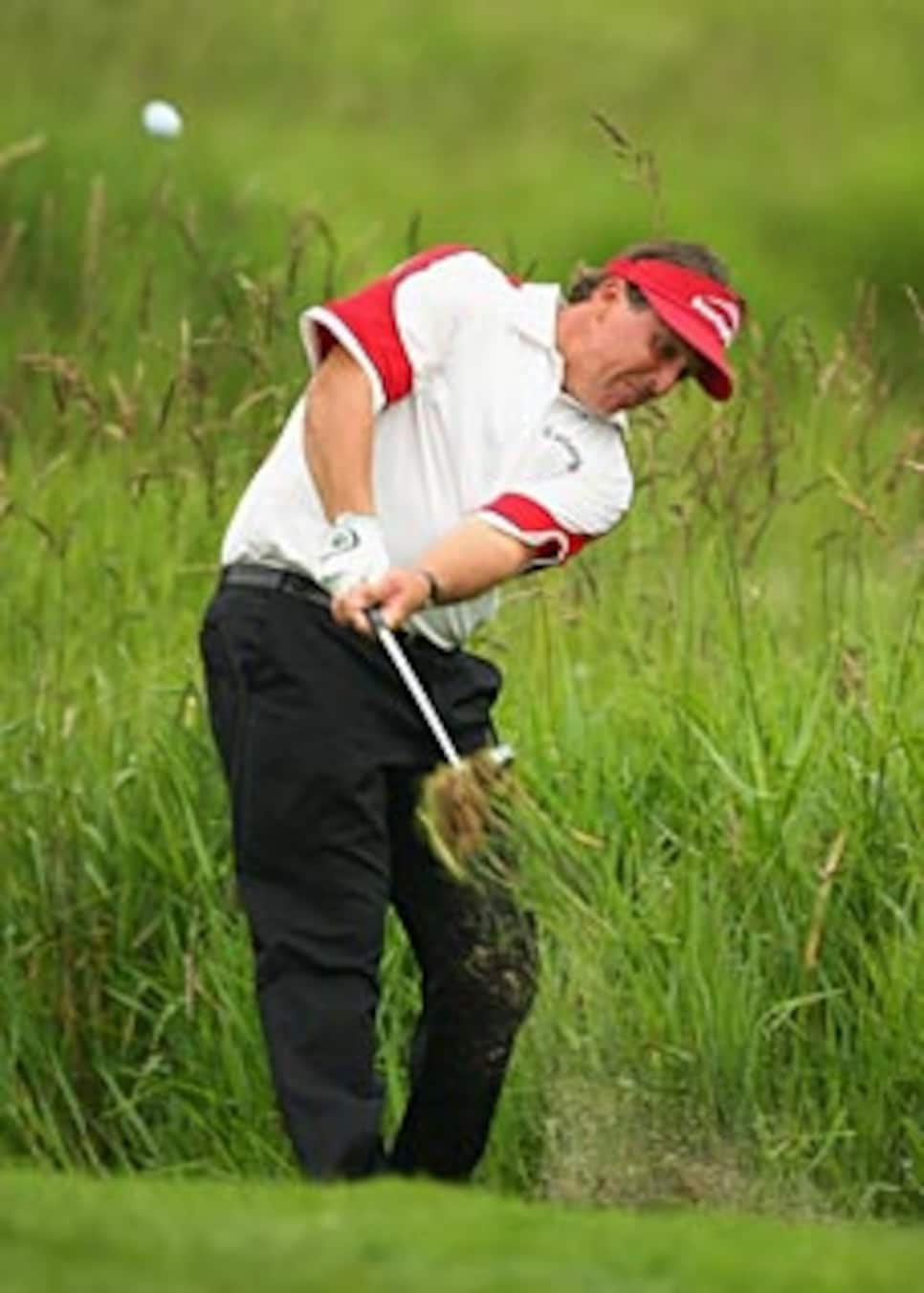 "I made birdies and bogeys, and he just played steadily with solid pars," said Mickelson, who nevertheless moved to second on the World Ranking with the runner-up finish. "Ultimately he won the playoff because he was more consistent. In contrast, I really struggled off the tee, and the back nine was a fight for me."
That it was. While this wasn't quite Winged Foot 2006 revisited, Mickelson certainly made life difficult for himself with that succession of wild and woolly tee shots, a series of events that sadly took the gloss off what previously had been an increasingly impressive performance. By the end of the third round, in the lead and chased by a group of players he could and should beat, that first European Tour win -- his only professional victory outside the United States is actually a European Challenge Tour event, the 1993 Tournoi Perrier Paris -- looked more than likely.
"Winning this tournament would mean a lot to me because I have not played as well out of the United States as I would have liked, especially in Scotland, the home of golf," he admitted after the third round, the charm offensive revving up nicely. "It would mean a lot to have a championship from here. That would be really special. I just think it would be really cool. But there's a lot of work to do before that happens. I'm going to have to play a good round [Sunday] to have a chance."
Prescient words, especially when the weather that had already veered from breezy to torrential over the course of the opening three days decided to present ideal scoring conditions for round four. Suddenly, the really low number was out there, bringing into contention the likes of Els and Sergio Garcia, five and six shots back respectively.
Nothing came from the Spaniard, but the expected rush of birdies was there all right. Both Luke Donald -- newly married and back after a three-week break --and Richard Sterne managed 64s to climb to T-4 by day's end. But the significant move came from Els, a two-time winner of this championship and an enormously popular figure with the sizable crowds.
The big South African, who has been searching vainly for some real form in the lead-up to this week's British Open in Carnoustie, made 11 3s in an erratic 65 that eventually came up one shot short of the playoff. It ended with an unlikely birdie at the last as Els holed out from 30 feet for one last 3, but it was the bogey he made two holes earlier that finished his chances.
"It was a kind of up-and-down round," he said with no small degree of understatement. "I felt good on the range, and it was a beautiful day, but my good play seemed to come in stretches. I'm disappointed with the bogey on 16 and missing a birdie chance on 17. But the finish was nice. I made birdie at that hole every day, so how could I miss?"
Which was probably the question Mickelson asked himself on the two-hour drive across Scotland from west to east, and from Loch Lomond's parkland to the bleak links of Carnoustie. One imagines, too, that the call to Butch was made even before the first sign for the Open Championship was spotted. On the evidence of this Sunday in the sun, much work is still to be done.