News
Woods as a father? No problem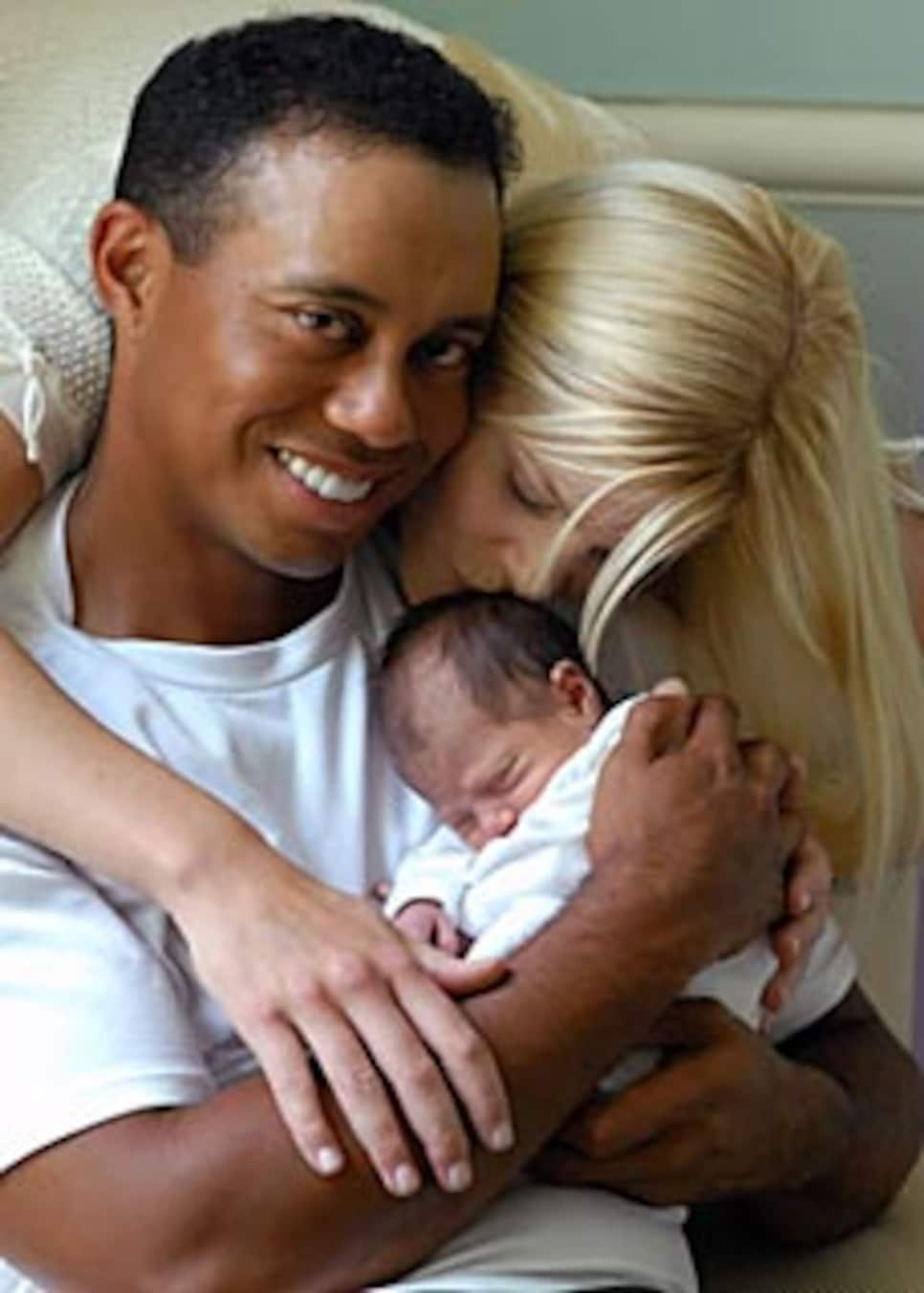 Tiger and Elin with their daughter Sam Alexis Woods.
Besides displaying my throwback wardrobe in public, the surest way to elicit laughs on the PGA Tour is by suggesting that fatherhood somehow could impede Tiger Woods and his appointment with history. I don't really believe that, while chasing daughter Sam Alexis from room to room to room until there are only 50 rooms left in his dream house when it's finally finished, Tiger will lose interest in catching and passing Jack Nicklaus. But, for the sake of argument and filling this space, I tossed the idea out to Tiger's peers. I might as well have asked if they would vote to put Hillary Clinton in her dream house.
"Hah!" scoffed John Cook, who was among the first neighbors to visit Tiger and Elin after their little tigress was born June 18. "You're talking about the most ambitious person I've ever met. Never mind athlete. Most ambitious person. Tiger is able to do more things well by flipping a switch nobody else has. When it's time for golf, he's all golf. When it's time for family, it will be all family. I don't see a problem with his ambition whatsoever. On the contrary. What happens when Sam Alexis comes of age and wants to see what Daddy does at his job? You think he'll go and shoot 75s with her watching? Look out!"
Jesper Parnevik sounded even more ominous about what Tiger will do to the FedEx Cup points derby with a baby in tow, and maybe more on the way. "As soon as we had our first child, Peg in 1995, I won five tournaments the next three or four years," said Parnevik, who warned that Woods might go on a ferocious binge, maybe 25 victories in the next two or three years. Jesper and wife Mia, remember, employed Elin Nordegren as a nanny when she was introduced to Tiger in 2001. Whether Jesper has insider knowledge is unclear, but he did offer a ray of light. If Tiger and Elin produce 20 offspring, "that will be 20 weeks when Tiger won't win because he won't play." Jesper, by the way, was so pumped by his first PGA Tour conquest, the 1998 Phoenix Open, that he named his son Phoenix. Good thing Jesper didn't win the 84 Lumber.
Since the blessed event, Tiger predictably has resumed business as usual, albeit with a certain gleam in his eye. Before debuting as host for his AT&T National last week, Woods declared that a healthy Sam Alexis means more to him than any or all of his trophies. Not surprising, considering Tiger's upbringing. His interviews were genuine and sincere. They didn't come across as so staged there would be a two-drink minimum. Speaking of balance, during this landmark period, there have been two published reports about Tiger's income. One pegs it at $100 million per annum, the other at almost $112 million. That seems like a big difference, but I don't think he's counting. Tiger also appeared on the cover of one of those fitness magazines, detailing a rigorous workout routine that might explain why he looked like a Greek god in a muscle shirt at the U.S. Open. And he's not even Greek, but we all know the feeling of being stared at.
Whatever, dismiss any faint hopes Tiger will become such a doting parent that he will mellow into mush. No fewer than a dozen contemporary golfers have won majors during the same calendar year when they became a father, including Arnold Palmer (1958 Masters, Amy), Tom Watson (1982 U.S. and British Opens, Michael) and even John Daly (1995 British Open, Sierra Lynn). Nicklaus, Tiger's measure of greatness on the job, also established priorities early and often. He and wife Barbara have five children, and Jack's pact was never to be away from home for more than two consecutive weeks, not to mention side trips he made during tournaments to watch his kids at special moments. Of course, Jack also played golf on his honeymoon and collapsed in a heap on cue when Barbara gave birth. In 1965 (Masters in April, Nan in May), Jack muses, "I spent more time in the hospital recovery room than my wife."
Woods is very private about his off-hours, and you would be too if you were met by bodyguards at every parking lot on tour. But while mastering a lonely game, he has found as many close friends as he wants, none more significant than soulmate Elin, who also has a sense of humor and a magnetic personality. Professional athletes are subject to temptation and diversion, but you imagine Tiger and Elin holding hands forever, while bonding with their kids. The Nicklaus clan is an enduring unit, golf's first family, worthy of emulating. What you probably won't see, surmise members of his inner circle, is Tiger entertaining us forever. He will not stop until he beats Nicklaus' mark of 18 majors, perhaps by a bunch, but as for teeing it up deep into his 40s, take the under. Tiger enjoys playing, but also enjoys life when he's not. Whether Tiger and Elin have one child or 20, expect him to exit the arena sooner rather than later for that dream house. You think only Sam Alexis will have a nice crib?