News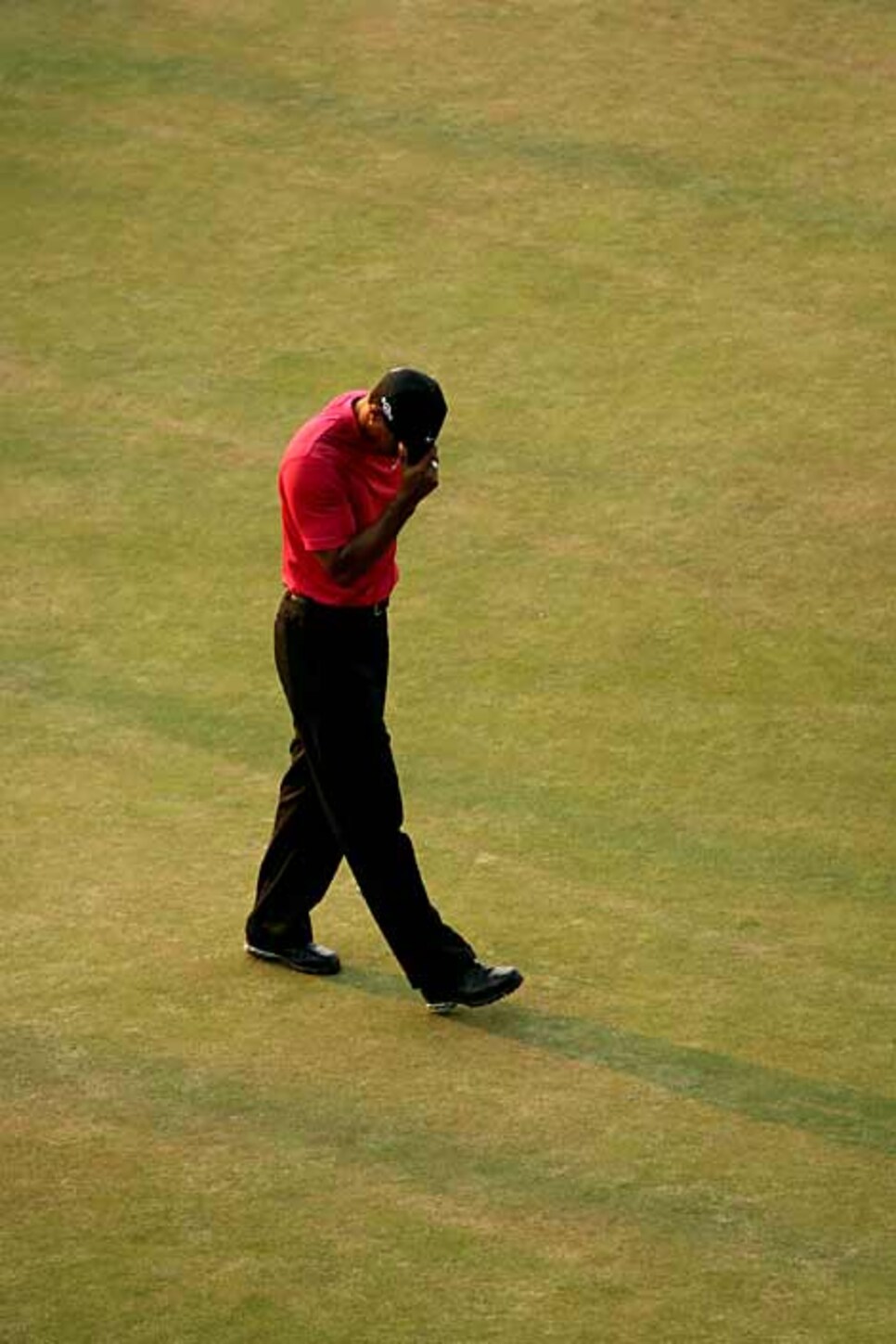 Missed opportunities on Oakmont's greens—like this one Sunday on 18—partly explain Woods' latest major disappointment.
As if to prove that a man doesn't win 18 major championships without enduring a few pangs of anguish, Jack Nicklaus' grand-slam portfolio also includes 19 second-place finishes, a record likely to last longer than his victory total. Thirteen of those seconds were by two strokes or fewer. Seven of them occurred at the British Open. Still, Nicklaus' pile of near-misses has always been viewed in an ultrapositive context, burnishing his legacy as the game's ultimate competitor—a fighter to the very end.
When Tiger Woods finishes second, there is a bunch of mumbling about major malfunctions. Failure becomes a storyline, a subjective hook baited by an appetizing statistic: Woods has won all 12 of his titles when holding at least a share of the 54-hole lead, none when he trails after 54 holes. The stark dichotomy of this trend is what makes it so user-friendly. Until this year, however, Tiger rarely entered the final round of a major in reasonable striking distance, improved that position, then frittered away a chance to gain ground on the long climb up Mount Golden Bear.
However serious the avalanche, Woods' surefooted traction has failed him three times in the past 15 months. Since an icy putter chilled his pursuit of Phil Mickelson at the 2006 Masters, Tiger's inability to come from behind at golf's biggest tournaments has been underscored, if not exposed. He trailed Mickelson by two on the first tee that April afternoon, missed five putts from inside 10 feet on the first 12 holes and wasn't in the mix by day's end.
Woods looked invincible last summer while claiming his third British Open (he led by one through three rounds) and third PGA Championship (co-leader with Luke Donald), but at this year's Masters, he failed to win for the first time in his career when playing from Sunday's final pairing. From the fourth tee to the fifth green, Tiger actually had the lead to himself until Rory Sabbatini's eagle at the eighth moved him from one ahead to one back. It was as close to a fifth green jacket as Woods would get.
For the same scenario to replay itself at last month's U.S. Open was almost unconscionable. Again, Tiger teed off in the last group without the lead, saw the only man ahead of him make an absolute mess of the first hole, then fell behind to a guy virtually no one saw coming. As late as the eighth hole, Woods held a share of first place. His back-nine pursuit of Angel Cabrera was undermined by two costly mistakes—a terrible short-iron approach into the 11th (bogey) and a missed five-footer for birdie at Oakmont's par-3 13th.
Some uncharted ground is best left unvisited. "I don't know what to make of it," says Paul Azinger. "He's still better than everyone else, but he's not winning as many tournaments and he's not winning them the way he was. I don't know if you can say he's losing them, but it's different than it used to be."
A balanced perspective never has been easy to find on Woods—his greatness tends to distort reality. Is he a victim of ridiculous standards or simply not performing to his capabilities? Is there something in his game that prevents him from rallying down the stretch? People talk about him not scaring off fellow contenders the way he once did, but Masters champion Zach Johnson went out two groups in front of Tiger and Stuart Appleby; U.S. Open champ Angel Cabrera teed off four groups ahead of Woods and Aaron Baddeley.
Anyone who saw Appleby (double bogey) and Baddeley (triple) play the first hole Sunday with Woods in their company would have a hard time believing Sir Eldrick has totally lost his stage presence. Having made the final pairing at four consecutive majors, Tiger's fellow competitors have posted scores of 73, 74, 75 and 80. If that qualifies as a pattern, pity the poor guy who plays with him Sunday at Carnoustie.
There are no easy answers to Woods' rally-less career. As is often the case, however, NBC analyst Johnny Miller has one, and it makes a ton of sense. "Tiger always has a very calculated game plan in the majors," Miller says. "He aims for the middle of the greens a lot, picks his spots, doesn't take a lot of unnecessary chances. On one hand, that sort of discipline pays off against dangerous course setups and it's a big reason he has won 12 majors, but it's not the type of aggressive strategy that lends itself to shooting real low scores, the kind of numbers you sometimes need to come from behind."
Bravo, Johnny. Woods has a grand total of two birdies and one eagle in his 36 holes of final-round play at the '07 majors. The eagle came on the par-5 13th at Augusta National. Both birdies were also on par 5s, meaning Tiger has played eight par 3s and 22 par 4s on the two biggest Sundays of the year without picking up a single stroke against the card. Both courses were exceptionally difficult on weeks when the winning score was above par, but Johnson made six birdies to close with a 69, Cabrera five birdies to finish on the same number.
Nobody made a better career out of rallying to win majors than Nick Faldo, whose three Masters and first British Open title all were come-from-behind jobs. "You've got to create opportunity, and the fact that Tiger is always in [contention] is pretty impressive," Faldo says. "It takes a lot more than people realize, and there's more to it than form. You can catch a cold at the wrong time, and it becomes that much tougher. So many factors go into it, physical and mental. There's a tremendous amount of discipline involved."
There's also the elementary notion that Woods' ball-striking isn't where it needs to be, that when he does function at a high level from tee to green—as was the case in the third round of the U.S. Open—he makes nothing and doesn't get enough out of his round. Tiger ranks 165th on the PGA Tour in driving accuracy, the same low-rent district he occupied in 2004 and 2005. He's also 173rd in par-3 birdies—this from a guy who is third in greens in regulation and 18th in putts per GIR.
From '03 through '06, he finished second, first, first and second in birdie-conversion percentage, which is remarkable even when you're Eldrick T. Woods. This year he is 65th. "His swing has occasionally let him down," Faldo adds, "but where was it that he dropped the club inside and half-skulled it?" That would be on Oakmont's third hole in the final round, where Woods was just off the back of the green in two strokes and walked away with his only double bogey all week.
When you're not making birdies, mistakes like that can be awfully tough to overcome. Perhaps Tiger got suckered by his terrific performance at last year's British Open, where he hit a driver just once all week (in the first round) and followed his ultraconservative tactical instincts to shoot Sunday's lowest score (67), good for a two-shot victory over Chris DiMarco. "I think he has the kind of ability that when he's playing well, he can go out in the final round and take the tournament instead of shooting a solid score and hoping others stumble," Miller says.
One might also suppose that a pair of seconds at the '07 majors might have been T-35s a few years ago. No question, Woods has gotten much better at staying in contention when he doesn't have his best stuff, maybe because he has become so used to it. That said, radically tough layouts such as Oakmont and this year's version of Augusta National are far more likely to produce an uncommon winner. The higher the degree of difficulty, the more random the competition becomes, which levels the playing field and brings all kinds of candidates into the mix.
Harder is better for the world's best players, but only to a certain extent. Course fairness is a very subjective matter, but at some point, skill yields ground to luck, in which case you get Ben Curtis and Shaun Micheel. Still, by the end of the week, it's just a man and his golf ball. "He's missing greens with wedges," says one major champion. "We're talking about Tiger Woods, not Joe Blow."
The one and only hasn't had a whole lot to say about his recent major shortcomings. After missing a difficult 25-footer that would have forced a playoff with Cabrera, Woods was asked about having never overcome a 54-hole deficit. "I haven't gotten it done," he said. "Put myself there and haven't gotten it done. That's one of the things that I need to go back and analyze."
Before the '06 Masters, there were just two instances when Tiger entered the final round of a major trailing by two strokes—he otherwise led or faced a greater deficit. The first was at the 1999 U.S. Open, where Woods missed a five-footer on the 71st hole, a putt that would have gotten him a spot in a playoff with Payne Stewart and Phil Mickelson if Stewart hadn't holed that unforgettable 15-footer for par on the 18th green. The second was at the '03 British. Tiger got a bit sloppy down the stretch and wound up losing to Curtis by two, but again, his shortcomings were overshadowed by someone else—Thomas Bjrn suffered a lapse in a greenside bunker at the 16th and basically handed the title to the young American.
To see perhaps the greatest golfer of all-time give up sole possession of the final-round lead at the Masters, then fail to win after holding a share of the Sunday lead at the U.S. Open, is nothing short of big news. No fewer than eight of Nicklaus' 18 major triumphs came about when he trailed after 54 holes. Ben Hogan and Bobby Jones both rallied to win three times; four of Gary Player's nine titles featured final-round comebacks. "It's a total fluke that Tiger hasn't won a major coming from behind, playing the way he does," Miller concludes.
In the final analysis, Woods' career-long drought, which one ESPN blathermouth said could have a harmful long-term effect on how the guy is remembered, means a lot less when you consider the number of majors he has won. One might also guess that the new daddy isn't losing a whole lot of sleep while trying to find a solution. Maybe he should just play better in the first three rounds.