News
The Right Side Of The Tracks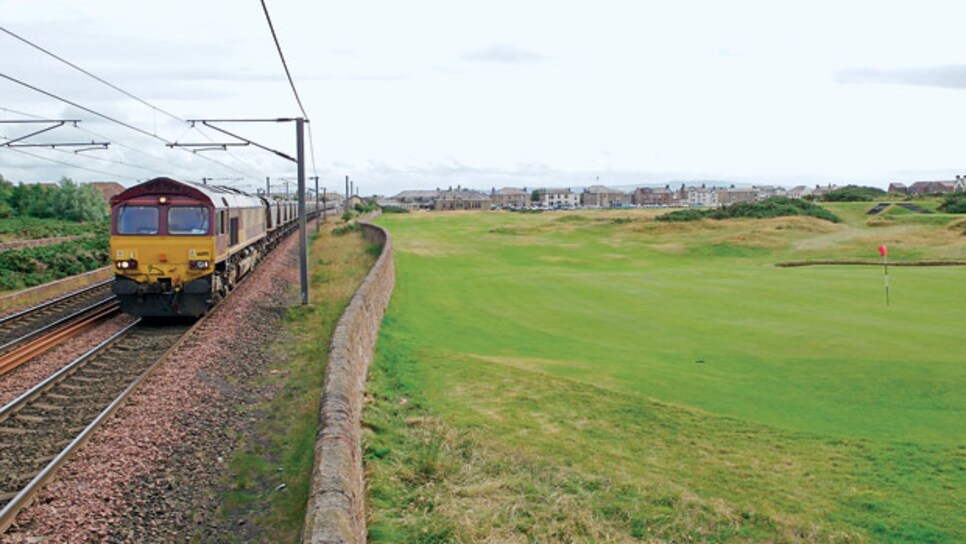 One bonus of rail travel: great views, like this one afforded passengers passing Prestwick.
Three hours after the overnight flight touches down at Gatwick Airport outside London, the first tee at Walton Heath's Old Course stretches out invitingly. I approach in a Zen-like calm. My morning has not been marred by the usual trudge to the car rental counter. I haven't had to stuff my golf bag and suitcase into the trunk or desperately acclimatize to driving on the left by wheeling 'round every rotary twice. Instead, I simply hopped the train to Tadworth, then took a four-minute taxi ride to the course.
Golf established itself in the U.K. long before the automobile, meaning some of its finest courses are within close proximity to railway stations. You can practically crawl from the platform to the first tee at Prestwick, where the first British Open was played in 1860. Ditto this year's host, Carnoustie, where the Golf Street station will handle thousands of spectators daily. The train also will take you to countless marvelous courses you won't find in a car-centric trophy hunt for Open venues: Gleneagles. Formby. Pitlochry. And hundreds of others awaiting discovery.
There are many ways to combine golf and rail travel, but my favorite is the simple approach: setting up camp in a single city and taking day trips out to the courses by train. Imagine sleeping in the same bed for your whole journey. No more late-night scrounging for restaurants. No sitting in a cramped car stuck in traffic. You can visit a museum in the morning and play 18 in the afternoon, easily segueing from a round to the theater afterward if you're up to it. Play cards traveling to and fro. Read three newspapers.
You can even nap--though, if you do, you'll miss out on some terrific scenery. Railways showcase countryside hidden from a sterile motorway: massive stone estates and wee cottages, narrow boats on rivers and canals, tidy community gardens and pastures filled with sheep, babbling brooks and schoolyard cricket ovals.
If romantic visions of train travel do not move you, perhaps economics will. A rental car big enough for four adults and luggage runs $1,000 for a week. Petrol is 95 pence a liter, so with a $2=£1 exchange rate, a gallon of gas is just shy of $7. Throw in parking and you're looking at $500 each for a foursome. By comparison, the least expensive regional rail passes dip below $200. Toss in a few short taxi rides to the first tee and it's still a bargain. The most expensive eight-day pass, first-class across England, Scotland and Wales, is $500 (britrail.com
). Even then you're ahead of the game.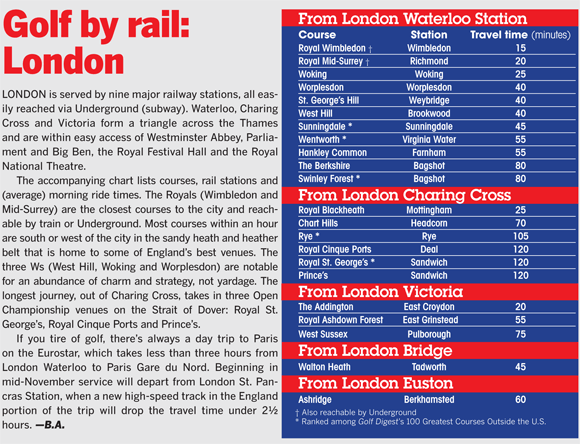 Rails in the U.K. are a team effort. The government's Network Rail takes care of the tracks and about 20 private companies offer franchised service. Most are local or regional entities while a few, such as Virgin Trains and GNER (Great North Eastern Railway), cover wide swaths. A single rail pass offers access to it all.
Railway titans were behind many of the inland courses developed in the late 1800s and early 1900s. They made certain their new lines had stations beside large tracts that were ideal for golf and housing. That's why, for instance, the rail bed to Epsom Downs and its famed horse track doesn't run straight from Banstead, just outside London. Instead it sweeps south to Tadworth, a mile from the first tee at Walton Heath, then doglegs hard right toward Epsom Downs.
At its peak the rail system included about 22,000 miles of track, according to Ian Nalder, whose books include Golf and the Railway Connection. Now it's about 11,000. As a consequence, Nalder says, the loss of entire lines, or stations dedicated to specific courses, means many magnificent layouts are now reached only by car. "Turnberry," he says, ticking off the most painful casualties. "Blackwell, outside Birmingham, lovely little course. Ganton in Yorkshire--that station's long since gone. Western Gailes had its own station. Lossiemouth had a railway station."
Ken Macpherson, the professional at Walton Heath, wistfully tells of teeing off over the railway sheds from the 17th tee at St. Andrews as smoke billowed into the sky. The train line closed in 1969. Now the closest station is Leuchars, only five miles by taxi but obviously not the same.
Getting the hang of riding the railway is no more difficult than learning to drive on the left. The National Rail website (nationalrail.co.uk
) dispenses complete schedule information. Even the smallest station has digital clocks and arrival-departure boards with schedules updated continually. All you need to know is each train's departure time and station, its destination, and where you want to disembark.
In the sample itineraries accompanying this article, all courses are within an easy walk of the train station or, at most, a £5 taxi ride.
From London, the most adventurous day trip by rail ventures to England's southeast corner, to places rarely seen by golfers from the U.S.: Royal St. George's and Royal Cinque Ports. Sandwich and Deal--the clubs are traditionally known by their train stations--are to England what Shinnecock Hills and National GC are to Long Island or Pebble Beach and Cypress Point are to the Monterey Peninsula. Each pair is sited on adjacent land, yet presents entirely different tests. While Royal St. George's is one of the best British Open venues and a regular host, the R&A also took the championship a few miles south to Royal Cinque Ports in 1909 and 1920 (and a few miles north to Prince's in 1932).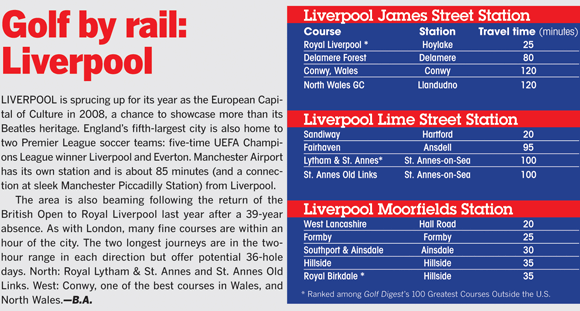 It takes two hours from London's Charing Cross to reach Deal: through Kent, the garden of England, then parallel for a time to the Eurostar tracks to Paris and finally hugging the base of Dover's chalky white cliffs. It's five minutes in a cab from the Deal station to Cinque Ports, the quirky collection of humps and bumps hard against the Strait of Dover seawall. This is where Walter Hagen played his first Open, where in 1920 George Duncan won despite entering the second 36-hole day trailing by 13.
The first hole, it is said, makes a better 19th because it passes below the clubhouse's broad second-story windows and balcony. It is ideal for watching The Grand Match, the annual contest between former Ryder and Walker Cup players. The 11th green, farthest point on the zigzag out-and-back loop, is closer to St. George's clubhouse. Throughout Cinque Ports are some of the most varied terrain and bunkering you'll ever experience, with a multitude of blind shots as well.
A £10 taxi ride north to St. George's follows the Ancient Highway, the conquerors' route taken by Claudius Caesar after making landfall in England in 43 A.D. In far more modern conquests, St. George's has crowned Hagen, Bobby Locke and Greg Norman. It can be a fierce test in a gale and plenty entertaining in a moderate wind, flatter than Cinque Ports with superb links greens. The full British lunch, with carving board, is not to be missed.
North of that sits Prince's, the few holes abutting St. George's giving yet another look to the seaside. Its 27 holes are aptly described in the names of its nines: Shore, Dunes, Himalayas. Gene Sarazen won the 1932 Open here and in 1956 Great Britain and Ireland claimed the Curtis Cup for only the second time.
Tucked in the island's lower-right corner, it's too far to incorporate into a trip that features the traditional Scottish haunts. By train from London it is an admittedly long day but much easier than in a rental car. Christopher Gabbey, the congenial secretary at St. George's, let escape a small smile when asked about the percentage of players from the U.S. Visitors from the Continent know the way there even if most Yanks take a pass.
Don't feel up to a four-hour round trip? There's plenty within an hour of the city's center. You could play 36 a day for nearly two weeks and still not see all the top layouts. It would take a week to get through the clubs reachable from London Waterloo Station, places like Sunningdale, Wentworth and Woking.
Each time you ride out of London Waterloo, pop your head up from the paper or the card game a few minutes beyond Weybridge station. Check out the M25 overpass. Chances are you will spot some impossibly congested traffic. Be forewarned that you'll be overcome with a sense of smug satisfaction, thinking of the poor stiffs commuting to work--or driving to the course. Savoring those moments will feel better than hitting an 18th-hole approach stiff with an opponent already counting out your cash.