News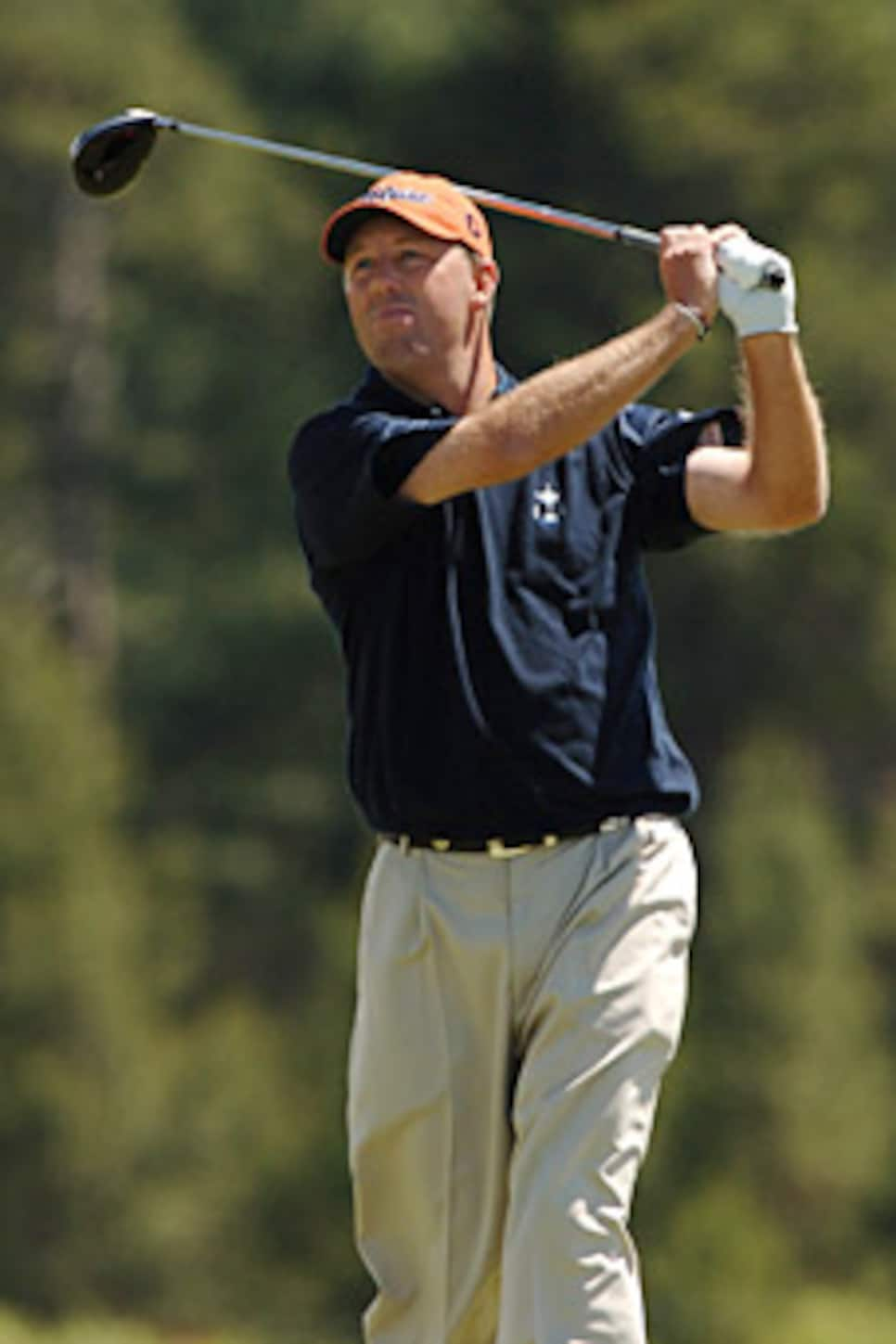 Old school: Coach Small continued to play big with a driver less than max size.
At last week's PGA Professional National Championship at Sunriver (Ore.) Resort's Crosswater course, it was an appropriate time to see what clubs were being played by those whose job it is to sell equipment to the masses. Although the big brands remained prominent at Sunriver, there were enough oddball clubs to make it clear these were not players with multimillion-dollar endorsement deals, but rather pros playing pretty much what they wanted to.
Take Bob Ackerman, for example. The owner of the Bob Ackerman Golf Academy in Commerce Township, Mich., Ackerman finished T-31 last week with nine of his 14 clubs coming from Henry-Griffitts. Ackerman, a Griffitts clubfitter for nearly 20 years, obviously believes in what he sells.
Other players believed in clubs more commonly found now on eBay and in used-club bins. Roy Christensen, an assistant pro at the Reserve at East Bay GC in Provo, Utah, used a TaylorMade R580 XD driver and a Daiwa putter. Infomercial watchers had to appreciate Erik Wolf, a teaching pro at College Golf Center in Palm Desert, Calif., having an Alien 4-wood in the bag. On the greens former tour player Brett Upper, now the director of golf at Arizona CC in Phoenix, wielded an original Zebra putter, while Robert McGrath, director of golf at San Jose (Calif.) Municipal GC tried his hand with the Hammy.
"I just needed a little help with the short putts," said McGrath of the split-grip, hockey stick-style putter. "I started using it about a month and a half ago. I didn't really read the instructions on how to use it."
The more notable names used some interesting clubs, too. Chris Starkjohann of The Hodges Golf Learning Center in Escondido, Calif., used Nike's NDS irons (which cost $350 for a set of eight), and Mike Small, who won the championship in 2005, used a 420cc Titleist 907 D4, a modest upgrade in size from the 365cc Titleist 983K driver he had been using.
"I never got used to the large heads," Small said simply as way of explanation.
Equipment scoop from the tours
Jay Williamson ran into a problem with his TaylorMade r7 SuperQuad driver when he put the club on the ground at the 12th hole at TPC River Highlands during the second round of the Travelers Championship and heard an unusual sound. Fearing the club was broken, Williamson inspected it and found one of the weight screws had come loose. Not sure if it was OK to use, Williamson asked a rules official who assured him it was legal to play with as is or with the screw tightened. Williamson's playing companion, Jeff Brehaut, who also uses a TaylorMade driver and had the wrench that tightens the screws in his bag, lent it to Williamson, who went on to hit all 14 of his fairways during the round. --Eric Axley had a solid first outing with a new set of Mizuno MP 32 blade irons. The lefty hit 66.7 percent of his greens last week at River Highlands en route to a T-22 finish. -- After a shaky first round (35 putts) with his new Cobra Optica putter, J.B. Holmes saw steady improvement, needing just 30, 28 and 26 putts during the last 54 holes at the Travelers. -- Ernie Els used a new Odyssey White Hot XG #5 center-shafted blade last week at the BMW International Open in Germany and needed just 55 putts over the last 36 holes, including a mere 26 during a final-round 67.