News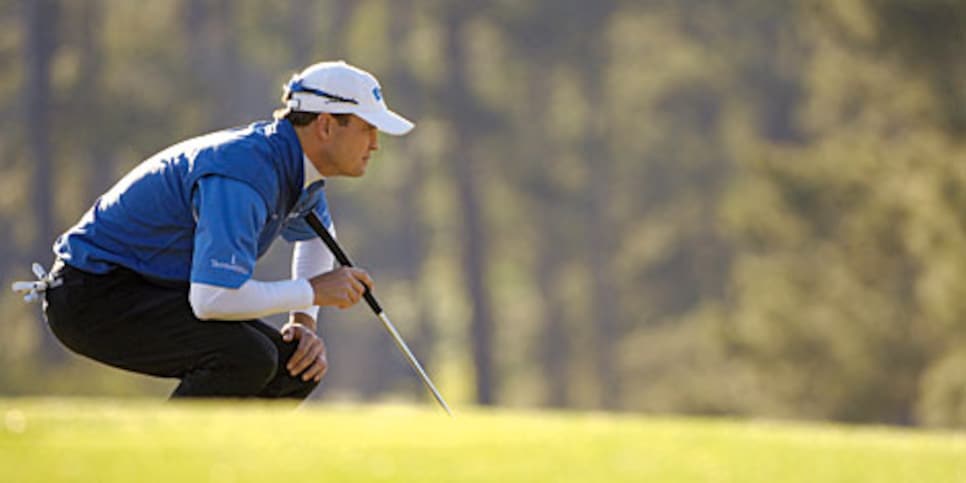 Although he had six three-putts over four days, Johnson made key putts down the stretch.
Outside the butler cabin sunday night, Dave Johnson's eyes were red from the tears of a long, emotional hug he had just shared with his son. In many ways this was the same boy who grew up on Adirondack Drive in Cedar Rapids, Iowa. Zach Johnson always wanted the ball.
"The thing I remember about Zach the most was when he was 3 years old, kicking a football downstairs for hours," said the father of the new Masters champion. "We had a little Nerf basketball game, and he'd shoot that for hours. And those little footballs they used to throw out at college and high school games … I'd have him throw them to me in the garage, and he'd throw perfect spirals."
Inside the cabin Zach Johnson was wearing his green jacket and receiving congratulations from the new Masters chairman, Billy Payne, while his wife, Kim, their 14-week-old son, Will, and family members from Iowa and friends from golf were trying to recover from the shock. Outside, Dave Johnson, a chiropractor who still resides in Iowa, thought back to Zach's high school career.
As a high school junior, Zach stood barely 5-foot-3 and weighed just 110 pounds. He was still scrappy enough to play junior varsity soccer and letter on the Regis High School varsity golf team, though he was never good enough to advance beyond the No. 2 position.
The story goes that he wanted to play golf for Iowa, but the Hawkeye coach took Regis' No. 1 player, and Zach signed with Drake University. He eventually hit "a little growth spurt" as his father called it, but he still only topped out at 5-foot-11 and 160 pounds by his senior year. It never hampered his athletic career. Johnson was known as one of the best three-point shooters in the college's intramural basketball league, and as a forward for the soccer team, he scored enough goals to make the All-Metro team. "He was a scorer," said Dave Johnson. "They liked to say he'd cherry pick. If the ball got loose, he was there to kick it in."
Not unlike the way Zach won the Masters—taking advantage of his opportunities, executing calmly amid all the chaos around him on the final day, as his fellow competitors (including Tiger Woods, who was going for his third straight major) repeatedly missed their targets. Immediately, the new champion was compared to Jack Fleck, the Iowa club pro whose defeat of Ben Hogan in a playoff for the 1955 U.S. Open is considered one of golf's monumental upsets (see page 71). To knowledgeable golf fans, Johnson has more of a pedigree than Fleck did in 1955, but to many in the mainstream sports audience, the reaction was probably "Zach Who?"
The basic facts of Johnson's biography don't do justice to his heart—or his putting stroke. His only PGA Tour victory came as a rookie in the 2004 BellSouth Classic. He made the Ryder Cup team last year and was one of the few bright spots on a United States squad that was steamrolled by the Europeans at the K Club in Ireland. Before that he set records on the Nationwide and Hooters tours, where he became close friends with Vaughn Taylor, the Augusta native, PGA Tour player and fellow Ryder Cup rookie who, perhaps fortuitously for Johnson, ended up as his playing partner (and biggest supporter) for Sunday's final round.
Standing under the tree by the clubhouse when it was over, Taylor remembered their days competing on the minor leagues of golf, playing courses that were, shall we say, a couple of tiers below Augusta National. They shared rooms at Super 8 motels, shelling out their $800 entry fees knowing a top-10 finish probably wouldn't cover their expenses for the week. One year Johnson and Taylor played a Hooters Tour event at the River GC, across the Savannah River from downtown Augusta. "We never talked about playing in the Masters," Taylor recalled. "But we always dreamed about it."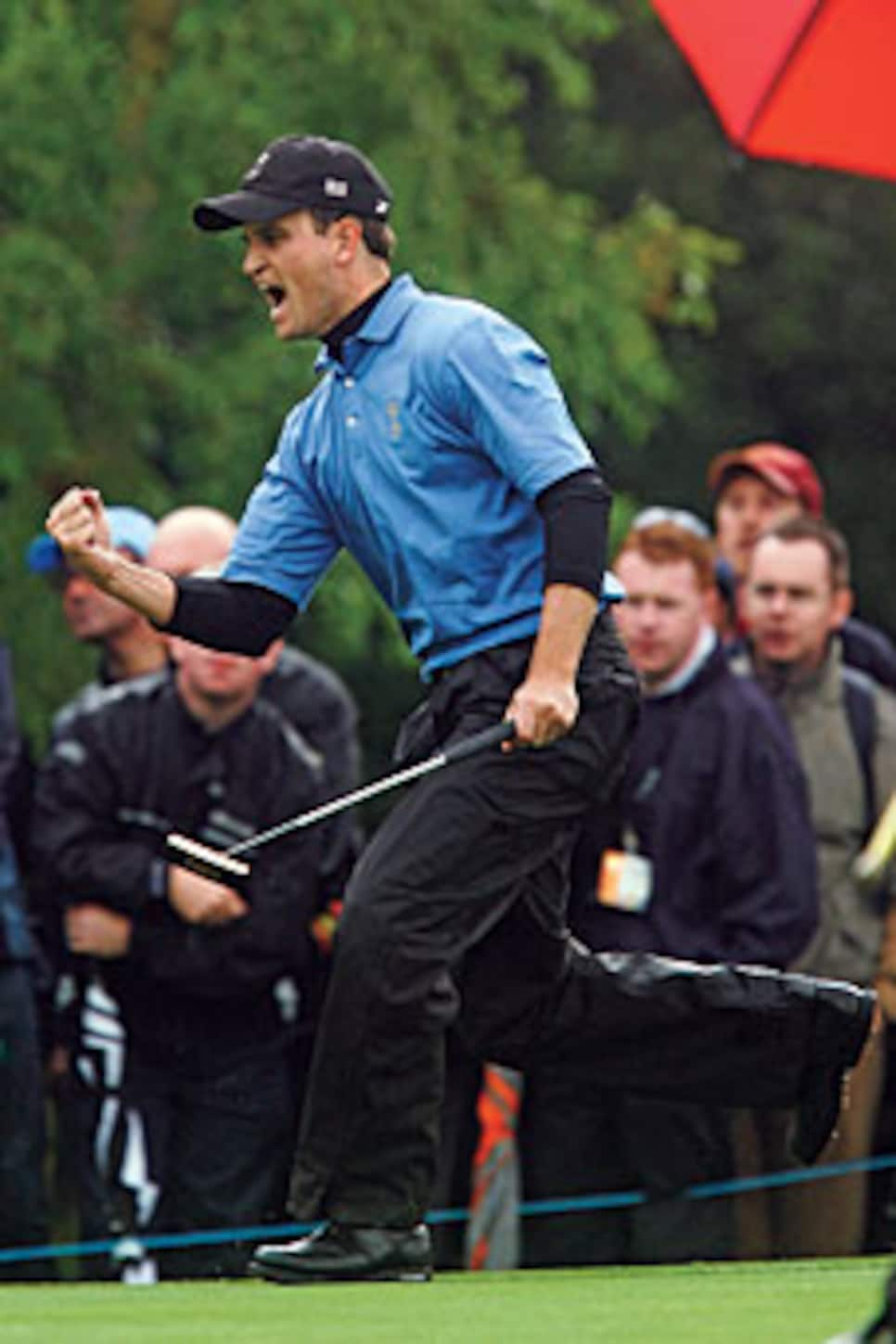 According to Taylor, Johnson was a good roommate. He never snored, kept his side of the room neat and was a good practice partner. About the worst thing Taylor could say about Johnson was that he was notoriously late. "We were always waiting on Z," Taylor said.
That wait ended Easter Sunday in the cathedral of golf, perhaps appropriate considering the 31-year-old Iowan's devout faith (Christianity) and deep respect for the game. Johnson, who repeatedly credited his faith for helping him remain steady under the final-round pressure, is a regular at the PGA Tour's Bible Study and a frequent speaker at breakfasts hosted by the Fellowship of Christian Athletes. One of his closest friends is Larry Moody, the tour's chaplain. "He loves life, loves his country, loves his God," said Moody. "He's the All-American young man."
Also under the tree Sunday as Zach took part in the green- jacket ceremony was Brad Ball, a friend from West Palm Beach who played on the Buy.com (now Nationwide) Tour with Johnson in 2000. "We had a lot of good Friday and Saturday nights because we didn't play on Saturdays and Sundays," Ball said. "I wouldn't say he's straight. He just knows his direction. He knows what's important in life. He's a model citizen. He should run for President some day. There are no skeletons in his closet."
At the WGC-CA Championship earlier this year, Johnson was seen pushing Will (full name: David William) around the Doral facility in his baby carriage, looking happy for the first time all year. Friends blamed homesickness and separation from his son for Zach's poor showing on the West Coast—it wasn't until the last stop of the Florida swing in March that Johnson finally registered his first top-10 of the year (and only his second since last year's Memorial Tournament).
"He's such an 'aw shucks' guy," said his putting coach, Patrick O'Brien. "The thing that's most striking to me is that inside the ropes he's as gritty a competitor as anyone. He wants to cut your heart out. As soon as he signs his card, he's the nicest guy in the world. It's pretty hard to find a balance between that."
But while Johnson rarely cusses or has a drink, he is known to compete in everything from word games with Kim to Tuesday games on tour with Taylor. After setting a Nationwide Tour record for earnings in 2003, he spent the winter at his home outside Orlando, preparing for his PGA Tour rookie season by playing against the established tour pros who live in the area, including Chris DiMarco. It wasn't unusual for him to go home with the most skins. "He's tough, and he loves being nervous, loves being under the gun," said Taylor.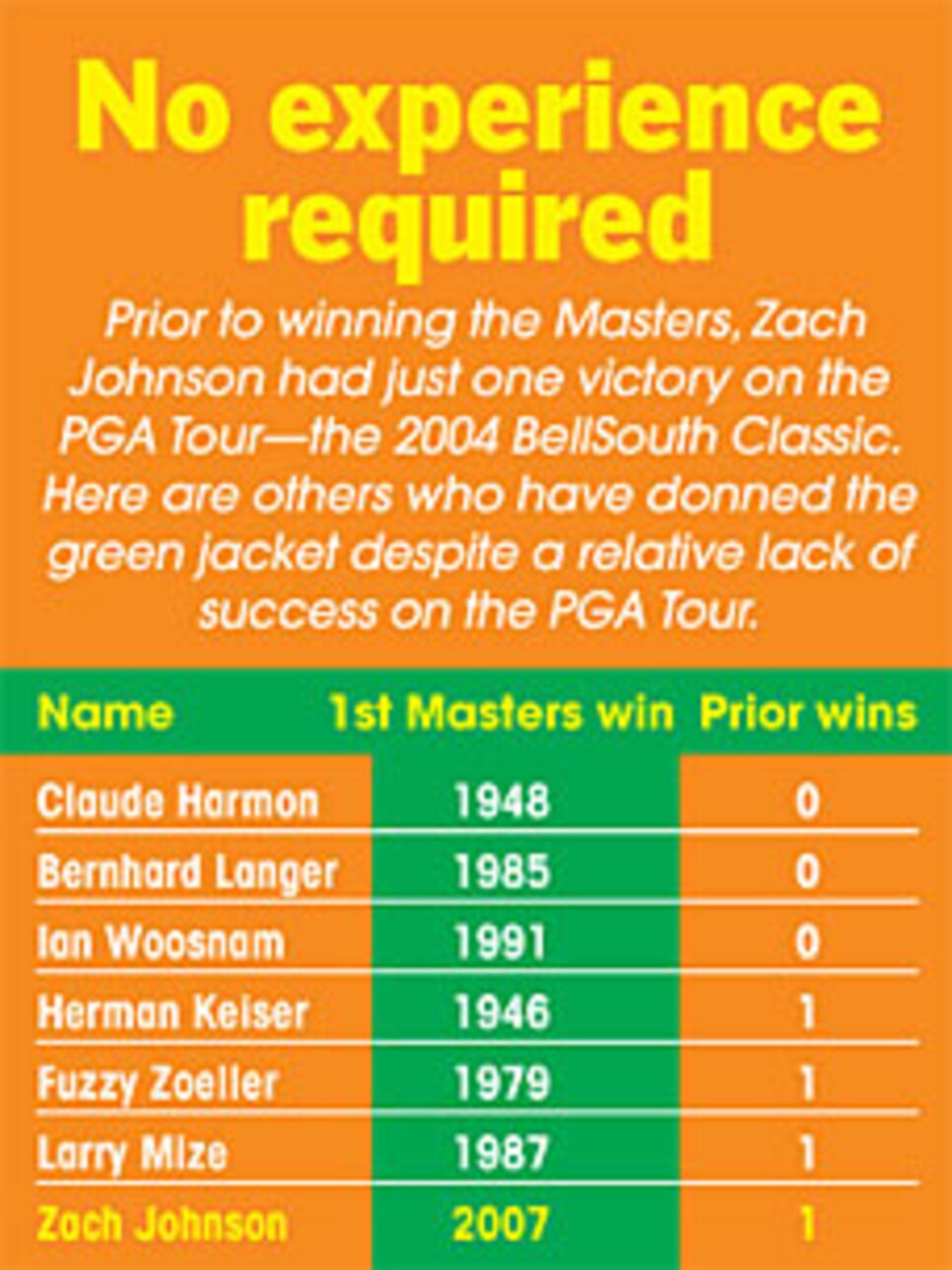 There is no greater pressure than the kind Johnson experienced Sunday, but his confidence—bolstered by preparation and a solid game plan—never wavered. The week before the Masters, Johnson worked with sport psychologist Morris Pickens at the Frederica GC in Sea Island, Ga. They practiced off the front of tee boxes to replicate the awkward lies he would face on Augusta's 13th and 15th holes, and formed a strategy based on Johnson's lack of power (274.5 yards in driving distance, which ranked 162nd on tour prior to Augusta). Johnson knew Larry Mize had only gone for one par-5 green with his second shot when he won the 1987 Masters, so he understood his relative lack of distance could be overcome. "It's normal and natural to wonder if you're good enough to compete on this stage," Pickens told him. "Get out there and compete your butt off and let's see. With three or four holes to go, you might have a chance."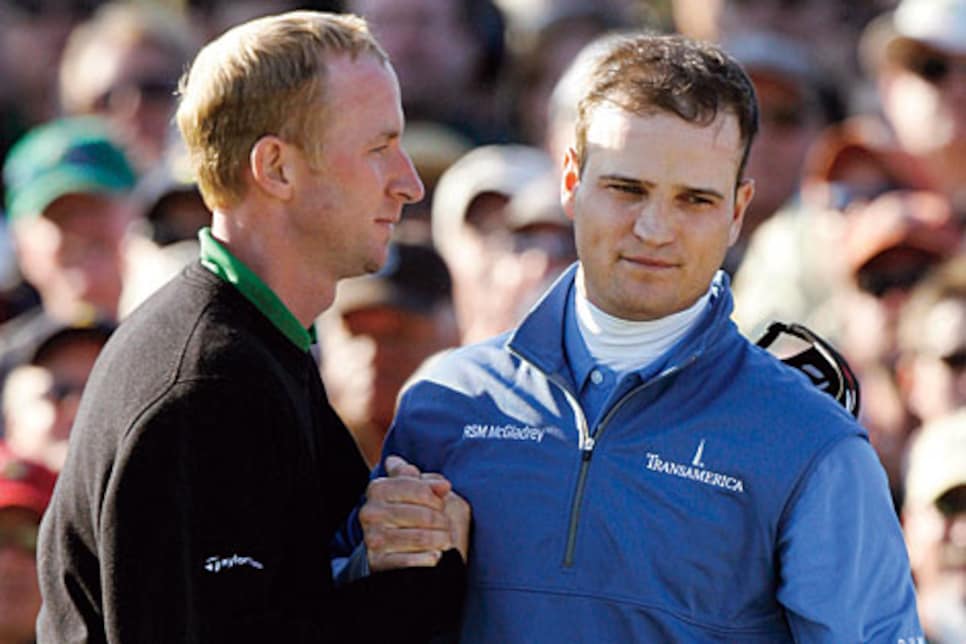 The plan worked. When Johnson laid up on 13 from a hanging lie with 213 yards to carry Rae's Creek, the second-guessing started. But he pitched his third shot to 10 feet and holed the birdie putt that put him at two over for the tournament—and 11 under on the par 5s for the week (by comparison, Woods was nine under). Johnson went on to birdie the 14th (holing virtually the same right-to-left slider Woods missed two groups later) and par the 15th (after another lay up), setting the stage for steeliest moment of the week.
On the 16th hole he hit a 6-iron to 10 feet, to the right and just below the cup. Though he is ranked seventh on tour this year in putts per round, Johnson is only 118th on tour from 10 feet or less—and this putt was for a three-stroke lead over Woods with two holes to play in the Masters, on a hole he had bogeyed the first three rounds, including an embarrassing three-putt from four feet Friday. But Johnson was in the zone. Damon Green, his caddie, was reading the putt when Johnson said, "What do you think, a couple of cups [outside the right edge]?" Green liked what he heard in Johnson's voice. "I said, 'Perfect, Z' and he just piped it," said Green later. "Right in the heart."
Just like the earlier putts on 13 and 14, which was what impressed Taylor the most. As the pressure built, Johnson made his coolest strokes, as though he had been doing it all his life. "Those putts weren't lipping in or doing anything funny." Taylor said. "They were center cut."
Until Sunday, Johnson was the second-most famous graduate of Regis High behind Kurt Warner, the 2001 Super Bowl MVP quarterback for the St. Louis Rams. Monday night Johnson was to appear on Late Show with David Letterman in New York (fellow guests: presidential candidate Barack Obama and Oscar-winning actress Halle Berry). After ringing the opening bell at the New York Stock Exchange Tuesday morning, he was scheduled to return to Hilton Head Island in time for Wednesday's pro-am before the Verizon Heritage. He will get back in his new motor coach, the one he and his family stayed in last week, parked in a vacant lot near Augusta National (Johnson's only worry Sunday night was that in all the excitement, his Yorkshire terrier, Hogan, hadn't had his usual evening walk), traveling the roads the way he once did on the mini-tours, except now he's changing diapers and riding in style with his family.
Johnson's Masters victory will undoubtedly be compared to the recent major championship wins of Ben Curtis, Todd Hamilton and Shaun Micheel (performances that were unexpected and, in the cases of Hamilton and Micheel, not followed up with additional wins), but to Zach's friends and family, this title is no fluke, and he isn't a no-name. "We should embrace him," O'Brien said Sunday night. "I think most people gave this tournament to Tiger before anybody teed off today, but here's a guy who shot 69 and took it. He stood up to the challenge. Zach's not afraid of anything. I think we saw that today."