News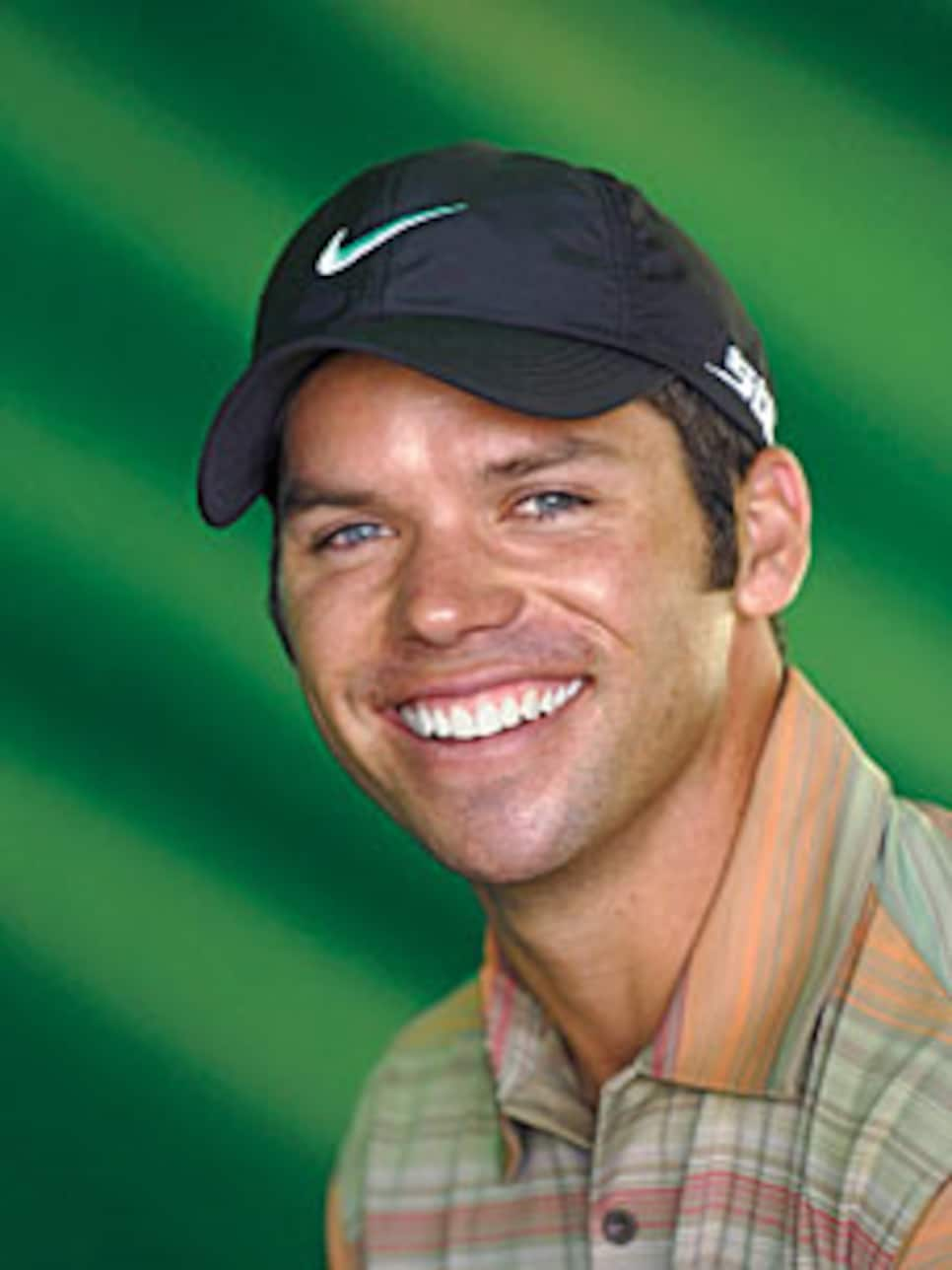 Weight lifted: Starting in late 2005, Casey benefited from sessions with a sport psychologist.
Paul Casey has recovered. He no longer has weekends where he shuts himself inside his London apartment and refuses to go outside. His panic attacks on practice ranges while warming up for tournament rounds—such as the day at Pinehurst at the 2005 U.S. Open when he started having back spasms—are a thing of the past. His website no longer is inundated with hundreds, even thousands, of hate e-mails. His friends and family, who at this time two years ago believed Casey was on the verge of a physical and emotional breakdown, are breathing easier. Casey's dark days are finally behind him.
Casey is the Englishman who said some things about Americans he probably should not have and paid the price—many times over. The controversy stemmed from a 2004 Sunday Times interview in which Casey, while initially talking about how European Ryder Cuppers felt about their U.S. opponents, opined on Americans' lack of worldliness ("The vast majority of Americans simply don't know what's going on."). Those turned out to be incendiary words at an incendiary time. The war in Iraq was a year old, and anti-American sentiment around the world was growing. Casey got caught in the backlash. He was mocked, ridiculed and cast as something he insists he was not and is not: an American hater.
How could Casey hate America? He spent three years at Arizona State, lives in Scottsdale part of the year, dates an American woman, takes his lessons from an American swing coach and shops in American supermarkets. "I love it here," he says one day over breakfast at Whisper Rock, his home club in Scottsdale. "I pay my taxes. I've got a pickup in the garage."
But the controversy nearly broke Casey, both in body and in mind, and only recently has he managed to claw his way back to where he was before those words were printed. Now 29, Casey is once again viewed as one of the game's best young players. He was a hero for Europe during last year's resounding Ryder Cup triumph over the U.S. in Ireland. He is the reigning European Tour player of the year and a viable threat at this week's Masters. And, along with Henrik Stenson, he is in the vanguard of a generation seemingly poised to take over from the likes of Nick Faldo, Ian Woosnam, Bernhard Langer, José Maria Olazábal and others. Best of all, Casey no longer is viewed as the British kid who popped off and lost his way. "What happened, happened," says Ernie Els, his neighbor at London's Wentworth golf community. "I don't think people even remember that.
"You know, I'm still not sure what he said or what was written," says Els, "but I think it was a naïve way of Paul saying how much [the Europeans] love to win the Ryder Cup, and obviously it was blown up a little bit. He should have known better, to be honest, because you shouldn't say things like that. But I do feel he got a real raw deal from a lot of people. It looked like his spirit was broken by people who turned their backs on him, basically to teach him a lesson."
Casey nods when told of Els' description. "You could see where I was breaking down," he remembers. "My mind was breaking down. My body was breaking down. If there is a happiness scale from 1 to 100, with 100 being the pinnacle and 1 being suicidal, I wasn't a 1, but I was low."
The turning point came in fall 2005 when Peter Kostis, the CBS broadcaster who also is Casey's swing coach and mentor, sent him to New York for sessions with Dr. Don Greene, a sport psychologist who works with music students at the Julliard School. Kostis describes the state of Casey's mind and game at that time as "critical"—the stress and anxiety the Englishman was feeling about the resentment being directed at him was starting to affect his golf game. But, during a three-day session with Greene, Casey felt set free. Says Kostis: "If Paul had been forced to play under that level of stress for much longer, it could have been the demise of his career. Once you get to a certain point, it's very difficult to stop and turn in another direction. Don got Paul on a program to recapture his perspective, and more than anything, his enthusiasm."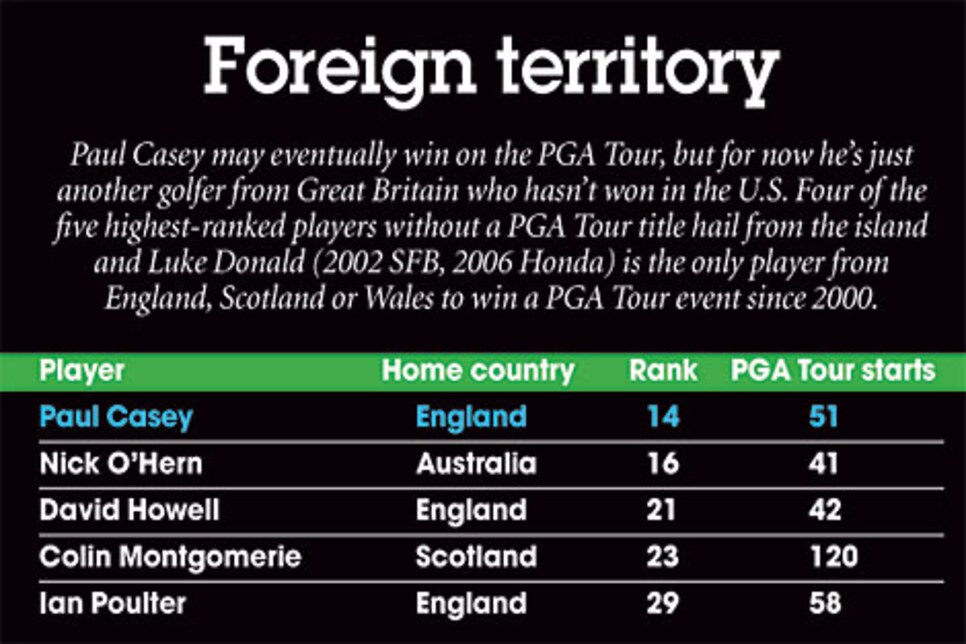 The first sign of a breakthrough, at least on the golf course, came at the 2005 Omega European Masters, when Casey finished third. Coincidence or not, it happened to be the first event of the qualifying process to determine the 2006 European Ryder Cup team. Casey went on to win the Volvo China Open in November (his first win in eight months) and twice more on the European Tour in 2006, capped by his 10-and-8 crushing of Shaun Micheel in the final of the HSBC World Match Play at Wentworth—where, 15 months earlier at the 2005 Volvo PGA Championship, he had been so stricken by panic while warming up, he didn't want to leave the practice range.
But it wasn't until his Ryder Cup performance at the K Club in Ireland one week later, where he went 2-0-2, including an eight-birdie Sunday singles victory over Jim Furyk, that many of the demons were exorcised. "The Ryder Cup in '06 buried the whole issue once and for all," Casey says. "It was done. It was a big goal for me to get on that team and play well. I did that. I was undefeated. [The match against Furyk] was one of the finest rounds of golf I've ever played, not necessarily because of the score, but because [of who I beat]. I felt as though I had come completely full circle."
The next step, according to Kostis, is for Casey to become more comfortable playing in the United States and then contending in the majors on a regular basis. Jocelyn Hefner, Casey's American girlfriend, says the furor has died out to the point that she no longer wears an iPod to PGA Tour events to block out anti-Casey comments by the gallery. "He still lives with what happened," says Hefner, a University of Florida graduate whom Casey met during the 2001 Honda Classic. "He hasn't forgotten about it, for sure. But he really made the effort to come back and do it properly—I'm using that word again both in a British sense and the American sense—of 'doing it right.' It was a life lesson for everybody. He's one tough, tough person mentally."
Before the full effects of his Sunday Times interview took their toll, Casey displayed considerable resolve at the 2004 WGC-World Cup in Spain, the week his anti-American comments were published. Unable to sleep, brought to tears when confronted in a restaurant in Seville by the angry American wife of another player, Casey somehow managed to ignore the negative reaction and, with partner Luke Donald, led England to its second World Cup victory. "I've never seen anybody putt as well as he did that week," recalls Donald. "He was saying, 'Just put it on the green, and I'll make it.' "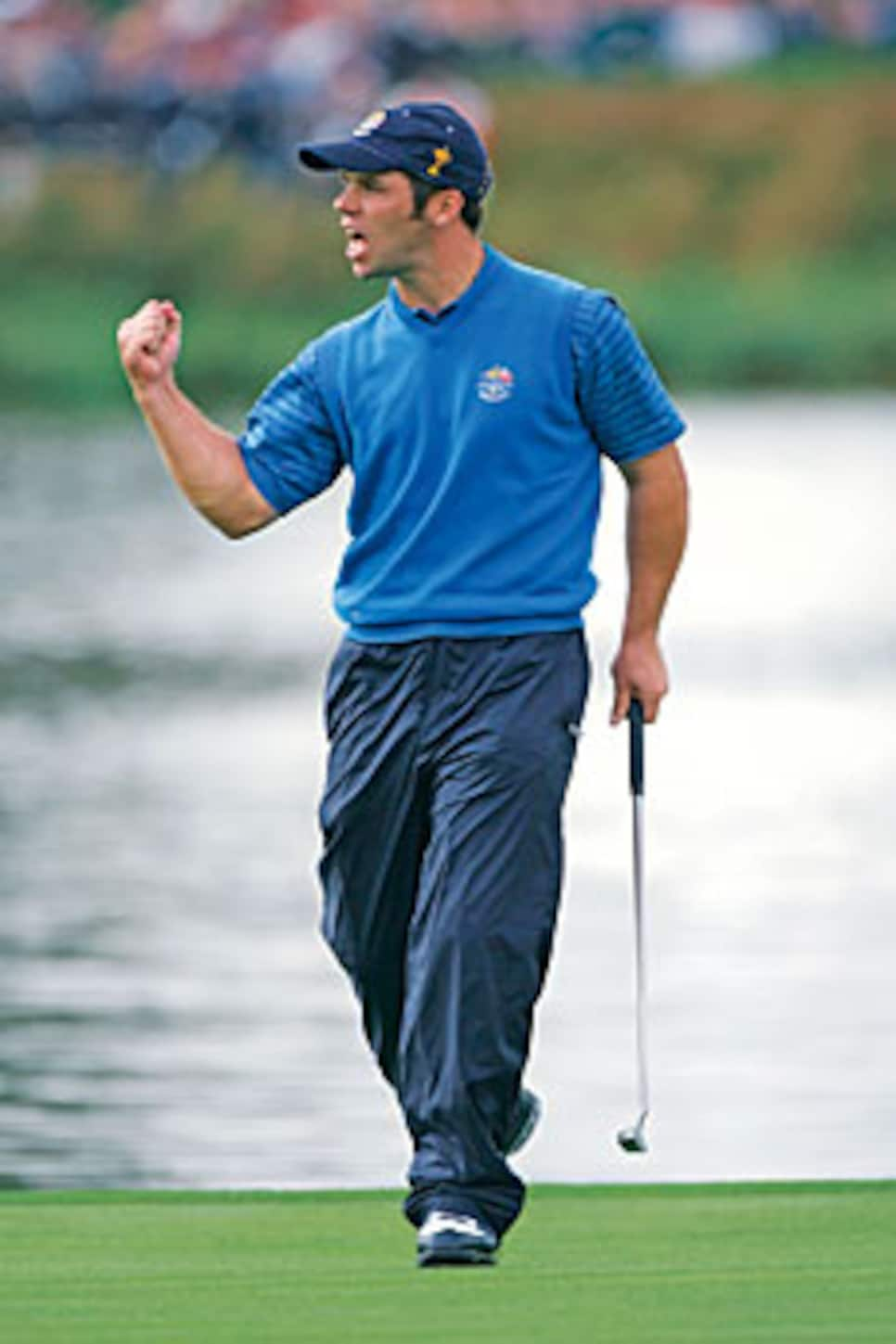 Casey, the son of a South African rugby player, had been known for the strength of his Popeye-like forearms, but his power is more balanced now, thanks to the help of Damon Shelton, his Scottsdale-based strength and flexibility coach. Stronger in the back and hips, he is able to practice longer, swing more on plane and stay stronger late into rounds. At Abu Dhabi earlier this year, Casey shot 65 Sunday to hold off a leader board that included Chris DiMarco, Retief Goosen, Padraig Harrington and Stenson.
His play in the United States this year has been tantalizing but so far unfulfilling. At the WGC-Accenture Match Play Championship he advanced to the quarterfinals before losing to defending champion Geoff Ogilvy. Despite suffering from the flu at Bay Hill, Casey opened with a 64 and was in contention until the back nine of the third round, when he started to wear down and eventually struggled to a T-14 finish. He improved to T-9 at the WGC-CA Championship at Doral and firmly believes that he is on the verge of his first PGA Tour win. Maybe it will happen this week at Augusta, which also happens to be the site of his only career top-10 in a major (a T-6 in 2004). "Among the four majors, I feel the Masters provides the best opportunity for me to win," he says. "I've got high ball flight with my irons, I can shape the driver both ways. I know I've got a great short game, and if I get my mind in gear, I can putt. Plus, the whole ambiance of the place: It's cool."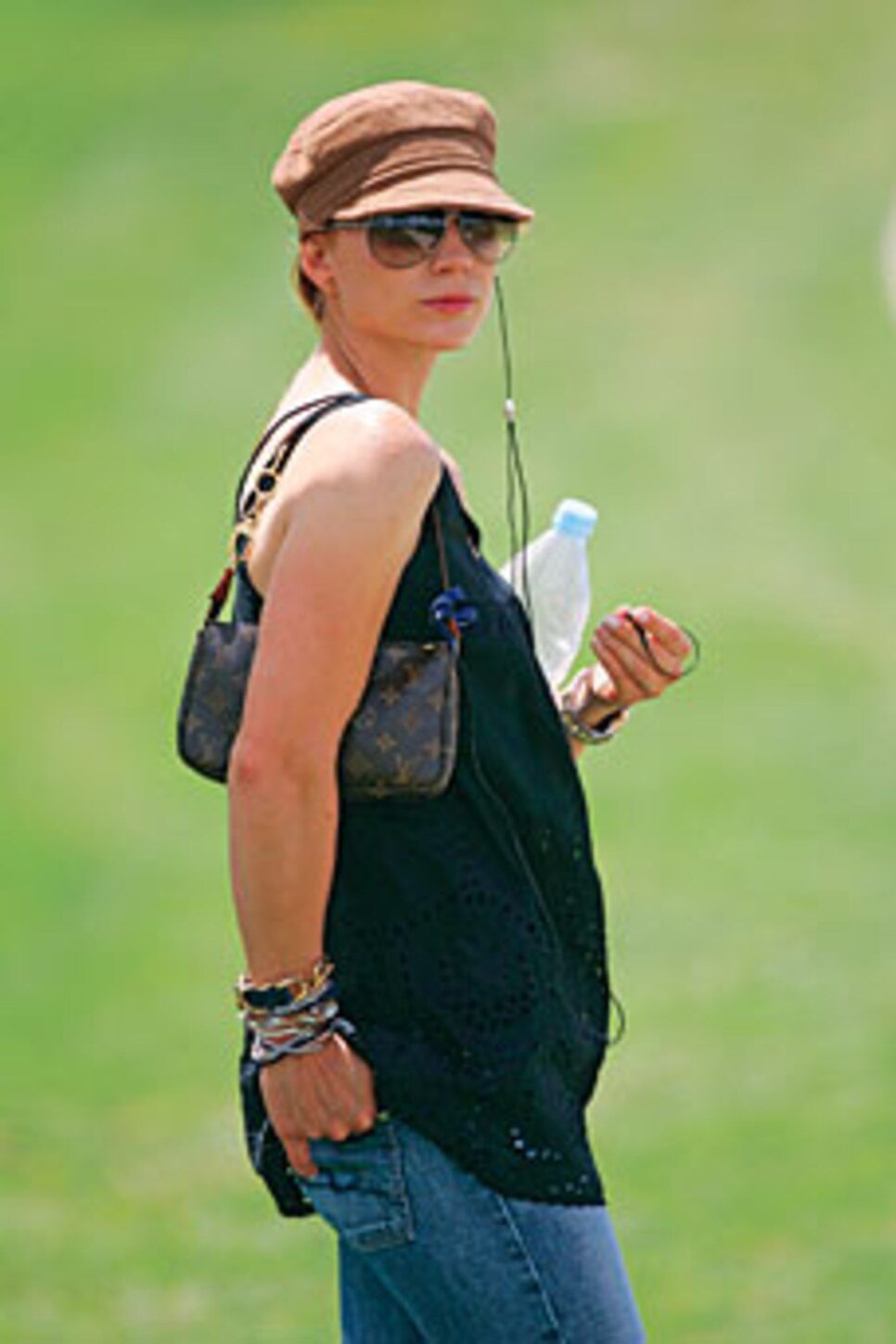 What's cool for Casey's friends is to see him put the past behind him and move on. The old cockiness has returned. "He shied away from coming over here for a while," says Donald. "He was getting a lot of abuse at tournaments. It was a tough deal. Obviously a lot of stuff he said was blown out of proportion. Maybe he didn't handle it the right way. Maybe he should have come out and apologized, rather than trying to explain himself. It's hard to say that in hindsight."
Els sees the difference—and the potential—as well. "He's a good kid and a hard worker," Els says. "He can go places, and I like a bit of cockiness. There's nothing wrong with that. It shows you've got a bit of spirit and you're ready to kick [butt]. That's Paul."
More important, Casey is starting to connect with American tour pros who might have had the biggest problem with what he said in 2004. At Bay Hill he was paired all four rounds with Rocco Mediate, who sang his praises both as a person and as a golfer. "He's scary-good," Mediate said. "I played with him three or four years ago and he was good, but not nearly as good. He's got the whole package. He does it all. And he's got a tremendous attitude. I was very impressed."
As for what happened two and a half years ago … well, Mediate is impressed with how Casey handled that as well."Look at what he came back and did," Mediate said. "That's what I love about him. He got raked over the coals. Was it his fault? Probably not. I think what he's done is remarkable. He's a cool cat."