News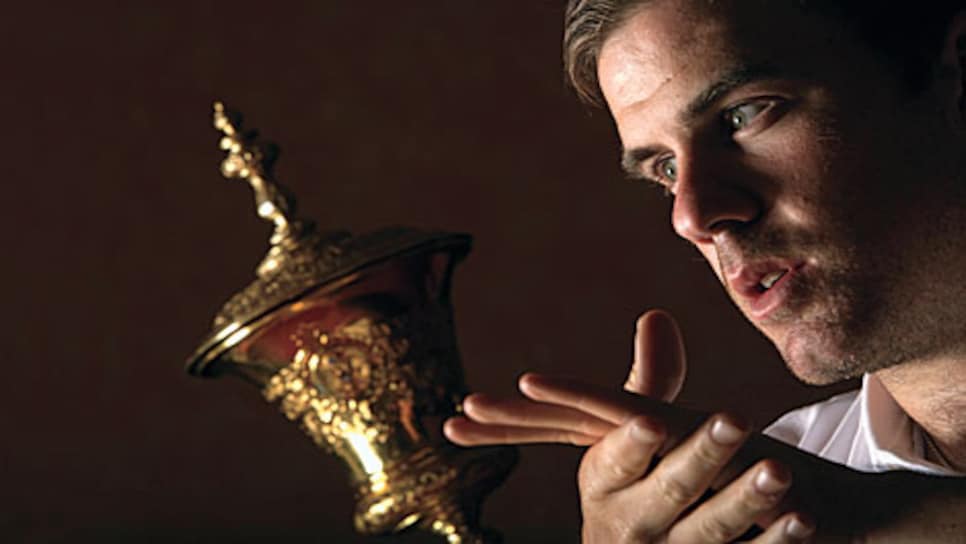 Focus and intensity were part of Ramsay's winning ways at the '06 U.S. Amateur at Hazeltine National.
As befits a wee West Highland Terrier nicknamed "Psycho," it usually takes just one less-than-satisfactory swing to set off a patented Richie Ramsay rant.
"Richie!" he'll exclaim in a tone and broad Scottish brogue that is at once impatient, accusatory and condemning. "You've been practicing that shot all week and look at what you've done. That's completely unacceptable. What exactly do you think you're doing?"
Many have wondered the very same thing about the 23-year-old Walker Cupper throughout a notable amateur career that peaked dramatically in 2006, a season crammed with a string of exceptional performances.
With three wins in four matches for Europe in the Bonallack Trophy versus Asia/Pacific, the man from Aberdeen (where his father, Iain, is a lecturer at the Scott Sutherland School of Architecture and mother, Sandra, is a housekeeper for a local family) was undefeated in six appearances at the Home Internationals, where Scotland defeated perennial rivals, England, Wales and Ireland. Late in the year, the Scot—who finished T-9 individually—led his country to a sixth-place tie at the World Amateur Team Championships in South Africa. Best of all, last August at Hazeltine National, Ramsay became the first man from the home of golf to win the U.S. Amateur Championship in 108 years.
"The first time you hear Richie in full flow you think he must be talking to someone else," says Peter McEvoy, who in 1978 was the last British amateur to play four rounds in the Masters and the man Ramsay hopes to emulate when the University of Stirling student tees up alongside defending champion Phil Mickelson at Augusta next week. "But he isn't. He's talking to himself."
Given the volume of the evidence, Ramsay wisely pleads "no contest" when asked about this unusual propensity to so loudly and vehemently reveal his inner frustrations to those around him.
"Ever since I took up the game I've talked to myself," he admits. "I see it more as muttering under my breath. I just say out loud what most people think inside their heads. I know a lot of people find it all very amusing, especially Americans. When I say stuff, I say it quickly. Add my accent, and they think I'm crazy! So it's funny from that point of view. And I have to admit that, more than once, I have turned 'round to find my friends cracking up at some of the stuff I have been saying. When I see that, I have to laugh myself.
"It's a release for me. I have had people tell me it is a ridiculous thing to do, but it works for me, and it helps me on the course. It's like having a caddie inside my head in that it gives me a swing thought for the next shot. I don't often hit two bad shots in a row."
One who has reaped the benefit of Ramsay's fine play is his regular foursomes partner on the Scottish national team, Lloyd Saltman. But even he acknowledges how easy it is to misunderstand the on-course self-abuse his friend routinely indulges in.
"If you don't know Richie, it is easy to think he is bad-tempered and has a bad attitude," laughs Saltman, who won the silver medal as leading amateur in the British Open at St. Andrews in 2005. "The first time you see him on the course your first thought is to stay out of his way. But he is a perfectionist. And it seems to work for him, as his results would indicate. He lets it out and gets rid of it before the next shot."
Which is fine, once those watching are tuned into Ramsay's eccentric and very particular frequency. But, perhaps not surprisingly, the 2005 Irish Amateur champion's seemingly erratic on-course behavior occasionally has moved from puzzlement through misunderstanding and on into controversy, most notably during last year's Palmer Cup—a match between American and European collegiate golfers—at Prestwick.
Amid what turned out to be a crushing victory for the home side, Ramsay uncharacteristically lost both his singles matches, the second by one hole after he missed a short putt on the 18th green. After shaking hands with his conqueror, Ramsay threw his ball a reported 75 yards over the course where the British Open began 146 years earlier. Later—and this is where the story gets murky—he went back to the nearby Parkstone Hotel and, by at least one account, "trashed" his room.
Months later, sitting in the clubhouse at Royal Aberdeen, where he is an honorary member and was an occasional caddie (at a fee of £40 per bag) until playing commitments took over, Ramsay is initially loathe to discuss the incident.
"There is no story about the Prestwick hotel room," he eventually says. "It's myth what has been written. I'm not going to say what really happened; that is between me and someone else. All I will say is that the story I have heard is not near the truth. All I can say is that it is not correct. But whatever I say, people will have their own opinion.
"I know what I did, but that stays between me and someone else. If someone else was involved in something like that, I wouldn't be going around telling anyone. That is a code everyone should live by. But the whole thing doesn't bother me much. I know what I did and, while it was a mistake, it wasn't close to the story that is out there."
Three days later, the marketing and sports studies student spoke again, this time in a statement issued by the Scottish Golf Union (which has funded Ramsay's two trips to the U.S. this year): "Richie Ramsay was a guest at the Parkstone Hotel for the duration of the Palmer Cup in June last year. Following a disappointing missed putt in his singles match, Ramsay returned to his room to pack his bags and threw a golf shoe that, by accident, hit a door, leaving a small indent. Ramsay immediately informed the hotel and Palmer Cup organizers, apologized for the accidental damage to the door and reimbursed them in full to cover costs."
Whatever the real truth, two things are immediately obvious from such a saga: Ramsay has a bit of a temper, and there is nothing the British press likes better than a story about a sporting hero that does not involve sport.
"I'm not a good loser, never have been," Ramsay concedes. "So while I recognize that golf is a game where etiquette is a big deal, I'm out there fighting to win. I see it as a battle I want to win. Winners get remembered. A lot of people watch me play and form opinions on me and my game. I don't mind that, but I have my own way of doing things and don't necessarily care or want to hear what anyone else thinks. They are entitled to their opinions, but I don't really give a toss what anyone else has to say. You could say I'm a strong-minded individual."
That he is. In May 2002 Ramsay walked away from a full golf scholarship at McLennan Community College in Waco, Texas, after nine months, stating that the experience was "slowing him down as a golfer." Then, just last year, citing his need to prepare for the upcoming British Amateur Championship (where he would lose in the second round of match play), Ramsay withdrew from the British Universities Championship when five shots ahead after two rounds. It is safe to assume that did not go down too well back at Stirling.
Still, before one jumps to the conclusion that Ramsay's sometimes volatile temperament makes him golf's version of the Loch Ness Monster or at least, as one Scottish journalist puts it, "a mini-Monty," one must examine the contrasting calmness he displayed under extreme stress during his U.S. Amateur win. Twice Ramsay recovered from inadvertent rules infractions to win matches that easily could have been lost.
In the first, during a 21-hole quarterfinal victory over Californian Rickie Fowler, Ramsay's 17-year-old caddie touched the putting surface when showing his man the line of a 20-footer for birdie on No. 17. The penalty was clear and immediate: loss of hole.
One day later, Ramsay himself was at fault during the semifinal he would later win by one hole over Wake Forest's Webb Simpson. Two up on the 16th tee, the Scot drove left onto the bank of a stream, then inexplicably grounded his club within the hazard while taking a practice swing. Again, the hole was awarded to his opponent.
"In a way, those sorts of things make you tougher," insists Ramsay. "I look on them as just getting bad bounces really. These things happen in golf."
How Ramsay, who will have local man Jody Keepers on his bag, will fare at Augusta in front of the biggest crowd of his life remains to be seen, but he won't be showing up unprepared.
As well as a five-day visit in late January with his coach, Ian Rae, Ramsay planned to spend almost a week practicing at Augusta National prior to taking on British Amateur champion Julian Guerrier in the Georgia Cup outside Atlanta this week. (Ramsay also was to have competed in the Arnold Palmer Invitational at Bay Hill, but he was denied entry after he, unaware of a PGA Tour requirement, failed to "commit" to the event.)
Typically—his practice sessions are computer-like in their adherence to a pre-prepared plan, to the point where, at chilly Royal Aberdeen, he runs up and down the range every 20 shots or so to maintain circulation in his hands and feet—he didn't waste a second of either visit to the hallowed turf. "It's an intense course," he says of Augusta National. "You have to concentrate all the time. If you lose your focus—even for a second—you get punished. It took me a while to get used to the grain on the greens, but my game seemed to stand up well enough to the overall challenge. I felt quite comfortable after a couple of days. What I noticed most, however, was how much difference moving the pin position made from day to day. The angles of attack change so much depending on where the hole is cut on the green. So you get a lot of different shots."
The one question mark over Ramsay's ability to make the cut is his supposed lack of length off the tee. But Rae is confident.
"One of Richie's strengths is his determination and focus," he says. "People talk about his temperament, but he never lets anything in the past alter the future. He just gets on with the next shot. He'll be going there to make the cut and win the amateur prize; he won't be there just to look around and have fun."
Significantly, too, Ramsay has McEvoy worried. "Richie is a seriously good player," says the two-time British Amateur champion and former Walker Cup player, captain and chairman of selectors. "I am concerned for my record! He is well capable of playing all four rounds. In fact, I expect him to."
Which is no more than does the man himself, if he can stay awake, that is.
"I am one of the world's great snoozers," Ramsay acknowledges. "I can drop off anywhere, to the point where I have to set my alarm if I am traveling by train. I have been asleep in lectures and in the library at university. I put it down to how hard I concentrate on whatever I am doing."
All of which raises an obvious question. Yes, he has been known to talk in his sleep—but only to himself, of course.