News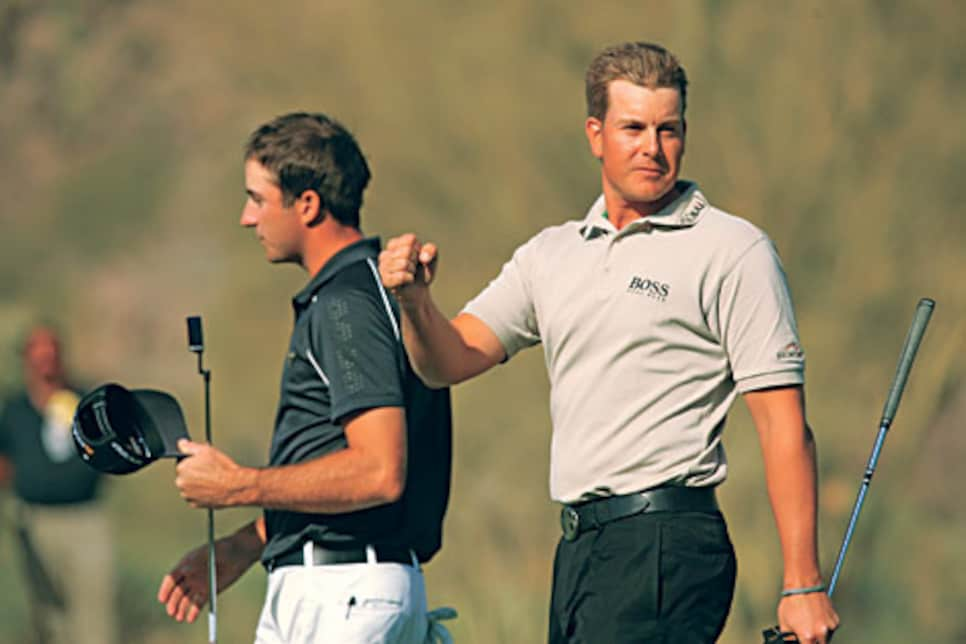 Stenson had a brush with the U.S. before becoming a European star
To most Americans, WGC-Accenture Match Play champion Henrik Stenson is a relative unknown who came from nowhere to beat U.S. Open champion Geoff Ogilvy and rise to No. 5 in the World Ranking. But not Puggy Blackmon. Eight years ago, Blackmon, the men's golf coach at the University of South Carolina, met the young Swede and soon realized he had the potential to become a force in world golf. Blackmon's only regret was that he couldn't convince Stenson to start honing that potential as a member of the Gamecocks.
"He just bombed it," said Blackmon, the swing coach and mentor for David Duval. "He had strength, length, unbelievable work habits, and he was a personable kid. I'd run into him with David, and I remember how David was impressed by him."
What brought Stenson to Columbia, S.C.? His girlfriend, Emma Lofgren, played on the USC women's team. Lofgren, who made the All-Southeastern Conference team in 1999, met Stenson playing junior golf in Sweden. While Lofgren went to classes at USC, Stenson opened the driving range, waiting for the men's team to start their practice, so he could take part in their matches. "He spent so much time [with us], I asked him, 'Why don't you join the team?' " said Blackmon. "But he was focused on where he wanted to go."
Two years later Stenson lost some of that focus and almost all of his confidence. His power game was going to waste, a victim of a wicked case of the driver yips that came to a head at the 2001 European Open where Stenson walked off the K Club after nine holes and several lost tee balls. Enter golf coach Pete Cowen and sport psychologist Torsten Hansson.
"For a while, he had trouble hitting the world," Cowen told Golf Digest in 2006. "It was the hardest thing I've ever done with a student."
Hansson's work was even more complicated. "At times he felt ashamed of himself," Hansson said. "He ended up with a real choking problem with the long clubs." But the coaching eventually paid off and five years later Stenson returned to the K Club as a member of the 2006 European Ryder Cup team with a reputation as "The Ice Man," a cold-blooded, baby-faced warrior who had no trouble finding both the fairway and the jugular. It was no surprise in Europe when he holed the putt that clinched the victory. Three weeks earlier he had made eagle to beat Padraig Harrington and Retief Goosen in a playoff for the BMW International Open in Germany.
The 30-year-old's greatest moment, before taking out defending champion Ogilvy at the Accenture with birdies on four of his final eight holes, was another example of his ruthlessness under pressure: a birdie on the 72nd hole of last month's Dubai Desert Classic to beat Ernie Els by one stroke and Tiger Woods by two. That victory, the fifth of his European Tour career, moved him into the top 10 on the World Ranking. Now Stenson has to be considered among the early favorites at Augusta next month. Having Fanny Sunesson, who caddied for Nick Faldo during his three Masters wins, on his bag won't hurt, either.
In the meantime, Stenson's personal life is undergoing a transformation as well. He and Emma were married last December (in fact, they didn't go on their honeymoon until after Stenson's win in Dubai), and the newlyweds are already expecting their first child, due in July. It has been a busy couple of months for Stenson -- and that was before he played six matches (and 120 holes of golf) in five days to win the Accenture.
"I'm too tired to be happy," said Stenson last Sunday. That could wait until Monday.