News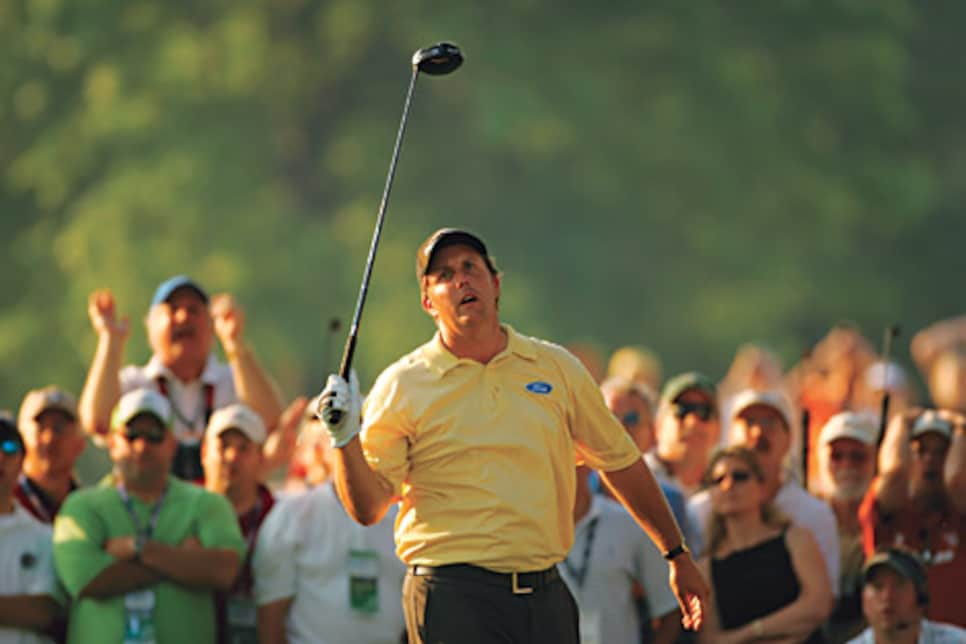 Mickelson says the jolt of his Winged Foot loss was softened by many earlier highs and lows
Now that he's had seven months to think about it, Phil Mickelson would do a bunch of things differently if given another chance to play the 72nd hole at last year's U.S. Open. He wouldn't pull out his driver and blast it 40 yards left, where the carom off a hospitality tent kindly resulted in a clean lie and an accessible route for a recovery shot well up the fairway. From there, Mickelson could hit two jumbo buckets without once clanking it off a tree. As punch-outs go, it was about as routine as they get.
He wouldn't dump his third in the front-left bunker and chop his fourth through the green, let alone need a 12-footer for double bogey to claim a share of second place.
No, sir. Upon returning to Winged Foot's 18th tee, Philly Mick would again choose the driver, only this time, he would sauté a little 280-yard cutter down the middle, leaving himself maybe a 7-iron in. He would play away from all harm and lag-putt for his third consecutive major title, validating his emergence as -- dare we say it? -- golf's premier big-game performer.
But how silly, the notion that anyone can go back and fix their biggest mistakes. What's done is done, although Mickelson has never been much of a listener when it comes to being told what he can and cannot do. "I've won three freakin' majors and 29 tournaments," says a man who rarely sees the need to remind people of such numbers. "It's a little different than having never won, then blowing a lead. It's different [for each player] who has a crushing defeat."
Good point. Is anyone more adept at hushing the crushing blow than Mickelson, who redefined his career by overcoming the emotional reverberations from previous self-induced wreckage? All three freakin' majors came after a half-dozen stumbles in the homestretch, maybe more. None of those failures featured a collapse as epic as last June's, but he had demons living in his pockets for the better part of 10 years.
Mickelson slayed them all with his victory at the 2004 Masters. Two months later, he three-putted from five feet on the 71st hole to kick away a U.S. Open. You fall off the horse, you get back on. It sure beats riding a mule. "Having already won three made it a lot easier," Lefty says of coping with Winged Foot. "So does knowing I've dealt with the situation before."
Long gone are the days when you could get Mickelson for 15 or 20 minutes after a round, no appointment needed, just a notebook and a couple of provocative questions. He's a busy guy, of course, with three young kids, numerous business interests and $40 million worth of commercial obligations. This justifies his obvious reluctance to relive his competitive past in any interview that doesn't occur in a media center. It's not so much that Mickelson doesn't have the time. He just has absolutely no interest.
Gone, too, are any discernible footprints Winged Foot might have left on Mickelson's psyche, something he made perfectly clear while fielding a 30-minute medley of questions at last week's Bob Hope Chrysler Classic. That Mickelson would agree to recount the toughest loss of his life at a Mexican fast-food joint probably says something about his recuperation. Beyond reconciling the double bogey, the same guy who called himself an idiot after signing the scorecard is convinced it will eventually make him a better player.
It doesn't matter why Arnold Palmer never recovered from the 1966 U.S. Open, or what happened to Greg Norman after whichever dose of Sunday evening anguish you consider the breaking point. It definitely doesn't matter what happened to one-hit blunders such as Ed Sneed or Mike Donald. Mickelson may be wolfing down a burrito with his back against the restaurant wall, but there is no crisis, literally or figuratively. "I didn't think much about Winged Foot until the season was over," he says. "That's when I started to use it as a reference for what I could improve on."
One should expect a bouquet of optimism at a tournament known as the Hope. During his five months away from the PGA Tour, Mickelson spent a week in Italy, visited some sites associated with his fledgling course-design business and celebrated his 10-year wedding anniversary by renewing his vows with his wife, Amy, in Bora Bora. He also made a similar commitment to his golf career, which led him to an equally exotic location -- the gym.
Since succumbing to the fitness lure in late 2002, Lefty has been unable to maintain a consistent workout program, even with renowned trainer Sean Cochran around to escort him through the process. This year, however, marks the first time Mickelson has admitted that his lack of conditioning hurt him on the golf course, and he has a big, fat pile of evidence to prove it: No top-10s in five starts after the U.S. Open, a half-point in five matches at the Ryder Cup.
Never does a man grow faster than the day he does away with denial. "I feel like my Ryder Cup performance was, as opposed to a problem with my game, a physical problem," Mickelson says. "I don't feel as though I stood up physically throughout the nine months, especially playing 36 holes a day. I needed to address that." Beyond a series of varied workouts with Cochran, Mickelson has traded in the Diet Cokes for water and fruit juice. He's also doing his best to cope with the appetite of a 16-year-old farmboy.
Philly Mick says he has lost 25 pounds, and though he doesn't look much slimmer, you can see that his forearms have gotten rather massive. So far, so good, according to Cochran -- however far the two have gotten. "He's absolutely committed to it, and to a level he hasn't reached before," the trainer says. "He has stepped up his workouts and made a lot of progress in improving his nutritional habits. He [used to] put forth a lot of effort and get limited benefits because of his [diet]. Nutrition can be a really hard sell."
On the course, Mickelson's preparation for 2007 was like that of '04 in terms of rededication and intensity. After winning the Masters last April, he took two weeks off, returned to action in New Orleans and quickly realized he had lost his golf swing. Ball-striking coach Rick Smith was summoned to Charlotte, but Mickelson continued to struggle. Most of the misses were going left. "I get some of my biggest laughs when I hear people talk about how Phil doesn't work hard," says longtime caddie Jim Mackay.
As May became June and the U.S. Open became the point to which all roads led, Mickelson pushed himself harder to come up with answers, at the same time going full-bore on his preparation for Winged Foot. He hit barely half the fairways in Charlotte, and the percentage didn't get much better at the Memorial or Westchester. In the first round of the Open, Lefty's remarkable short game produced a 70 on a day when he was miserable from tee to green.
Still, he knew he had problems. He just didn't know the wheels would fall off on the final lap. "An ill-timed error I'd made all week," Mickelson says of the drive at the 18th. "I went the rest of the year without getting my swing back on track, so Rick and I spent the off-season working on solutions to get it straightened out quicker. I've got four or five [bad habits] I usually fall into."
For years, Mickelson's course-management lapses were such an issue that it became a reflex to blame his losses on illogical aggression or faulty club selection. What happened on the 18th hole at Winged Foot was simply a matter of failed execution. He hit two of 14 fairways in the final round, and as the pressure mounted, Lefty's tee shots sailed farther off line. He would pay a high price, and the reason is clear. It wasn't the bow or the arrow. It was the archer.
Seven months later, there is no crisis. People can say what they want, but Phil Mickelson isn't listening. He damn near won the U.S. Open hitting the ball as poorly as he could hit it. His worst week was almost good enough, a backhanded measure of greatness as accurate as the trophy itself. He might be in the left trees or the center of the fairway, but as sure as he's standing there, he's not going anywhere.