News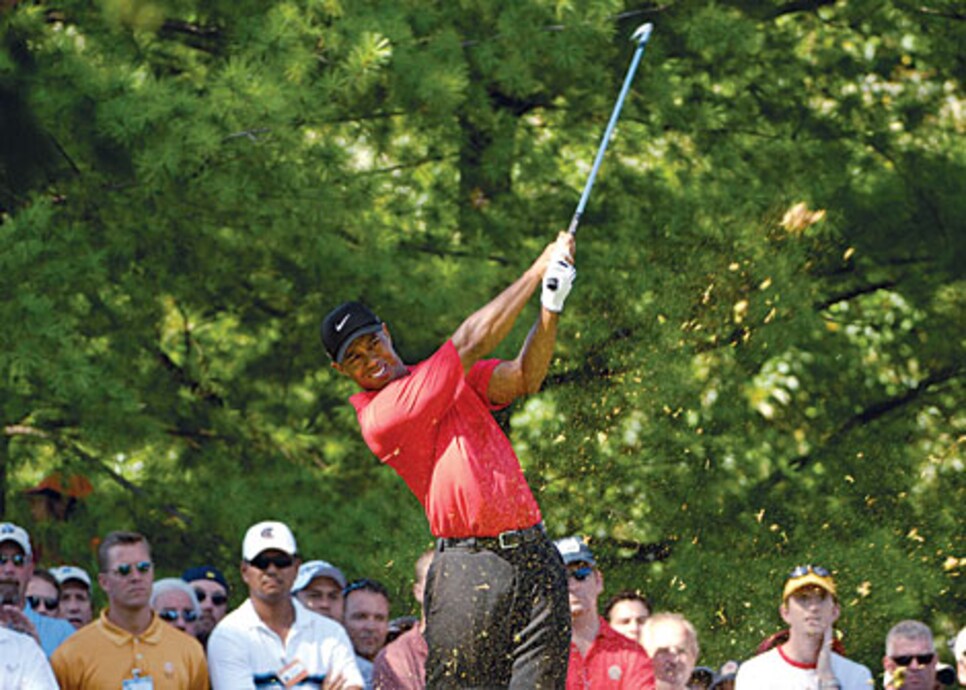 Finishing touch: Woods' Sunday 68 resembled his dominating 67 to seal the deal at Hoylake a month earlier.
*"Great artists are people who find the way to be themselves in their art." *
After the meltdown came the smack-down. On the hard ground at Hoylake, Tiger Woods showed his soft side, but on the soft ground of Medinah, he was forged steel once again.
Woods the Merciless has returned. At Royal Liverpool, he claimed the claret jug and publicly drowned the sorrow over the loss of his father, Earl, in the shoulder of his caddie, Steve Williams. At Medinah CC their 18th-green celebration after Woods savaged the field by five shots with a record-tying 18-under-par 270 in the PGA Championship looked more like a CPR chest bump to restart his lion's heart. The patient has recovered nicely, thank you. Alert Augusta.
Going into the final round, Woods was tied at 14 under par with the 28-year-old Englishman, Luke Donald, who was trying to become the first British winner of the PGA since George V was king. While Donald, who went to Northwestern and keeps a flat in Evanston, was being greeted by the crowd like a second cousin of Jake and Elwood Blues, Woods had the honor at the first tee Sunday and didn't surrender it until a meaningless bogey at the 17th. By then the Wanamaker Trophy was already in the trunk of his Buick. This time, it seemed, he was the one on the mission from God.
"I just had one of those magical days on the greens today," demurred Woods. "I just felt like if I got the ball anywhere on the green, I could make it. It's not too often you get days like that, and I happened to have it on the final round of a major championship. So it was a really neat feeling."
Oh, sure, Adam Scott made a run, but he started Sunday seven back. The 2003 PGA champion, Shaun Micheel, played nicely to finish solo second, but he began four behind along with Sergio Garcia, who couldn't summon the scissors kick he unveiled at Medinah in 1999. U.S. Open champion Geoff Ogilvy was within shouting distance going out Sunday but lost his voice with an opening 38. Mike Weir gave it the best run of anyone. Paired with Tiger in the last round in 1999 PGA, he stumbled home in 80. This year Weir proved he wasn't the same player. Unfortunately, neither is Woods.
The three-time PGA champion (winning twice at Medinah to become the only player to win two PGAs at the same venue), 12-time major winner and the only man ever to win multiple majors in consecutive years, Woods just doesn't give his rivals any reason for hope. He doesn't beat the field, he suffocates it, sucking all the oxygen out of the air until no one can breathe but him. His foes are moths to his flame. Sunday he birdied the first hole, birdied the easy par-5 fifth and made a couple of 40-footers at the sixth and eighth for birdies to turn in four-under 32, comfortably the lowest front nine of anyone on the leader board. In '99 he opened the door for the then 19-year-old Garcia with a three-putt bogey at the 12th and a double bogey at the 13th. There was no hint of weakness this time around. That Tiger just doesn't seem to exist anymore.
"I've never seen anybody, take away Jack Nicklaus, who looks more comfortable leading on the back nine of a major than [he does] playing the first hole of a tournament, and that's pretty scary," said Chris DiMarco, who tried his best to chase Woods down in Liverpool. "It's almost like he comes into his comfort zone in that situation. Other people make birdies, and he just puts the hammer down. At the end, he wins by four or five and your hat's off to him. He's the best."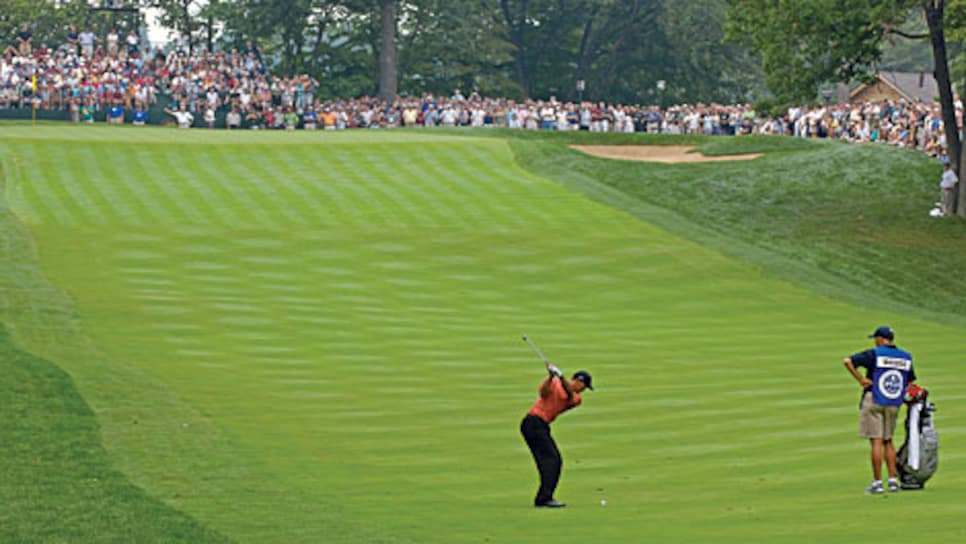 At Hoylake Woods served up a strategic masterpiece, employing the flip side of his St. Andrews game plan. At the Old Course he goes over all the bunkers; at Royal Liverpool he went under them. Perhaps, the reasoning went, Woods is on to something. In the future, he would use his 460cc Achilles' Heel sparingly, relying instead on a diet of 2-irons. But viewing his obliteration of Medinah as merely the 5-wood version of Hoylake is overly simple. When the rains came overnight Friday and it was clear Medinah was going to be a sacrificial lamb in the third round, Woods went to the whip. "We changed our game plan and became a bit more aggressive," said Williams, and they calmly posted a 65. Woods isn't leaving the driving to them, he's simply playing to his landing areas, be they short or long. Like Nicklaus before him, he's a hard man to beat from the fairway. Over the last 36 holes Woods hit 21 of 28. Through the first two rounds Woods was 99th in fairways hit, but when the weekend spotlight was on, those numbers got substantially better: T-8 (11 fairways hit) Saturday and T-22 (10) Sunday.
Woods made just three bogeys the entire tournament. "It's good to do that at the Bob Hope, let alone the PGA Championship," said Williams. His second bogey, on the 16th hole Saturday, was a three-putt. According to the reckoning of instructor Hank Haney, it was his first three-putt in 144 holes. "When you're as good as he is and you go around and don't three-putt, [you are] very difficult to beat," said Williams. "That was our goal the entire week."
Of course, it also doesn't hurt that Woods can fly a choked-down 5-wood 250 yards, muscle a 6-iron straight up in the air out of thick rough, play a 55-yard bunker shot with an open-faced 8-iron or make birdie from a divot as deep as a strip mine, either.
While we're on the subject of what's changed since '99, the last time this particular Shriners Convention was in the Windyless City, David Duval was the world No. 1, Woods was the young lion just awakening from Swing Change I on the cusp of one of the great stretches in the history of golf, and Garcia was the antelope fawn bounding up the 16th fairway on the way to the feast where he played the role of main entrée, to be reprised seven years later as an hors d'ouevre. The question this PGA poses is: Has Woods now embarked on yet another historic run and, if so, precisely how far can he take it?
It would give this odd little place an interesting cachet, since Medinah No. 3 is nearly as famous for what hasn't happened there as for what has. Sam Snead lost his last realistic chance at a U.S. Open there in 1949. Ben Crenshaw threw away a national championship in Lake Kadijah the year Tom Watson led after 36 holes, eventually giving way to Lou Graham. When Curtis Strange had the chance to win three straight U.S. Opens, Hale Irwin trotted and high-fived his way to a third instead.
The No. 3 course is as quirky as the red brick Masonic clubhouse, which may have something to do with why the USGA took its scimitars and red fezzes (or would that be fezzi?) across town to Olympia Fields. It's the longest golf course in championship history (7,561 yards) but, with its doglegs, downslopes and downhill par 3s, doesn't come anywhere near playing to it. It has a watery signature hole, the 17th, that looks suspiciously like its 13th and both have the same reputation for constancy as Paris Hilton and Nicole Richie. With the Old Course in mind, one could argue that the importance of a course in the history of golf is inversely proportionate to the length of its bridges. Then, along comes Woods, who now has bestowed on him the ignominious privilege of being an honorary member at the same club as a sportswriter (Bob Verdi), who turns the joint into the departure lounge for history.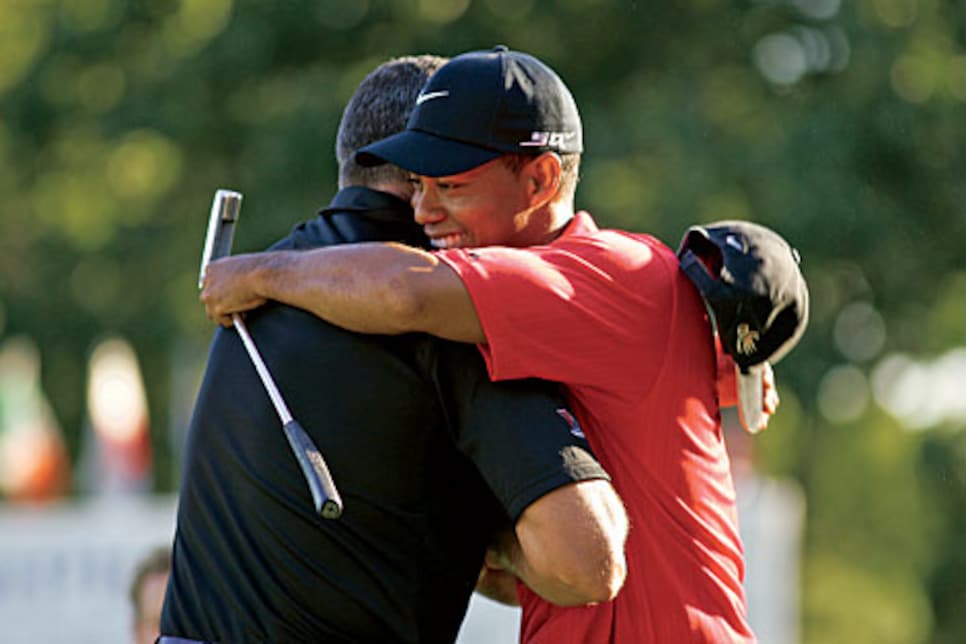 Early in the week, at least, what didn't happen still seemed more important than what did.
First, John Daly didn't die. While a massive coronary might seem a stretch for someone in peak physical condition who exhibits the stern self-discipline of Daly's personal habits, the cell-phone towers were burning up nonetheless Tuesday. Like Mark Twain before him, however, the rumors of Daly's demise were greatly exaggerated. More predictably, he bombed and slashed his way to another missed cut.
Second, there was no ankle biting in the Woods/Mickelson pairing the first two days. Separated by U.S. Open champion Ogilvy, who refereed according to the Aussie Rules of Good Fellowship, the worst thing that happened was the three bridges over Lake Kadijah backed up like toll booths on the Tri State at rush hour. In fact, when it was over and Mickelson was clowning around with his umbrella in the drizzly darkness as Woods was being interviewed on cable TV, it seemed as though these two had come some distance since the Ryder Cup at Oakland Hills when looks could have killed. Lee Trevino and Jack Nicklaus set the gold standard for the relationship between competitors of varying levels of greatness, and while Woods and Mickelson may not have achieved that degree of mutual respect, they seem to have at least reached détènte. An umbrella may not be the same thing as a snake, but Woods, it seems, can now smile at Phil being Phil. Mickelson, for his part, understands he's walking the planet at the same moment as, perhaps, the greatest player who ever lived. Sunday afternoons, of course, that counts for exactly nothing, which is exactly the way it should be.
What did happen the first three days was Medinah got slaughtered. The red figures became so ostentatious the players actually took to defending the course, assuring one and all that it wasn't really as easy as it looked. After awhile they began to sound like Groucho Marx in "Duck Soup" when he told his loyal Freedonian troops, "Remember men, we're fighting for this woman's honor; which is probably more than she ever did."
It seemed as though all the water that might have put a little color in the cheeks of butternut brown Hoylake had been put on the greens of Medinah No. 3 instead. With seven new greens and a heat wave that exceeded 100 degrees for longer than anyone wanted to remember, the PGA did a very un-USGA-Captain-Blyish-type thing and commuted their death sentence by allowing them drinking water. The result, however, was a softness many found incompatible with championship golf. And it only got more pronounced after the rains.
Led by the opening-round 66s of Lucas Glover (pressing to earn a Ryder Cup berth) and Chris Riley (reeling for two years since his), Medinah yielded more sub-par first-round scores, 60, than any previous PGA Championship. The second round did it one better, setting the new mark at 61, and the cut came at level par, tied with Riviera CC (1995) for the lowest ever. By then, the lead was held by a strapping young Swede vying for a spot on Annika Sorenstam's text-messaging directory (Henrik Stenson), the gregarious 42-year-old American (Billy Andrade), the young Brit with the Chicago roots (Donald) and Tim Herron, the only one in the bunch who actually looked like a Shriner. They were all at eight under par, chased by darn near the entire universe.
On Saturday the universe caught them. At one point 10 players were tied for the lead, representing a little more than 14 percent of the players remaining in the field. Par was a dog, and Medinah rolled over and put all four paws up. DiMarco went out in 31, Micheel in 30. Woods and Weir tied the course record with 65s. Everyone expected Woods to brutalize the par 5s, but he had three 2s on his card, too. Donald's 66 barely allowed him to retain a share of the lead with Woods who—all together now—HAS NEVER LOST A MAJOR CHAMPIONSHIP WHEN HE WAS LEADING OR TIED FOR THE LEAD GOING INTO THE LAST ROUND. But when was the last time the leader of a major championship shot 66 and lost ground?
When all is said and done, what remains of the tremendously gifted are their works of art. This year Woods has given us a pair of mastepieces to cherish. For the fourth time he's won more than one major in a year, but it wasn't his best. And, coming in the wake of the loss of his best friend, Earl, it will never be among his favorites, either.
One senses that one is yet to come.