News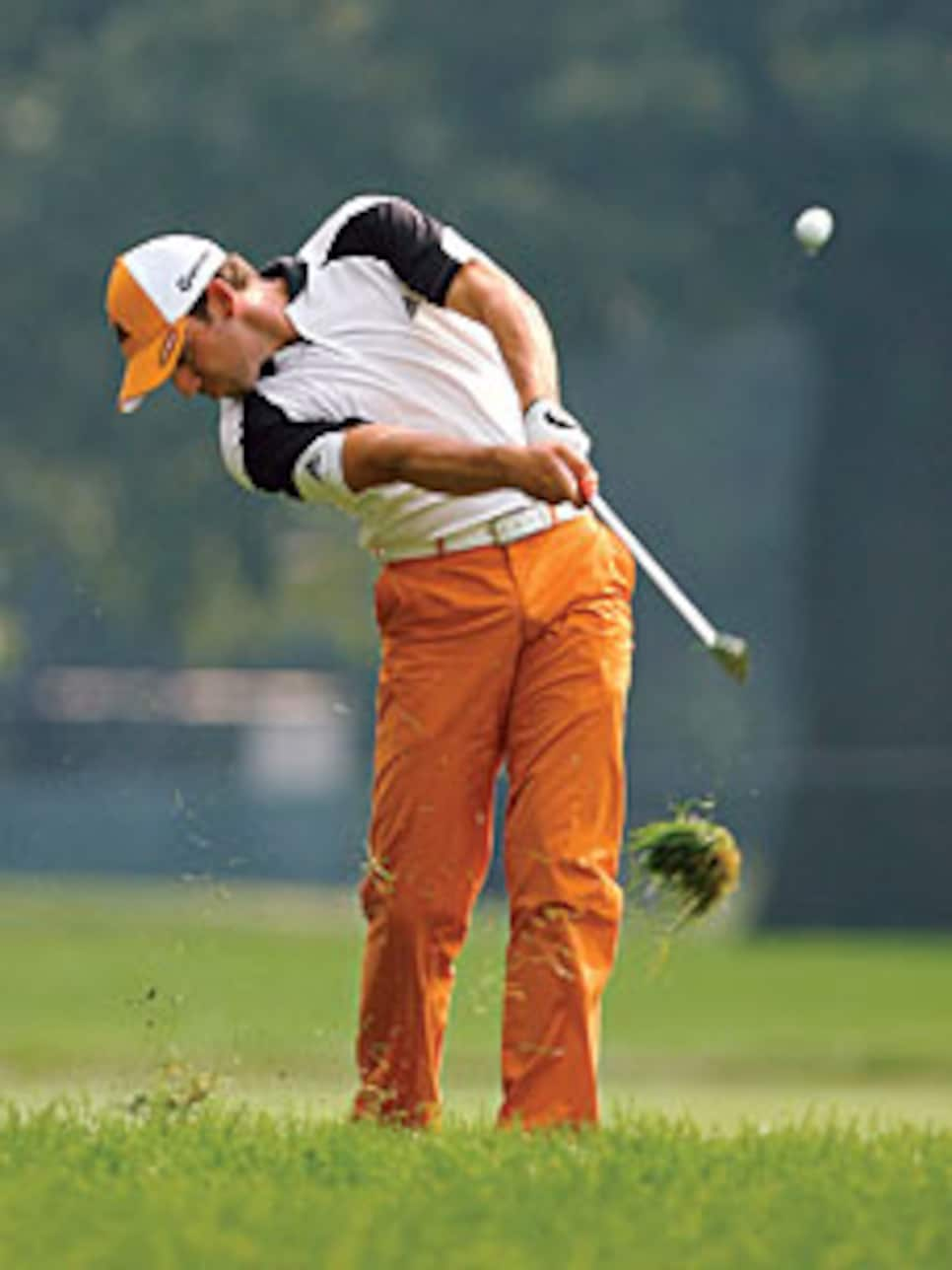 Garcia's creativity is reflective of foreign players who favor "golf" over "golf swing."
While Tiger Woods was putting to the picture, one of the clearest snapshots to emerge from the PGA Championship captured the wide chasm between the best young international professionals and their American counterparts.
Lately it's been easy to generally malign golf's twentysomethings for their lack of victories, putting touch and shotmaking skills, and for getting lapped by the now 30-year-old Tiger Woods, rather than drafting off his rear bumper. But a closer look reveals that the biggest void in the game's youth movement is located in the United States.
At Medinah, three youthful internationals—Luke Donald, 28, of England, and Adam Scott of Australia and Sergio Garcia of Spain, both 26—took positive career steps in tying for third. Donald survived a valuable rite of passage in his final-round Sunday pairing with Woods, while Scott achieved his highest finish ever in a major. Garcia showed resiliency in bouncing back from his final-round collapse at last month's British Open, maturity in overcoming a triple bogey on his second hole of round two and welcome progress on the greens, although he remained very much El Niño when it came to the lack of grace he showed Woods. "Everything went his way, too," said Garcia after closing with a 70 to finish six back. "The bad shots he hit all week, he got away with them. You know, that's about it."
The Americans giving the best account of themselves at the PGA were two resurgent babes, 23-year-old Ryan Moore, who tied for ninth with elder twentysomething Aussie Geoff Ogilvy, and 24-year-old Sean O'Hair, who tied for 12th.
Statistically, young America actually overachieved in the year's last major. But even after the championship, there was not one American player in his 20s among the top 50 in the World Ranking. The highest-ranked are Lucas Glover (52nd) and O'Hair (54th), followed by Moore (79th), J.B. Holmes (80th), Charles Howell III (90th), Ben Curtis (118th), Ryan Palmer (126th) and Jonathan Byrd (140th). All but Howell made the cut at Medinah.
Meanwhile, seven international players in their 20s reside near the top of the ranking: Scott (sixth), Ogilvy (seventh), Garcia (ninth), Donald (10th), Trevor Immelman of South Africa (14th), Carl Pettersson of Sweden (25th) and Paul Casey of England (32nd). At the very least, it doesn't bode well for future Ryder and Presidents Cups. "They've pretty much kicked our butt," admitted Byrd, 28, who along with Curtis is the only American under 30 with more than one official victory.
In recent years the U.S. has lost its former world dominance in tennis, baseball and even basketball, so perhaps it is inevitable that golf will follow suit. But most insiders say American complacency is not the problem. "This whole group of young players—Americans and internationals—works harder than guys from the past did," said veteran caddie Tony Navarro, who caddied for Howell before his current partnership with Scott. Immelman added, "Some of the greatest sportsmen in the history of the world are American. Especially Tiger, and he sets the work ethic the young U.S. guys follow. But it might be that the guys from foreign countries have some advantages." At Medinah, the following five were most often mentioned: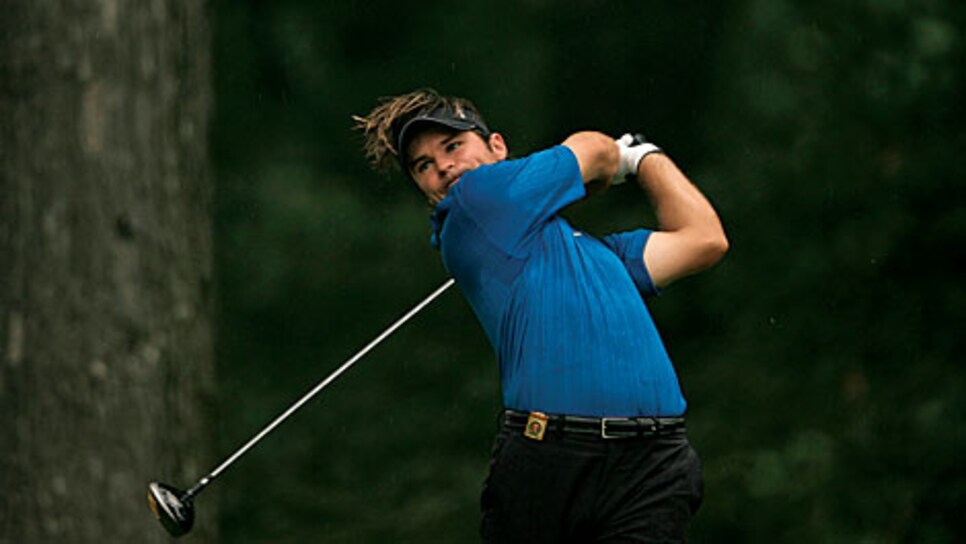 The Nationwide tour has been a successful domestic developmental league for the PGA Tour, but a foreign experience probably adds extra seasoning. "It seems like the guys I play against from Australia and Europe are more relaxed," said Palmer, 29. "Maybe part of that is from being thrown in the water early."
"So many American kids play on perfectly manicured courses in good weather and hit perfect range balls on perfect ranges," Harmon added. "They tend to play more power golf, and then rely on their short games to bail them out. At the same time they tend to get focused on swing mechanics, and sometimes they get lost. Lately we've seen some American guys, like Charles Howell III, trying to get away from the technical stuff, trying to get more creative in the way they play, but it's tough to play catch up."
Perhaps not coincidentally, both Moore and O'Hair share some traits with the international model. O'Hair, last year's PGA Tour rookie of the year with a win at the John Deere Classic, turned pro at 18 and didn't attend college. A frequent practice partner of Woods, he has listened closely. "Tiger's not one of those guys who says he doesn't know why he's so good," said O'Hair. "He knows why he's so good. He believes that no one knows better than you about your own game … that there are certain things that you need to do in golf, you find out how to do them your own way, and once you figure them out, you'll be one of the top guys. I think it's the best advice anybody could have given me." The philosophy was put to the test at the beginning of this season when, with high hopes for 2006, O'Hair attempted to make his backswing more rounded under the guidance of instructor David Leadbetter. But after four months of mostly missed cuts, he broke with Leadbetter and went back to his old backswing and has had a solid summer. (O'Hair now works with Gary Gilchrist.)
Moore, the 2004 U.S. Amateur, U.S. Amateur Public Links, Western Amateur and NCAA champion, has shown moxie and toughness since turning pro last year, when he became the first player since Woods in 1996 to go from college to the tour in the same season without a trip to Q school. Most impressive was that he did it all after fracturing the hamate bone in his left hand. Since undergoing surgery earlier this year, Moore has struggled through the healing process, which made his performance at Medinah a mini-classic of improvisation. In order to alleviate pain from scar tissue, Moore played the entire event by beginning his swing by cocking his wrist upward so that the clubhead hovered a full two feet above the ball.
"If I had tried to swing perfect, I never would have used that move and wouldn't have played as well because I would have been in pain," said Moore, who shot 67-69 over the final 36 at Medinah. "I just had to be a little bit resourceful. That was the way I could swing the most consistent and get the ball in the hole, and that was all that was important to me."
If it becomes as important to his American counterparts, perhaps more of them will begin to stand taller in golf among the twentysomethings—and beyond.