News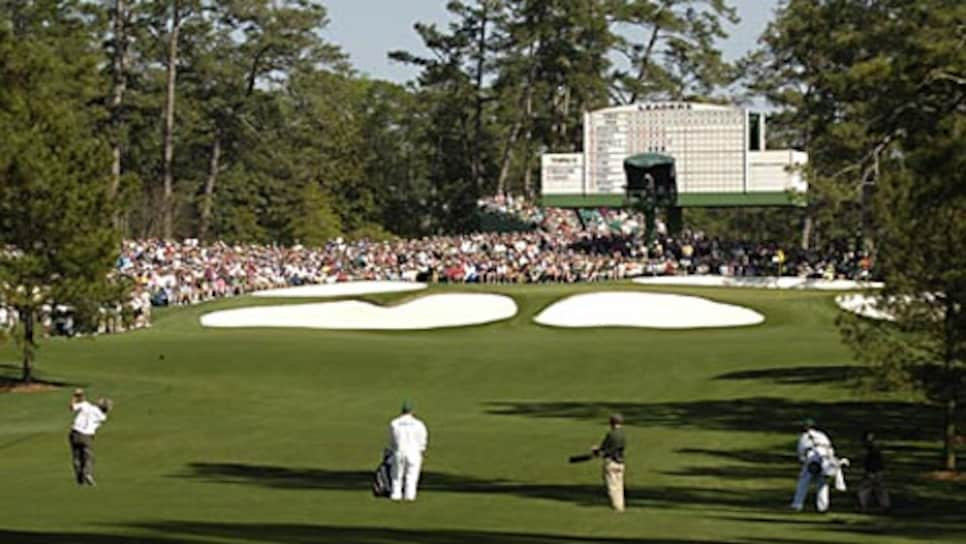 A lengthened seventh didn't deter Fred Couples (left) or Phil Mickelson from final-round birdies. Photo: J.D. Cuban
It's a little early to know exactly what the latest makeover of Augusta National GC bodes for the future of golf, but we know for sure what the 70th Masters wasn't.
It wasn't silly. Although pre-tournament doomsayers ranged from Jack Nicklaus to Tiger Woods, the 155 yards added to six holes didn't force nearly as many fairway-wood approaches to par 4s as predicted, and scores didn't noticeably balloon. As intended by the club, most players needed one or two clubs more into the lengthened holes -- on average going from what used to be about a 7-iron approach to about a 5-iron (and sometimes more) on the lengthened par 4s, Nos. 1, 7, 11 and 17. And while the longer clubs took a toll, the cumulative average score for the field, 73.95, was actually lower than four of the previous seven years.
It wasn't exclusionary. Despite predictions that only bombers could contend, relative bunters like Rocco Mediate and Olin Browne spent a long time on the leader board, and Tim Clark, perennially one of the shortest hitters on the PGA Tour, finished second. The art of the possible was best demonstrated by 54-year-old Ben Crenshaw, who was tied for 10th after two rounds despite ranking last in the field in driving distance with an average of 263 yards.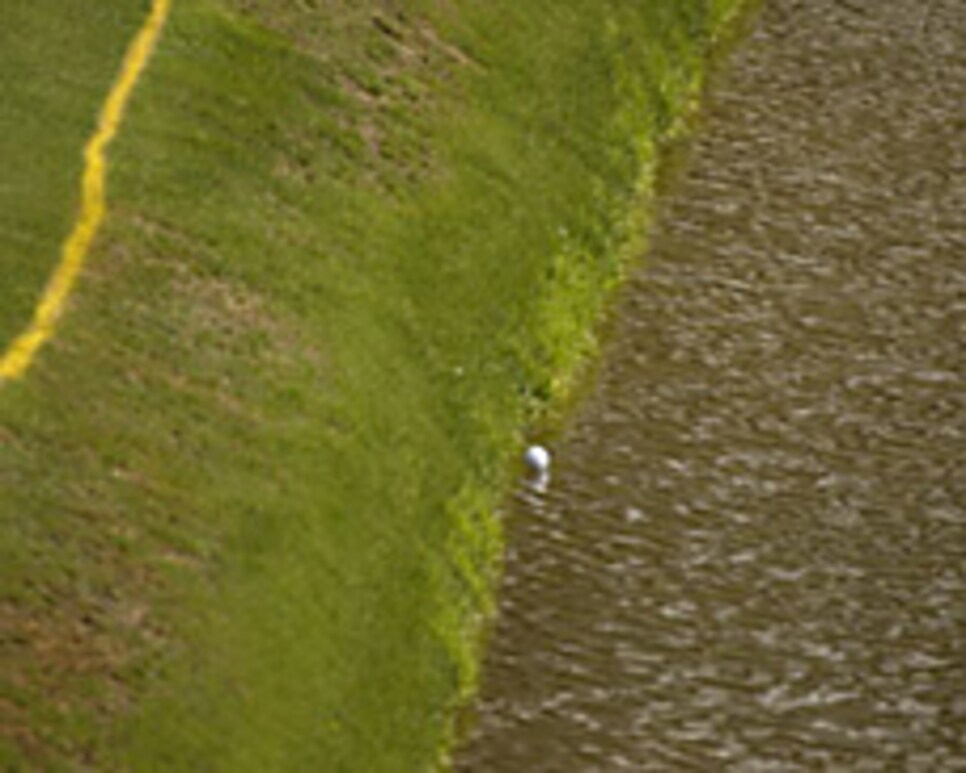 It wasn't debased. The course again produced two of the Masters' most constant and distinguishing characteristics: a star-studded leader board and a big-name winner. The world's top four players all finished among the top eight, and Phil Mickelson took a giant leap into history.
At the same time, there is no denying the latest version of Augusta National is radically different in its examination, especially off the tee. Along with greater length came several fairways narrowed by new trees and a pinched-in second cut, giving the players fewer options and angles than originally provided by architects Alister Mackenzie and Bobby Jones. It led to fewer hot rounds -- only 15 in the 60s for the entire tournament compared to 30 in 2005 and 27 in 2004. Just eight of those came before the final round, when tees were moved up and pins placed in relatively friendly spots to encourage back-nine pyrotechnics.
But the latest changes come only four years after the club added 285 yards, and perhaps inevitably the course seemed to lose a measure of the rollicking quality that led to players gambling and scrambling and making up strokes in bunches. Rather than birdie-hunting, this year the players seemed more intent on avoiding bogeys, giving them a comparatively somber countenance that had more than one competitor making comparisons with the style and mood of another major championship: The U.S. Open.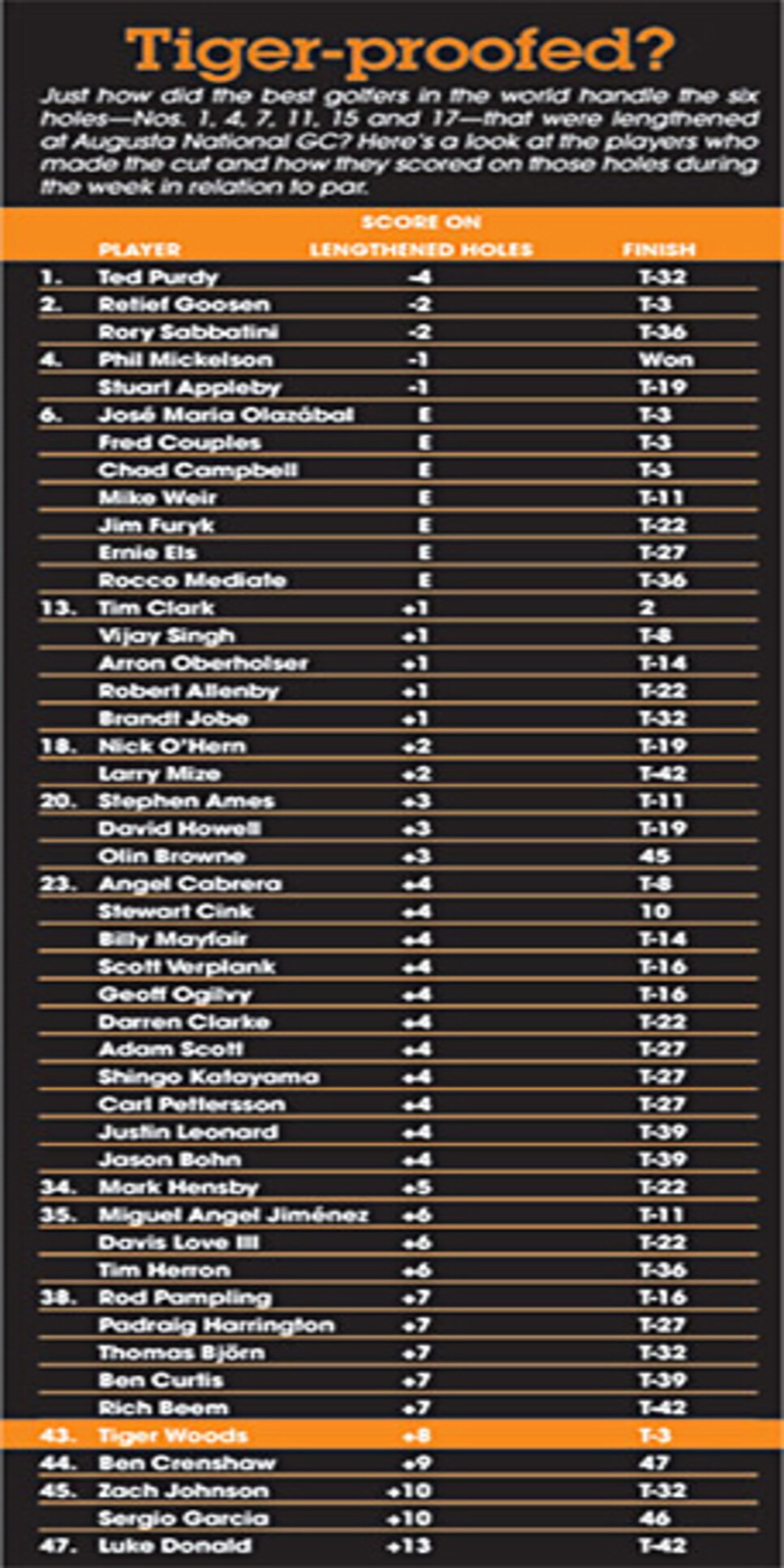 "It's a hard golf course now," said Crenshaw, whose two Masters victories (1984 and 1995) came on a shorter, more wide-open track that allowed a kind of swashbuckling style that would be too low-percentage to fit the more stolid demands of the current 7,445-yard beast. "Every part of the game gets examined, and it used not to be like that," explained Crenshaw, who also happens to be a first-rate course architect. "You had times in the past where you had a green light, and it was so exciting to just let it go. Now, every hole is difficult. It's hard for a guy to really get on a run. You're trying to avoid danger. You've got to really watch it."
Masters chairman Hootie Johnson doesn't deny that the golf course, in the club's effort to combat the growing driver-wedge attack in professional golf, might have lost some of its former "lines of charm" in the process. "I didn't know that a tough golf course was supposed to be a lot of fun," he said a bit defensively before the first round. But by attempting to restore the use of the same approach clubs intended by Mackenzie and Jones, the club has made a choice to counterbalance technological advances in balls and clubs that have allowed players to hit shots with substantially increased force and control. To quote Johnson's standard line, "We will keep the golf course current with the times."
Players arrived at this year's tournament filled with skepticism and even dread. But by the end of the week, the great majority were applauding how the club had managed to more fully test their skills without going over the line.
"At the start of the week I thought many holes would be unfair," said Robert Allenby, who finished tied for 22nd. "But the changes were good in the end. They kept the greens at a good firmness so you could hold them with a long iron. It was the toughest major I've ever played, but it was fair." Davis Love III, who tied with Allenby, agreed. "I thought it was going to play out-of-control long, but they put the pins where they were playable," Love said. "We all probably missed a few more greens, so it gives the guy who can really chip and putt more of a chance, and it makes the long hitters have to display their short game a lot more than in the past."
Self-described traditionalist Geoff Ogilvy, meanwhile, offered a dissenting voice. "I don't know if it's my place to say," said the 28-year-old Australian, who finished T-16 in his first Masters, "but I've been dreaming about playing here for 20 years, and I think what they've done is borderline tragic, to be honest with you. I don't have a problem with the lengthening, because it is ridiculous where we hit it. But the answer isn't to narrow the fairways, because that just takes away the freedom of expression that always made Augusta special. They should keep the length, but take out the new trees and cut the rough. Then they'd be back to having the best golf course in the world." While the latest changes will continue to be debated all the way to next year's Masters, this one settled three issues that had been in doubt:
1) Augusta National is more democratic when it is dry.
Since the big course changes instituted before the 2002 tournament, the rain-plagued Masters hadn't seen truly firm and fast conditions for a single official round. Before this year's tournament, Nicklaus surmised that, "It used to be if the golf course was wet, it would bring a lot more people into the game. But [right now] I think [when] the golf course is dry, it brings more people in the game."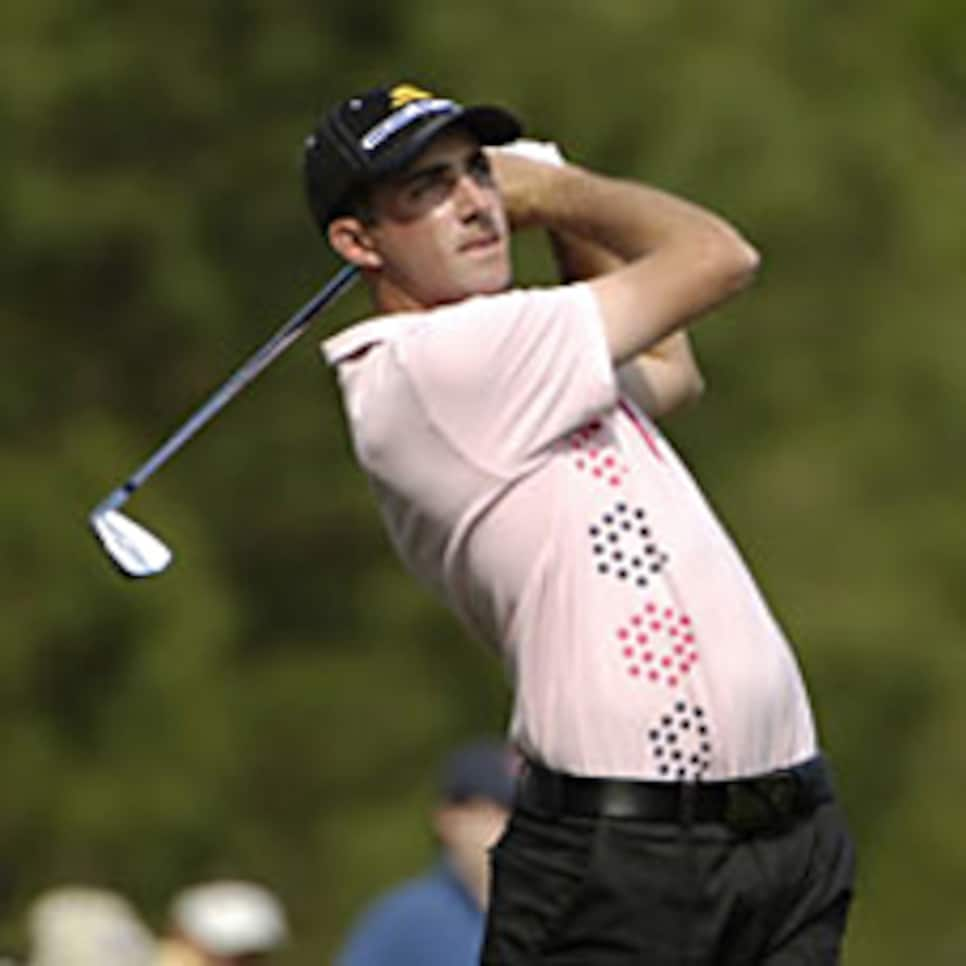 He was right. Short hitters like Clark, Mediate and Arron Oberholser, along with Crenshaw, took a prominent place on the leader board the first two, dry rounds.
With the ball rolling out on the firm fairways, the shorter hitters were able to attack the 450-yard-plus par 4s with mid- and even short-irons, just like the bombers. And more than a few short hitters noticed that several fairways narrowed beyond 300, a point confirmed by Johnson. "We think that at 280 to 300 yards … there's all the room in the world," the chairman said. "But if someone wants to swing from the heels and hit it 330 to 340 or something like that, he'd better be accurate."
2) But add water and it's a bomber's paradise.
No coincidence that Mickelson was the driving-distance leader for the week with an average of 299.3 yards. And his length became a bigger advantage after the heavy rains that rumbled in Saturday. Almost immediately the shorter hitters began to struggle, especially with the continuation of the third round Sunday morning amid wet ground, cool temperatures and gusty winds. Clark was leading late in the round until he faced a strong headwind on the 17th tee. Trying too hard to hit a good drive so he would have a chance to reach the green, he hit a hook that led to a double bogey. Then with the wind still hurting him on 18, another hooked drive left him no chance to get home, and he made bogey.
"In tough conditions, the course became a bit too much for me," explained Clark. "When it's wet, a short hitter really can't afford a bad drive. It does swing the advantage more to the longer guys." Added Scott Verplank, who finished T-16 while ranking 45th in driving distance among 47 finishers, "Especially when it gets soggy, you just have to carry the [tee shot] so far to have a club in that can give you a birdie chance. It's hard for a guy like me to stay in the game. It's always been a bombers' golf course, and it's more so now."
3) The lengthened holes made a real difference.
Four of the six lengthened holes were statistically among the toughest seven against par, with the par-4 11th the hardest, and the par-4 17th the second hardest. They played a pivotal role in the outcome. Mickelson, at a cumulative one under par for the six holes, played them better than any of the other top-10 finishers. By contrast, Woods played those six holes eight over par. The field averaged 1.18 strokes over par on the six holes.
By the end of the week, most competitors agreed the architects of the latest changes had found an admirable balance.
"Sure, they lost a little of the character of the golf course," said Verplank. "But the game has changed so much. If somebody would fix the equipment issue, Augusta wouldn't have to do this." It was left to six-time Masters champion Nicklaus, whose public disagreement with the latest course revision was what gave the pre-tournament debate about the changes its legs, to commend Johnson for "trying to do the right thing" by addressing the same dilemma Nicklaus said he faces as a modern course architect.
"You're trying to corral the long player somewhat, yet allow his abilities to still come out, [while making] it fair where an average length player still has a way to play the game," Nicklaus said. "I haven't figured that out."
Maybe no one has. But this year at least, Augusta National came laudably close. Interested observer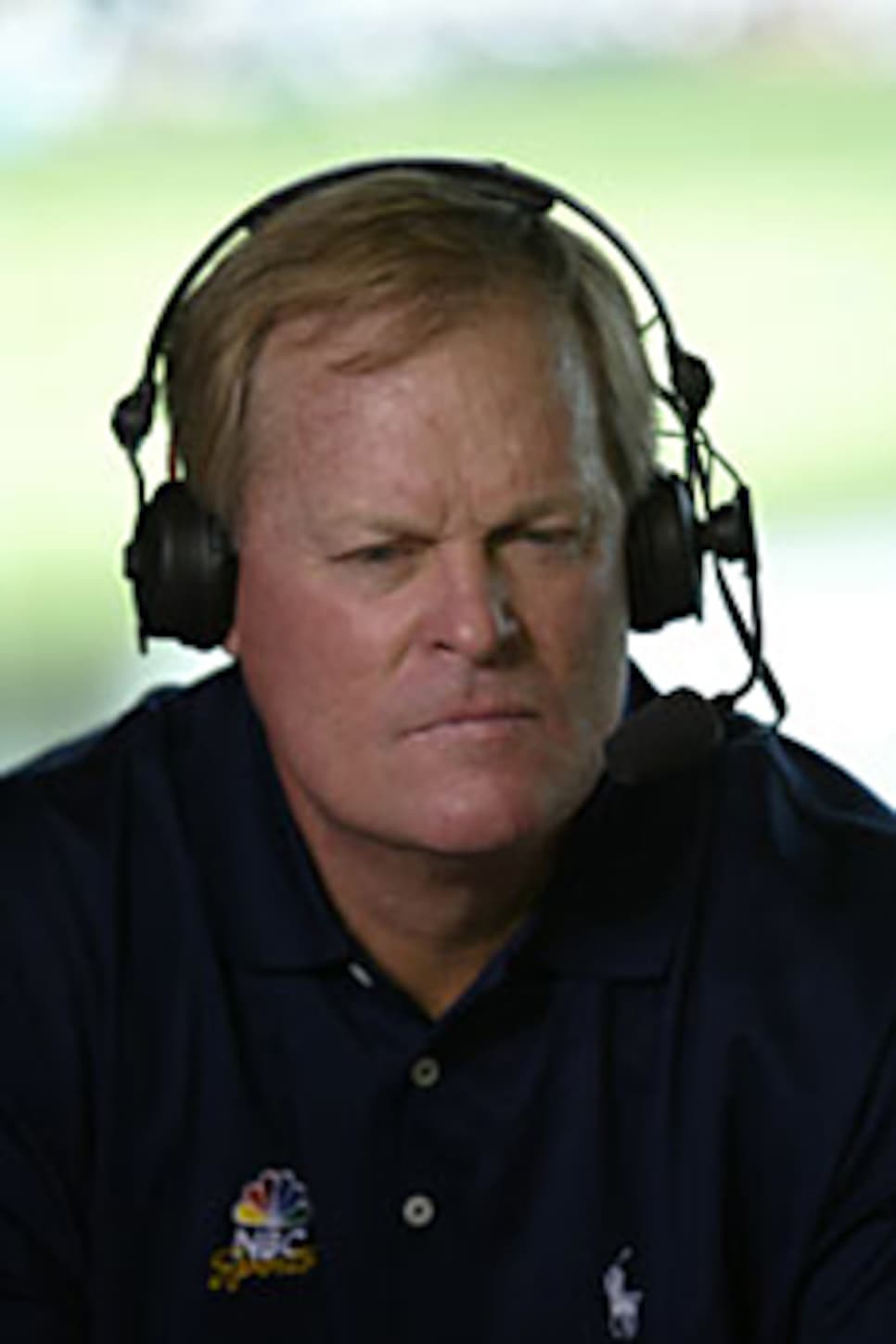 Something else besides the course was different about the Masters this year. Johnny Miller was on site for the first time since 1994. That year he played by virtue of his unexpected victory at the AT&T Pebble Beach Pro-Am, the last of his 25 PGA Tour wins. This year he came as part of an NBC contingent that included NBC Sports chairman Dick Ebersol and golf producer Tommy Roy.
Given that the Augusta National Masters contract with CBS is year to year (it has been renewed after every CBS telecast since the first one in 1956), Miller's presence early in the week was both slightly incongruous and provocative. He has made it known that he hopes to someday be part of a Masters telecast, and CBS public-relations types were put on edge Thursday when Miller strolled down to the network's compound to visit with his friend, golf analyst David Feherty. The two were even set to take a walk on the course until they considered how it might get the rumor mill churning and thought better of it.
"I'm really just here because I've always loved the Masters, and I've missed coming to the tournament," said Miller, who finished second three times at Augusta National but never won. "I really enjoy getting up close and watching how today's players handle the place."
As he is wont to do when the subject is golf, Miller's quick mind incisively touched on several topics.
Though he considers Augusta National's latest course revisions to make good sense, Miller said he is not in favor of a rollback in the modern golf ball or other substantial equipment reform. "The professional game is in good shape," he insisted. "A good way to cut some distance would be to cut the fairway grass a little longer, the same length we played on in the 1970s. It would stop drives from rolling 50 yards."
Miller said he sees a trend toward today's young tour players swinging smoother with their irons for better distance control. "The Greg Norman way of hitting everything hard didn't really work, and I see signs of players learning to finesse their shots into the green," he said. "I used to swing really hard with my driver and really easy with my irons."
The young player he is most impressed with is Camilo Villegas (who did not qualify for a Masters invitation). Miller particularly likes the way the young Colombian projects his "mojo" by wearing bright, tight-fitting outfits. "That [style of] clothes kind of tells everyone else that you have a lot of confidence and energy," said Miller. "When I was playing my best, I didn't dress all that different from Villegas."
Until this year, Miller claimed he was unaware that his major championship victories in the U.S. and British Opens made him eligible to play in the Masters Wednesday Par-3 contest. "I would have played if I had known," Miller said. "I'm planning on playing next year." No doubt that will make CBS a little nervous all over again.