News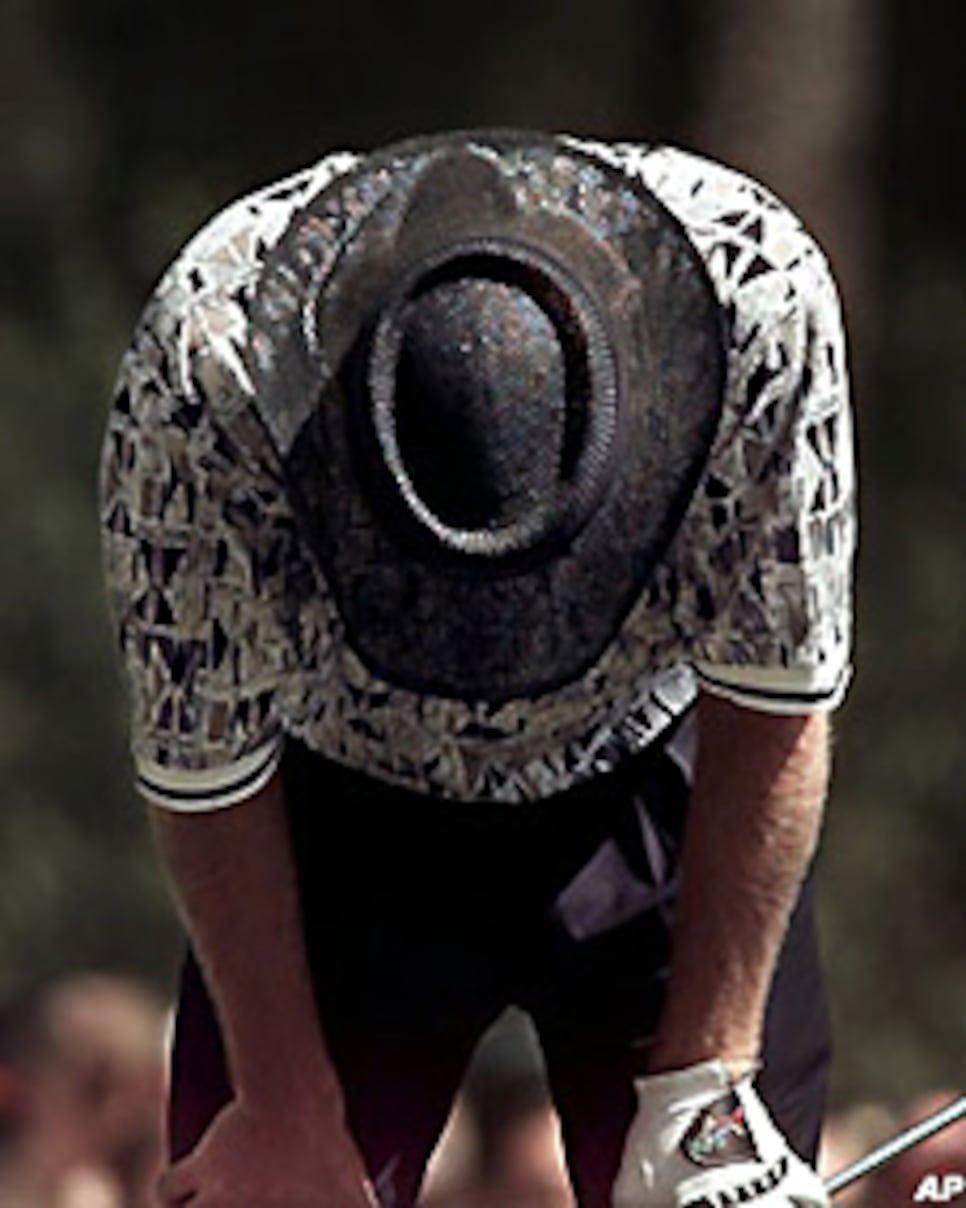 Norman's reaction after his tee shot at No. 4 found the sand typified the fateful day. AP Photo
Ten years later, the memories are as clear as the day from which they came. Black Sunday dawned to a spooky, robust fog, but by mid-morning the vapor had vanished in Georgia's warm spring air. Temperatures would climb well into the 80s that afternoon. There would be little breeze and barely a cloud in the sky -- one can see why the golf gods wanted an unobstructed view of the final round of the 1996 Masters.
Greg Norman has always been an early riser, awake by sunrise most mornings. Although his 2:49 p.m. tee time with Nick Faldo could make the hours feel like months, Norman had led enough major championships after 54 holes to know the drill. "I had a great night's sleep," he recalls. "I remember getting up and turning on the Weather Channel, mainly to see which direction the wind would be coming from. I check the forecast and play the golf course in my head with whatever wind they're calling for."
To pass some time, Norman and his wife, Laura, took a walk around the suburban Augusta neighborhood they called home for the week. Their stroll did not include any conversation about Greg's six-stroke lead over Faldo, much less the promise of something very special happening later that day. After years of center-stage heartbreak and self-inflicted failures at golf's biggest events, anything relevant to Norman's dagger-infested past was probably better left unsaid.
No more than a few miles away, Faldo puttered around his rented house in a state of uncharacteristic tranquility. He was six back, after all, alone in second place but not exactly breathing down the leader's neck. Paired together in the final group Saturday, Norman had widened his lead by shooting a 71 to Faldo's 73. Of course, this meant little now. Nobody in the game's modern era plucked opportunity from the mistakes of others quite like the Big Brit, whose five major titles included back-to-back Masters triumphs (1989-90) that were someone else's to lose.
Lose them they had. "It's what pro sport is all about, isn't it?" Faldo says. "If Scott Hoch could have holed that putt, that was the first one, then Ray Floyd could have done this [in '90]. My argument, and everybody knows this, is that it has always been a 72-hole race. We all know where the starting line is. We all know where the finish tape is. That's what it's all about."
Three-quarters to the finish tape that Sunday morning in '96, Faldo watched a NASCAR race on TV and plotted the unthinkable. He had played the hand he had been dealt in his news conference Saturday night, stating the obvious amidst glimmers of hope while acknowledging that, yes, six strokes was a bit of a climb. Still, he could catch Norman. Why not? "Of course you're going to say that to the press," says Faldo, who will turn 50 next year. "You can't go in and say, 'I've got no frickin' chance.' So I get home and I'm telling myself, 'Yes, I can do this!' I'm planning it all the way, thinking that if I can get it down to three after nine holes, we've seen plenty of guys blow three-shot leads on the back nine at Augusta National."
Just 6½ months earlier, Faldo had emerged as a hero at the 1995 Ryder Cup, clinching a key point in his singles match against Curtis Strange as Europe rallied to beat the United States. Again, the formula was a familiar one: Strange faltered badly down the stretch, and there was St. Nick with the pressure at a premium, primed to pounce. After laying up with his second shot at the difficult 18th, Faldo knocked a full wedge to four feet and saved par to win, 1 up.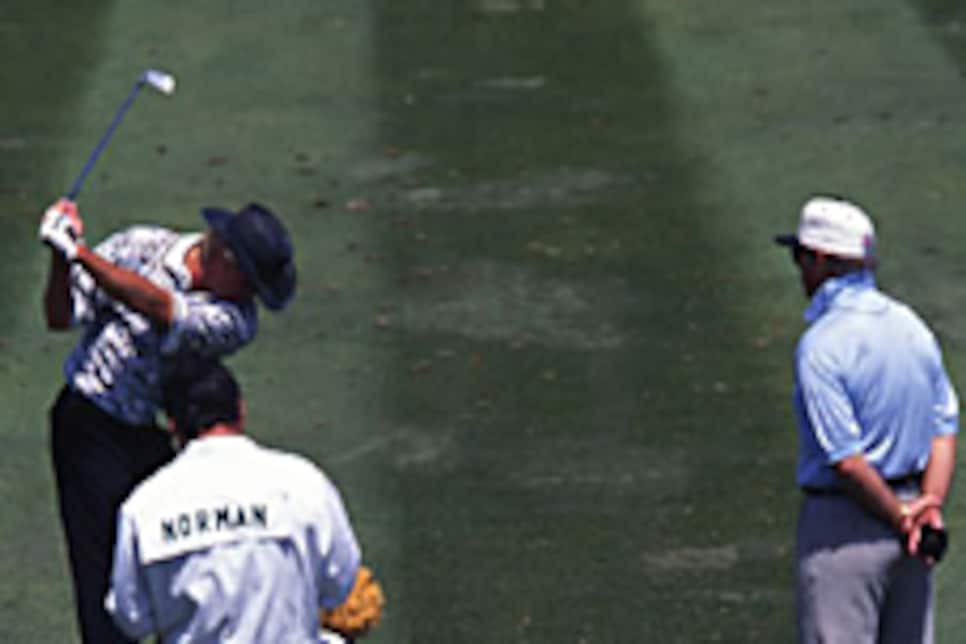 The fall of '95 also marked the end of Faldo's second marriage. His wife, Gill, with whom he had three children, accompanied him to the matches at Oak Hill primarily to avoid the scrutiny that would have ensued if she hadn't made the trip. It was no secret that Faldo would be leaving his wife within a matter of weeks, but there was Gill, reveling in the champagne spray after Europe's stunning victory.
Their separation was announced shortly after the Ryder Cup. "Socially, a 24-handicapper," Gill would say of her ex-husband, although Faldo had already begun a relationship with 20-year-old Brenna Cepelak, a member of the University of Arizona women's golf team who was with him in Augusta. Whether it was the presence of his new companion, the huge final-round deficit or mere coincidence, a man legendary for his meticulous preparation strayed from his pre-round routine that Sunday.
"I called my parents, which I rarely do at a tournament," Faldo says. "Normally, I get to the course about an hour and a half before and go through the process, but I was just so relaxed that day and misjudged it, which is very weird for me. Fanny [Sunesson, his caddie] was waiting with eyes this big. She goes, 'You've got 57 minutes.' It was probably a good thing because it didn't give me a lot of time to think."
Without further delay, Faldo slid into his competitive cocoon. "I was very aware he was late," Sunesson says. "I just told him how long he had, then we got on with it."
Norman did his stretching at the house, then left around 1:30, meaning he arrived at the course at about the same time as Faldo. The leader seemed genuinely relaxed on the practice range -- this day was a decade in the making, a coronation with retribution. Since spinning out of a 4-iron from the 18th fairway in the final round of the 1986 Masters and making the bogey that allowed Jack Nicklaus to claim his sixth green jacket, the Great White Shark had weathered a great deal of high-profile frustration.
Bob Tway from the bunker at the '86 PGA Championship. Larry Mize from right of the 11th green at the '87 Masters. A pair of harsh lip-outs in sudden-death at the '93 PGA. In the first two majors of '95, Norman put himself in excellent position to win, but loose wedges down the stretch cost him both tournaments. The cause of his failures seemed equally split between the miracles of others and his own miscues, prompting appraisals that often overlooked his major triumphs at the '86 and '93 British Opens.
The second of those claret jugs came at Faldo's expense. Norman's final-round 64 at Royal St. George's proved he could get it done -- he trailed Faldo and Corey Pavin by a stroke at the start of the day but quickly jumped to the top of a world-class leader board, then coasted home to defeat Faldo by two. They hadn't played together that afternoon, nor did Norman have to sleep on a lead, but the '93 British would become the only major Faldo led after 54 holes and failed to win. Despite a closing 67, no less. For all the history they compiled separately, for all the leader boards on which they both occupied prime real estate, this was the first time Norman and Faldo were paired on a Sunday when contending at a major. Theirs was a muted rivalry, one framed by radically different styles more than head-to-head substance. Flamboyant vs. fastidious. Aggressive vs. obsessive. "Like chalk and cheese," Faldo says. "One flies in on a helicopter, the other sneaks in below the radar."
At the 1990 British Open, Norman and Faldo shared the 36-hole lead at St. Andrews and squared off in Saturday's final group. Faldo's airtight 67 became a glaring alter ego to Norman's sloppy 76, providing the cornerstone to St. Nick's fourth major title. By then, the flaws in Norman's game had become too serious to ignore. He hired a Houston-based instructor named Butch Harmon to rebuild his swing and didn't win a tournament anywhere for more than two years.
By April 1996, however, Norman had reclaimed the No. 1 spot in the World Ranking and was reigning PGA Tour Player of the Year. Still, in terms of general perspective, his career had veered in almost the opposite direction of Faldo's. He was a man defined by opportunity lost. "Tom Watson came up to me one time after a U.S. Open and said, 'Greg, you seem like you're snakebit,'" recalls Norman, who turned 51 in February. "I said, 'Nah, no big deal to me,' and he said, 'Let me give you one piece of advice -- once you bite the head off that snake, it will be dead forever,' and he walked away."
Caddie Tony Navarro and swing coach Harmon stood close by as Norman glided through his final-round preparation. Despite his allegiance to equipment manufacturer Cobra, no one noticed a snake in the grass. "Greg's finally at peace with himself on this golf course," Harmon would say a few minutes later. According to Navarro, Norman's ball-striking on the range was sharp, his demeanor ideal. "He hit it like he'd been hitting it all week long," the caddie says. "He was in control. His pace was very good. He spent the same amount of time on each club, and we bull------- a little, as you usually do."
As if to deliver the punchline of a joke, Norman poked Harmon in the forehead while warming up, and the three men had a good laugh. "He seemed very loose, but at the same time, he didn't seem too excited to get out there, which was a good sign," Navarro adds. "I didn't want him too anxious. I wanted him feeling like he does every day going to the first tee."
On his last swing in the practice area, Norman holed a bunker shot. In the glow of sunshine and hands of fate, the happy ending had arrived four hours too soon.
More than most outstanding golf courses, Augusta National distinguishes good shots from bad by the smallest of margins. Two feet here, eight inches there, and an exceptional round becomes a nightmare. Its genius is best reflected in its exacting demands on shots into the greens -- it is a power player's venue that places extreme emphasis on the precision of the approach.
This explains how Norman, one of the finest long-club players the game has ever seen, could miss just one drive all afternoon -- at the first hole -- and shoot 78, blow the entire six-stroke lead before he reached the 12th tee and ultimately lose by five. It explains why Faldo, undeniably the greatest tactician of the modern era, could roar past Norman and gain ample reward for his closing 67, which Sunesson quickly refers to as "one of the best rounds of golf I've ever seen."
One can argue that Augusta National's fickle temperament has never been on grander display than on the afternoon of April 14, 1996. "Greg just hit it too straight down the left side," Faldo says of Norman's opening tee shot. "He's blocked by the trees, makes 5, and I'm thinking, 'OK, there's one.'" Norman actually had a good look at the first green but played his approach directly at the back-left pin. His ball bounced back into the front bunker, where he hit an excellent sand shot but missed a five-footer for par.
To reach 13 under after 54 holes, Norman had putted remarkably well. He would birdie the par-5 second Sunday and eventually regain a stroke on Faldo with a par at the fifth, taking a five-stroke lead to the sixth tee, but there is no ignoring the fact he missed his first tester of the day at the first. "Was I quietly confident? Yes," he says. "Overly confident? No. Was I nervous? A little bit, but I'd been more nervous in other situations on the golf course."
In what stands as his most comprehensive reflection on the '96 Masters since that Sunday, Norman has one overriding regret. "If I could go back and do it all over again, I'll tell you with my hand on my heart that I would have made myself run to the finish line," he says. "I started off [the final round] with a conservative approach -- let's get balanced, make a bunch of pars and move forward. That was never my philosophy in golf. I remember feeling like I wasn't being myself as the front nine played out."
Whether it was the short miss on No. 1 or any doubts Norman had regarding his conservative mentality, Faldo made a compelling observation on the second tee. "He started regripping the club, milking it and milking it," says a man famous for not noticing his fellow competitors. "I thought, 'Ooh, that's different.' Normally with Greg it's shuffle, shuffle, then grip, grip and bang! He doesn't have any hitch." Norman doesn't recall the sequence but says he and Harmon worked on his grip in the weeks leading into the Masters, although he doesn't remember why it became an issue.
As for playing safe, there isn't much evidence to suggest Norman stayed with the approach for long. He took on a dangerous flag at the third, missed the green, but got up and down for par. He fired at a front-right pin at the par-3 fourth, came up two yards short and made a bogey from the front bunker. When CBS came on the air at 4 p.m., Faldo had just stuffed his tee shot at the par-3 sixth and converted the five-footer for birdie.
"The lead is just four," anchor Jim Nantz warned viewers. Added defending champion Ben Crenshaw, who joined the CBS team after missing the cut: "We're at a different place, where so many things have happened and will happen." However tenuous Norman's advantage had become, one statistic begged for perspective. In the first three rounds, he was three over on the first six holes, then 16 under from the seventh tee on.
Just like that, the Shark struck. He played a perfect tee shot at No. 7 and parked a sand wedge six feet right of hole. Alas, CBS broke for a commercial as the final pairing walked to the green, heading into its first break with a "Masters Memories" installment: Mize's 45-yard chip at the 11th to beat Norman in sudden death in '87. Talk about bad omens. Norman pulled his six-footer for birdie, his third such miss of the day, then headed to the next tee and ripped another quality drive, leaving him 260 yards to the green at the par-5 eighth.
"It was a perfect yardage for him, but the pin was up front, and it's an easy pitch from 30 yards short," Navarro says. "I had him going for the green, thinking about him making eagle, when I should have talked him into hitting a 3-iron 30 yards short and pitching into the grain. It was a mistake on my part." Norman regripped the club repeatedly, looking fidgety while dealing with the uphill lie, then yanked a 3-wood into the trees. He recovered nicely to make a par, but Faldo laid up in the area Navarro mentioned, hit a weak third, then drained a 20-footer for birdie.
Sunesson sees the putt as one of the biggest strokes of the day, as it atoned for one of the few poor shots Faldo hit. It also cut Norman's lead in half, setting up the four-hole sequence that would become Black Sunday's blood and guts, golf's darkest hour. "I was very much looking forward to the day, looking forward to every hole along the way," Navarro says. "Then, all of a sudden, we weren't having much fun anymore."
Two feet here, eight inches there. Norman had 100 yards and a perfect angle to the ninth pin and came up no more than a yard short -- the only place you can't miss when the flag is up front. His ball spun back down the slope, leaving him a brutal pitch he played exceptionally well, but he missed the eight-foot comebacker. He turned in 38. He had made nothing outside of three feet.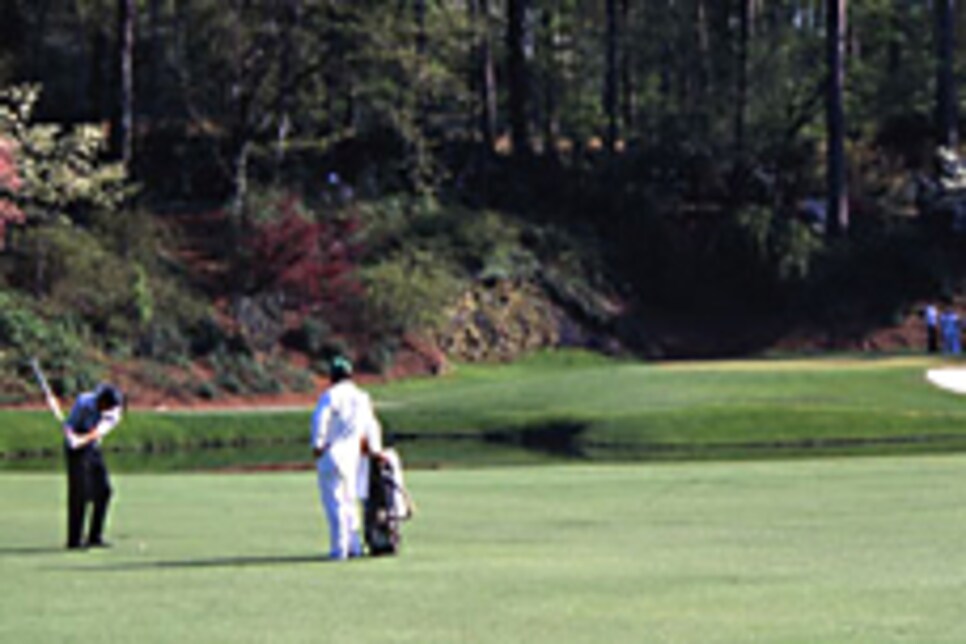 If the bogey at No. 9 is often identified as the telltale moment in Norman's demise, Faldo sees the 10th as the Shark's point of no return. "A series of unforced errors," Faldo says. "Straightforward 8-iron shot, pulled it, jammed the chip, missed the putt, and I thought, 'Ooh, now he's in trouble.' He three-putts 11, and he's crumbled in that simple space of time. Now we're tied. After 10, I realized it was really getting to him. The ninth was a mistake where he'd come up just short. The 10th was poor shots."
Norman's memory, perhaps conveniently, fails him in regard to the start of the back nine. Navarro doesn't think the approach at the 10th was that bad -- a slight pull that stopped on the bank, leaving an uphill pitch to a tight pin. His third was awful, however, carrying past the flag in the air, which led to a 12-foot miss for par. As the two men headed to Amen Corner, a tangible pall seemed to follow them. Shouts of encouragement had succumbed to one prolonged murmur.
After two perfect shots at the 11th, Norman says he took his first look at a leader board. "I was surprised," he says. "I thought somebody else would be doing something, the way I was going, but I never noticed Nick was [two under] at the time. I'm thinking, 'Faldo? The guy on my hip is right there, and I didn't even notice him. Holy s---, I'd better get it going.' " Norman's 12-footer for birdie skidded three feet past the cup. When he ginched the par putt off the right lip, a gasp reverberated from the nearest gallery, gathered behind the 12th tee some 60 yards away.
"Stick with your target now," Navarro advised as Norman pulled out a 7-iron at the 155-yard par 3. "Over the bunker." At this point, having tried to revert to the aggressive style that made him one of the world's best players, the Shark found himself a helpless victim of Murphy's Law. His ball carried the pond in front of the green but landed too far right, took one hop forward, then began its fatal descent down the mound and into the water.
When Greg Norman misplaced a six-stroke lead over Nick Faldo in the 1996 Masters, the irony registered like a familiar nightmare with Ken Venturi, then the lead analyst on the CBS telecast. Venturi had been on the wrong end of Jackie Burke's record eight-stroke comeback 40 years earlier at Augusta.
Venturi recalls that he got many phone calls from people complimenting the way he called Norman's demise. He issued a standard reply: "It was easy. I've been there."
One of the callers was Norman himself. "He said it was amazing how I was right in his head," Venturi says.
Venturi made history as a 24-year-old amateur by leading after each of the first three rounds in 1956. He threatened to become the only amateur champion ever, with a posse of Hogans, Sneads, Middlecoffs and Palmers in pursuit. Imagine the pressure on a young man whose biggest victory was a state amateur title -- even a protégé of Byron Nelson's who seemed cock-of-the-walk confident.
It didn't figure to happen, and it didn't ... by the scantest of margins. Venturi shot 80 for a 290 total as Burke put up a one-under-par 71 for 289 in a weeklong wind tunnel that made the 1956 Masters the most difficult of all time. Only one other man, Sam Snead, broke par that Sunday, and 28 players joined Venturi at 80 or worse.
"It started at nine where I missed a short putt and bogeyed," Venturi says. "I was hitting greens but having trouble putting them. They were harder than sidewalks and very bumpy."
His playing companion Snead, quoted in Golf World, scoffed at suggestions that Venturi had choked. "He was relaxed all the way. He didn't tighten up a bit in the stretch. He was pushing his putts and some could have fallen."
Burke birdied the devilish, downwind 17th that Venturi bogeyed -- ultimately the difference.
"I made the mistake the last day of trying to two-putt, which is the easiest way to three-putt," Venturi says. He readily, even affably, rehashes that day of infamy from his home in Palm Springs. A lively 74, he hits balls at least 90 minutes a day despite painful hand problems that forced his early retirement from the PGA Tour, and he continues to do clinics and make speeches. "I've been asked about that Masters for 50 years," he says.
Which just happens to be how long his former employer CBS has been televising the Masters -- the longest-running such relationship in sports. The first broadcasts in '56 totaled a mere 2½ hours, covering just the last three holes.
Burke was only shown getting up and down from a greenside bunker on the 72nd hole, Venturi also sparingly. The shows were in grainy black and white, but the top two finishers wouldn't have made much of a spash in color, wearing their stock shades of gray and tan. Dan Yates, a venerable Augusta National member, remembers sharing a rental house with Venturi that week, and Yates' wife getting up each morning to press the same pair of Venturi's lucky gray slacks. The crease held up nicely until the final round.
Those watching on TV saw only a gentle tremor of ripples on the pond's surface. "I don't know that he was going for that flag mentally, but that's the way he is," Navarro says. "It's hard for him to shoot away from any flag."
It wasn't over, but it was over. The double bogey vaulted Faldo from three behind to two ahead with four consecutive pars. That Norman birdied two of the next three holes (both of the back-nine par 5s) only seemed to underscore his alarming lack of comfort while holding the lead. After he drove it into the pine straw at the 13th, Navarro needed more than two minutes to talk Norman into laying up short of Rae's Creek. Although CBS analyst Ken Venturi did his best to babble over the dialogue between the struggling player and his caddie, the exchange was fascinating.
"Think I can hit a 2-iron in there?" Norman asked.
"You don't have to make 'em all up on one hole," Navarro replied.
"2-iron?" Norman repeated.
"Yeah, I think you can get it there. I'm just wondering if that's a good play or not. I don't think that's the play. We can make 4 the other way."
Norman pulled out a wedge. "I want to hit the [2-iron]," he said. "That's what I want to do." As the gallery surrounding Norman giggled, Navarro returned with the bag. "If you think that's the play, then let's go for it," he said.
One more time, the Shark was told he had 213 yards to clear the creek. He laid up, knocked his third shot to 10 feet and made his birdie. "It was just too risky," Navarro says a decade later. "If we start knocking every ball in every pond all the way to the end, that's not what we're going to do. He made a nice birdie, and I'm still thinking he's going to win this golf tournament."
It was way too little and a bit too late. Norman's last chance to rally came at the 15th, where he fanned a 6-iron into the par 5 but had a makable chip from short-right of the green. It was tracking dead in the heart before turning slightly right and grazing the edge of the cup, at which point Norman tumbled to the ground in a moment of metaphorical splendor. The only thing missing in the fall was his sword.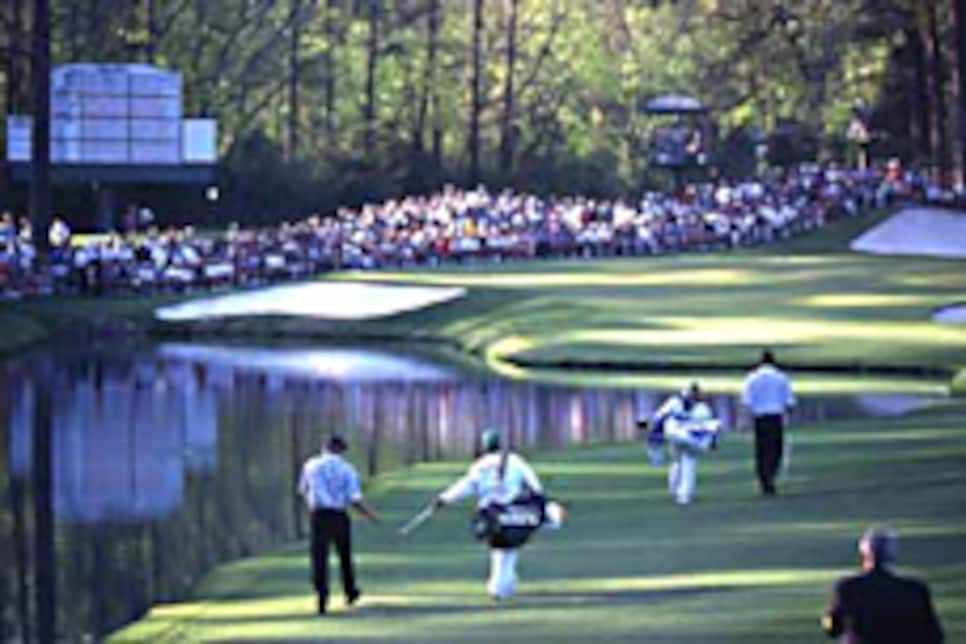 Faldo played his own deft chip from behind the green and matched Norman's birdie. "If he holes his and I don't get up and down, we're tied again," Faldo says. "It was one of the great shots I hit, a little bump and run to about three feet. It has to hop just over the ridge [bordering the green's back edge] and release just right. A lot of things can happen there. You can leave it in front of your nose or you can hit it perfect, or you can run 10 feet past."
Norman put everything he had into making the chip. When it didn't go in, he was spent. "I had an easier shot than he had, and if it goes in, it's a whole new ballgame," he says. "That's why I put so much energy into it. It was hard for me to go to the next hole and regroup." Clearly, he didn't. Norman's worst swing of the day sent his tee ball at the par-3 16th at least 20 yards left of the target -- "a fat roper," Faldo calls it. As it splashed in the pond, there was barely a groan from the gallery. Just a lot of bizarre chatter amidst the clatter as people packed their belongings.
Ever the Nihilistic Nick, Faldo took absolutely nothing for granted. He wanted a four-stroke lead on the 18th tee because, as he says, "You hit your tee shot and it starts twanging around up in the pine trees, anything can happen." Instead, he drove it into the second fairway bunker, hit a gorgeous iron to 15 feet and holed it for birdie. Faldo's only bogey came at the fifth. He hit the last 12 greens and needed just 22 putts during that stretch -- not a single par attempt was longer than three feet.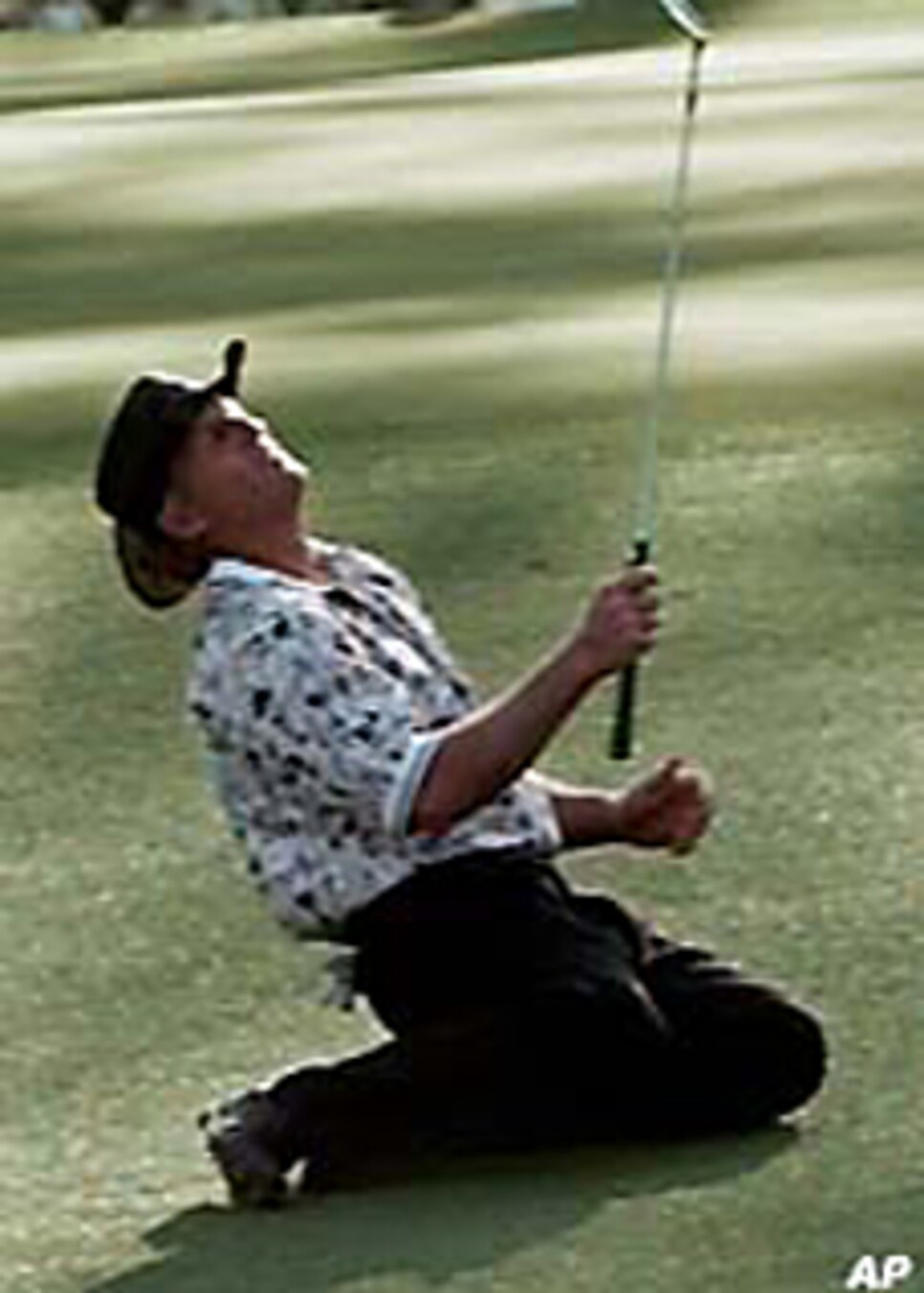 Norman needed to get up and down from just right of the green to hold onto second place alone, one stroke ahead of Phil Mickelson. "A big part of me was happy," Sunesson says, "but I was thinking about Greg and how he must be feeling. It was a different type of joy."
As history rushed an ugly chapter into golf's glorious lore -- a tournament referred to as "the Great Car Crash" by longtime CBS golf producer Frank Chirkinian, whose last Masters was in '96 -- Faldo and Norman hugged. What the winner said to the loser during their clinch remained a mystery until recently. "I told him, 'Don't let the bastards get you down,' I guess meaning everybody," Faldo says. "I was sure a lot of people would be negative about that one. I knew it affected him -- I heard he landed back in Florida [that evening] and couldn't get off the plane for two hours or something. I know I couldn't have handled it as well as he did, especially immediately afterward with the media."
Actually, it wasn't two hours. As Faldo headed to the Butler Cabin, then the awards ceremony, Norman carried himself through the post-round news conference as if he had shot 68, not 78. When a tournament official asked him if he wanted some water, the Shark smirked. "No thanks -- had enough today," he replied. No question was too hard, no answer too soft, no excuse too apparent.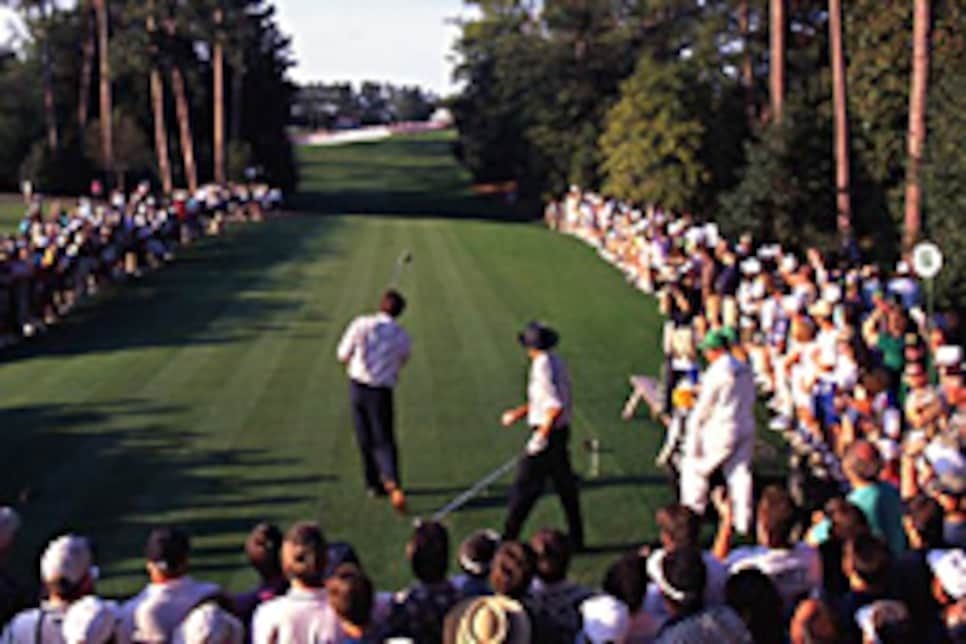 Cepelak, the Masters neophyte, asked her boyfriend what he would wear to the champion's dinner that evening. Faldo said that he planned on donning the gorgeous emerald sportcoat he had won at this same tournament seven years earlier. Norman and his family made a quick stop at their rented house, where Fred Couples called to tell the Shark he deserved to win a Masters even more than Couples himself had.
"Other than [being asked] how long I worked for Greg Norman," Navarro says, "the second question I get is, 'Were you with him in '96?' They never ask if I was with him when he shot 24 under and lapped the field at [the 1994 Players Championship]. They don't ask me if I was with him for the second British Open. The question is always, 'Were you with him in '96?' It sticks out in everybody's mind."
From the house, the Normans headed to the Augusta airport. Among those on his private jet were Raymond and Maria Floyd, and Buddy Antonopolous, a local club pro. It was Morgan Norman, Greg's 13-year-old daughter, who broke the tension on the flight. "Don't worry, Dad," she said. "We can still have a party because you did great." Beers were opened, conversation steady, and though Norman and his fellow passengers remained on the plane after it landed, he says, "It wasn't for a couple of hours. We stayed on board and talked, but it wasn't a depressing talk. I was probably the one who kept it from getting like that."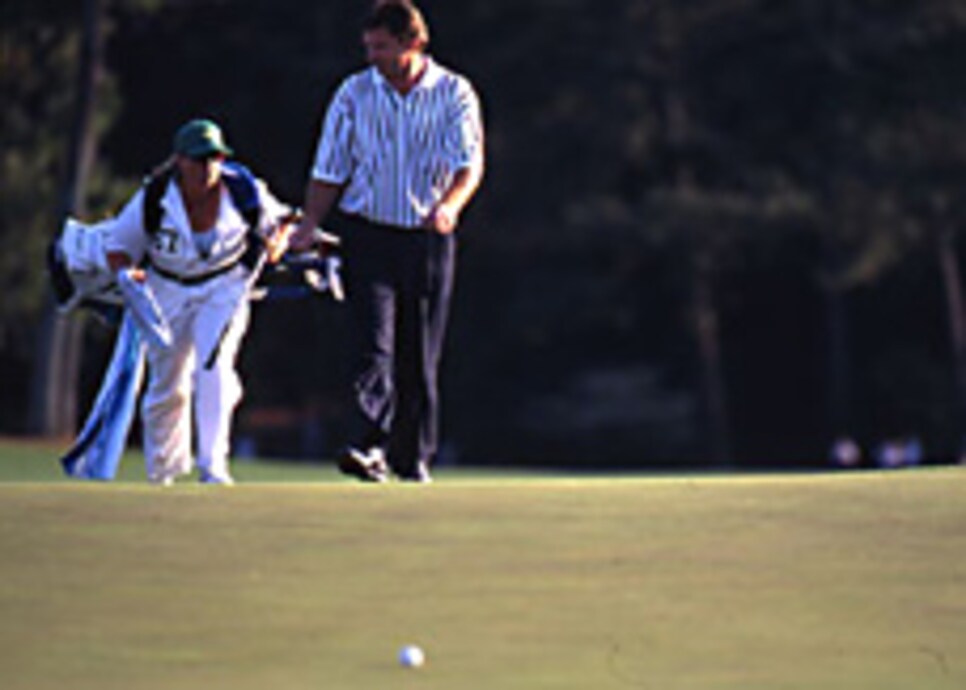 A few rounds of drinks later, after doing his best not to let anyone feel sorry for him, after telling everybody he would be just fine and that the sun would come up tomorrow, Greg Norman went out to the beach and cried like a man who had lost the only thing that ever mattered to him. He cried because it hurt, because he was emotionally drained and competitively scarred, because winning a Masters, if even by just one stroke, would have made a very good life that much better.
It ended all those questions as to which loss stung the most. "In '87, Larry made the shot," he says. "If it was one in 10,000 or one in a million, he played the shot and was trying to make it. In '96, I had a six-shot lead. I had control and I screwed up. It was nobody else's fault. I had no one to blame but myself, and you move on with it. Destiny wasn't going to let me win that golf tournament. It wasn't going to happen."
So the bastards didn't get him down. Just Faldo, a man to whom many players got down, few of whom ever recovered. "To me, that last round was the best mental commitment I've ever given it," he says. "I had to walk myself through every shot. Before '96, it happened spontaneously. You take the information, get the club and hit. This was different. It was, 'OK, what are we trying to do here?' I had to walk myself through it. 'Twelfth hole, let's hit it 12 feet left.' I knew what to do and how to do it, but I really had to push myself through the process.
"That's what makes me proudest about that day. I committed to every shot. Then you have to execute the darn thing."
By his own estimation, Norman received 20,000 letters after the loss, a majority of them lauding his exemplary character in the aftermath of such a traumatic result. From what will always serve as the punctuating moment of their careers, the most charismatic player of his era got sacks of mail while the most decorated champion got one last major title. Destiny may not have a conscience, but it sure can tell the truth.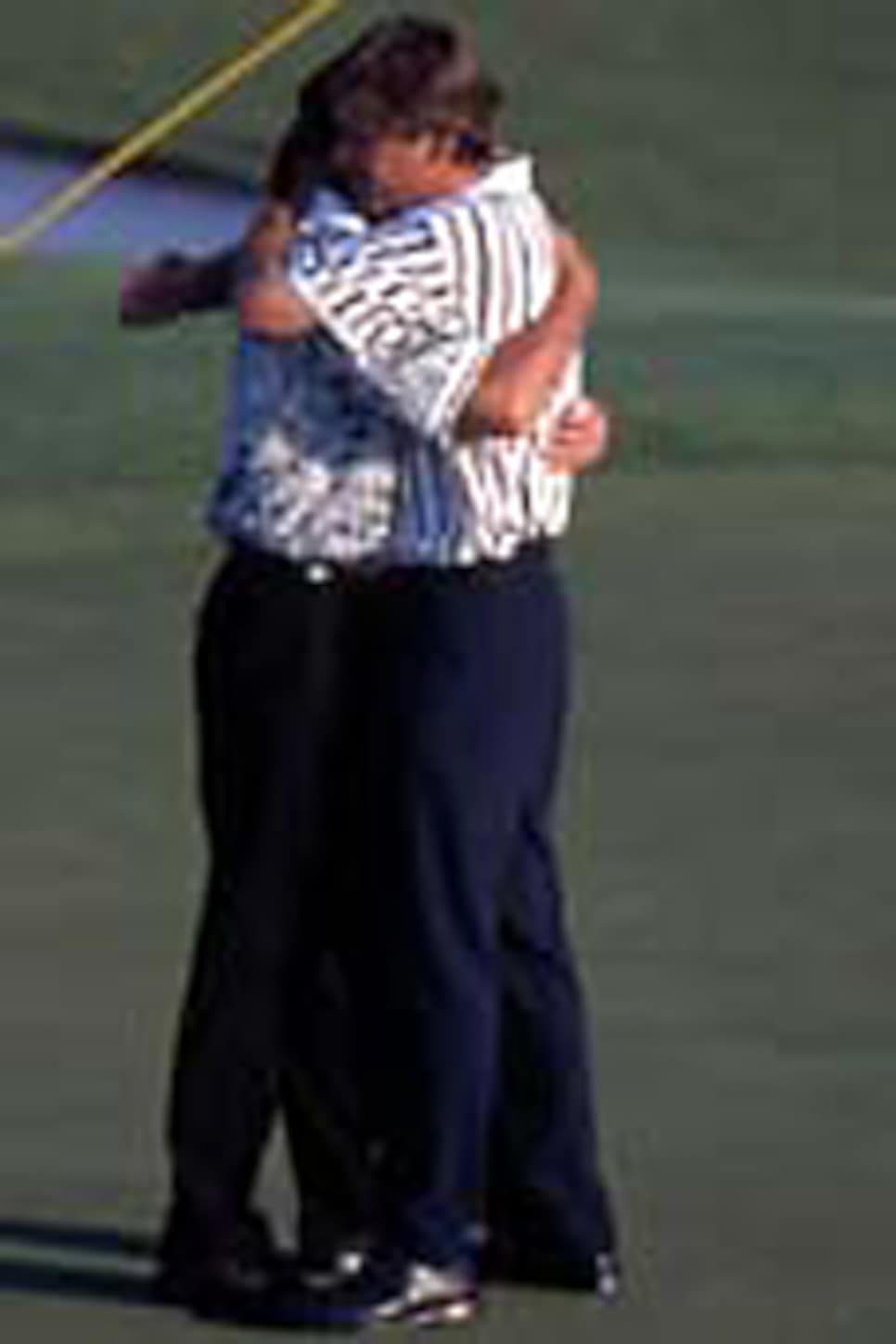 The hug at the end of the 1996 Masters was touching, if not everlasting, as Greg Norman made clear to Nick Faldo a few years later. Although the two men were never close, Faldo's management company approached Bart Collins, president of Great White Shark Enterprises, to propose a series of corporate-friendly outings that might serve as a good-natured "sequel" to Black Sunday.
Norman wasn't offended, but he wasn't interested, either. "I thought enough [water] had gone under the bridge," Faldo says. "I thought some company would love to hire one of us and another company would hire the other, and that it would be quite fun. Nothing ever happened."
Asked about Faldo's proposal, Norman suggests the idea came to him somewhat half-baked. "I didn't want to put the time into it," he says, "and I wasn't convinced the concept was necessarily a good thing. If you put a significant amount of time into something like that, you need to make sure there's value coming out the back end. He didn't really have an exit strategy, and doing deals like that with [another] player can be tough because you're talking about two [corporate] groups."
Did the hug change their personal relationship? "I think so, but not dramatically," Norman says. "You've got to remember, we started butting heads back in the late '70s. Our personalities were so diametrically opposed -- one thing I will say is that Faldo didn't endear himself to many of his fellow players at the time. You don't spend 18 holes with someone without even saying, 'nice shot,' without saying a word, but I grew up with the guy and knew what to expect.
"Now you watch Nick as a TV commentator, he's a totally different animal than he was in the '80s. It [the business proposal] surprised me because you go 20 years without talking to someone, then all of a sudden, he reaches out. So we talked -- I wasn't going to shun the guy. He has changed for the better, and I think he's quite good on TV. I have told him that."