News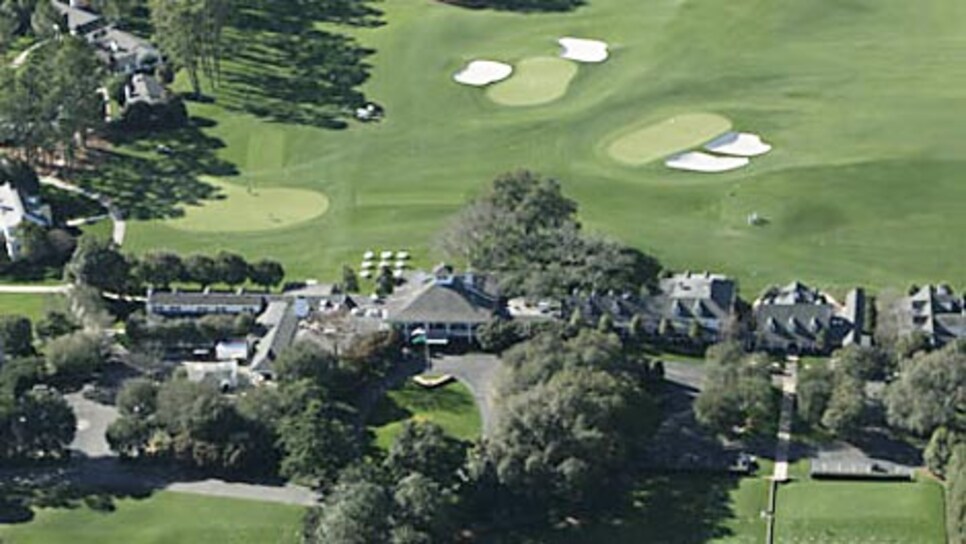 The lengthened first hole has a tournament tee just steps from the practice green (center left)
Naturally, the work is good, very good. When Augusta National GC decides to lengthen a hole, re-shape a bunker or plant a grove of trees, the result looks like it has been there forever -- or at least since Clifford Roberts was around to command a bulldozer. With the club's latest round of changes implemented by architect Tom Fazio, which lengthened six holes by a total of 155 yards, among other adjustments, there is no question about the execution: It could gussy up a sleep-deprived shift worker and seamlessly transform her overnight into a Hollywood starlet.
The wisdom in making the modifications, and their ultimate ramifications, is less clear. Combined with other recent dramatic alterations to the most famous course in America -- the creation of a second cut (known as rough by the rest of the golf-speaking world) in 1999 and 285 additional yards in 2002 -- the verdict won't be evident until the Masters Tournament is played next week.
Since Tiger Woods beat Chris DiMarco in a playoff last year, four par 4s (Nos. 1, 7, 11 and 17), the par-3 fourth and the par-5 15th have been altered. The most dramatic differences will be seen on No. 1, which measures 455 yards and could have players hitting blind approach shots off an upslope; No. 4, which is now listed at 240 yards but could play as long as 260 from the tips to a back hole location; No. 7, the former drive-and-pitch hole stretched to 450 yards where mid-irons might be required into a very small green; and No. 11, now 505 yards with more trees placed to the right of the fairway in an area that had none only three years ago.
For the keepers of Augusta National, the changes are viewed as a justified and necessary reaction to a pro game nearly drunk on power, a moat against equipment technology and the stronger men utilizing it. "Our objective is to maintain the integrity and shot values of the golf course as envisioned by Bobby Jones and Alister Mackenzie," Augusta National chairman Hootie Johnson said last year. "We will keep the golf course current with the times."
It is not, of course, like the layout wasn't tinkered with before the recent flurry of renovations. In a list of "significant hole changes" in the 2006 Masters media guide 108 architectural alterations are cited. "But Augusta was very subtle," says Hale Irwin, who played in 21 Masters between 1971 and 1996. "They would move a tee back a couple of yards, or change a green contour, but if you didn't know the course very, very well, you probably wouldn't recognize it."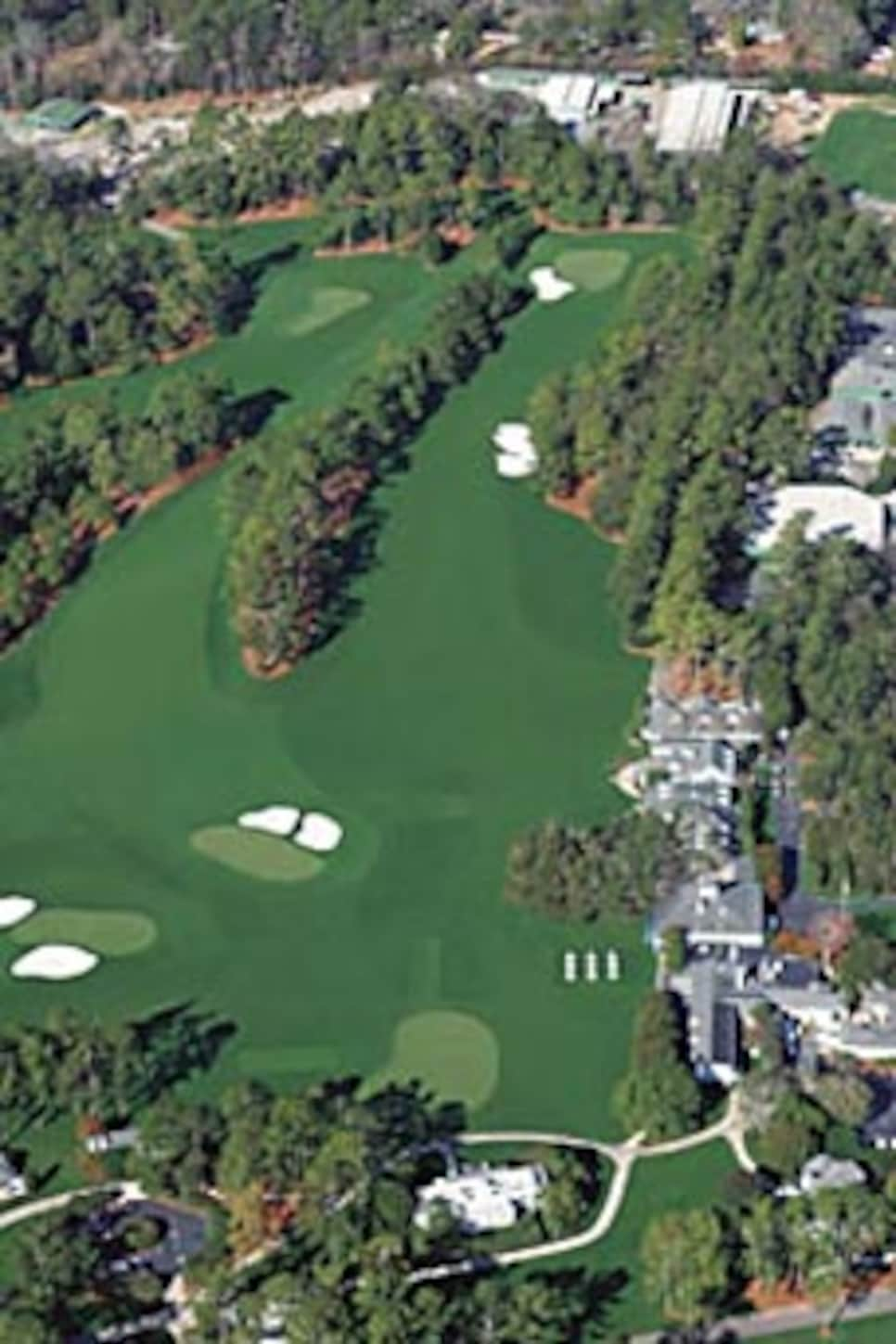 But subtlety has gone the way of balata and persimmon, replaced by an extreme makeover that has become one of the game's hot topics. It is almost as if Wimbledon traded grass for clay and reduced the service box by half. Legends are vexed and current competitiors are wary.
"I like the golf course still," six-time Masters winner Jack Nicklaus told Golf Digest, "but I think they've ruined it from a tournament standpoint." Gone, according to Nicklaus, is the second-shot philosophy favored by Jones and any realistic hope of an average-length player winning a green jacket. "I know what Augusta is trying to do," Nicklaus said this month in a further critique. "Whether they've gone overboard, I'm not sure. All I want is for Augusta to be Augusta, because it's such a great tournament."
To emphasize his point that the revised layout will not be friendly to former winners of unimposing power such as Mike Weir and José Maria Olazábal, Nicklaus even cited an icon. "Ben Hogan was not really a big hitter," says Nicklaus. "He was long enough. But Ben Hogan today? Ben Hogan today could not compete at Augusta because he did not have the massive length to compete against the long hitters. Power was always an issue at Augusta, but never so dominant that you couldn't play it."
This Augusta certainly is not the old Augusta, the one that for decades was listed at 6,925 yards from the tournament tees, the one where all the emerald turf was of fairway height, the one that always seemed to foster birdies and excitement instead of bogeys and dread. This Augusta dictates rather than invites off the tee and measures 7,445 yards, 520 yards longer than when Woods won his first green jacket by 12 strokes in 1997.
"All in all, you know, it's very tough," Ernie Els says of the reconstituted layout. "Where it used to be kind of the most fun of all the majors, it's becoming the hardest one now. So it's going to take a bit of the excitement away definitely."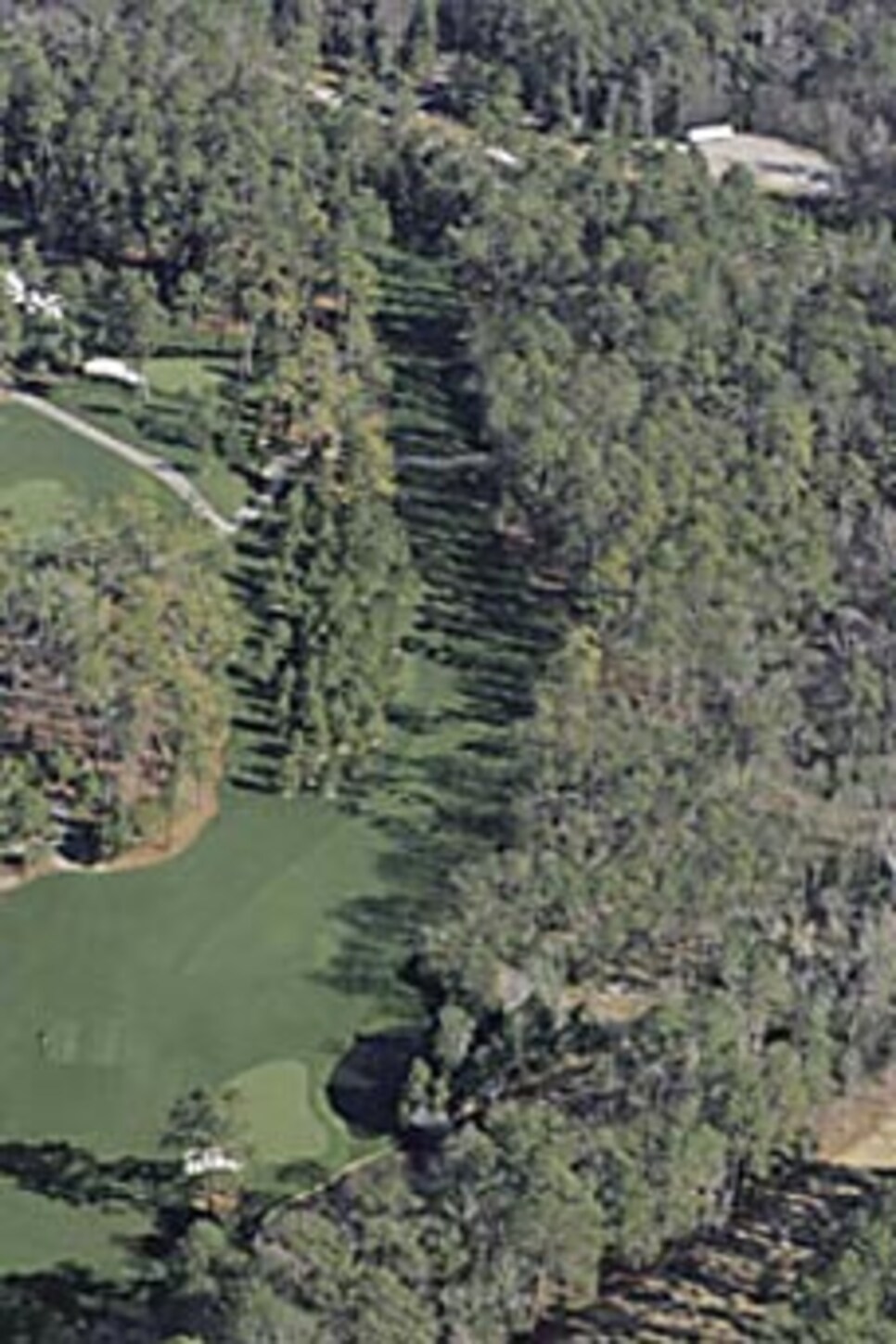 Says four-time champion Arnold Palmer: "I love the place, just love everything that happens there. But now, I'm not so sure. It's changed dramatically from the course I knew the last 50 years." If Woods' overwhelming performance in 1997 -- he didn't require more than a 7-iron into a par 4 -- was the first domino toward a more penal and rigorous Augusta, then Phil Mickelson's 94-yard second shot into the 11th hole, then 445 yards, during the second round in 2001 as Johnson and Fazio watched from a nearby cart was the next and most crucial. "I guess if there was a moment, that was it," Johnson told Golf Digest's Jaime Diaz the following year, explaining the catalyst for that round of extensive retooling.
The changes made since the 2005 tournament are further proof of Masters officials' frustration with how far the ball is being hit by today's pros and their insistence on counteracting it. In touting the work last fall, the club said it was being done to restore the "rhythm and shot values" Jones and Mackenzie had in mind. In terms of how a round flows now, though, it is inarguable that some things are different. "Seven has always been a birdie hole," says Phil Mickelson. "They are taking away a birdie hole and turning it into a very easy bogey."
Fred Couples likes all of the renovations. "I'm all for it," he says. "It's a major tournament; you don't want 16 under winning it. It's all the same because the ball is going 40 yards farther. There's no difference." Els and Woods may beg to differ: In recent practice rounds, Els hit a 2-iron into No. 4, while Woods came up short with a 3-iron. "I've talked to some of the older guys who played there back in the '50s, '60s and '70s and they never had to hit wood into 4 before," says Woods, "but you'll see a lot of guys hitting wood at 4 this year." Els hit a 7-iron into No. 7. "I wouldn't want to go in there with a 4- or 5-iron like some of the guys might have to," he says.
Architect Pete Dye, who has had to re-work a number of his designs to accommodate the distances top golfers are hitting the ball, also sides with the club. "If Jones and Mackenzie were alive today, seeing what's going on, they certainly would do something," Dye says. "I don't think they'd be offended [by the changes]. Mackenzie certainly had no idea somebody was going to hit the ball 370 yards."
Some of the revamped holes, particularly the 11th with its burgeoning forest along the right side where fairway grass used to be, call for a straighter as well as longer drive. To two-time champion Bernhard Langer, harder doesn't equate to better. "It's less [strategic], definitely," Langer says. "Before they added rough, the strategy off the tees was whether you wanted to be left side of the fairway, right side of the fairway -- what angle you wanted to come in from to the green. That's pretty much been taken away because the fairways are fairly narrow. Like on 11, you used to have an option to go way left or way right. I used to argue all the time with Seve as to which was the better side to come into the green. Now the right side is taken away from us. It seems like they took 40 or 50 yards away from the fairway. You don't have that option anymore. The angles are out of the tee shot."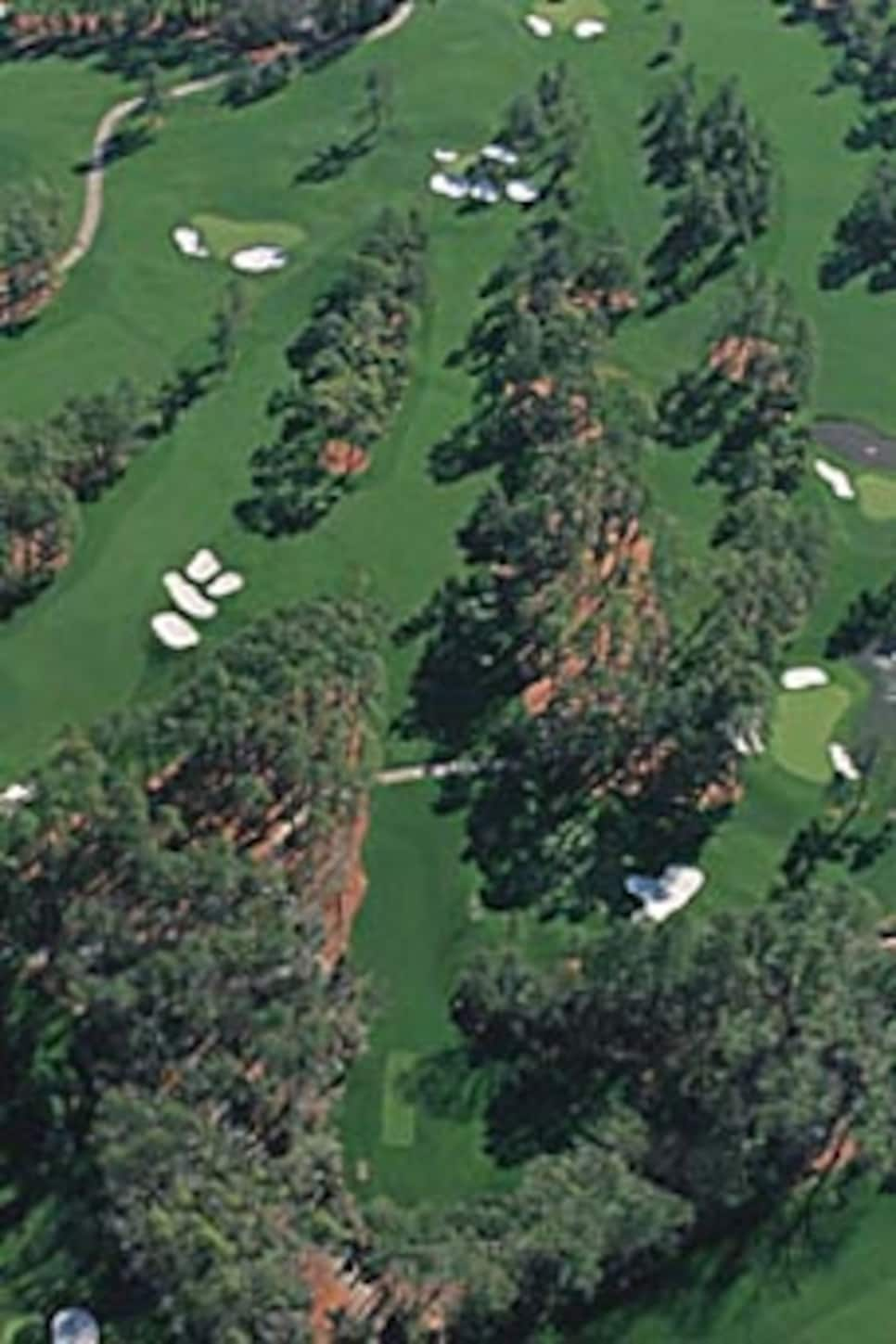 Langer echoes Mackenzie's beliefs about rough. "Narrow fairways bordered by long grass make bad golfers," Mackenzie said. "They do so by destroying the harmony and continuity of the game and in causing a stilted and a cramped style, destroying all freedom of play."
According to both Woods and Mickelson, however, the new emphasis on driving accuracy is appropriate because it strengthens the overall test. And Mickelson believes a byproduct of the course having a bit of rough and more length is that officials haven't felt compelled to let the undulating greens get out of control lately. "The only defense to the course was really firm, fast greens, and there was a point in the '90s where they really crossed the line," Mickelson says. "I saw Jeff Sluman on the second hole have a four-footer uphill, and it spun out on him and then rolled 60 feet off the green. [Since] they've lengthened it, the greens have been very fair ... they have not crossed over the line."
Of course, the last few Masters also have been wet ones. There hasn't been a dry week since all that length was added for the 2002 event, which makes some wonder what kind of scenario will play out this year if it doesn't rain for the first time on the new Augusta -- and why the club didn't wait until it got a week of sunshine before renovating the course yet again.
"If it ever gets dry and baked out and it doesn't rain like it did in '99 when Ollie won, and the greens get blue-looking like they did that year," says Woods, "even par or over par will win easily."
Should that happen, the Masters will have come to resemble the U.S. Open, and one wonders if that is the angle the tournament has been after all along.