News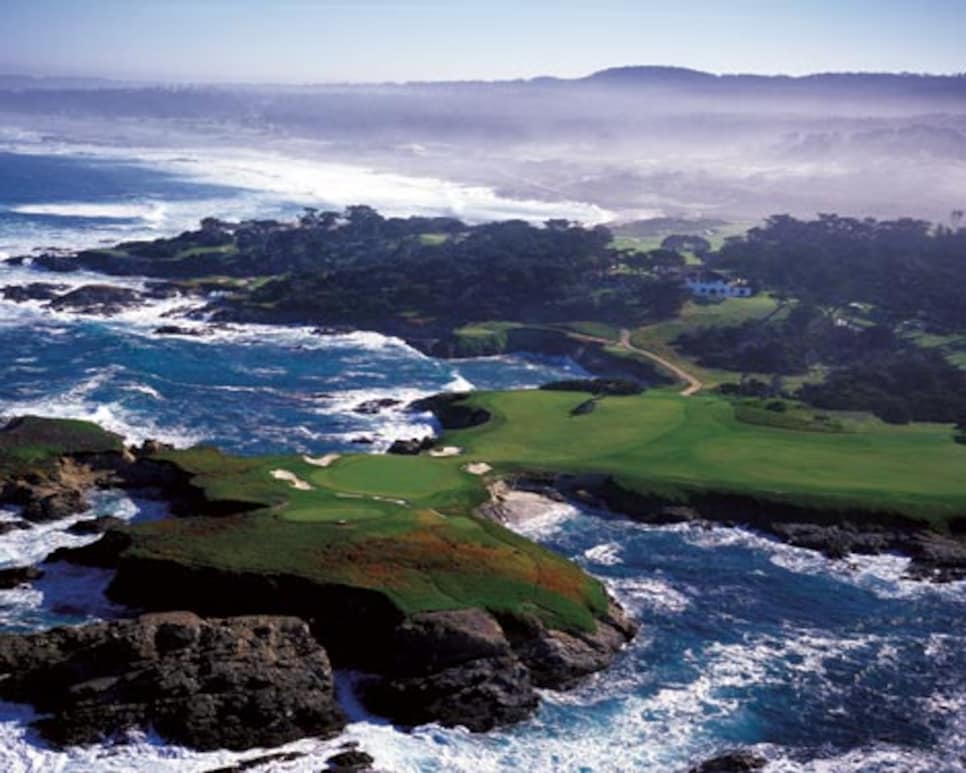 Beast within a beauty: The famous 16th hole (center) is 218 yards over a chasm of ocean.
The dying last wish is a common tactic (and often a successful one) for those who consider a round at Cypress Point Club the final piece to completing a life. It speaks to Cypress Point's inherent majesty as a glimpse of heaven on earth -- no small consideration for those who have only 18 holes left -- but also to its mystery. Imagine, access requiring a terminal illness.
Or a tour card. The healthy are dying to play there, too, including PGA Tour players, whose tournament access ended after 44 years when the AT&T Pebble Beach National Pro-Am and the club severed ties in 1990 over the latter's absence of black members. Among the tour pros playing Cypress Point last week was Phil Mickelson, who considers his annual outing there on the eve of the AT&T among the best days of the year.
Everyone is required to play with a member, incidentally, even tour pros (investment brokerage magnate Charles Schwab is Mickelson's host), maybe as a hedge against their opening the wrong closet. Skeletons, at least, might begin to explain why the club is so famously and cryptically private, even as 17-Mile Drive in Pebble Beach bisects it.
An old newspaper clipping in a file in the California History Room at the Monterey Public Library notes a "[Cypress Point] member's cute wife" and her "flagrant flirtation with an outsider. Of course, it's a good idea not to say a word about any of this. The boys, as you know, like everything to be a deep secret."
They still do (though in fairness, Cypress' membership rolls have always included boys and girls). None of them is likely to confirm the fact Microsoft founder Bill Gates played there in a member-guest last year, piquing his interest in joining the club and its in accommodating him.
To suddenly open up would represent a change of protocol, and, well, the only change one is likely to encounter at Cypress Point is when marking a ball on a green. This is the beauty of the place, notwithstanding the dramatic land and seascapes that prompted long-time member and former USGA president Sandy Tatum to declare it the Sistine Chapel of golf. Time has stopped there.
Golfers are still afoot and are trailed by caddies bent beneath the weight of a bag, sometimes two. The artistic bunkering has been carefully restored to reflect architect Alister Mackenzie's original intent. Even erosion, nature's tool that formed the jagged edges providing Cypress Point's coastal holes their character, is forbidden to enact change. Faux rock blends seamlessly with natural stone to form a seawall capable of withstanding the pounding surf. And the onset of time.
Accordingly, a photo album on the large old provincial table that has stood as the centerpiece of the sitting room since the clubhouse was completed in 1930 does not chronicle the passage of time. Instead, it is there to bear witness to how virtually nothing has changed. The album features old photos juxtaposed with newer ones taken from the same angles.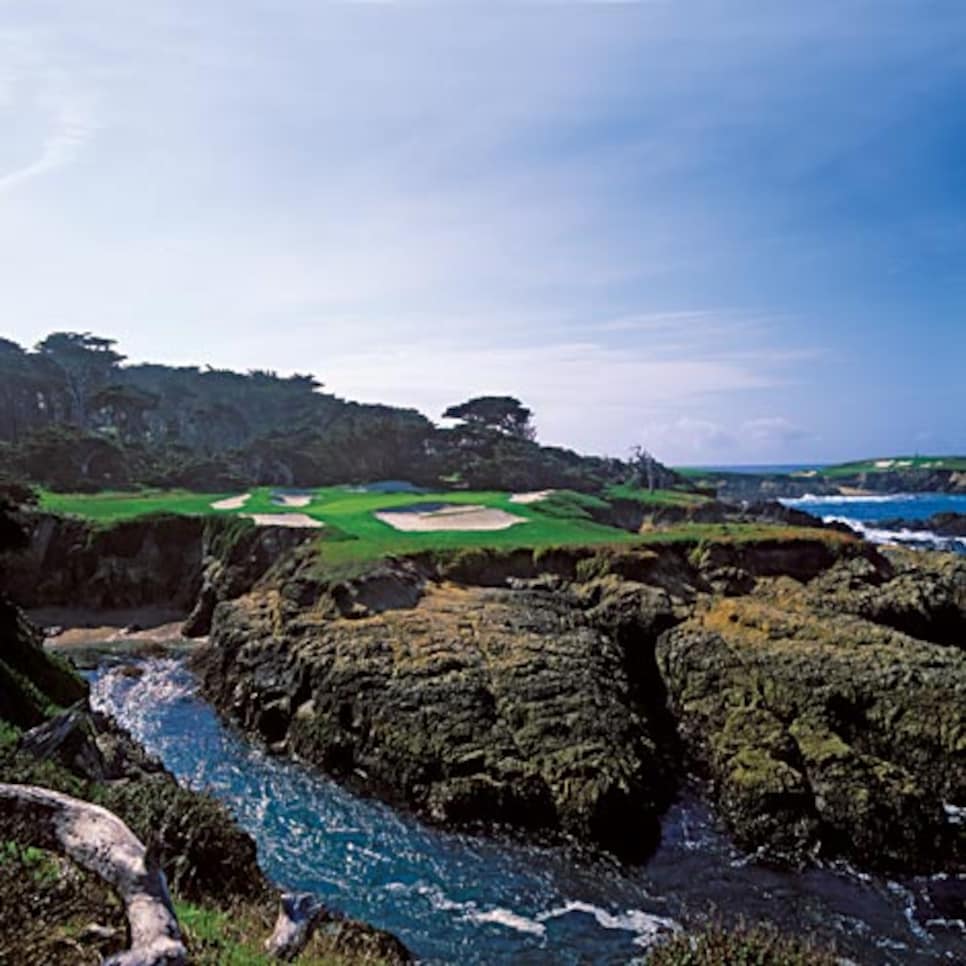 Even much of the club's lore is antique, as though nothing notable has occurred there in decades. In July 1960, presidential candidate John F. Kennedy nearly made a hole-in-one at Cypress Point's 15th hole, to his horror. President Eisenhower had often been criticized for his golf addiction, and Kennedy was concerned that had his 7-iron shot gone in the hole, "in less than an hour the word would be out to the nation that another golfer was trying to get into the White House."
Then there was the time when Babe Didrikson Zaharias was goaded into a $10,000 wager that she couldn't drive it over the distant tree in the first fairway, a 240-yard carry from a spot (now bricked over) directly in front of the clubhouse.She won. And what about the year (1953) that the wind blew so hard during the Crosby that Porky Oliver hit six straight into the ocean and required 16 strokes to complete the par-3 16th hole?
The club also has resisted the temptation of lengthening the course to accommodate the contemporary power game, even though "you could put a lot of length into it," Tatum says. Should it hold, it is a stance likely to preclude tour golf from ever returning to Cypress Point, which is No. 4 on Golf Digest's America's 100 Greatest ranking. The yardage from the back tees is listed as 6,509 yards, only three yards longer than its published distance in 1947, the first year the course was in the Bing Crosby Pro-Am rotation.
The strongest voice arguing for the status quo belongs to the 85-year-old Tatum, who is among the USGA hardliners against technological advances in equipment. Tatum says he wants Cypress Point to stand as a beacon illuminating how the game has surrendered to equipment entities.
In 1999 Tatum hosted a trio of Walker Cup players, including Matt Kuchar, who were in town for the U.S. Amateur at Pebble Beach GL. "It was one of my more depressing rounds of golf," Tatum says. "The golf course was gone." Many of Cypress Point's par 4s were reached with wedge approaches, while its par 5s were all two-shotters. The integrity of the course, indeed of Mackenzie's handiwork, was gone. "My distinct feeling was that Cypress Point was no longer a competitive golf course," Tatum says.
But Cypress Point's fundamental character has not changed for those who play the game closer to the ground. Former U.S. Amateur champion Nathaniel Crosby likens the course to a storybook. "It starts out one way, changes in the middle, then has a dramatic ending," says Crosby, whose late father, Bing, was a member, and whose mother, Kathryn, is still. "It's my favorite golf course in the world."
The dramatic ending includes the renowned 16th hole, arguably the most famous par 3 in the world, 218 yards over a chasm of ocean. "If you're having a really good, solid round of golf, you always have that one swing ahead of you, the one on the 16th tee," Tatum says. "That swing begins to loom larger and larger."
It is both a beauty and a beast. "You can top your drive, but you can't top the scenery," Dan Jenkins once wrote. The panorama is so stunning it begs a moment of silence to ponder the good fortune that brought you there. One member, the late Clarke W. Beardon, better known as Boney, religiously concurred. Whenever he reached the 17th tee, he stopped and recited a simple prayer. Today, there is a plaque entitled "Boney's Pulpit" in his stead. It reads, "Let us pause for a moment of thanks for being one of those few who have been so privileged to walk along these magnificent shores."
Amen, the members ought to reply in unison. It is not a course to be taken for granted. Tatum was 16 when he first played Cypress Point, in the 1936 California Amateur Championship. "The impact it made on me then is vividly with me today," he says. "It's well into thousands of rounds that I've played there, and I've never had anything less than that first impression. It's a truly phenomenal experience for me."
The experience is not one that is widely shared. Membership in a club the former British television icon Cliff Michelmore described as "frostily exclusive" is notoriously difficult to join. The late Bob Hope, a long-time member, alluded to this fact with his famous rejoinder about the club's successful membership drive: "They drove out 40 members."
The number of members does not exceed 250, and openings generally occur only through death. The turnover rate is about seven to nine a year, one source says, and the waiting list for new members is said to be seven years. Prospective members, meanwhile, are required to endure a screening process that eventually encompasses the entire membership, essentially as a means of determining whether there are any objections.
Apparently, there have been few when the prospective member is a wealthy businessman. The membership includes Schwab; Peter Ueberroth, co-chairman of the Pebble Beach Company; John B. McCoy, former CEO of Bank One; Riley Bechtel, chairman and CEO of the Bechtel Group, Inc.; and Peter J. Fluor, chairman and CEO of Texas Crude Energy.
As for black members, well, Cypress Point's resistance to change is not only its beauty, but also its bane. Curiously, a club that assiduously guards its privacy continues to invite unwanted scrutiny because it still has no black members, almost 16 years after Shoal Creek forced golf to address its exclusionary practices.
The club even has to endure an annual public reminder at this time of year, the AT&T. Cypress Point was part of the course rotation until the late summer of 1990, when it declined to accede to the PGA Tour's new requirement that its tournament courses have no membership policy or practice discrimination against racial minorities or women. The club argued then, and does so now, that it has no discriminatory policies in its bylaws, but that it was not inclined to jump anyone to the head of its waiting list.
This was at least a defensible position then. Sixteen years later, it is an awkward position to defend, considering the mathematics argue against it. Using the lesser figure of seven new members annually, multiplied by 16 years, one rightfully might wonder how none of its 112 newest members are black.
Tatum, an attorney by trade and presumably accustomed to making uncomfortable arguments, offered a vigorous defense of the club's position. "One of many interesting things about the club is that it may be one of the most integrated clubs at the elite level, in large part because of its history," he says, noting that a woman (Marion Hollins), a Jew (Herbert Fleishhacker) and a white Protestant (Samuel Morse) were there from the beginning. "One element that isn't there is African-American," Tatum says. He reiterates that the club still is not willing to jump a prospective member to the head of the waiting list simply to erase the stigma.
The extent of the club's wounds from the controversy is unknown, and club president Charles Johnson did not return a call. However, they are likely to fester in perpetuity so long as the issue goes unaddressed. It is perhaps the only blight on a place so pristine and beguiling that one might argue it deserves better than to encumber itself with so obvious a millstone.
The club does have a heart, in fact, and one that isn't necessarily as cold as a stiff winter breeze off the Pacific. The first and last line of defense for those attempting to talk their way onto the course was Jim Langley, the head professional, who recently retired after 34 years in the position. "Probably the finest man I've ever met," says Joe Solis, who was 11 when he began caddieing at Cypress in 1932 and was its caddiemaster for more than 43 years. Solis' opinion would have been seconded by many, including those whose dying wishes were graciously fulfilled by Langley, with the blessing of the membership.
Besides, most members aren't around often enough to object. Only about 50 of Cypress Point's members are thought to be locals, ensuring light play, generally no more than 15,000 rounds a year. Last December only 600 rounds were played. "When I started out as caddiemaster," Solis says, "there were two to three blanks a week. Not a soul."
Moreover, aside from a modest dining room and a light social calendar, there is nothing else to attract a crowd. "Not many bells and whistles to it," Langley says, while surveying the three-dimensional oil painting on which nature and Mackenzie collaborated. "It's just golf."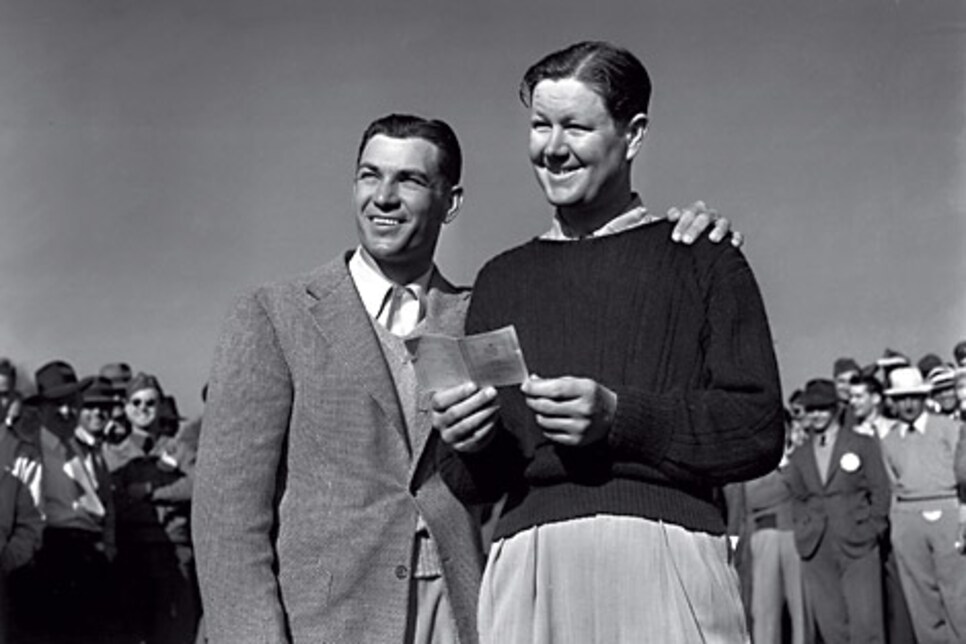 It is fitting, perhaps, that the greatest match most have never heard about was played at the exclusive Cypress Point Club, and clandestinely, at that. It pitted Ben Hogan (left) and Byron Nelson (right) against a pair of amateurs, Ken Venturi and Harvie Ward, in January 1956. T he match was arranged by a car dealer, Eddie Lowery, a member of Cypress Point (who, incidentally, was the 10-year-old who caddied for Francis Ouimet when he won the U.S. Open in 1913), and another Cypress member, George Coleman. Lowery knew Venturi and Ward had skill that belied their amateur standing and proposed a $100 Nassau pitting them against any two players of Coleman's choosing. Coleman picked Hogan and Nelson. T he match was all square through nine. Hogan holed an 85-yard wedge shot for eagle at 10 to give him and Nelson a 1-up lead they maintained through the 14th hole. Hogan and Venturi each birdied 15. Ward and Nelson each birdied 16 and 17. At 18, Venturi holed a 15-foot birdie putt, requiring Hogan to make his 12-footer for birdie to win the match. "I'm not about to be tied by two amateurs," Hogan said on the 18th green, before holing the putt to secure the victory.
All told, the foursome made 27 birdies and an eagle. Hogan had the low round, a 63, while Venturi shot 65 and Nelson and Ward each shot 67.
Nelson called it not only the best four-ball in which he had ever competed, but the best he had ever witnessed.